Black-necked Grebe
| | |
| --- | --- |
| Irish Name: | Foitheach píbdhubh |
| Scientific name: | Podiceps nigricollis |
| Bird Family: | Grebes |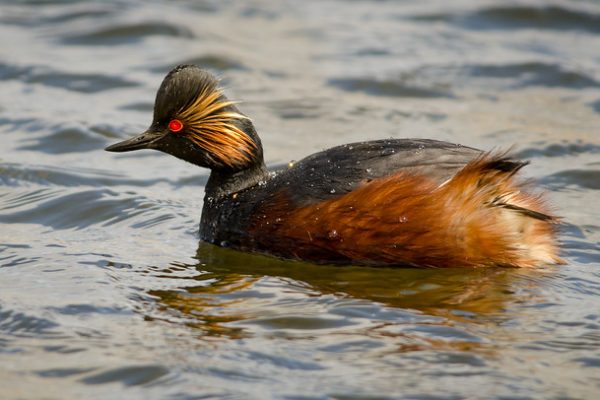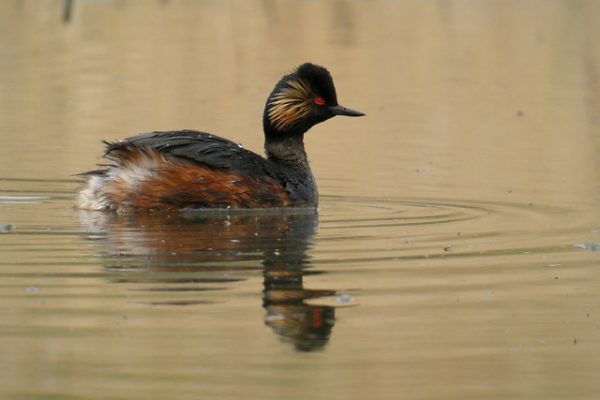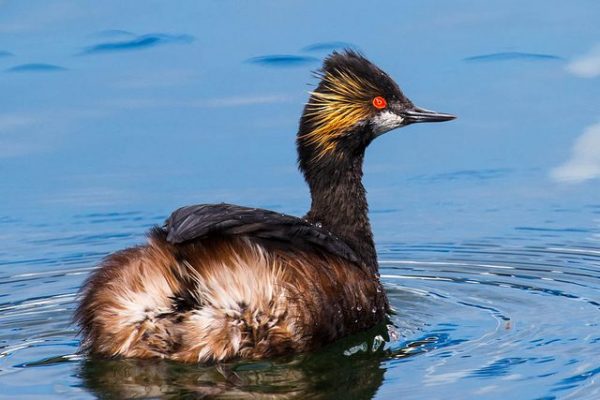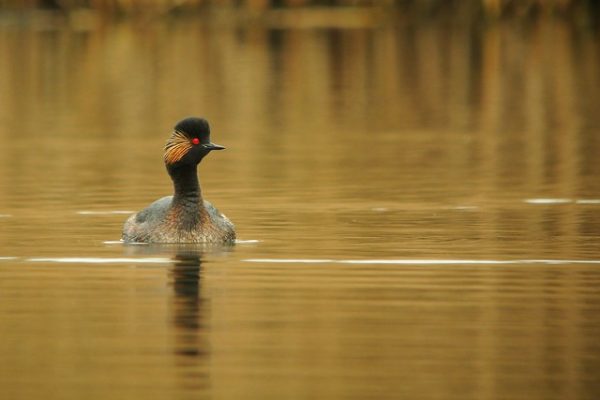 Status
Rare winter visitor to coastal areas from October to March. Former breeding species on well-vegetated lakes in western Ireland.
Identification
A small Grebe, similar in size to Slavonian and Little Grebes. Adult summer birds are unmistakable when seen well. They have a small yellowish tuft behind the eye, with the body almost completely black - only the undersides being a reddish-brown. Adult winter Black-necked Grebes are very similar to winter Slavonian Grebes and care is needed to separate the two species. Black-necked Grebes tend to have a darker throat and less extensive white face patch. They also have a distinctly peaked crown compared to the more rounded head of Slavonian Grebe. Juvenile birds are similar to adult winter Black-necked Grebe, though can be recognised by some buffy markings on the face and throat.
Voice
Silent during winter.
Diet
Mainly smaller fish species and crustaceans
Breeding
Formerly bred in Ireland on Lough Funshinagh in County Roscommon. There is a small breeding population in Britain (<50 pairs), with the majority of the European population centered on Central and Eastern Europe. Breeds on small well vegetated ponds and lakes.
Wintering
A scarce winter visitor to sheltered bays and estuaries on all Irish coasts. Rarely seen on larger lakes.
Monitored by
Irish Wetland Bird Survey and BirdTrack.
Breeding distribution patchy in North West Europe. Largest numbers breeding in Eastern Europe. Formerly bred in Ireland now the only birds are Winter visitors. Dungarvan and Wexford Harbours usually hold one or two wintering Black-necked Grebes.