Whooper Swan
| | |
| --- | --- |
| Irish Name: | Eala Ghlórach |
| Scientific name: | Cygnus cygnus |
| Bird Family: | Swans |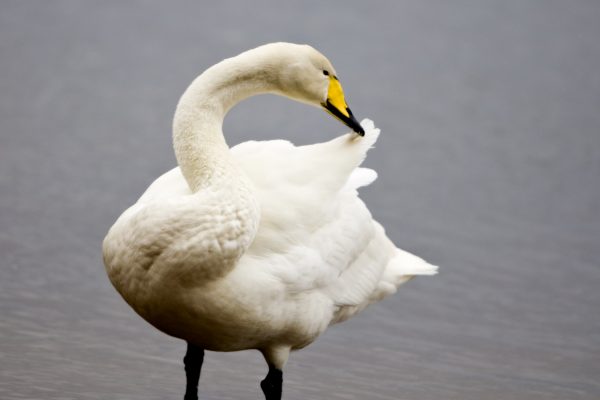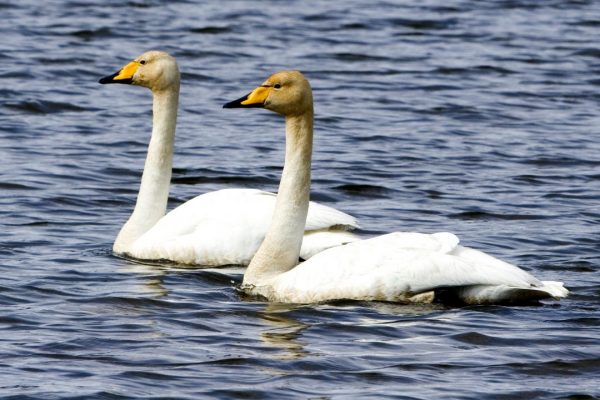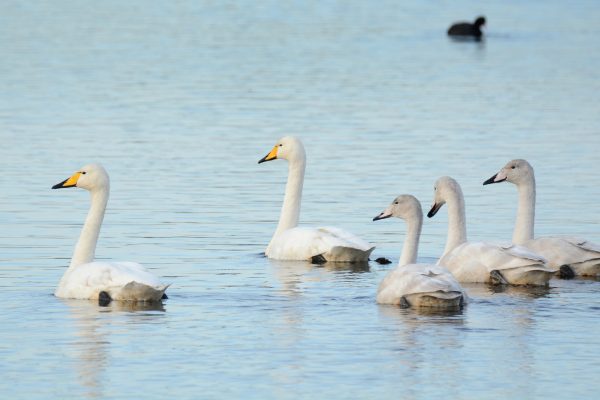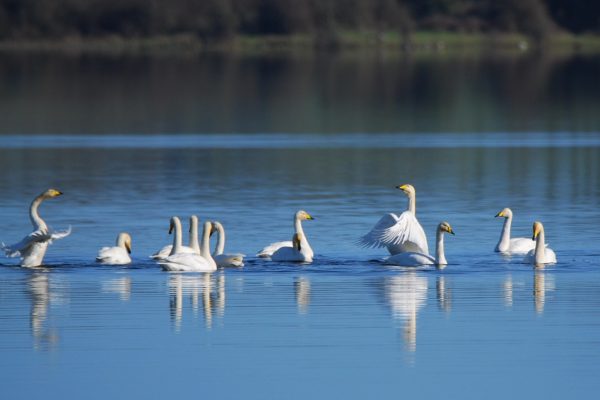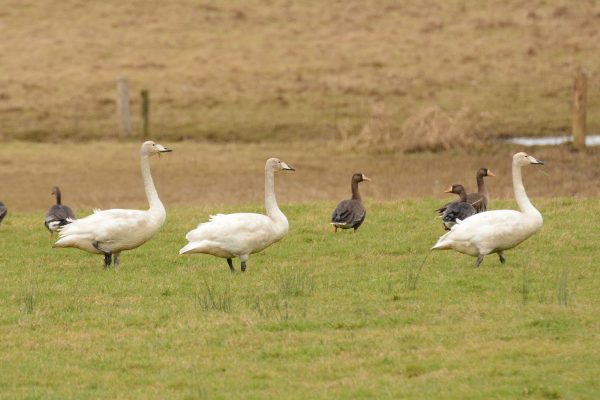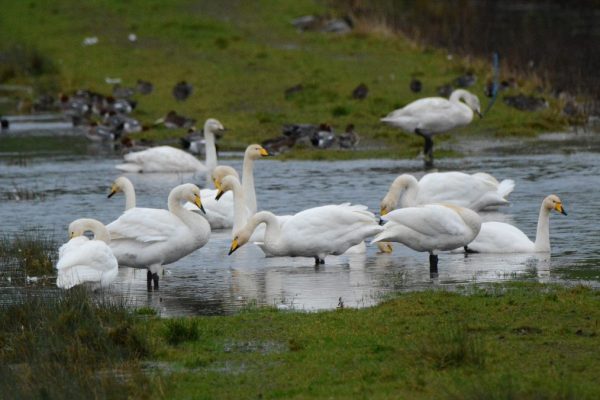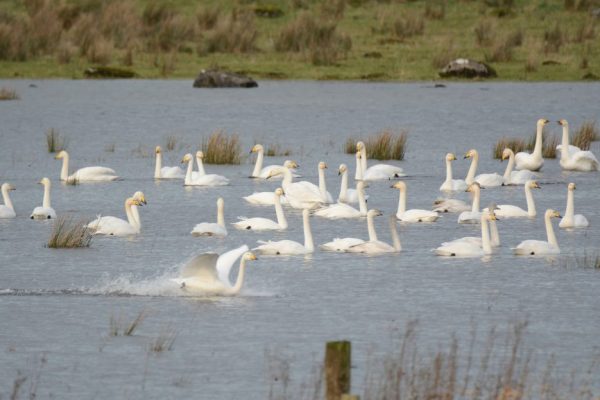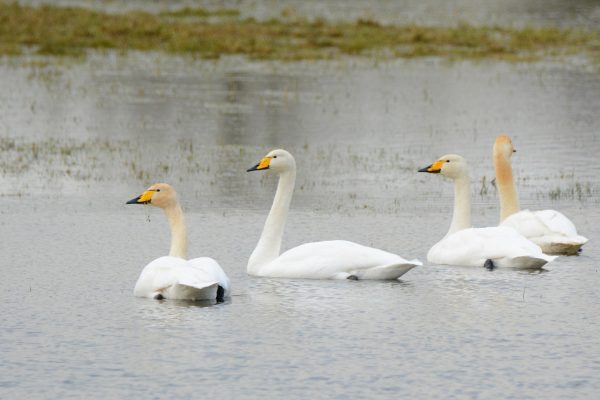 Status
Winter visitor to wetlands throughout Ireland from October to April.
Identification
Similar to Bewick's Swan, but larger, with longer neck. Yellow and black bill, with the yellow projecting below the nostril.
Voice
Vocal bugling or honking.
Diet
Aquatic vegetation, but they are commonly found grazing on agricultural grasslands and fields where there is spilled grain, as well as potatoes from cultivated land.
Breeding
The Whooper Swans that are present in Ireland each winter nest in Iceland during the summer. Each year a small number of Whoopers stay in Ireland for the summer and there have been occasional breeding records on lakes in the midlands and north-west.
Wintering
Most on lowland open farmland around inland wetlands, regularly seen while feeding on grasslands and stubble.
Monitored by
Irish Wetland Bird Survey (I-WeBS), and a special swan census is carried out every five years, most recently in 2015. The next census takes place in January 2020, aiming to count and gather data on every Whooper Swan in Ireland over the weekend of the 11th and 12th of January. The census is coordinated in the Republic of Ireland by our I-WeBS team.
Breeding grounds in Iceland and Northern Europe.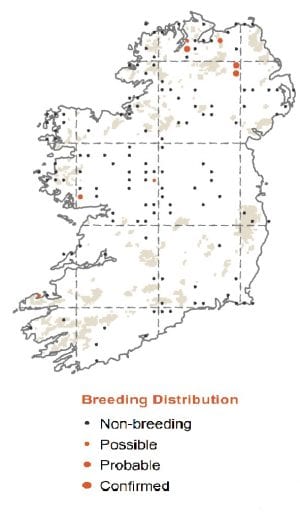 Relatively widespread winter migrant, especially north and west of a line between Limerick and Dublin. Lough Swilly (Donegal), Lough Foyle (Donegal/Derry), Wexford Harbour & Slobs, Lough Gara (Sligo) and Donegal Bay all support greatest numbers (350- >2,000 birds).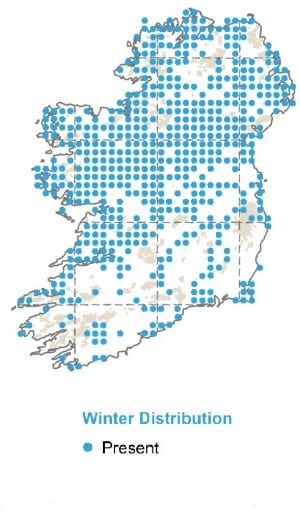 Blog posts about this bird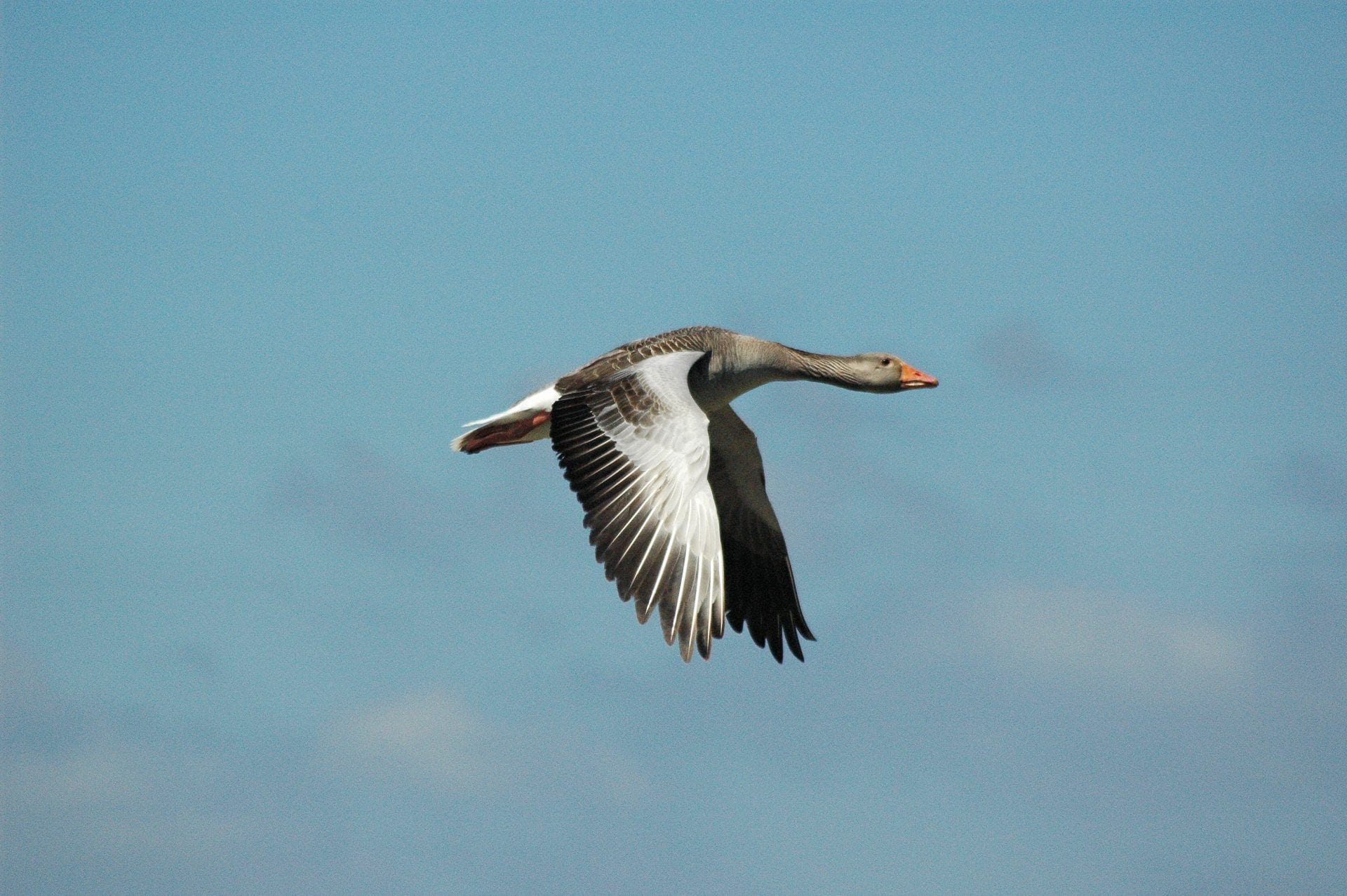 BirdWatch Ireland urge people to report any signs of bird flu in their area
A number of cases of Avian Influenza ('bird flu') have been confirmed in wild birds in Ireland since the start of the month. There are no known risks to human health, and similarly this isn't going to affect your garden birds, but please watch out for sick or dead waterbirds, birds of prey, or potentially large numbers of dead crows or starlings which may have died as a result of this virus. If you find any such birds, don't touch them, but rather report them immediately to the Department of Agriculture via the link below. It is important that any potential cases of avian influenza are investigated and documented appropriately in order to monitor the spread of the virus.
There are numerous strains and subtypes of the avian influenza virus that each vary in severity. The strain that has recently been detected in some wild birds in Ireland is Highly Pathogenic Avian Influenza (HPAI) H5N1, which spreads easily between birds and causes illness, with a high death rate. This strain had been detected in a number of European countries before arriving into Ireland this month as wild birds migrate southwards and westwards for the winter.
BirdWatch Ireland are part of an early warning system
with regard to surveillance for signs of disease in wild birds, together with colleagues in the National Parks and Wildlife Service (NPWS), the Department of Agriculture, Food and the Marine and the National Association of Regional Game Councils (NAGC).
What is the current situation with regards Avian Influenza in the Republic of Ireland?
To date there have been confirmed mortalities from the H5N1 strain of highly pathogenic avian influenza in counties Galway, Roscommon, Offaly, Donegal and Kerry, with further cases under investigation in other counties. The birds known to have been infected so far are Whooper Swans, Greylag Geese, Peregrine Falcons and a White-tailed Eagle. In winter, waterbirds of a range of different species congregate together at wetlands across the country, which allows the virus to spread easily amongst waterbird flocks and between species. When these birds become sick, they are easy prey for raptors such as Peregrines and Eagles, hence these species are often infected also.
What are the signs to watch out for?
Firstly, it's important to be aware that the only wild birds expected to become infected at present are waterbird species (wildfowl, waders, gulls) and birds of prey. If you own chickens or other poultry then please consult
the Department of Agriculture website for further advice
. If you find a dead waterbird of bird of prey, where the cause of death isn't obvious (e.g. car collision) then it's best to report it to the Department of Agriculture, so it can be collected and tested. If you find a bird of these species that's acting unwell or otherwise behaving strangely, then this too should be reported. It's important to note that potentially
sick birds should not be brought to a wildlife rehabilitator or the National Wildlife Hospital in Meath, as this could risk infecting the birds already in their care
. If you find a sick bird,
report it via this link first
, and secondly you may want to call the Avian Influenza Hotline (01 6072512 during office hours or 01 4928026 outside office hours).
Should I stop feeding my garden birds?
Although it is possible for garden bird species to get bird flu, they are at very low risk at present, for the simple reason that they don't interact with the species currently infected (i.e. waterbirds). As such, there is no reason to stop feeding your garden birds. If the situation deteriorates and this advice changes, we will spread the word and ensure everyone knows.
What should I do if I own poultry?
To date there have been no cases in poultry flocks in Ireland, but poultry owners should familiarise themselves with
Department of Agriculture guidance on biosecurity and the new regulations
introduced as a precautionary measure. It should be stressed that there is
no food safety risk for consumers
and that properly cooked poultry and poultry products are safe to eat.
What is the situation in Northern Ireland?
Full details on restrictions for poultry flock owners, and where to report possible cases in wild birds in Northern Ireland,
can be found on the DAERA website here
.
Further information and updates are regularly made available on the Department of Agriculture website:
https://www.gov.ie/en/publication/50ce4-avian-influenza-bird-flu/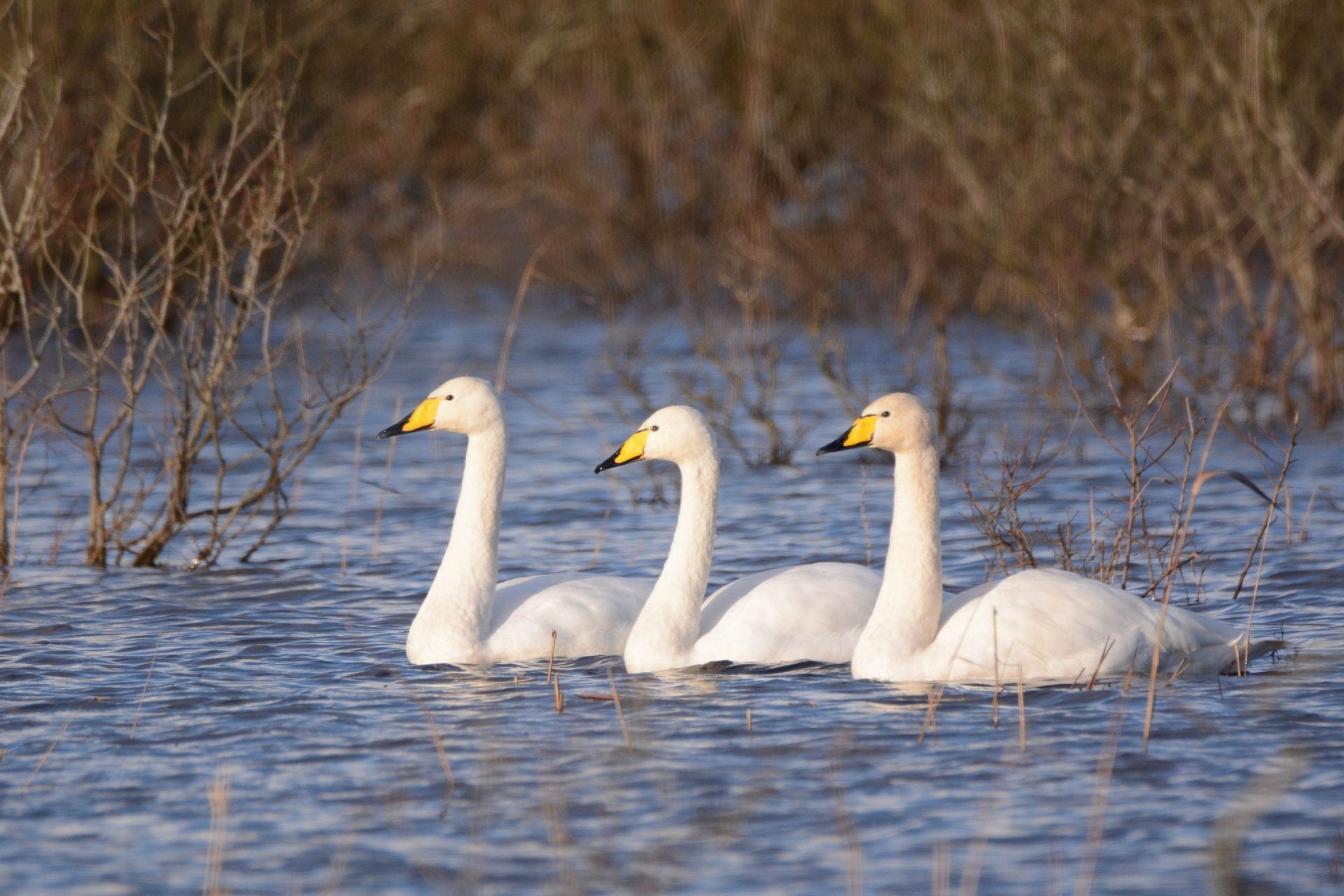 Whooper Swan numbers in Ireland increase in new census results
A census carried out across the island of Ireland last year found that Whooper Swan numbers increased by 27%, while Bewick's Swan look set to be lost from Ireland in the coming years.
The 8
th
International Swan Census took place in January 2020. The census is carried out over a single weekend every five years, where ornithologists and birdwatchers across Ireland set out to locate and count every Whooper Swan and Bewick's Swan in the country. The aim of the census is to produce an updated population estimate for these species in Ireland. The survey was coordinated in the Republic of Ireland by BirdWatch Ireland as part of the Irish Wetland Bird Survey (I-WeBS) under contract to the National Parks and Wildlife Service (NPWS) of the Department of Housing, Local Government and Heritage. Nearly 300 volunteer birdwatchers, as well as staff from BirdWatch Ireland and the National Parks and Wildlife Service, took part in the census, checking over 1,500 locations across the island of Ireland.
A total of 19,111 Whooper Swans were recorded, 14,467 in the Republic of Ireland (ROI) and 4,644 in Northern Ireland (NI)
. This is the highest total ever recorded in Ireland and represents a 27% increase in the Whooper Swan population since the previous census in 2015.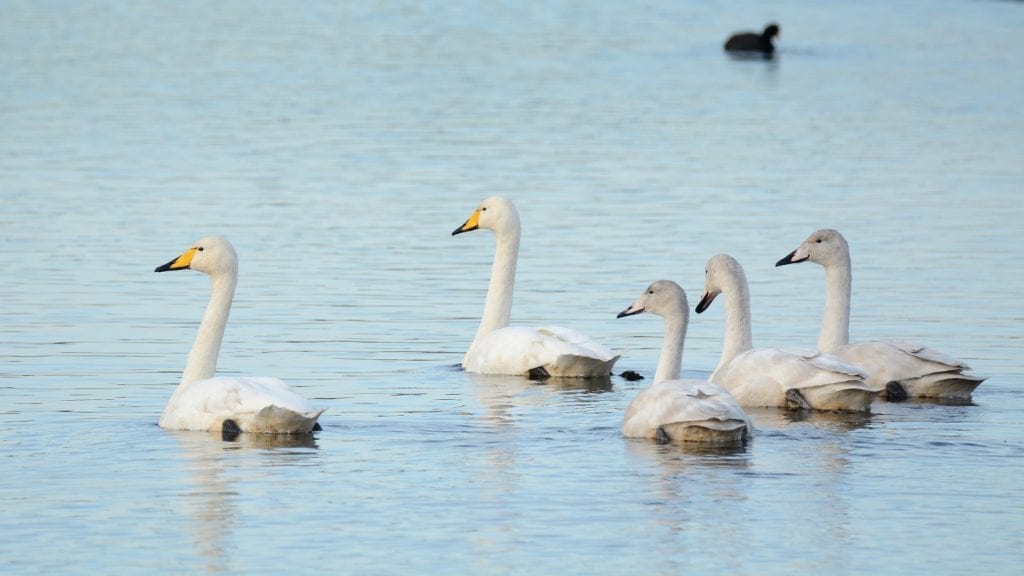 "Our Whooper Swans breed in Iceland during the summer and spend the winter in Ireland and Britain. Results from previous censuses had indicated that the Irish-wintering population of Whooper Swans was starting to plateau – growth had slowed, and numbers were largely stable in recent censuses, so
we really weren't expecting this level of increase" said Brian Burke of BirdWatch Ireland, who coordinated the survey in ROI
. "They're a species that is deep-rooted in Irish mythology, and still today they really captivate people right across the country when they arrive in the autumn, so we're delighted to see them doing so well". In total, 550 flocks were recorded in Ireland, with largest numbers in counties Offaly, Galway, Roscommon and Donegal in ROI, and Derry and Antrim in NI. In ROI, wetlands along the River Shannon, and its lakes and tributaries form a stronghold for the species.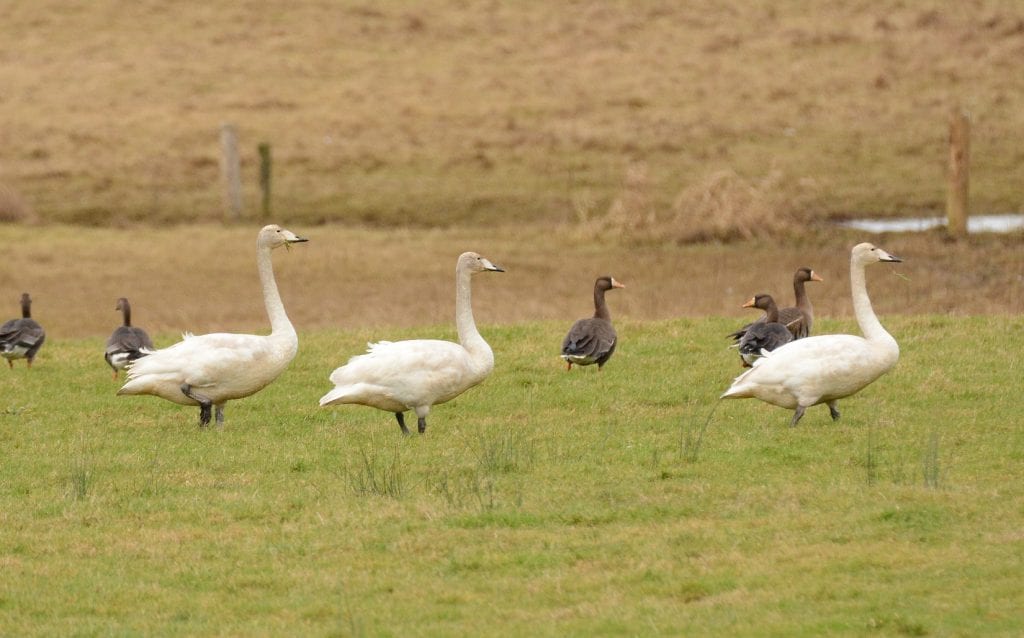 Agricultural grassland is an important food source for our migratory swans and geese, and 74% of Whooper Swans were recorded feeding on improved and rough grassland during the census. "
Pasture fields in close proximity to lakes and flooded rivers provide crucial feeding habitat for Whooper Swans
, and any farmers I've met take great pride in hosting their local Whooper flock each winter" said Mr Burke. "The recorded increase in the Irish Whooper Swan population is really encouraging. For a species like Whoopers to do well, conditions across its migratory range must be right.
The census results suggest that conditions for Whooper Swans in both Ireland and Iceland, where they breed, are very suitable
", said Seán Kelly, Waterbird Ecologist with the National Parks and Wildlife Service. "We are grateful to all the volunteers across the country who participated in the swan census; without them it simply wouldn't be possible to so carefully monitor these species".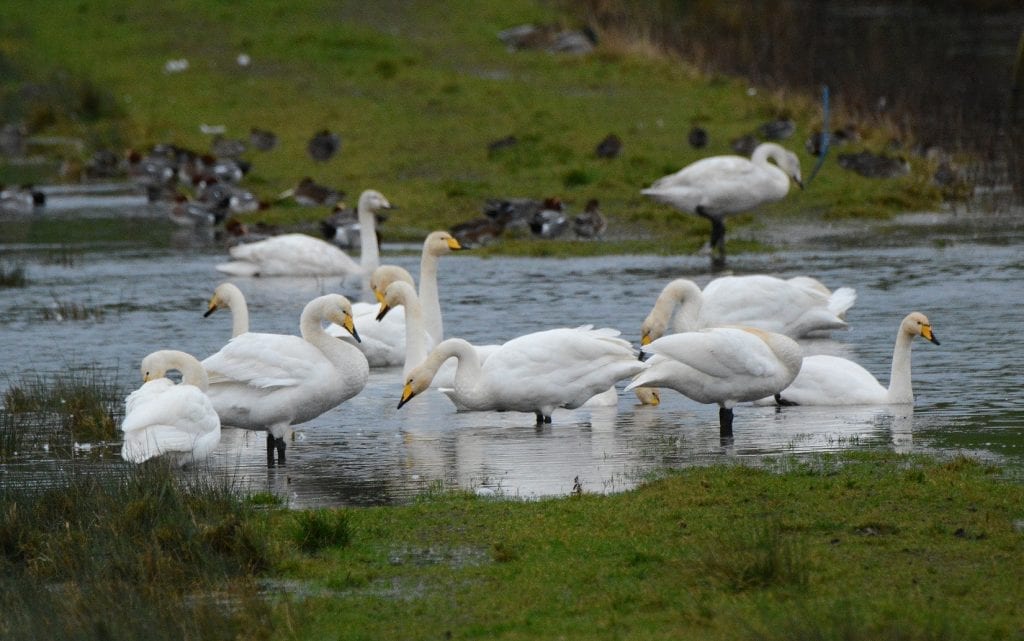 Minister of State for Heritage, Malcolm Noonan T.D, welcomed the report and paid tribute to all those involved: "I'm delighted to welcome the results from the recent Swan Census – the eighth such census in Ireland since the 1980s – which allows Ireland to robustly monitor swan populations," he said. "
Biodiversity data is so important and I'd like to send my sincere thanks to the dedicated volunteers around the country, as well as the all-important staff within NPWS and BirdWatch Ireland, without whom this census would not have been possible
. The census shows the positive impact of the work done by farmers, landowners and NPWS staff within the NPWS Farm Plan Scheme to protect these beautiful birds, and highlights the value of the 'Goose and Swan' agri-environment measure in the Department of Agriculture, Food and the Marine's GLAS scheme. I look forward to visiting some of the sites leading the way for Whooper Swan conservation, particularly the lands along the River Shannon and around the fantastic Wexford Wildfowl Reserve, when we are able to travel again."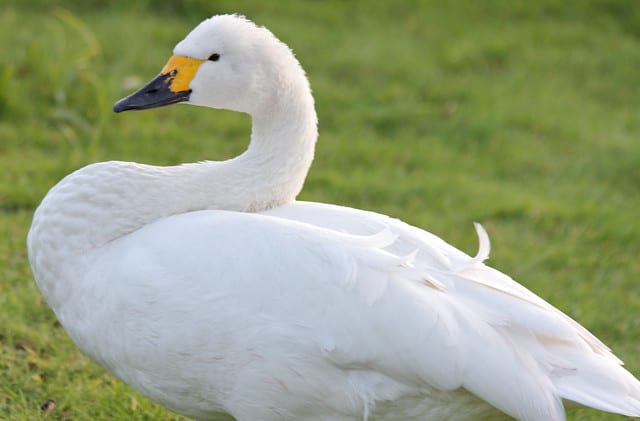 The census revealed some sad news, however, in the continued decline of the Bewick's Swan in Ireland. Bewick's Swans nest in Arctic Russia during the summer and winter in northern Europe, the UK and Ireland. As climate change has caused milder winters on the continent, many Bewick's Swans have been 'short-stopping', that is, not flying as far as Ireland, simply because they don't need to anymore. Migration is a hugely difficult undertaking, so they won't burn through their energy and fat reserves if they don't have to. This, coupled with declines in the size of the international Bewick's Swan population, has seen the Irish contingent getting smaller and smaller each winter.
Only 12 Bewick's Swans were recorded in Ireland for the census – 11 in Wexford and a lone bird in Roscommon, and it's expected that they will cease to occur in Ireland altogether in the near future.
Full details of the census results are due to be published in BirdWatch Ireland's scientific journal
Irish Birds
later this year. A write-up of the results, including the totals for every county in Ireland, will be featured in the Spring 2021 issue of BirdWatch Ireland's
Wings
membership magazine. To become a member receive Wings four times per year, and support our work,
see our different membership options here
.