Countryside Bird Population Indicators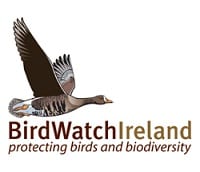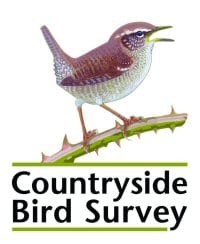 The Countryside Bird Survey (CBS) aims to monitor the status of common and widespread breeding bird populations in Ireland. Across many habitats, birds are regarded as good general indicators of the broad state of wildlife and of the countryside. Wild birds satisfy many of the criteria of being useful biodiversity indicators in that they occur higher up in food chains, are sensitive to environmental changes, are dispersed, diverse and mobile, and are relatively easy to census and collect data using well-developed and standardised methods. Using CBS data, we calculate trends of individual species (click here) that occur in 30 survey squares or more each year, on average, over the lifetime of the survey. We also combine these trends to produces indicators which provide an overview of how bird populations are doing more broadly over time. See below to learn more about the Irish 'Common Bird Index' and the Irish 'Common Farmland Bird Index'. While these indicators are useful, it is important to be aware of their strengths and constraints when making inferences from them.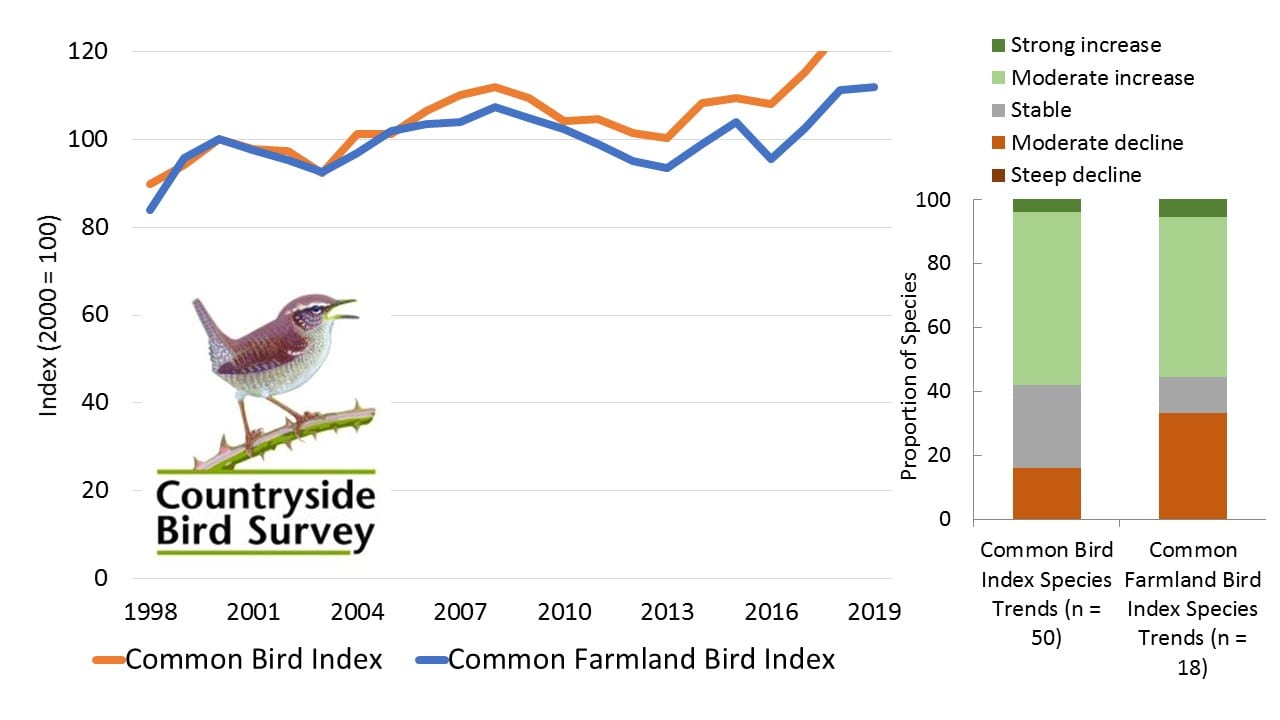 The Common Bird Index (CBI) and Common Farmland Bird Index (CFBI) 1998 – 2019.
Common Bird Index (1998 – 2019)
The Irish Common Bird Index (CBI) was based on 50 common and widespread breeding birds which are monitored as part of the CBS. This indicator has increased overall (1998 – 2019), with the 2019 index at 126% of the baseline index (2000), meaning that, on average, the population sizes of species' included in the indicator has increased by 26 per cent. Overall, there have been increases in 29 species, declines in eight species with the remaining 13 constituent species showing stable trends throughout the course of the CBS.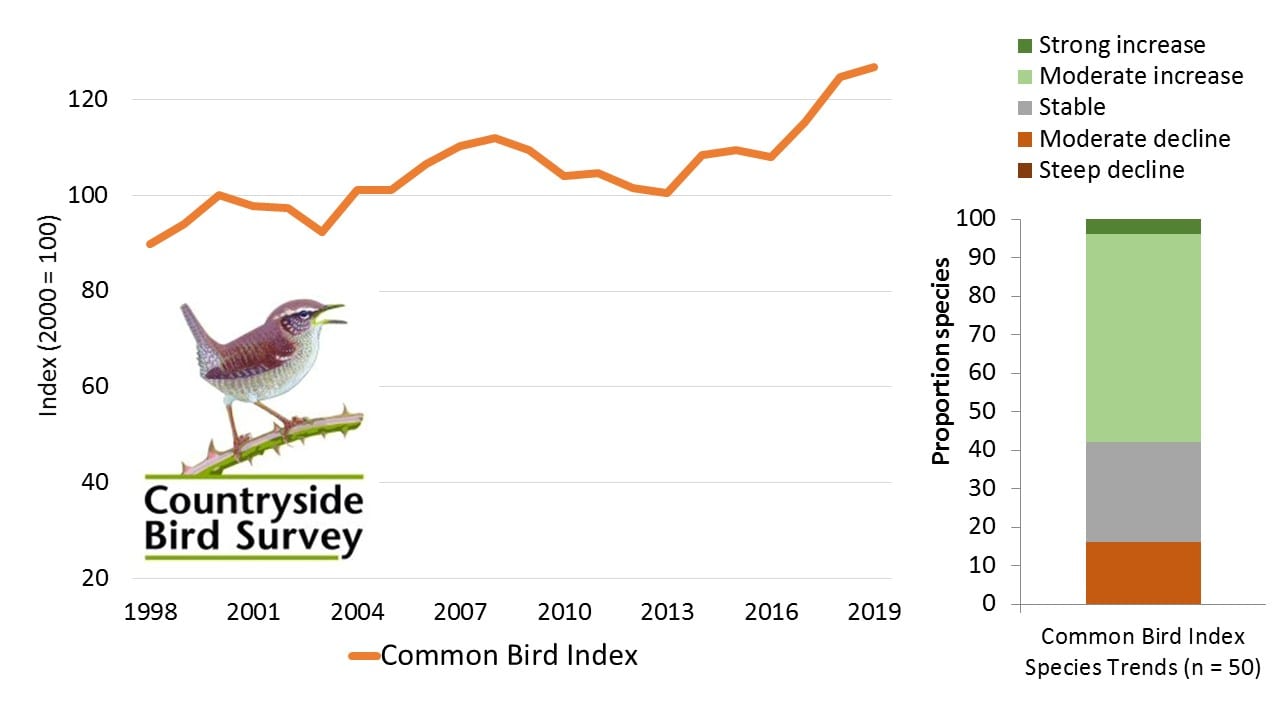 The Irish Common Bird Index (CBI) 1998 – 2019.
The 50 species included in the Irish Common Bird Index are: Sparrowhawk, Kestrel, Pheasant, Feral Pigeon, Stock Dove, Woodpigeon, Collared Dove, Cuckoo, Swift, Skylark, Sand Martin, Swallow, House Martin, Meadow Pipit, Grey Wagtail, Pied Wagtail, Wren, Dunnock, Robin, Stonechat, Wheatear, Blackbird, Song Thrush, Mistle Thrush, Grasshopper Warbler, Sedge Warbler, Whitethroat, Blackcap, Chiffchaff, Willow Warbler, Goldcrest, Long-tailed Tit, Coal Tit, Blue Tit, Great Tit, Magpie, Jackdaw, Rook, Hooded Crow, Raven, Starling, House Sparrow, Chaffinch, Greenfinch, Goldfinch, Linnet, Redpoll, Bullfinch, Yellowhammer, Reed Bunting.
Common Farmland Bird Index (1998 – 2019)
The Common Farmland Bird Index (CFBI) was based on 18 breeding farmland birds which are monitored by the CBS. The CFBI in 2019 was 111% of the baseline index in 2000, representing a marginal increase relative to the baseline. Among the constituent farmland bird species, increases were shown in ten species and declines in a further six species, while the remaining two species were stable.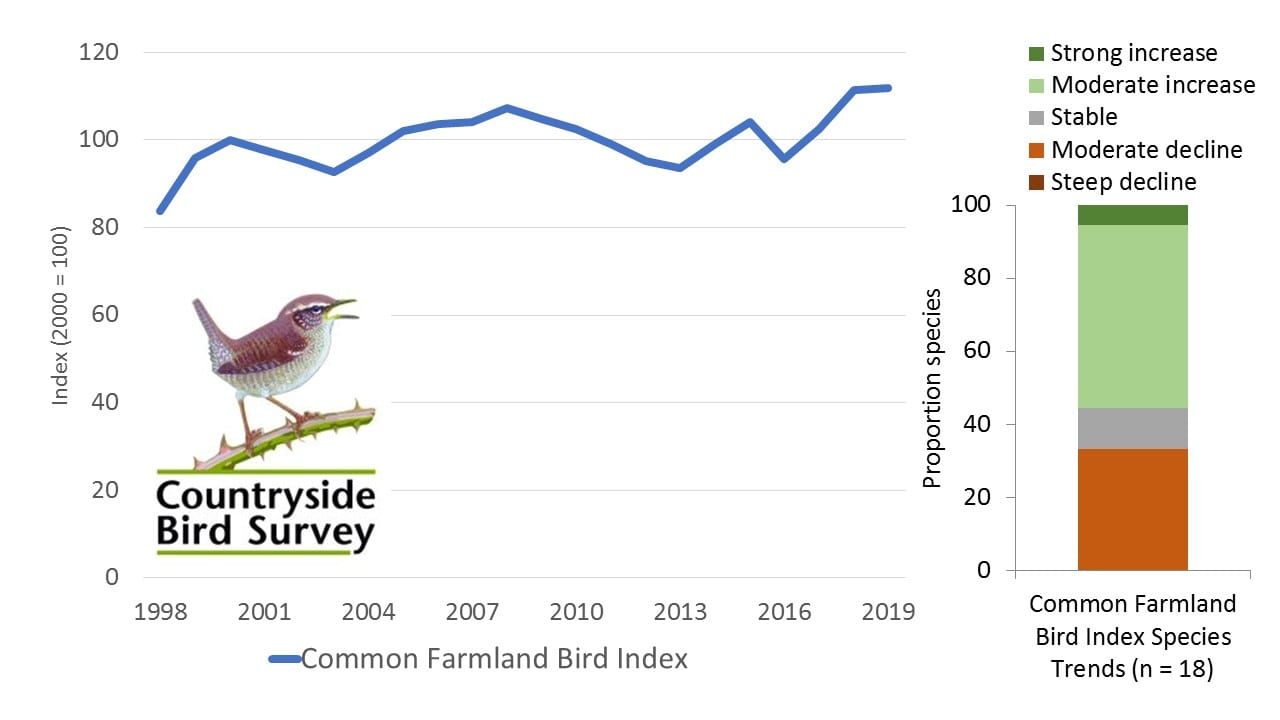 The Irish Common Farmland Bird Index (CFBI) 1998 – 2019.
The 18 species included in the Irish Common Farmland Bird Index are: Kestrel, Pheasant, Stock Dove, Woodpigeon, Swallow, Pied Wagtail, Stonechat, Magpie, Jackdaw, Rook, Hooded Crow, Starling, House Sparrow, Chaffinch, Greenfinch, Goldfinch, Linnet, Yellowhammer.
The CBS does not adequately monitor some farmland species which have scarce distributions in Ireland. They include:
Grey Partridge, Barn Owl, Lapwing, Curlew, Corncrake, Twite and Whinchat for which large-scale declines took place during the 1970s and 1980s, and were caused by changes in agriculture.
Quail, whose numbers and distribution ranges in Ireland have always been low, with less than five pairs of each confirmed breeding annually.
Buzzard, Chough and Tree Sparrow which are slightly more widespread, and their numbers and distribution range in Ireland are actually stable or increasing, based on data from the 2007-11 Bird Atlas. Based on the current range of expansion, it is likely that Buzzard will be sufficiently widespread to be monitored by the CBS in the near future.
Key Points for the Interpretation of these Indicators
Time Period: The indicators reflect the period of time that the CBS has been in operation 1998-2019. These recent wild bird indicators should be viewed with caution and seen against the backdrop of significant declines that occurred in the 1970s and 1980s in Ireland and across Europe, before the CBS began (see the 2007-2011 Bird Atlas (Balmer et al. 2013); Birds of Conservation Concern in Ireland (Gilbert et al. 2021) for more.
Historic Declines: In many cases, population increases for species should be viewed as the recovery of populations rather than increases per se. See below for examples of similar indicators from both the UK and Europe. These indicators cover a larger amount of time than those from Ireland and provide an indication as to the 'height' from which Irish species had fallen from before regular annual monitoring through CBS began.
Species Variation: It is important to remember that the indicator is an aggregate of individual species indices and hence masks a lot of variation among individual species and groups of species. Therefore, increases in some species and decreases in other species can balance one another.
Population Size: These indicators do not take account of population size, so a 50% decrease in one species would effectively be cancelled out by a 50% increase in another, regardless of whether one of those species is much more numerous than the other. In this way common species (e.g. Robins, Blackbirds) do not dominate the trends over species that exist at lower densities (e.g. birds of prey).
Rare Species: It should be borne in mind that these indicators are based on data from common and widespread breeding bird species only. Certain species groupings, for example, breeding wading birds and some birds of prey are not included due to lack of data (do not meet the 30+ square average threshold for inclusion in analyses), nor can the indicators reflect the trends of rare/scare species or species that have declined in number to such an extent that they are no longer common and widespread in the countryside. Farmland bird species which were formerly widespread but now rare include Lapwing, Grey Partridge and Tree Sparrow, and these species are not included in the Irish Common Farmland Bird Indicator. The Corn Bunting is included in similar indicators elsewhere (UK, Europe) but went extinct in Ireland in the early 1990's. Conversely, Buzzards are increasingly recorded through CBS and will soon meet the threshold to be included in future analyses.
Farmland Species: 18 species are included in the Irish Common Farmland Bird Index, and this includes many generalist species and few farmland specialist species. The reason for this is down to island biogeography, the poor status of some farmland breeding birds, and the limited representation of some habitats in Ireland. As such, given that this indicator represents common Irish farmland bird species only, this is an important point to note.
Habitat Representation: The choice of grid squares to be surveyed through CBS is randomised, although there is an attempt to ensure some balance in terms of regionality. However, this still means that certain habitats are under-represented including upland blanket bog, and agricultural tillage. The CBS trends for species that prefer these under-represented habitats in CBS may therefore be biased, with knock-on effects for the accuracy of indicators that include these species.
Context from the UK and Europe
The Common Bird and Common Farmland Bird Indicators for Ireland can only be calculated since 1998. Significant declines in species occurred in the 1970's and 1980's in particular, as well as the 1990's, before Irish data are available. We can look at the indicators from the UK and Europe to get an idea of the likely trajectory of Irish bird populations pre-1998.
Indicators from both the UK and Europe include species not included in the Irish indicators, some of which breed in Ireland but their numbers and distributions are so low that they are not adequately monitored through CBS. The more positive trend in the Irish Common Farmland Bird Index compared to the UK and European counterparts may be at least partly explained because of the species not included in the Irish Index.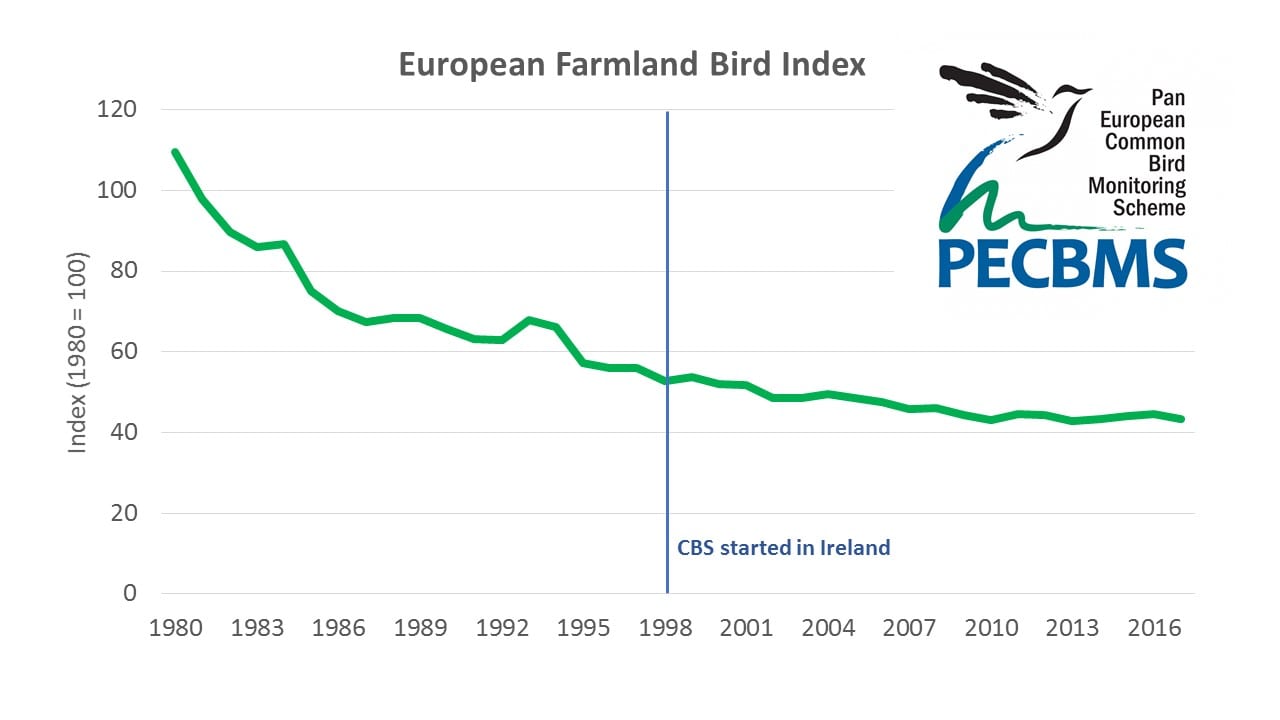 European Farmland Bird Index, via the Pan-European Common Bird Monitoring Scheme (PECBMS).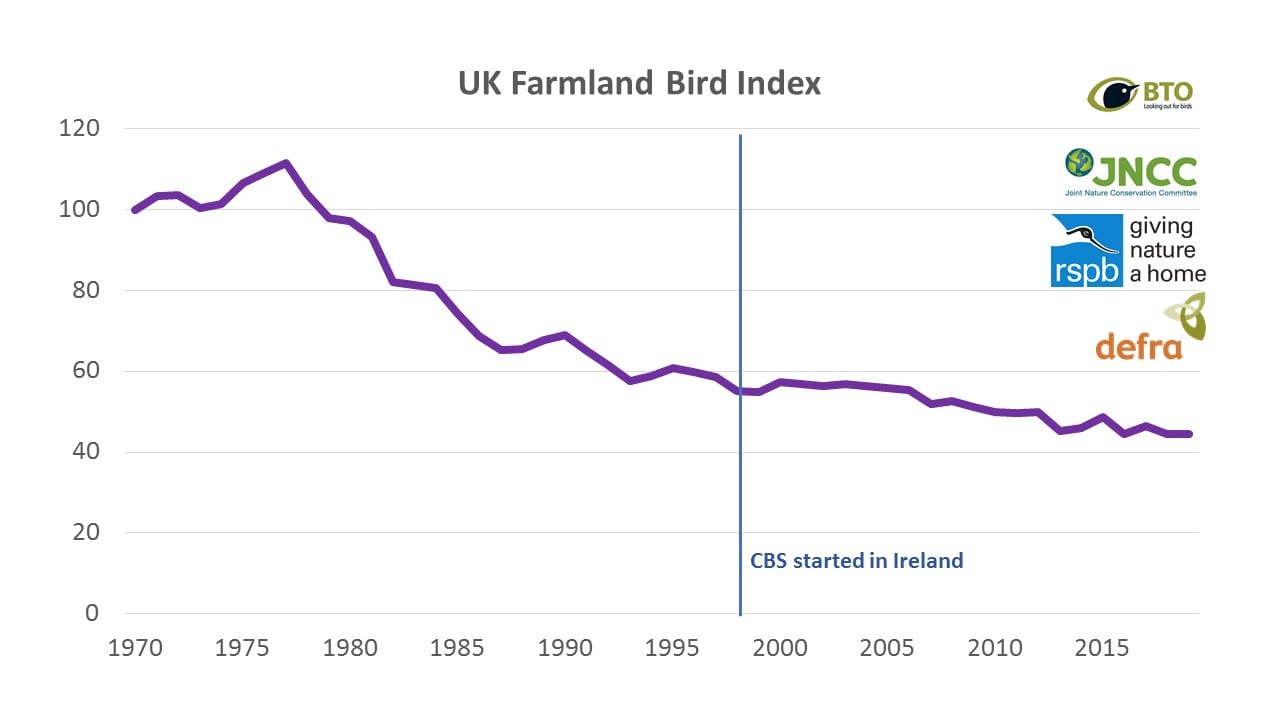 UK Farmland Bird Index, via BTO, DEFRA, JNCC, RSPB.
Full details about the UK Farmland Bird Index can be found on the BTO Website here, and the UK government website here.
The UK Farmland Bird Index stretches back to 1970, so provides an indication of the trends of farmland birds in the UK for nearly 30 years before CBS started in Ireland. The UK Farmland Bird Index includes a wider suite of species than the Irish Farmland Bird Index, and although many of these species are recorded in Ireland, they are not present in high enough densities to meet the threshold for analysis here. The UK farmland bird index contains data for 19 species, consisting of 12 farmland specialists and 7 generalists. Of those 19 species, only three do not occur in Ireland, all of which are farmland specialists: Corn bunting (recently extinct in Ireland), Turtle Dove (former rare regular breeder in Ireland) and Yellow Wagtail (irregular breeder in Ireland). The UK farmland bird index also includes farmland specialists still present in Ireland but not included in the Irish Common Farmland Bird index, such as Tree Sparrow, Lapwing and Grey Partridge, which are all found in fewer than 30 CBS squares.
According to the DEFRA report on the UK farmland bird index (available here), "In 2019 the UK farmland bird index was 45% of its 1970 value. The majority of this decline occurred between the late 1970s and the 1980s largely due to the negative impact of rapid changes in farmland management during this period. The decline has continued at a slower rate more recently…". It is likely that the pre-CBS trend for Irish farmland birds would have followed a similar trajectory over a similar timeline.