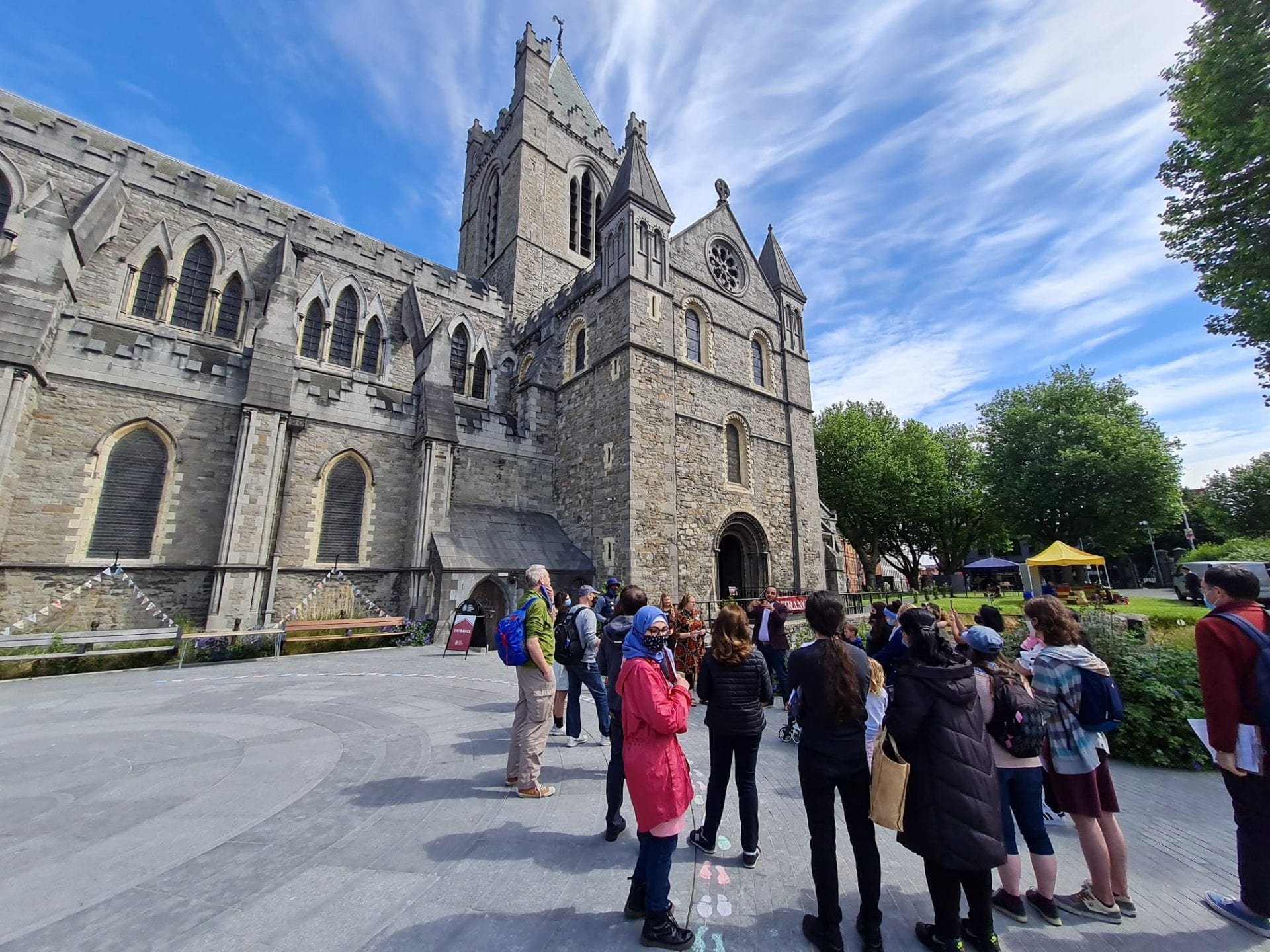 BirdWatch Ireland were delighted to take part in Sanctuary in Nature & Heritage's most recent outing in collaboration with Christ Church Cathedral as part of their Refugee Week programme of events. A day filled with art, culture and heritage.
We have much in common with Sanctuary in Nature. They offer opportunities to migrants, refugees & asylum seekers to enjoy Irish wildlife and built heritage. Our Birds Connect project, which is funded by the Community Foundation for Ireland, focuses on connecting people and birds through citizen science, outreach and training. On this outing we were delighted to welcome residents from Mosney Direct Provision Centre among the attendees.
Lunch in the Dublin City Council Civic Office Amphitheatre, photo by Lorcan Scott.
The day began with a visit to Christ Church Cathedral where guests learned about the building's history and architecture. Once inside, there was plenty of time to take in the moving exhibition, Homing Pigeons, Birds with Wishes made by school children in Aleppo, Syria. Click here to learn more about this wonderful exhibition.
Discussing our Birds Connect Laminated Bird Guide, photo by Lorcan Scott.
After lunch in the grounds of the Dublin City Council  we walked to nearby St. Audoen's park church to enjoy the weather and explore the grounds. Finally we made our way back to Christ Church via a stroll along the Liffey. Lot's of birds could be heard singing in the garden but the hi-light was the Herring Gull feasting on a crab in the river Liffey. Attendees were given Garden Bird and Sea Bird posters and children were given a singing bird stuffed toy each.
A family of Mute swans and a some Herring gulls were among the bird life on the Liffey, photo by Lorcan Scott.
We look forward to building on these new friendships and sharing our love of nature with more events in the future. Keep an eye on our Birds Connect page for more information on the exciting Webinars, resources such as the multi language laminated bird guide, our community nest box scheme, and citizen science projects.
More info on our Birds Connect project can be found here.
More info on Sanctuary in Nature & Heritage can be found here.
We wish to thank the Community Foundation for Ireland for funding the project.