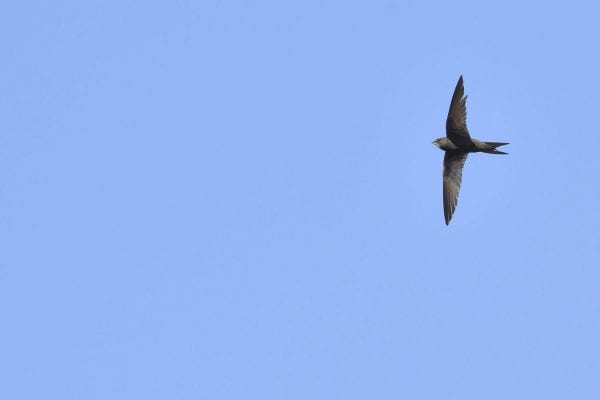 We now have a month of Swift surveying for the Waterford Swift Survey 2021 behind us. So far in Waterford City and surrounds we still have very little to show for our efforts. Despite repeat calls for records of nesting Swifts, few colonies have come to light in the city or in the nearby towns and villages.
This absence in the east part of the county contrasts with the picture shown in the west. Swift survey efforts carried out by the volunteers of the West Waterford Eco Group have identified multiple swift nesting colonies.  Very healthy Swift numbers are to be found in localities such as Dungarvan, Ardmore and Lismore. An evening stroll in Dungarvan is a spectacle indeed for the Swift lover, but further east the skies fall largely silent when it comes to the scream of the Swift.
Swifts "screaming call" – Xeno Canto
We haven't completely drawn a blank in the city. St Otterans Hospital has nests and a decent colony in a city apartment complex has given some hope. Tramore has a few nests too but nothing like you would expect from a town of its size. Overall though the eastern part of the county is the poor relation of the west.
With your help we want to ensure we identify as many of the existing colonies we can. With numbers this low in the east of the county each colony is critically important and if we know its location, we can protect the site for nesting Swifts now and into the future.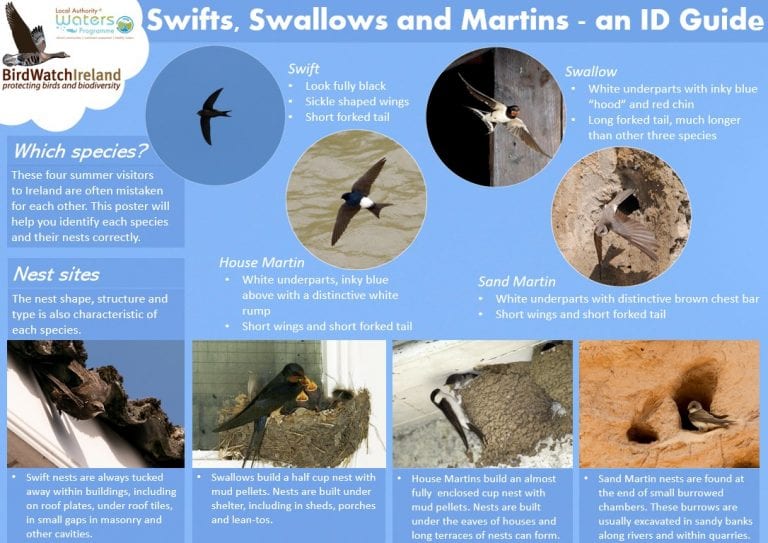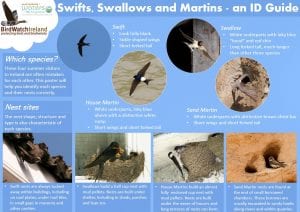 Swifts can be confused with Swallows, House and Sand Martins. This ID chart can be useful in separating each species -BirdWatch Ireland
Once again, we are calling on Waterford residents in the east of the county to take a look for Swifts.  If you encounter Swifts regularly on your street or are aware of a site where they nest, email us at swifts@birdwatchireland.ie.
The Waterford Swift Survey 2021 is a collaboration with Waterford County Council Heritage Office and is funded by the Department of Housing, Planning and Local Government through the National Parks and Wildlife Service Biodiversity Action Plan Fund