Blackcap
| | |
| --- | --- |
| Irish Name: | Caipín dubh |
| Scientific name: | Sylvia atricapilla |
| Bird Family: | Warblers |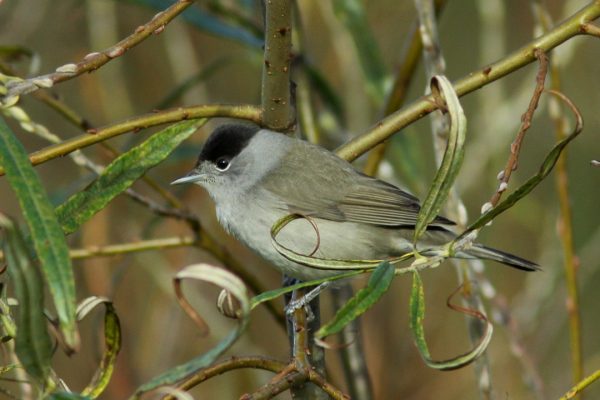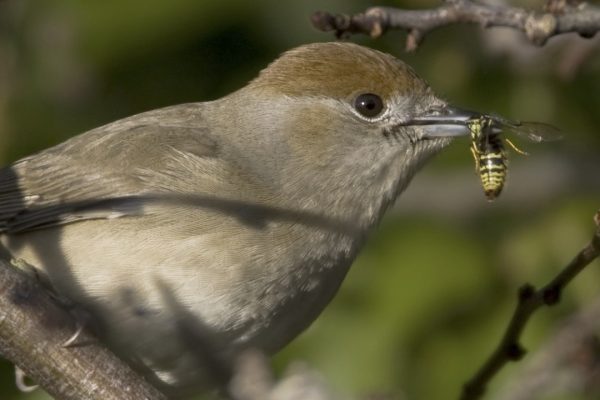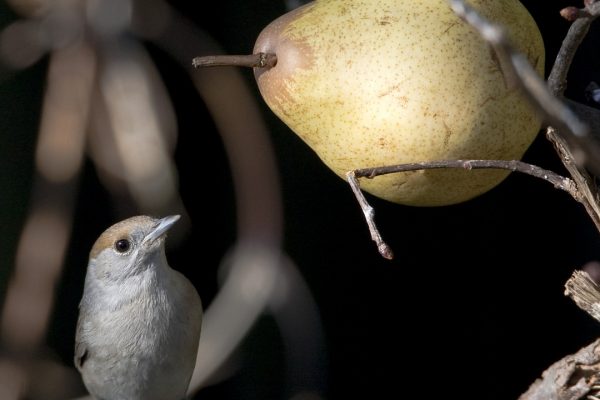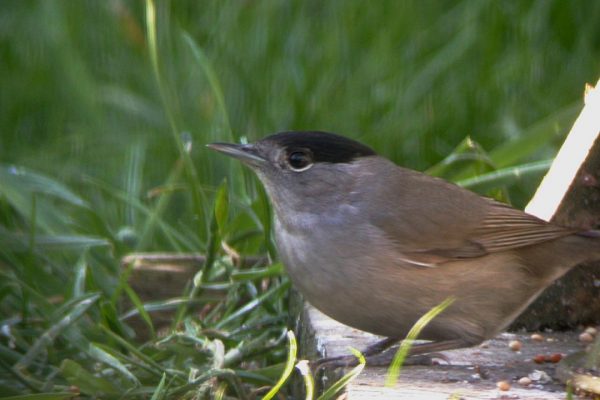 Status
Scarce summer visitor to woodlands in the midlands and northern Ireland from April to September. Also a scarce passage migrant mainly in spring and autumn to headlands on southern and western coasts. Although Irish-breeding Blackcaps still migrate southwards in the autumn, some Blackcaps from the population that breeds in Central Europe migrate to Ireland to spend the winter. One of Ireland's top 20 most widespread garden birds
Identification
About the same size as a Robin. Adult male Blackcaps have a distinct black cap, covering most of the head. The rest of the body is a rather grey-colour, while the vent is white. Adult female Blackcaps have pale brown cap, similar in extent to that of the male. The rest of the body is grey-brown, not as dark as the male.
Voice
A hard "teck", frequently given in a long series. Also infrequently gives a "yu-teck" call. The song is one of the most beautiful songs of all Irish songbirds. It is a rich, melodic series of notes ending in an ecstatic series of flute-like notes.
Diet
Feeds mainly on insects and other invertebrates during the summer. In winter, takes berries (Ivy, Rowan), as well as scraps from bird tables. Will use peanut feeders.
Breeding
Widespread in lowlands throughout Ireland. Breeds in dense decidous woodlands and in mature hedgerows.
Wintering
The majority of the Irish population migrate south to winter in Iberia and North Africa. There is a small wintering population, mainly in the east and south of Ireland. Recoveries of ringed Blackcaps have shown that the majority of these wintering birds originate from Central Europe.
Monitored by
Countryside Bird Survey and Garden Bird Survey
A relatively new arrival to Ireland as range expansion introduces birds originating from France and Southern Europe. Now breeding and colonising successfully throughout Ireland.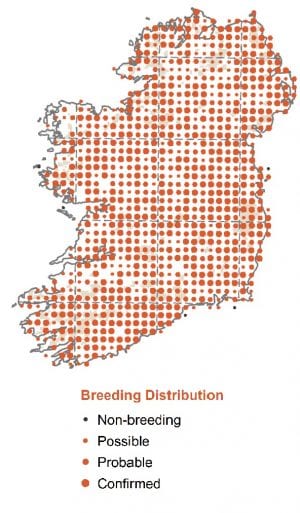 Common and widespread resident. In winter, Blackcaps are attracted to apples and fat balls in gardens.