Long-tailed Tit
| | |
| --- | --- |
| Irish Name: | Meantán earrfhada |
| Scientific name: | Aegithalus caudatus |
| Bird Family: | Tits |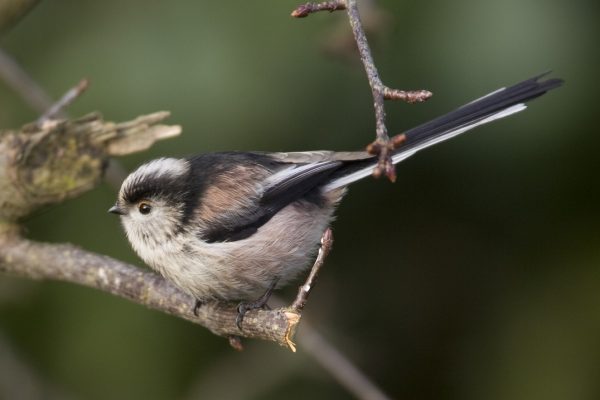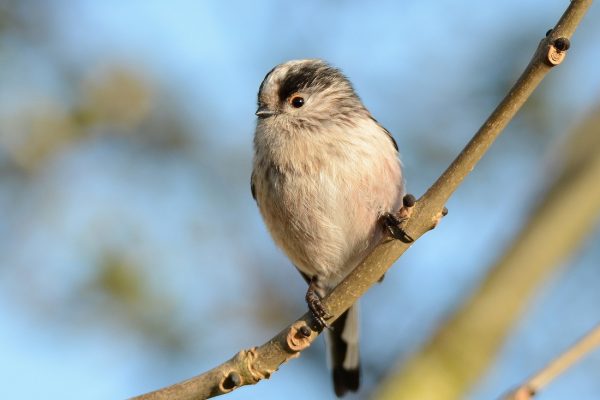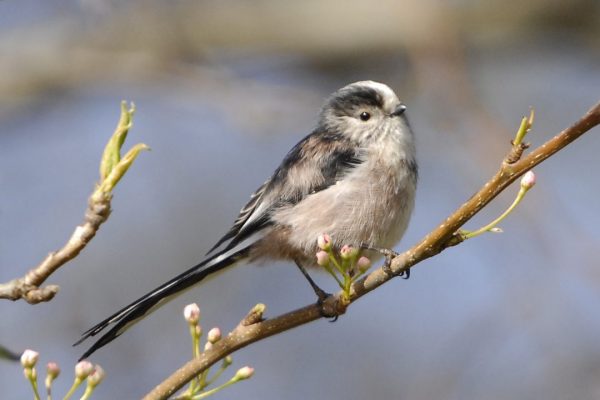 Status
A common resident throughout Ireland.
Identification
Very small, only slightly larger than Goldcrest. In all plumages has an extraordinarily long tail (7cm) in comparison to the size of its body. Adult Long-tailed Tits have a white head with an obvious dark stripe extending from just above the eye to the black back. The underparts are white with a strong pink wash, while the wings are dark with a large pinkish patch. Juveniles are similar to adults, but have a dark head with a white crown stripe. The undersides also tend to be more buffy-white.
Voice
Very vocal. The members in a flock will keep up a continuous chatter while working their way along a hedgerow or through the forest. Typical calls include a "see-sasii-see", a clicking "pt", as well as "zrrrrt" given when alarmed.
Diet
Insects, seeds and nuts. Will take peanuts and fat at bird tables.
Breeding
Long-tailed Tits are a common and widespread breeding species in Ireland, favouring deciduous woodlands, parks and gardens. The nest is one of the most intricate made by any bird in Ireland, consisting of mosses bound together by spider webs and covered in lichens. This species has a co-operative breeding strategy, with younger birds often helping adults to raise chicks.
Wintering
Mainly local movements. Extended family groups can often be seen feeding together at bird feeders.
Monitored by
Countryside Bird Survey & Garden Bird Survey.