Peregrine
| | |
| --- | --- |
| Irish Name: | Fabhcún gorm |
| Scientific name: | Falco peregrinus |
| Bird Family: | Raptors |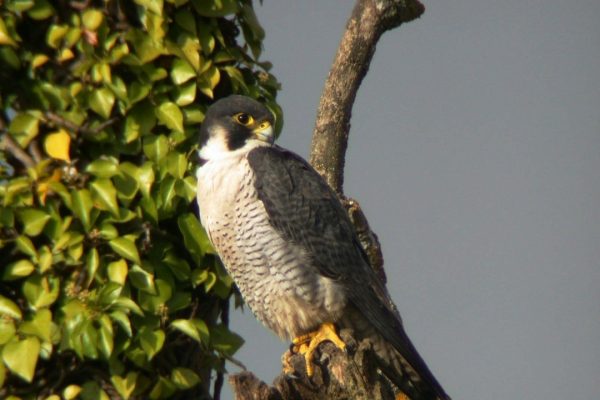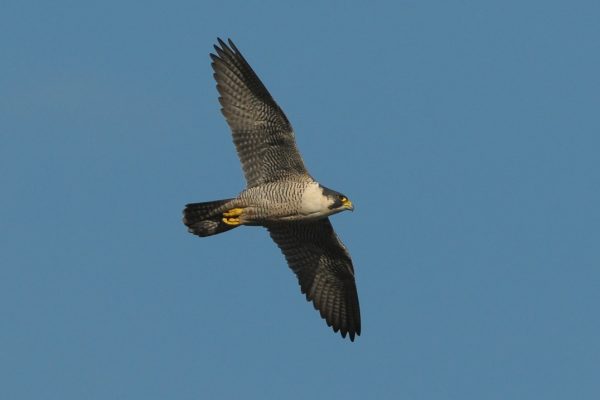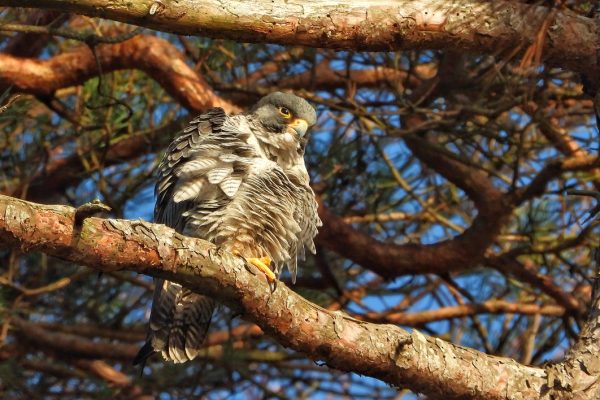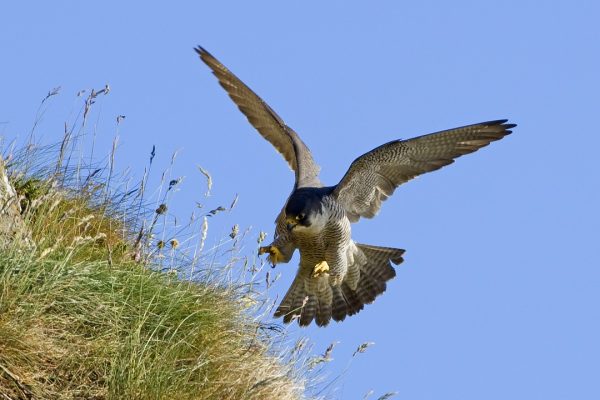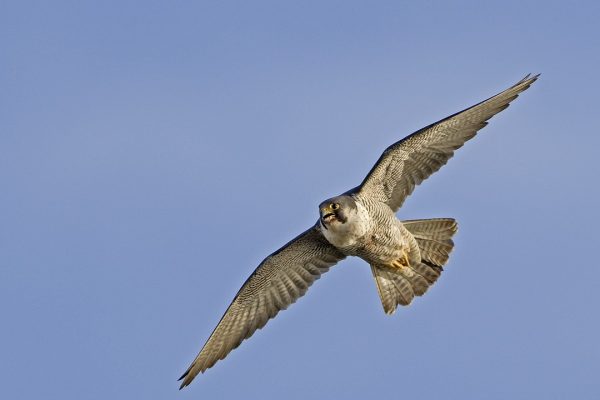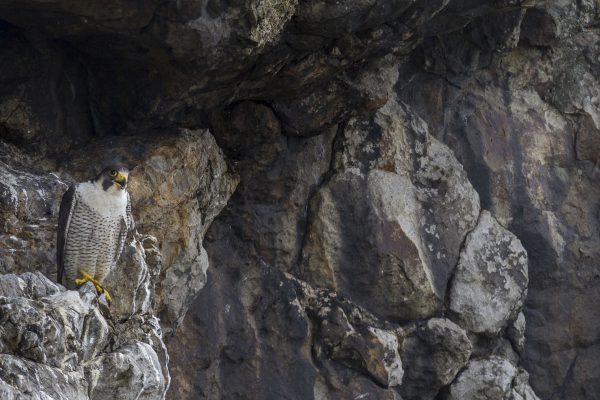 Status
Widespread resident in Ireland.
Identification
A bird of prey (raptor) with a short hooked bill. A species of falcon with a heavy powerfully built body, medium length tail and wings which are broad close to the body and pointed at the tip. Sexual size difference, the female is larger than the male. Male and female plumages are the same, unlike Merlins, the species most likely to be confused with Peregrine. Adults are bluey grey above, with a barred tail; the underparts are white and finely barred, the check, throat and upper breast are plain white and contrast with a black hood and thick moustachal stripe. Juvenile birds are similar to adults but have brownish upperparts and streaked, not barred, feathers on the body.
Voice
Mainly silent away from its breeding site. Main call is a hard persistent cackling.
Diet
Mainly birds, usually taken in the air and sometimes on the ground or on water. Employs spectacular hunting technique where the bird 'stoops' from high above its intended prey, with its wings held close into the body, reaching great speeds. Estimates of speeds vary, but it seems likely that birds reach speeds in excess of 300km/hour, making it the fastest animal on the planet. Kills its prey with force of its impact using its legs at the last moment to inflict the killer blow. Prey includes pigeons, including feral birds, thrushes, waders and wildfowl, gulls and seabirds.
Breeding
Breeds on coastal and inland cliffs. Most birds on the coast breed on the south, west and north coasts, coastal breeding on the east coast is limited by the availability of suitable nesting cliffs. Most inland birds breed on mountain cliffs but will also breed at lower levels. The species is still recovering from a dramatic and well documented decline in the 1950s and 60s due to the effects of pesticide poisoning. The responsible pesticides have been banned and the species has been recovering slowly.
Wintering
Resident in Ireland, but shows some movement away from its breeding areas in the winter. Can be found on the coast, especially on estuaries where they hunt on concentrations of water birds. Some birds move into cites, where feral pigeons provide suitable prey; individuals have been captured on film by a road traffic camera looking down over the quays in central Dublin. Some birds at this time of the year could have immigrated from Britain or even further afield.
Monitored by
Countryside Bird Survey
Resident, mainly in coastal and mountainous regions. Breeding on cliff faces and in recent years migrating into cities and nesting on tall buildings.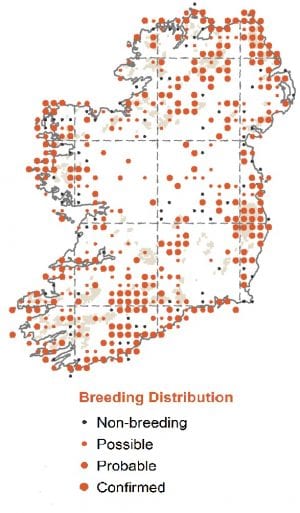 Some birds migratory in the North. Utilising estuaries for hunting in Winter. Attracted by the presence of waders and wildfowl.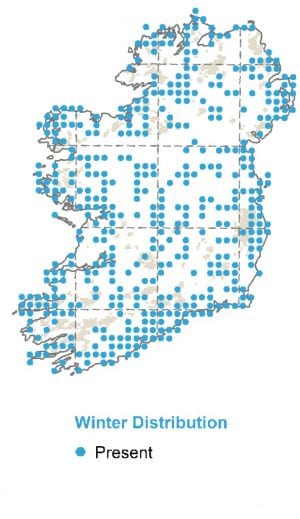 Blog posts about this bird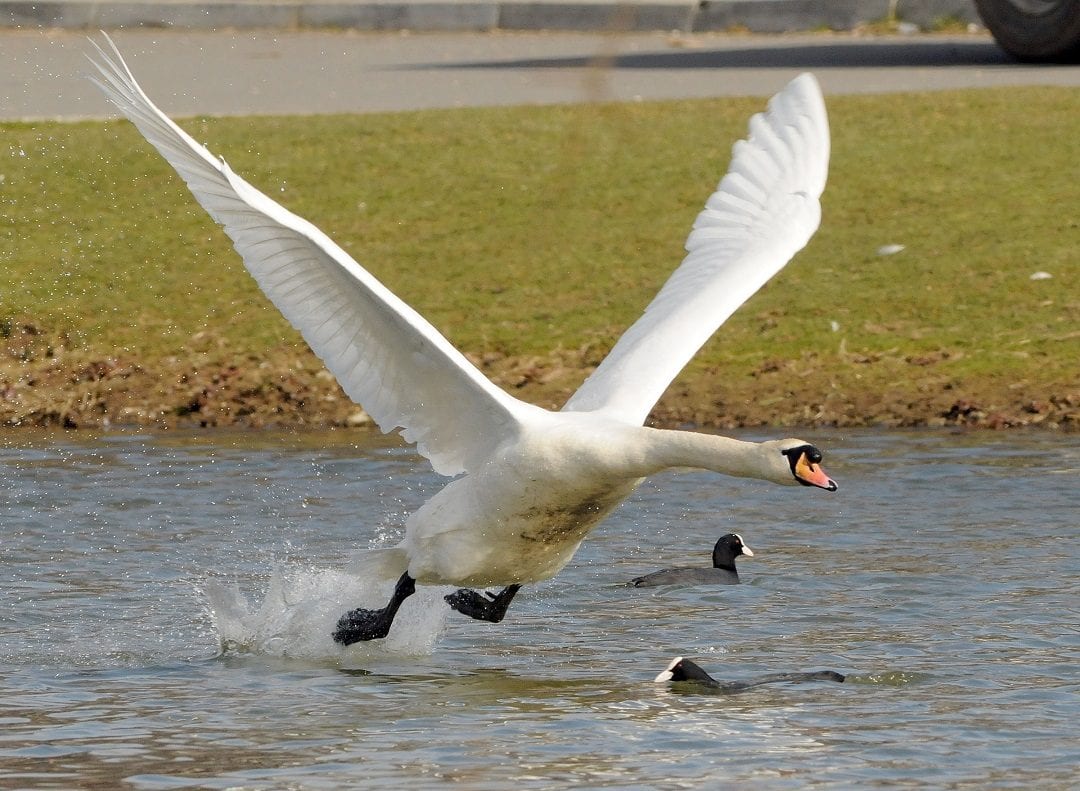 Cases of Avian Flu Detected in Ireland
BirdWatch Ireland are asking members of the public to report any dead or sick waterbird species they might find, so the birds can be tested for avian flu.
(This Article has been updated on 16/12/2020 in light of Update No. 16 of 2020 from the Department of Agriculture)
Avian Influenza has been confirmed in ten wild birds in Ireland so far this winter and a number of others are currently being tested. In addition, cases of avian influenza H5N8 have been identified in a small turkey flock in Co. Wicklow and the necessary precautions and restrictions have been put in place. Although the risk to both human health, or to garden birds, is very low, BirdWatch Ireland is asking the public to keep an eye out for any waterbird species that may be acting strangely or
any dead waterbirds, and to report them to the Department of Agriculture via the Avian Flu hotline (call 076 106 4403)
so that they can be tested appropriately. There are numerous strains and subtypes of avian flu that each vary in severity. The strain that has recently been detected in some wild birds in Ireland is Highly Pathogenic Avian Influenza (HPAI) H5N8, which spreads easily between birds and causes illness, with a high death rate. This strain had been detected in a number of European countries before arriving into Ireland last month.
BirdWatch Ireland are part of an early warning system
with regard to surveillance for signs of disease in wild birds, together with colleagues in the National Parks and Wildlife Service (NPWS), the Department of Agriculture, Food and the Marine and the National Association of Regional Game Councils (NAGC).
A Curlew in Mayo was one of the birds to test positive for avian flu in Ireland this year.
The confirmed cases of avian flu in the Republic of Ireland so far this winter were in a Curlew (Mayo), three Peregrine Falcons (Limerick, Cork, Mayo), a Whooper Swan (Wicklow), a Barnacle Goose (Cork) and four Mute Swans ( 2 in Monaghan, 1 in Kildare, 1 in Wexford). A Mute Swan in Derry
was also amongst five confirmed cases in Northern Ireland last month. Avian flu, in particular HPAI H5N8, is highly contagious for birds and migratory waterbirds are the species most likely to become infected – often ducks, geese, swans, gulls and waders. Many of these species migrate here for the winter, and congregate in large numbers, increasing the chances of the virus spreading. Certain birds of prey that might feed on waterbirds, particularly sick waterbirds that are vulnerable to predation, can also become infected and this includes Peregrines and White-tailed Eagles. Members of the public are advised
not to handle sick or dead wild birds, but to report them
to your local Regional Veterinary Office (
click here for contact details
) or contact the DAFM avian flu hotline on 1850 200456. It is important that any potential cases of avian flu are investigated and documented appropriately in order to monitor the spread of the virus.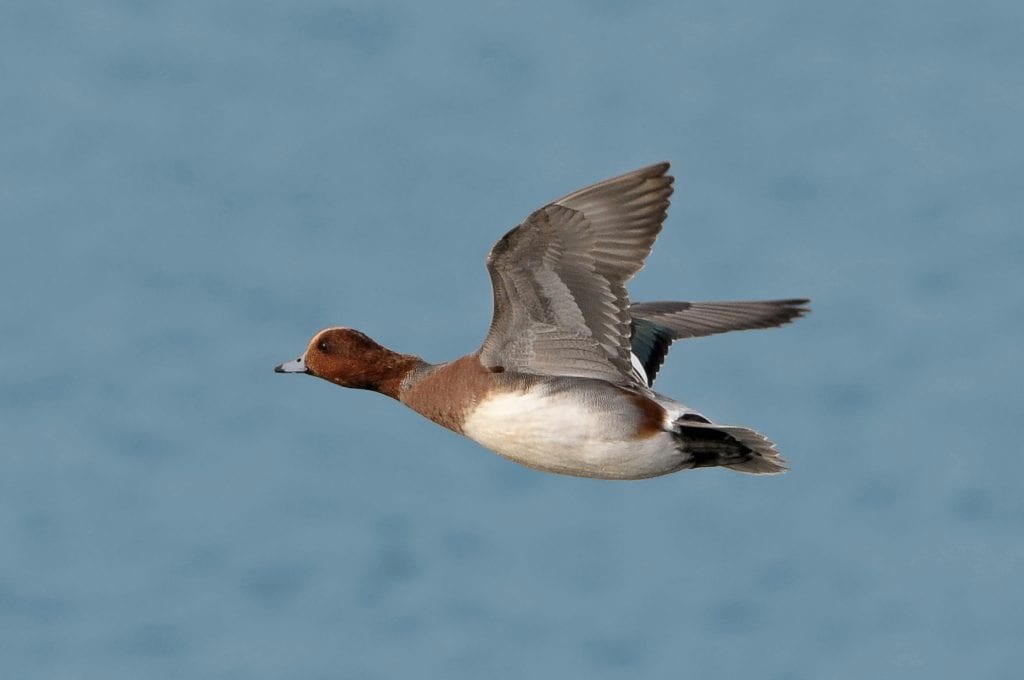 Other waterbird species such as Wigeon are vulnerable to avian flu and any dead or sick birds should be reported immeditately.
To date there have been no cases in poultry flocks in Ireland, but poultry owners should familiarise themselves with Department of Agriculture guidance on biosecurity and new regulations introduced as a precautionary measure. It should be stressed that there is
no food safety risk for consumers
and that properly cooked poultry and poultry products are safe to eat.
Further information and updates are regularly made available on the Department of Agriculture website: