Snipe
| | |
| --- | --- |
| Irish Name: | Naoscach |
| Scientific name: | Gallinago gallinago |
| Bird Family: | Waders |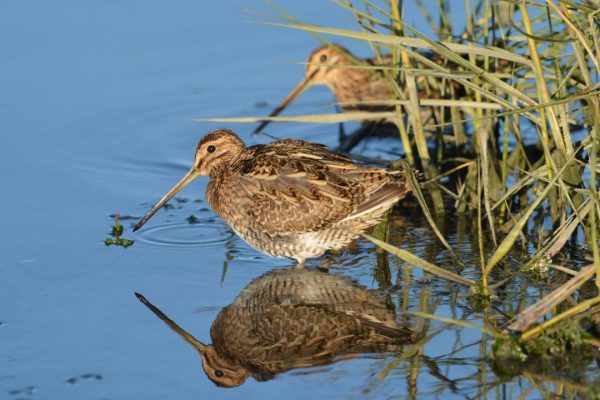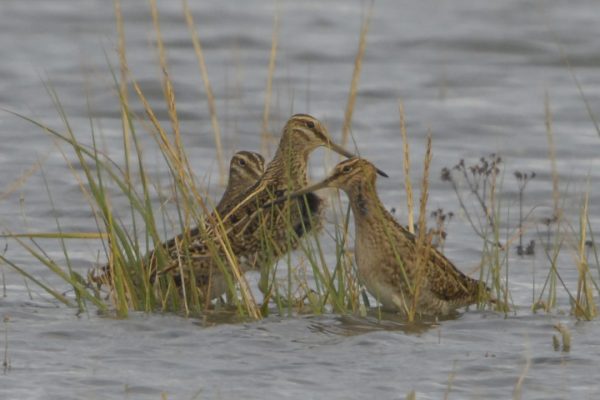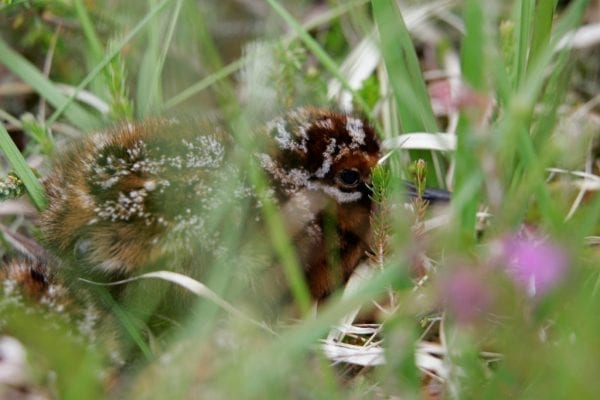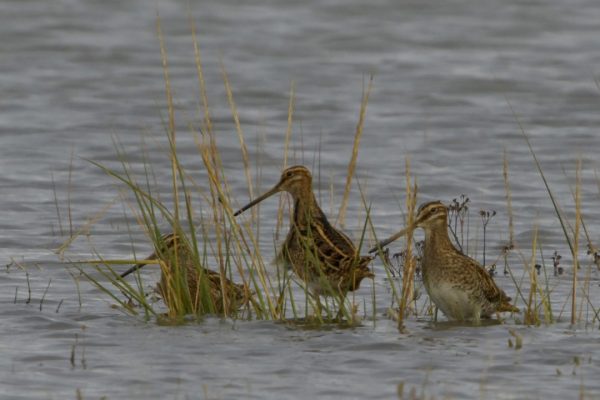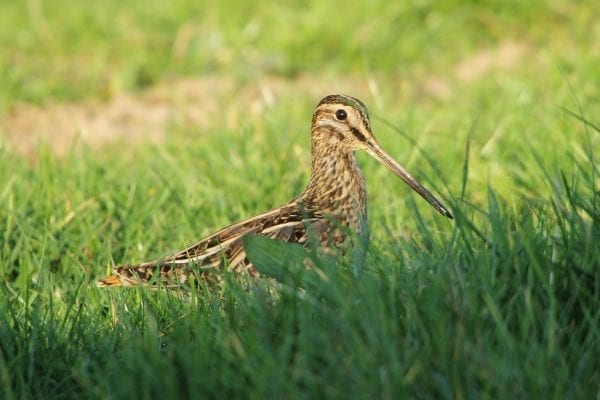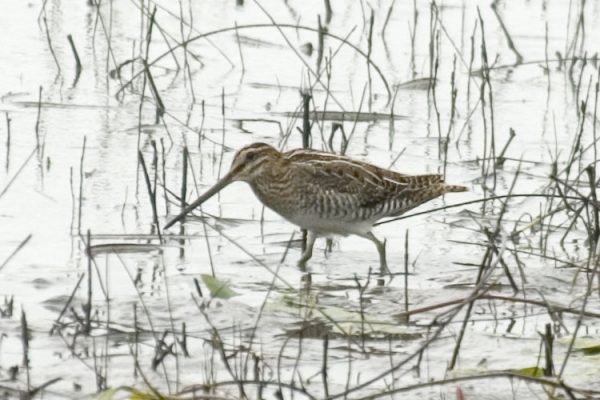 Status
Summer visitor from west Europe and west Africa, winter visitor from Faeroe Islands, Iceland and northern Scotland.
Identification
A relatively common wader but not easily seen, unless flushed out of marshy vegetation, when it typically towers away in a frantic zig zag fashion. The disproportionately long, straight bill is easily visible in flight. If you are lucky enough to see one standing partially or wholly out in the open (usually at the edge of reeds), you will make out the series of dark brown, pale buff and black stripes and bars on the head and body - this produces a good camouflage effect.
Voice
Flight call an abrupt "scratch..". Song includes a far-carrying "chipper, chipper…" often at night - sometimes delivered from a fence post. During display flights over the nesting territory, they make an eerie goat bleating sound - this is called drumming and it is produced by stiff feathers sticking out at the tail sides, which vibrate as the bird flies in a roller coaster pattern in the sky.
Diet
Diet consists largely of vegetable matter and seeds, and earthworms, tipulid larvae and other soil invertebrate fauna.
Breeding
Nests on the ground, usually concealed in a grassy tussock, in or near wet or boggy terrain. Young leave the nest soon after hatching.
Wintering
Highly dispersed distribution in winter. They forage across a variety of wetland and damp habitats. Particularly high concentrations are found on the fringes of lowland lakes
Widespread resident. Underrecorded during surveys. Shannon & Fergus Estuary in County Clare, Ballymacoda in County Cork and Tralee Bay, Lough Gill & Akeragh Lough in Kerry have supported the highest numbers (>150 birds).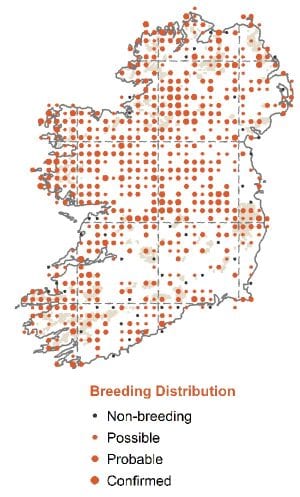 Numbers bolstered in Winter due to migration of European birds.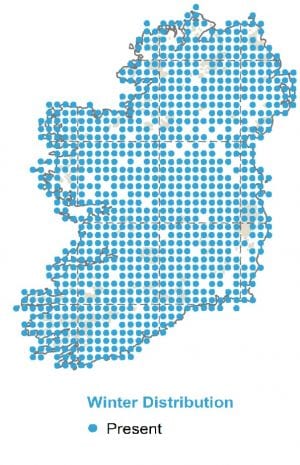 Blog posts about this bird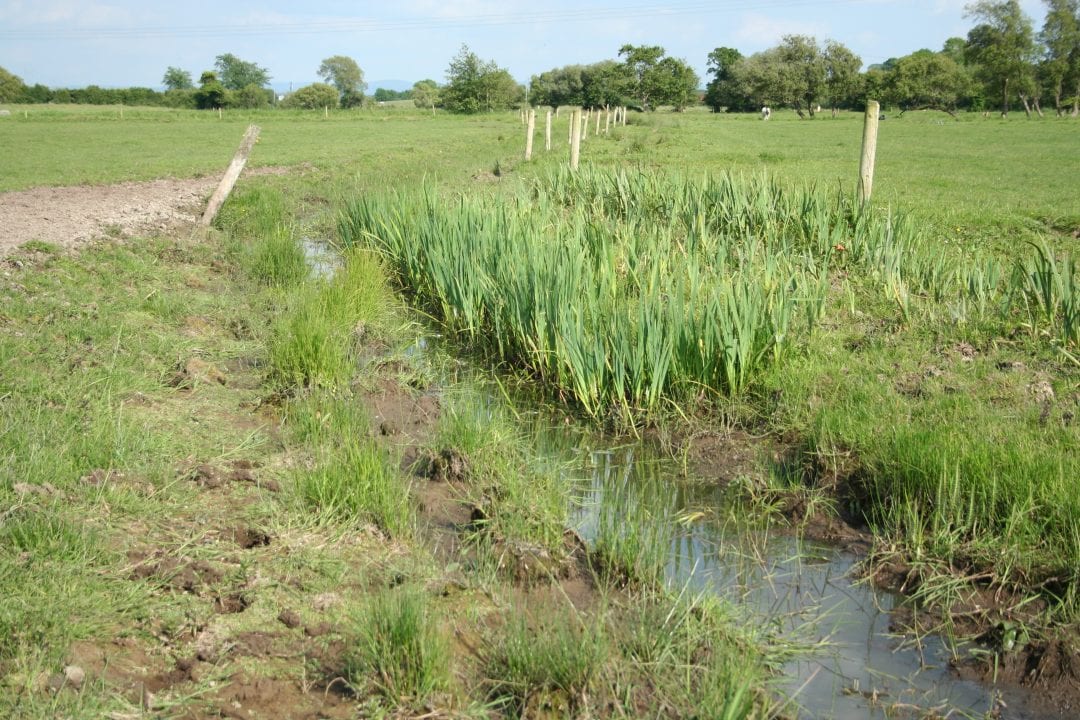 Government must find 17 million euro to save Ireland's most threatened farmland birds
Photo: Curlew chick feeding habitat on farmland BirdWatch Ireland has written to
Ministers McConalogue, Hackett
and
Noonan
calling for them to find 17 million euro to put in place a robust national scheme to support farmers to save threatened farmland birds. BirdWatch Ireland has identified that a scheme underpinned by at least a 30 million euro is required to support farmers to undertake habitat and other measures to save Ireland's breeding waders from extinction. Those are Curlew, Lapwing, Dunlin, Golden Plover, Redshank and Snipe. In this regard, the Irish Government is found wanting, as to date it has only secured 13 million euro in Ireland's Common Agriculture Policy Strategic Plan, split between the Department of Agriculture, Food and the Marine and the Department of Housing, Local Government and Heritage. Oonagh Duggan, Head of Advocacy at Birdwatch Ireland said, "The budget for farming in the next CAP is 9.8 billion euro yet a mere 6 million euro of this has been allocated to pay farmers to protect and restore farmland for Curlew and other breeding waders, the most threatened of our farmland bird species.
This is not even one-sixteenth
of a percentage point of the available funds
while 1.25 billion is allocated to the Area for Natural Constraints scheme yet it has no linkage with environmental action. And the 1.5 billion ecoscheme is very weak on environmental ambition". "Coupled with the right policies, the breeding wader scheme is one which can deliver real results if properly funded. Farmers want to act for nature but need the funding to enable them to do so. We call on Ministers McConalogue, Noonan and Hackett to work together to secure the additional 17 million needed to ensure a robust national breeding wader scheme is in the next CAP. We know that conservation actions work, but political will and investment is urgently needed to fund these actions before it is too late. "Agriculture policy has played a significant role in driving the losses of bird species like Curlew and Lapwing, and funds must be found in Ireland's budget for the Common Agriculture Policy to stop these declines and reverse them. If these species go extinct in Ireland, costly re-introduction plans will be required and no one wants to be in that position. The time to invest in our natural heritage is now." Breeding waders are the most threatened group of farmland birds. Loss of populations and range is down to policies which have encouraged specialisation and intensification in agriculture, peat cutting and now afforestation policy and the impacts of predation too.
Breeding Waders
Conservation Status (BoCCI 2020)
Percent Change 1970-2010
Percent Change 1990-2010
Curlew
Red List
-78
-73
Dunlin
Red List*
-69
-71
Golden Plover
Red List*
-50
-42
Redshank
Red List
-55
-47
Lapwing
Red List
-53
-33
Snipe
Red List
-34
-8
Figures from Bird Atlas 2013
* = Annex 1 Birds Directive
Farm schemes for waders, also have benefits for other threatened ground nesting birds, including skylark and meadow pipit, insects including pollinators, species rich and High Nature Value grasslands. These sustainable agricultural systems, contribute to improving water quality, mitigating greenhouse gas emissions, and support a healthier agri-environment overall. We know that conservation actions work but political will and investment is needed to fund these actions. Recently the
European Commission sent a letter to the Irish Government
stating that its approval of Ireland's Common Agriculture Policy Strategic Plan and its budget of 9.8 billion euro in citizens' funding hinges on a significant ramp-up in environmental ambition. The necessary measures include reversal of farmland biodiversity loss, effectively tackling polluted waterways and cutting greenhouse gas emissions from agriculture. However, BirdWatch Ireland
analysis
shows that only 7% of the overall budget targeted towards the Cooperative Projects will result in effective action for the environment, with the rest going to fund measures that are not targeted enough to secure environmental improvements.
BirdWatch Ireland's submission
to the observation letter states clearly what needs to be done to get Ireland on track to meet environmental obligations within the CAP. Oonagh Duggan continued, "CAP public funds should be redirected to pay for public benefits on farmland. Farmers desperately want to act on climate, water quality and biodiversity loss and should be supported to do so. It is outrageous that so little funding is allocated to these and that schemes are not designed to ensure quality outcomes." One of the objectives of the CAP is that agriculture funds must contribute to reversing the losses of farmland birds. BirdWatch Ireland has mapped out where these species are and Ireland's CAP Strategic Plan is not doing anywhere near enough to meet this objective. If Government fails to fund the breeding wader scheme adequately it will mean that they have turned their back on these most threatened of our farmland birds and that will be the lasting legacy of this government.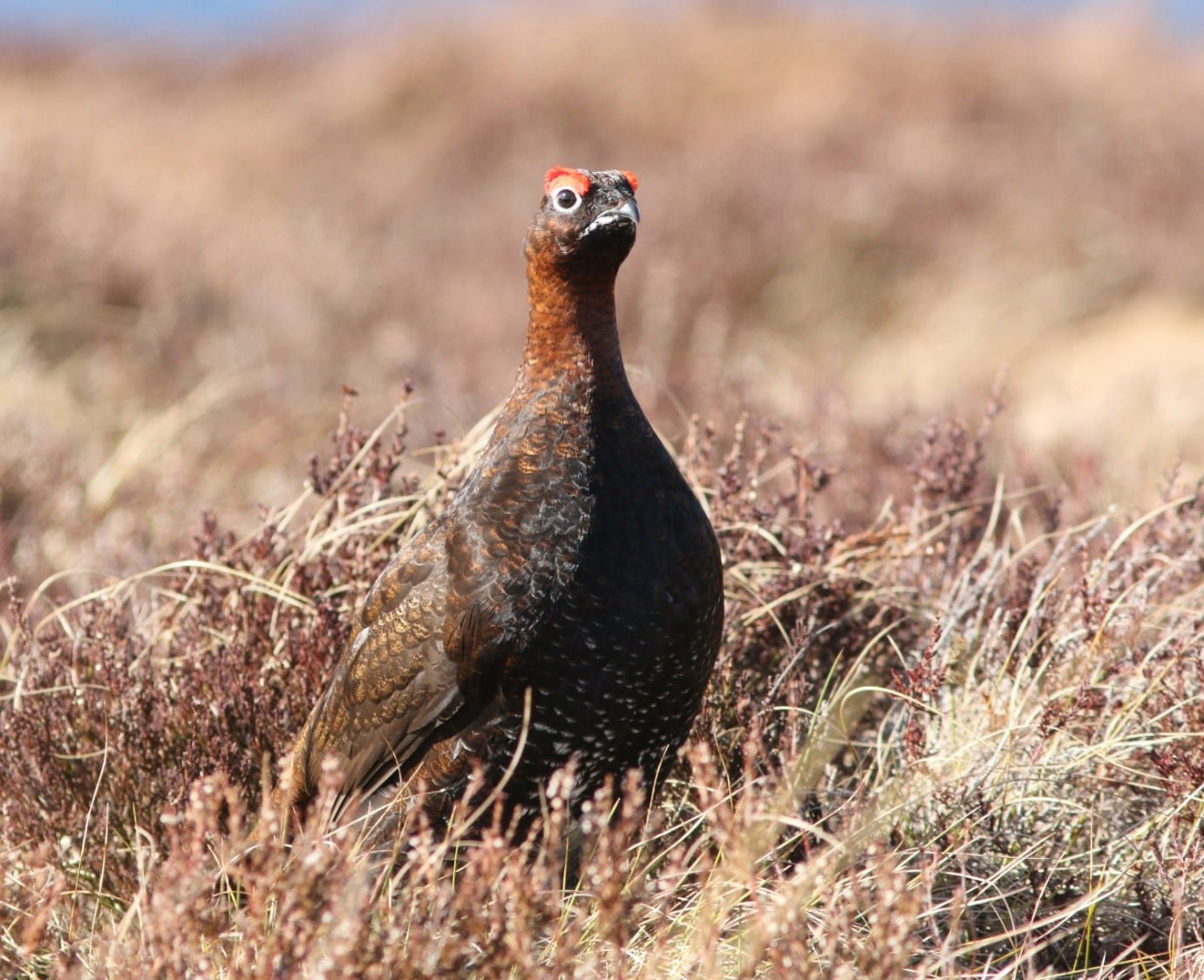 New video showcases conservation efforts bringing life back to a Galway Bog
Galway's Living Bog
The future of Carrownagappul Bog, like so many other raised bogs, was one of continuing deterioration. Through collective efforts to restore the bog, which have been embraced by local communities, the future of the site now looks very different. A new video by BirdWatch Ireland and Galway County Council, and funded through the Department of Housing, Local Government and Heritage, called 'Life on the bog' showcases the rich biodiversity of Carrownagappul, the wildlife that is slowly returning to the bog and the efforts to restore this special site.
[embed]https://youtu.be/CPXxIxnplq8[/embed] We often only appreciate something once we lose it. We have come dangerously close to this situation when it comes to our bogs, but thankfully this is changing. Our relationship with 'the bog' in Ireland has been mostly one of under-appreciation and over-exploitation.
For many people, the word 'bog' still brings with it negative connotations, and conjures images of an unproductive, dark place that is devoid of life – nothing could be further from the truth.
Collectively, it seems there is a slow awakening to the true beauty, rich biodiversity and unique nature of these special habitats, and an understanding of the vital role they play in all of our lives - it only took us a few thousand years!
Carrownagappul Bog SAC, near Mountbellew in east Galway is one of the largest remaining, relatively intact raised bogs in the country. The 325 hectare bog, is currently undergoing restoration - as well as a rebirth in the minds of the local community. Like so many bogs across the country, Carrownagappul Bog SAC was drained, dried out and degraded.  With turf-cutting at an end on the site, communities surrounding Mountbellew are starting to embrace a new future for the bog, one which realises its significant potential for biodiversity and carbon storage as well as an amenity for locals.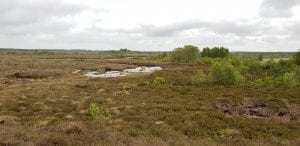 Carrownagappul Bog © John Lusby
A number of different groups, from very different backgrounds have come together for the same purpose, to restore and protect Carrownagappul Bog, and part of this has involved raising awareness of the importance of the bog and encouraging people to come and appreciate it for themselves. Marie Mannion, Heritage Officer with Galway County Council, commented
'it is amazing what can be achieved when we work together and highlighting the richness, heritage and beauty of our bogs.'
Paul Connaughton has been influential in helping to change local mindsets towards the bog, just has his own has changed, he commented 
'I have been visiting the bog and cutting turf on the bog all my life, I find it amazing that you can be so familiar with a place yet only know a certain side of it, I have to admit, despite visiting the bog all my life, it is only recently that my eyes have been opened to the wildlife that lives on the bog'. We are now working to ensure that the natural beauty of the flora and fauna will be restored and preserved to be enjoyed by many generations to come'.
The 'Living Bog Project' has worked to restore twelve raised bogs in the midlands, which includes Carrownagappul Bog SAC, where over 3,000 dams were installed across a vast network of open drains. The restoration works have focused on rewetting the bog to allow the growth of sphagnum mosses – the building block of the bog. Ronan Casey, Public Awareness Manager with The Living Bog Project, commented
'Restoring a bog is only part of the equation. We are restoring  Carrownagappul for biodiversity but also for local water quality and the planet. The carbon storage potential of sites like this is immense. But one of the biggest and best things about this bog has been the involvement of the local community. The is perhaps the most accessible bog in the country, thanks to its past uses, and its future as a community amenity is all down to the locals, who have designed some brilliant walking loops, trails and facilities at which generations to come can marvel at the wildlife which has been returning to this protected bog since restoration works began in 2017."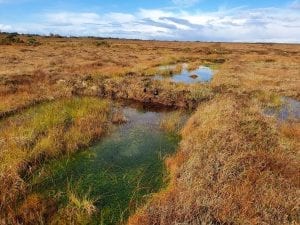 Peat dam at Carrownagappul Bog © John Lusby
BirdWatch Ireland have also come on board and worked with Galway County Council and Galway Telework to undertake a survey of the breeding birds on the bog, which recorded forty breeding bird species. John Lusby commented 'although I am from Galway, I wasn't very familiar with Carrownagappul before I first set foot on the bog, but I remember distinctly the first time I did, it was very early on a spring morning as the sun was coming up, and the first thing that struck me was the dawn chorus, which was simply spectacular. The bog was alive with the sound of Snipe drumming, Cuckoo calling, Red Grouse, and many other birds competing to be heard. It is a special place and we are very lucky that we didn't loose it, it will take time to see the benefits of the restoration works, but the future is exciting, and such a dramatic change from its recent past'.
BirdWatch Ireland, Galway County Council with help from Galway Telework, The Living Bog Project and MKO, also ran a nature camp at Carrownagappul Bog, which brought local children out onto the bog with scientists to get down and dirty and explore the wonders and the wildlife of the bog. Through hands on activities the children learned about how the bog was formed, the depth and age of the peat under their feet, the water retention qualities of sphagnum mosses, and the many specially adapted plants that live on the bog, including insectivorous plants! As well as some of the birds and mammals that depend on the bog, including up close encounters with some of these! Marie Mannion, commented
'not only was it an opportunity for the children to become aware and know about the amazing place their local bog is also was a revelation to their parents on this hidden heritage gem that is on their doorstep'.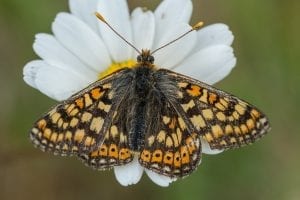 Marsh Fritillary © Cathal Forkan
Galway County Council and BirdWatch Ireland, teaming up with The Living Bog Project and Galway Telework have developed a range of education materials on Carrownagappul Bog. A video called
'Life on the Bog'
showcases the wildlife on the bog, and documents the recent history and restoration works on Carrownagappul Bog. John Lusby commented,
'It is very easy to take a place like this for granted, and that is exactly what we have done with so many bogs like it that are now lost. When you take the time to look properly and to appreciate just how complex these habitats are and the diversity of life they support then you will be rewarded. We only captured a small glimpse of the wildlife on Carrownagappul Bog in the video, but I hope it gives a sense for just what is here and also what is possible when people come together to protect what is important'.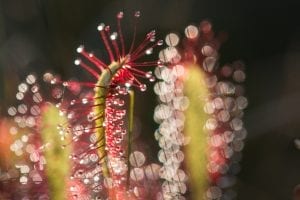 Sundew - an insectivorous plant adapted for life on the bog © Cathal Forkan
This project was an action of the Galway County Heritage and Biodiversity Plan 2017-2022, with funding provided through the National Biodiversity Action Plan, National Parks & Wildlife Service, from the Department of Housing, Local Government and Heritage and Galway County Council.
The video 'Life on the bog' was filmed and edited by Crow Crag and is being released in conjunction with 'Worlds Wetlands Day 2021' and is available here: Life on the bog and on the Galway Community Heritage website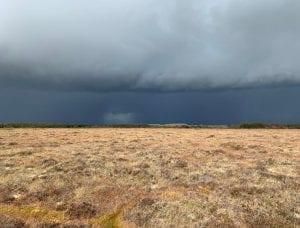 Rain is on the way at Carrownagappul © Ronan Casey