Curlew
| | |
| --- | --- |
| Irish Name: | Crotach |
| Scientific name: | Numenius arquata |
| Bird Family: | Waders |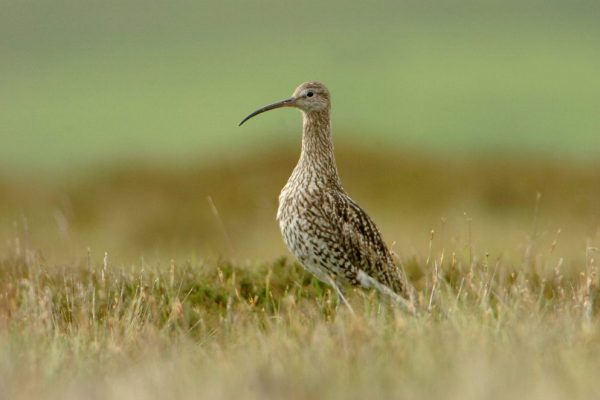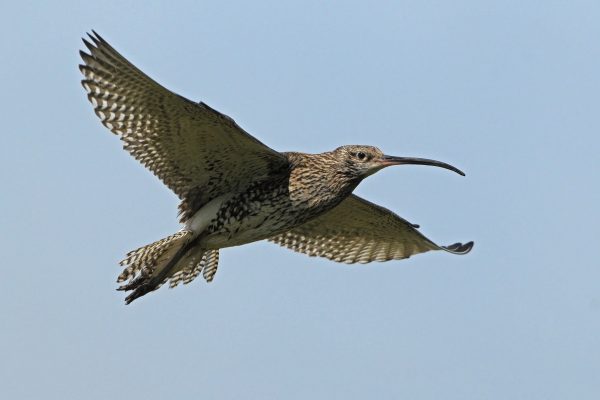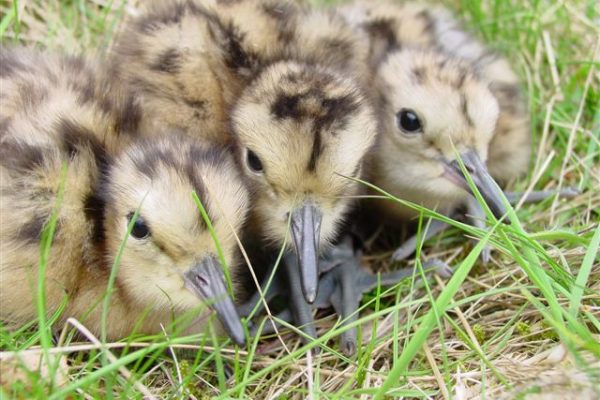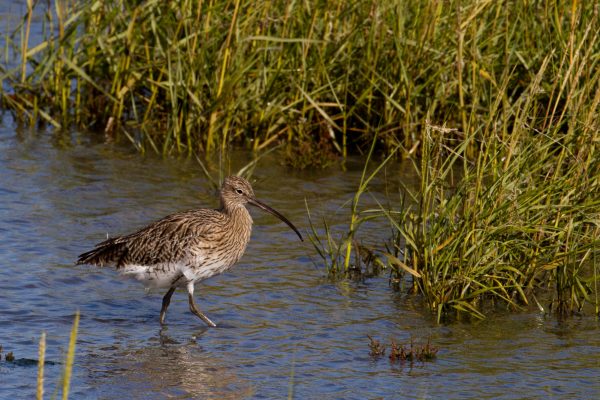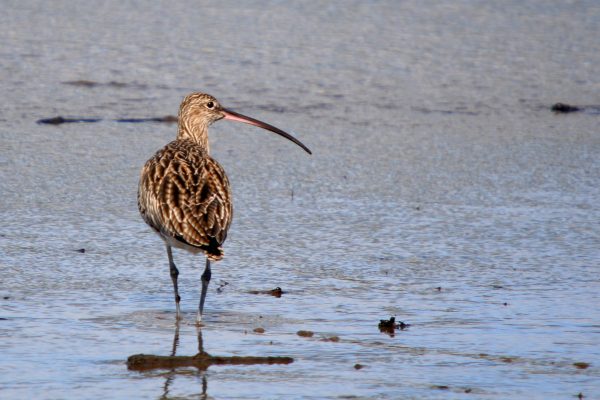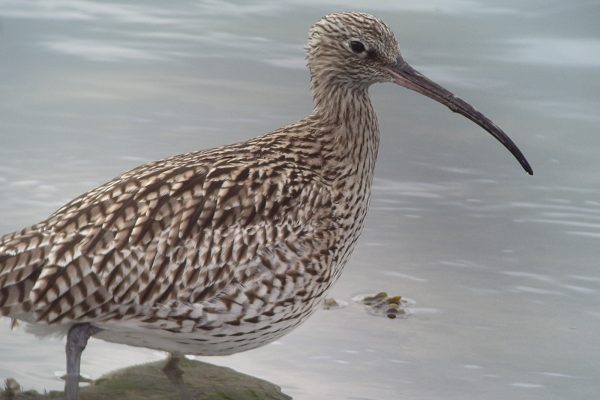 Status
Winter visitor to wetlands throughout Ireland, as well as breeding in small numbers in floodplains and boglands. Numbers and range have declined substantially in recent decades. It is likely that increased afforestation and agricultural improvement are responsible for these declines.
Identification
The largest wader - very distinctive with long legs, bulky body, long neck and long decurved bill. Fairly uniform greyish brown, with bold dark streaking all over. Only likely confusion species is the smaller Whimbrel, which occurs in spring and autumn.
Voice
Unmistakable ascending "cur..lee, cur..lee" whistle, or sometimes "cew, cew, cew". Song in breeding season a long, rapid bubbling repetition of a single note.
Diet
They feed mostly on invertebrates, particularly ragworms, crabs and molluscs. They are usually well dispersed across the estuary while feeding, but roost communally, usually along salt marshes and sand banks.
Breeding
Nests on the ground in rough pastures, meadows and heather. Not a common breeder, but found in most parts of the country.
Wintering
Winters in a wide range of wetland habitats (coastal and inland) and other good feeding areas including damp fields. The Irish breeding population is supplemented by Scottish and Scandinavian breeders in winter.
Monitored by
Internationally important resident population, has undergone serious decline. Breeds in a mosaic of upland habitats.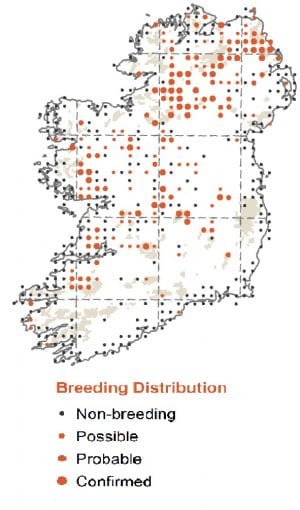 Numbers bolstered in Winter due to influx from Europe. Shannon & Fergus Estuary in County Clare, Cork Harbour in County Cork, Lough Foyle in County Londonderry, Lough Swilly in County Donegal, Strangford Lough in County Down and the Wexford Harbour & Slobs in County Wexford support between 1,500 and 2,500 birds.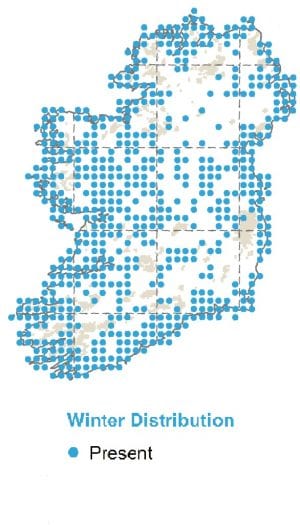 Blog posts about this bird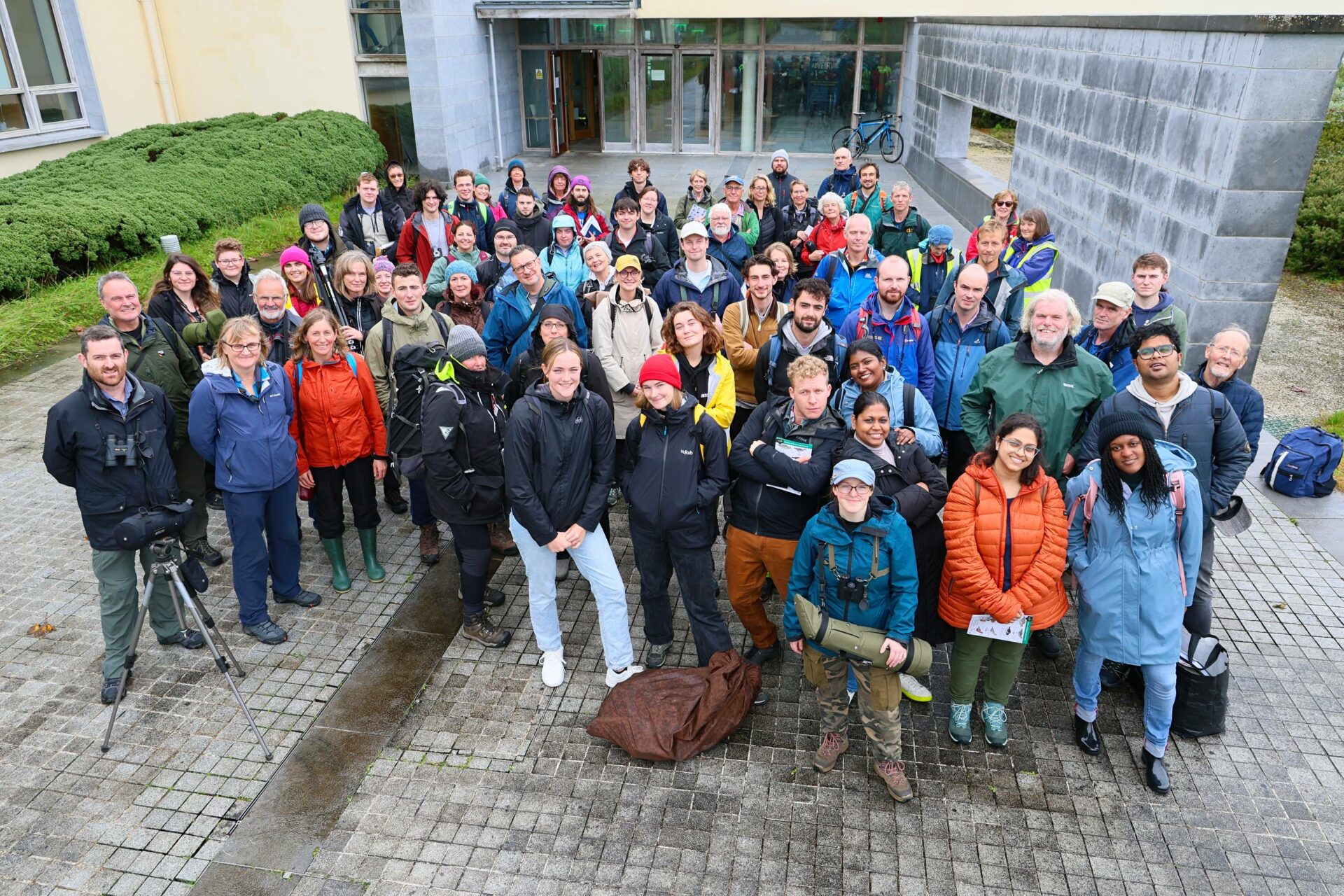 Record attendance at I-WeBS workshops highlights public appetite to support biodiversity
The high attendance at two recent introductory
Irish Wetland Bird Survey (I-WeBS)
workshops in Galway highlighted an increasing public desire to learn about and support biodiversity. Organised by BirdWatch Ireland in collaboration with Galway County Council and Galway City Council with the support of the NPWS, the workshops were aimed at showing birdwatchers how they can help monitor wintering waterbird populations at Inner Galway Bay and in turn, inform their conservation. Additionally, BirdWatch Ireland also hoped to recruit new skilled I-WeBS observers to survey this important site during the 2023/ 24 season. Over 120 people attended the workshops across the two days. The training days, which involved a combination of informative talks about the I-WeBS survey followed by an outdoor field method demonstration, were held on the 23
rd
September at Knocknacarra Community Centre and the 6
th
of October the Marine Institute. Within the talks, attendees found out about why it is so important to survey our wintering waterbirds as well as some hot tips for identifying and counting waterbirds. To pick up some tips and tricks for identifying waterbirds, take a look at the
I-WeBS training tools
.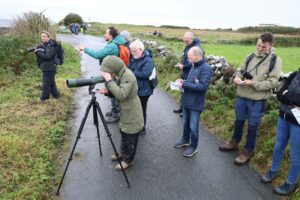 Workshop participants getting a glimpse of some interesting waterbirds at Rinville.
The outdoor portion of the events – which took place at Rusheen Bay and Rinville – proved fruitful, offering views of waterbirds such as
Lapwing
,
Curlew
,
Turnstone
and
Sandwich Terns
, to name but a few. Although not a waterbird, the sight of a beautiful female
Wheatear
hopping along the nearby rocks was a delightful bonus. Attendees brought with them a wealth of relevant experiences, skills and interests, with a high number of local university students and ecological consultants particular taking part. The interactive and informative workshops have thus far resulted in the recruitment of 30 new I-WeBS volunteers for Inner Galway Bay, with many more attendees choosing to sign up to survey at other sites. Meanwhile, the events inspired many more to get involved with their local Galway Branch of BirdWatch Ireland. In addition to boosting survey volunteer numbers, the recent events also offered a fantastic platform to spread the word about I-WeBS – a National Parks and Wildlife Service (NPWS) funded monitoring project that has been running since 1994. Every year between September and March, close to 500 I-WeBS volunteers record wintering waterbirds at important wetland sites around the country. Irish wetlands are extremely important for the survival of these birds and I-WeBS keeps track of how these birds are faring so that informed conservation action can be taken.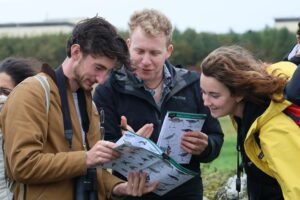 Participants working together to identify birds at Rinville.
The recent I-WeBS workshops focused predominantly on Inner Galway Bay – an internationally important site for wintering waterbirds, hosting over 20,000 birds every season.  Inner Galway Bay is a site of international importance for the Great Northern Diver and Light-bellied Brent Goose, meaning that it regularly supports one per cent or more of the flyway population of these species. It is also a site of national importance for many birds, including Red-listed species such as
Shoveler
,
Grey Plover
,
Dunlin
,
Redshank
,
Black-tailed Godwit
,
Bar-tailed Godwit
and
Lapwing
. In all, the workshops proved to be a great success, in large part due to the strong collaboration between BirdWatch Ireland, BirdWatch Ireland's Galway Branch, Galway County Council, Galway City Council, the Marine Institute and Knocknacarra Community Centre. BirdWatch Ireland is particularly grateful to Galway County Council and Galway City Council for funding binoculars and telescopes, which will be available for survey volunteers to rent from Galway City Library.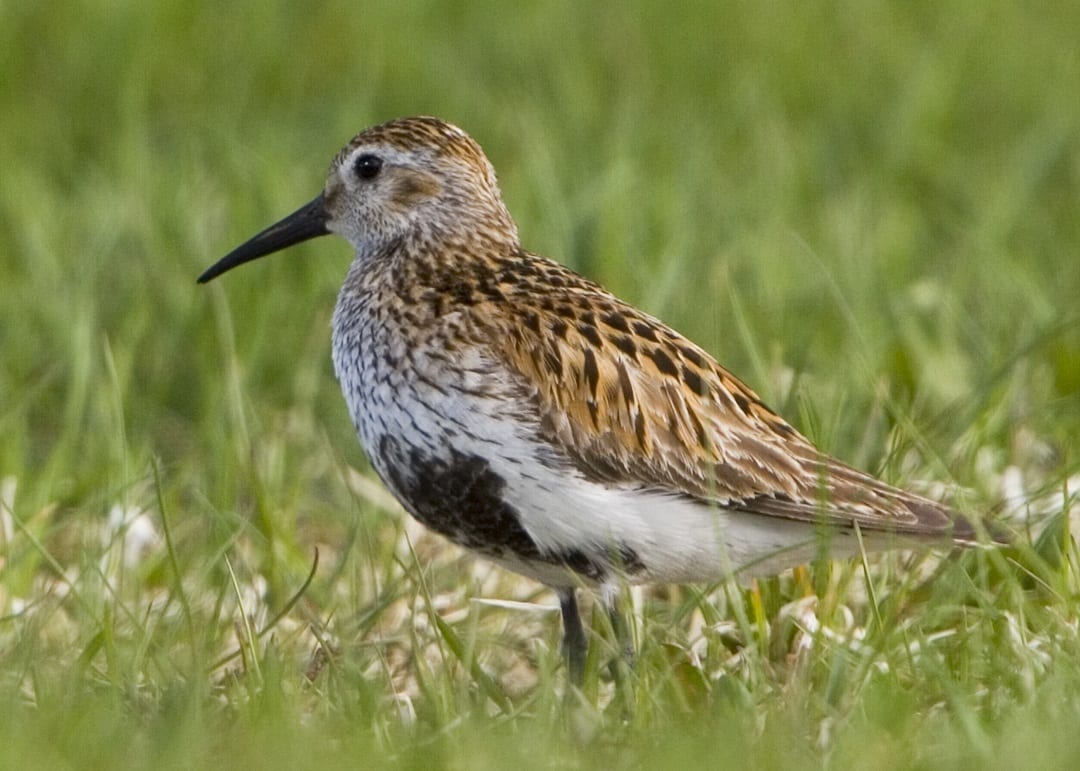 €30 million scheme to help breeding waders announced
BirdWatch Ireland welcomes
yesterday's announcement
by Minister of State for Heritage and Electoral Reform, Malcolm Noonan TD, that a new governmental scheme for the protection and conservation of breeding waders is to be established as part of a wider package of supports for climate and nature. €30 million has been set aside for the Breeding Wader EIP (European Innovation Partnership). €22.5 million is to be invested by the National Parks and Wildlife Service, with the remaining €7.5 million coming from the Department of Agriculture, Food and the Marine. Waders are amongst the most threatened of all breeding birds in Ireland, with six of the eight regularly occurring species on the Red List of Birds of Conservation Concern in Ireland. The six species in question are
Curlew
,
Lapwing
,
Dunlin
,
Golden Plover
,
Redshank
and
Snipe
. Five of these species have declined by at least 50% in the last forty years. Curlew and Lapwing have each declined by over 90% in the last twenty years and are considered to be approaching globally threatened status by BirdLife International.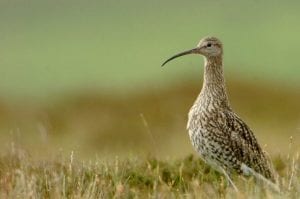 Curlew in breeding habitat
Loss of breeding habitat through agricultural intensification, draining of peatlands and afforestation have all contributed to these declines, but widespread predation of nests and chicks by generalist predators such as foxes and crows have also severely impacted remaining populations in recent years. BirdWatch Ireland had
previously identified
that a scheme underpinned by at least €30 million was required to support farmers to undertake measures to save Ireland's breeding waders from extinction. We are pleased that the Irish Government has taken heed. The Government has been implementing measures aimed at protecting and restoring populations, for example, through the Acres Co-operation scheme and the Curlew Conservation Programmes. However, more ambitious plans are required if these iconic birds are to be saved from extinction. Linda Lennon, BirdWatch Ireland's CEO, said, "The new measures which have just been announced could make a significant difference to saving breeding waders, but must be targeted and implemented correctly. Farmers have long wanted to act for nature but have lacked the funding to enable them to do so. This new funding stream must enable farmers to put in place habitat management measures to protect breeding waders on their land. "Predator control measures, including the installation of specialised fencing to exclude predators, must also be part of the solution. The effectiveness of such fencing has already been proven beyond doubt by projects implemented by BirdWatch Ireland and others and is crucial to efforts to save our breeding waders."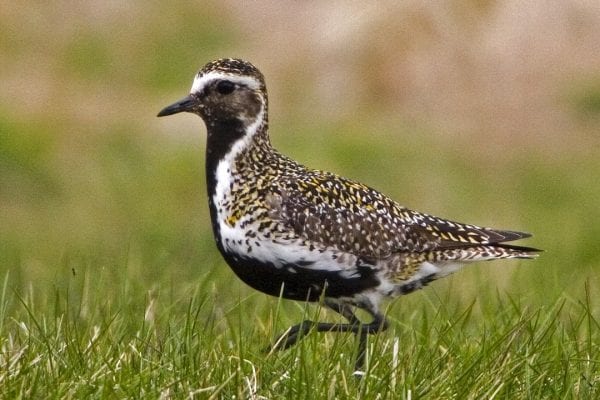 Golden Plover in breeding plumage