Curlew
| | |
| --- | --- |
| Irish Name: | Crotach |
| Scientific name: | Numenius arquata |
| Bird Family: | Waders |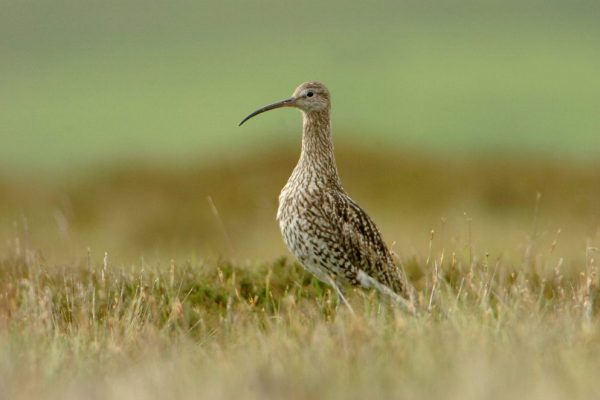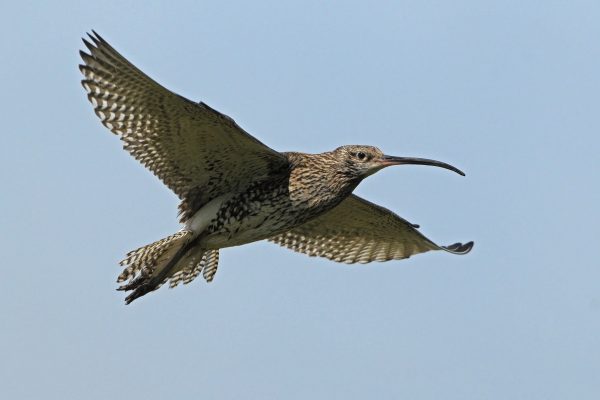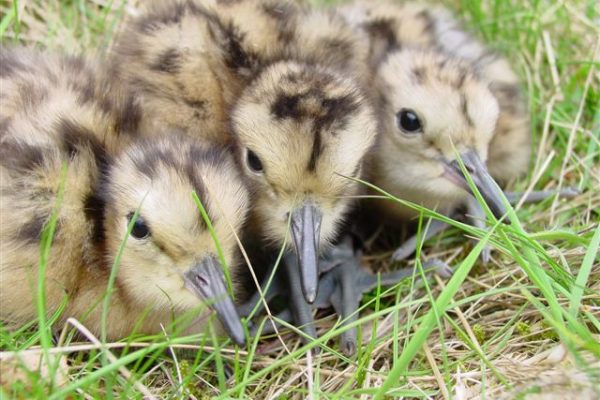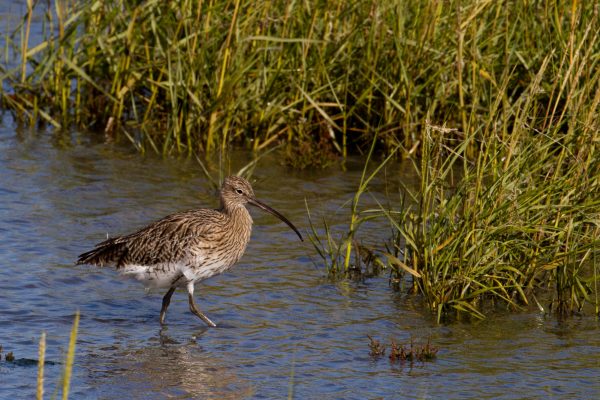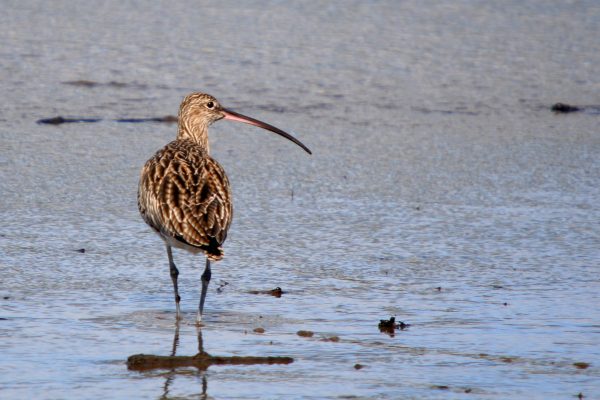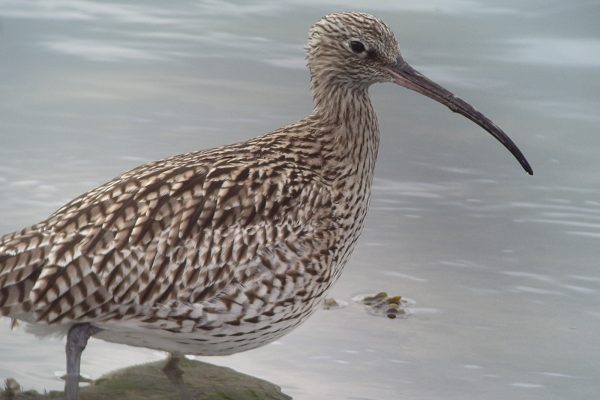 Status
Winter visitor to wetlands throughout Ireland, as well as breeding in small numbers in floodplains and boglands. Numbers and range have declined substantially in recent decades. It is likely that increased afforestation and agricultural improvement are responsible for these declines.
Identification
The largest wader - very distinctive with long legs, bulky body, long neck and long decurved bill. Fairly uniform greyish brown, with bold dark streaking all over. Only likely confusion species is the smaller Whimbrel, which occurs in spring and autumn.
Voice
Unmistakable ascending "cur..lee, cur..lee" whistle, or sometimes "cew, cew, cew". Song in breeding season a long, rapid bubbling repetition of a single note.
Diet
They feed mostly on invertebrates, particularly ragworms, crabs and molluscs. They are usually well dispersed across the estuary while feeding, but roost communally, usually along salt marshes and sand banks.
Breeding
Nests on the ground in rough pastures, meadows and heather. Not a common breeder, but found in most parts of the country.
Wintering
Winters in a wide range of wetland habitats (coastal and inland) and other good feeding areas including damp fields. The Irish breeding population is supplemented by Scottish and Scandinavian breeders in winter.
Monitored by
Internationally important resident population, has undergone serious decline. Breeds in a mosaic of upland habitats.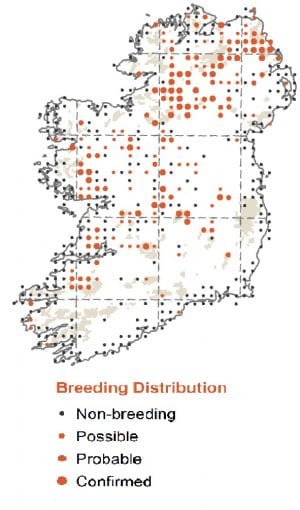 Numbers bolstered in Winter due to influx from Europe. Shannon & Fergus Estuary in County Clare, Cork Harbour in County Cork, Lough Foyle in County Londonderry, Lough Swilly in County Donegal, Strangford Lough in County Down and the Wexford Harbour & Slobs in County Wexford support between 1,500 and 2,500 birds.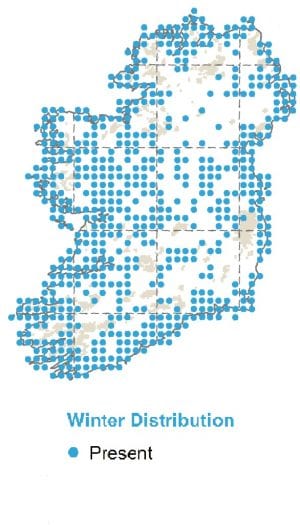 Blog posts about this bird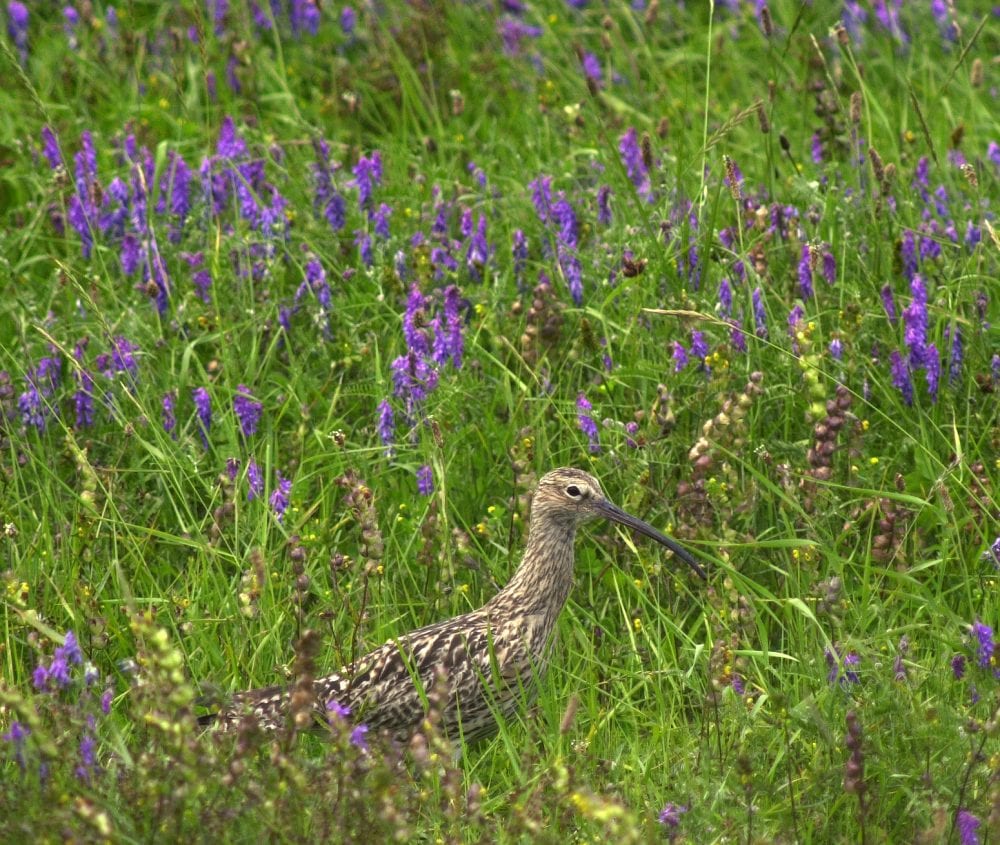 Radical changes for agriculture and biodiversity proposed
BirdWatch Ireland, Ireland's largest and most active conservation NGO, welcomes today's release by the European Commission of its highly anticipated
Biodiversity Strategy
and
Farm to Fork Strategy
. These documents map the main features of the EU's biodiversity and food-related policies for the coming decade and are key components of the European Green Deal. Adopted during the height of the COVID-19 pandemic, these strategies will also be a central element of the EU's Corona crisis recovery plan. The simultaneous release of the Farm to Fork and Biodiversity strategies is noteworthy in itself, as the intensification of agriculture is a significant driver of the loss of biodiversity across Europe.
In Ireland all the indicators on farmland biodiversity are showing declines with no reversal in losses
. By releasing the two strategies at the same time, the EU is acknowledging that we need to support farmers in a food system that works with nature and not against it and that this must be the norm in Europe. The strategies indicate that the Commission has also applied key lessons from the COVID-19 pandemic - a healthy planet is a precondition for a healthy human society, science must guide political choices, and a crisis must be acted on before it gets out of control. The Commission has taken several radical leaps with its two new strategies, and outlines goals which could improve the state of nature in Ireland and Europe:
Increase nature protected areas on land and at sea by 30%. A third of these areas will be strictly protected – meaning no human activity can take place.
Reduce pesticide use by 50%, both in terms of quantity and toxicity.
Reduce fertilizer use by 20% on farmland
Restore 10% of farmland with biodiversity elements such as hedgerows and flower strips to improve the sustainability of farming.
At least 25% of agricultural land is under organic farming management, and the uptake of agro-ecological practices is significantly increased.
Introduce binding EU nature restoration targets to restore crucial large-scale ecosystems such as peatlands, wetlands, forests and marine ecosystems, all of which are vital for mitigation and adaptation in the face of biodiversity loss and climate change
BirdWatch Ireland called for many of these same actions in its Manifesto for Nature, which was circulated to all political parties in advance of the General Election in February
. These new EU strategies should provide confidence to political parties negotiating a Programme for Government that ambitious and funded action to halt and reverse biodiversity loss, implemented through transformation in agriculture, fisheries and forestry, is required. The European Commission is showing that they are not only listening to the science, but they are acting on what it has been telling us for so long, it is now time for Irish political parties to do the same. Setting binding ecosystem restoration targets is critical to repair the damage done to habitats and species and will help us tackle climate change. The requirements proposed for agriculture are very significant. Cutting fertilizer use will not only benefit biodiversity in Ireland but also ammonia and greenhouse gas emissions and should also improve water quality. Cutting pesticide use will be an important boost for wild birds, pollinators and other wildlife.
Nicholas Williams, CEO of BirdWatch Ireland
, said, "The Biodiversity Strategy and Farm to Fork Strategy are potentially game-changers for nature in Ireland, if leaders of Member States agree to adopt them. We call on the Irish Government to give its full endorsement to these strategies. "On May 9
th
 2019 Ireland declared a Climate and Biodiversity emergency, but most of the actions needed to address this crisis have yet to happen, or even be announced. In the next Programme for Government we must see transformational change in agriculture, fisheries and marine stewardship, as well as effective implementation and enforcement of Ireland's environmental laws. "Increasing protected areas on land and sea, setting legally binding ecosystem restoration targets, significantly cutting fertilizer and pesticide use, and requiring at least 10% of space for nature on farmland are good policies to address further declining farmland bird numbers, habitat decline, depleted fish stocks and dismal protection for marine ecosystems. [
link
] "We call on the Government to back these strategies in the next Programme for Government, for the benefit of people and wildlife in Ireland."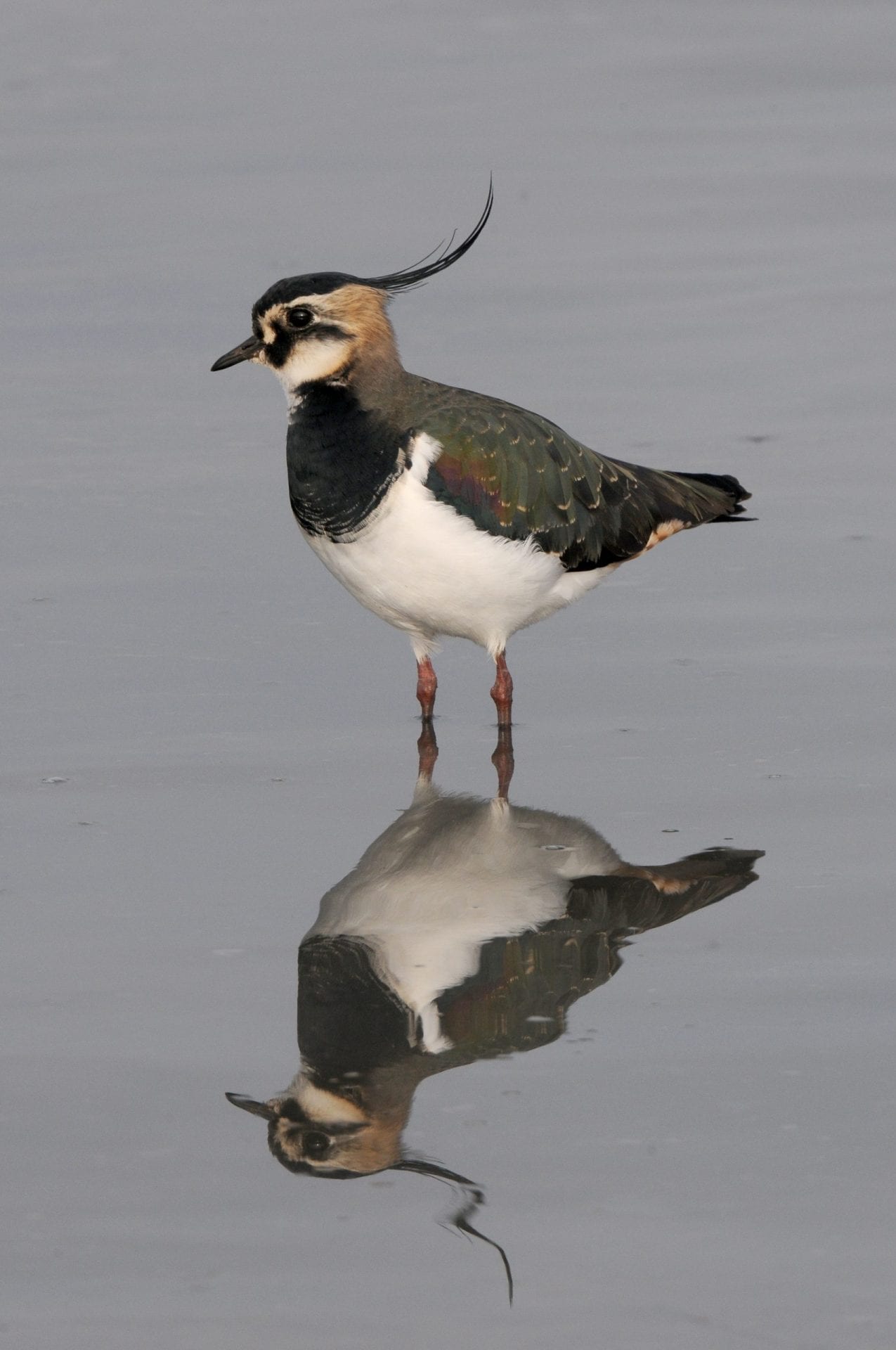 More than 3,600 scientists demand radical change to EU agriculture policy to protect nature
Scientists propose new ten step plan to reform the Common Agricultural Policy in order to fight the biodiversity and climate emergency
Scientists from all EU countries and beyond,
including 58 from Ireland,
declare that the European Commission's proposal for the Common Agricultural Policy (CAP) post-2020 must be "drastically improved" in order to reverse damage to the environment and to restore nature. They propose
ten urgent actions
to reform the CAP for long-term food security, biodiversity conservation, climate mitigation with farmers livelihoods central.
If adopted, evidence-based, planet-friendly farming would finally begin to reverse the serious impacts to the environment from the CAP across the EU including Ireland.
The current CAP is a central driver of the biodiversity and climate emergencies, and is also failing on socio-economic challenges for rural areas [1] but it doesn't have to be this way. Currently, the criteria to receive CAP payments are inadequate: the CAP is both unfairly distributed, and it funds practices that can cause significant biodiversity loss, climate change, and soil, land and water degradation. In Ireland, CAP-supported results-based agri-environment schemes and European Innovation Projects that are trialling measures to improve on-farm biodiversity as well as climate measures are promising. Overall though, ambitious national agriculture intensification policies, supported by a problematic CAP structure, have worked against, and not with, objectives to halt and reverse biodiversity loss causing severe damage especially in farmland bird populations. The scientists' propose ten actions for the ecological transition of agriculture that are also applicable to Ireland. To achieve this, they say that the CAP should stop funding destructive practices
and significantly step up support for farmers' transition to nature-friendly farming
, including at least 10% of all farmland area to be devoted to natural habitats, such as hedgerows, wetlands or wildflower margins and significant support for High Nature Value farming. The scientists express concern that national governments and the Agriculture Committee of the European Parliament are diluting the environmental ambitions of the CAP in order "to defend the interests of a few at the expense of the many". At present, the main factor determining how much "income support" a CAP recipient gets is the size of their farm: 80% of these payments goes to 20% of farmers. This means that farmers are stuck in a system where those with the most land receive most of the money, regardless of the environmental quality of their farming – with smaller farmers often with more high nature value farmland, losing out.
Welcoming the scientists' declaration, Oonagh Duggan, Assistant Head of Advocacy at BirdWatch Ireland says:
"This statement from thousands of scientists is unprecedented and comes at a crucial point. Elected members of Dáil Éireann and the European Parliament declared a biodiversity, environmental and climate emergency in the last year and now they must act like it in upcoming CAP, EU budget, and EU Green Deal decision making". "All of the environmental indicators that relate to agriculture in Ireland are going in the wrong direction, with farmland birds declining, wild bee species threatened with extinction, water quality declining, and EU protected habitats in bad condition while agriculture greenhouse gas emissions are projected to continue to increase [2][3]. Our part of the planet cannot take this degradation and neither can farmers who depend on the environment too". "The CAP really needs three key things to restore nature on farmland:
dedicated space for nature on all farms and ramped up support for High Nature Value farmers
,
money for nature protection
and
a just transition for farmers to environmentally friendly farming.
Critically, Ireland's
next AgriFood 2030 strategy must provide the vision for this transition to environmentally friendly farming
, otherwise we can expect further negative results for Ireland's biodiversity
"
.
Donal Sheehan, dairy farmer from Castlelyons, Co. Cork says,
"The present CAP is not fit for purpose. The next CAP needs to reward farmers who are delivering on biodiversity, water quality and carbon sequestration. All of these ecosystem services are as important as food production, but at present they seem to be considered worthless. Small famers need to be supported in such a way that every farmer is valued for their contribution to a vibrant rural economy."
Paul Moore, tillage farmer from East Cork
: "If the CAP is working so well for tillage farmers, why has the area of tillage nationally dropped by 20% since 2008?  A change of focus in CAP could support populations of some of our most iconic farmland birds and help to sustain the tillage sector in Ireland."
Notes:
[1] As it stands, almost 60 billion euros of EU taxpayer money is spent every year on CAP subsidies that mostly fund intensive and factory farming. The CAP budget accounts for nearly 40% of the total EU budget. The intensive agriculture model it promotes directly leads to biodiversity loss, water and air pollution, and the over-extraction of water, and it also contributes to the climate crisis. Reforming the CAP is urgent: the EU has lost 57% of its farmland birds since 1980. Butterflies, bees and flying insects are also in serious decline. [2] Two thirds of Ireland's regularly occurring wild bird species are Red or Amber-listed Birds of Conservation Concern, including farmland birds like Curlew, Lapwing, Yellowhammer, Barn Owl etc.
Colhoun
 K. & 
Cummins
, S. 2013 Birds of Conservation Concern in Ireland 2014-19.
Irish Birds
9:523-544 : available here
https://birdwatchireland.ie/birds-of-conservation-concern-in-ireland-2014-2019/
[3] 85% of EU-protected habitats have 'bad' status, with 70% of those habitats impacted negatively by agriculture, according to the Article 17 report from the National Parks and Wildlife Service to the European Commission on the Status of Ireland's EU-protected habitats and species available, pg 84 here :
https://www.npws.ie/sites/default/files/publications/pdf/NPWS_2019_Vol1_Summary_Article17.pdf
NOTES
Evidence-based recommendations
 made by scientists and other stakeholders in Ireland (see 
CAP4Nature here
).
What is wrong with the CAP?
Read the 260-page 
Fitness Check
, indicating both environmental and socioeconomic weaknesses.
What makes the European Commission proposal for the CAP post-2020 weak?
Read 
Pe'er et al. 2019, science (open access links)
; download the 
65-page supplementary materials (PDF)
Why are the scientists concerned about further watering down?
Read COMAGRI's vote of 2 April 2019 for proposed amendments 
here
, and the initial proposal made by the Member States' Council 
here
. See an expression of concern by 15 NGOs on the watering down of CAP Conditionality rules 
here
. See 
Open Letter by professional societies
 of ornithologists, mammalogists, herpetologists and butterfly experts 
here
.