Curlew
| | |
| --- | --- |
| Irish Name: | Crotach |
| Scientific name: | Numenius arquata |
| Bird Family: | Waders |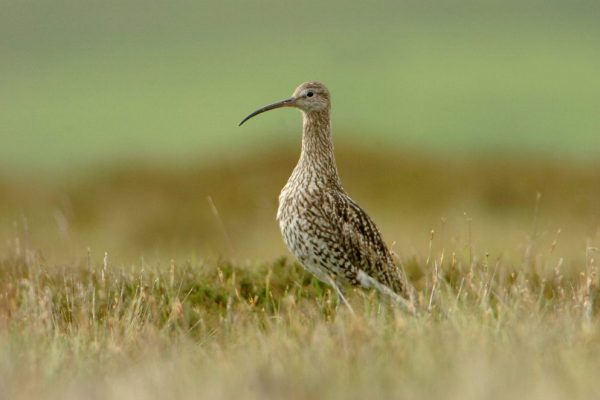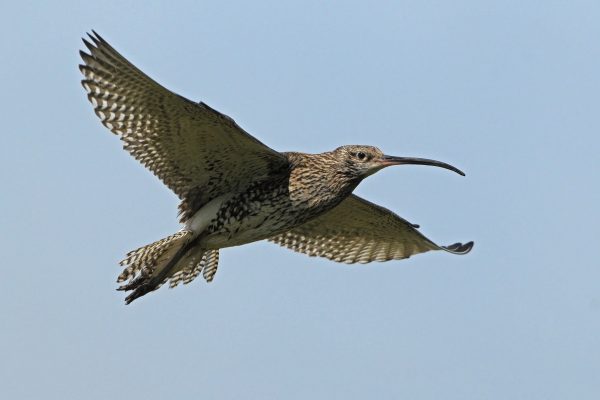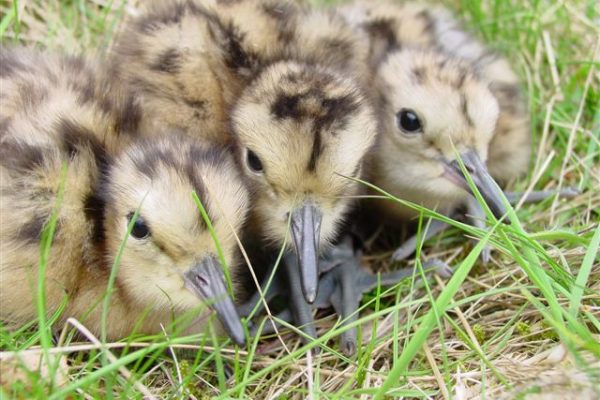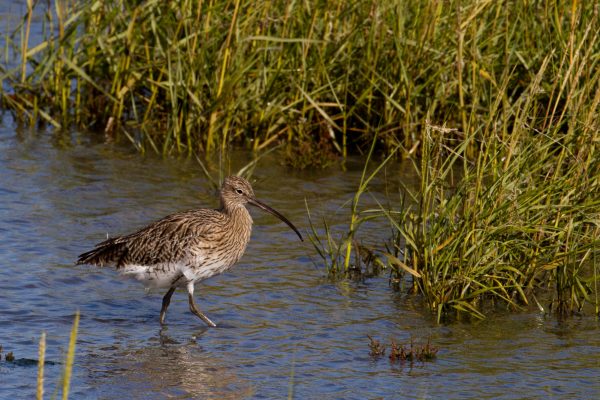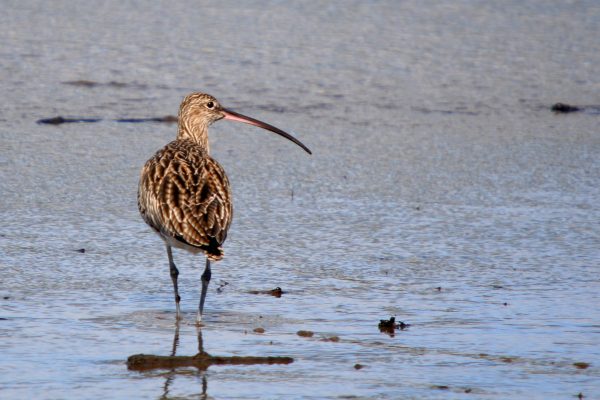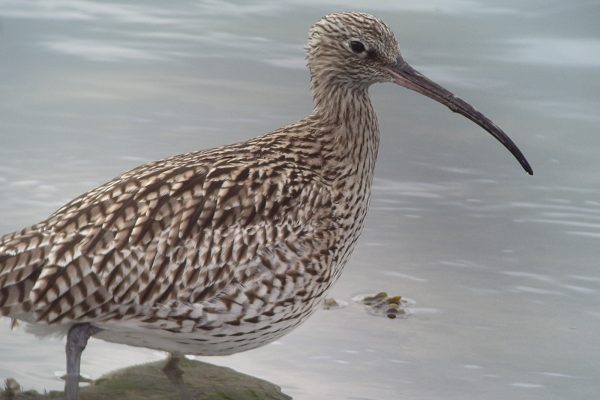 Status
Winter visitor to wetlands throughout Ireland, as well as breeding in small numbers in floodplains and boglands. Numbers and range have declined substantially in recent decades. It is likely that increased afforestation and agricultural improvement are responsible for these declines.
Identification
The largest wader - very distinctive with long legs, bulky body, long neck and long decurved bill. Fairly uniform greyish brown, with bold dark streaking all over. Only likely confusion species is the smaller Whimbrel, which occurs in spring and autumn.
Voice
Unmistakable ascending "cur..lee, cur..lee" whistle, or sometimes "cew, cew, cew". Song in breeding season a long, rapid bubbling repetition of a single note.
Diet
They feed mostly on invertebrates, particularly ragworms, crabs and molluscs. They are usually well dispersed across the estuary while feeding, but roost communally, usually along salt marshes and sand banks.
Breeding
Nests on the ground in rough pastures, meadows and heather. Not a common breeder, but found in most parts of the country.
Wintering
Winters in a wide range of wetland habitats (coastal and inland) and other good feeding areas including damp fields. The Irish breeding population is supplemented by Scottish and Scandinavian breeders in winter.
Monitored by
Internationally important resident population, has undergone serious decline. Breeds in a mosaic of upland habitats.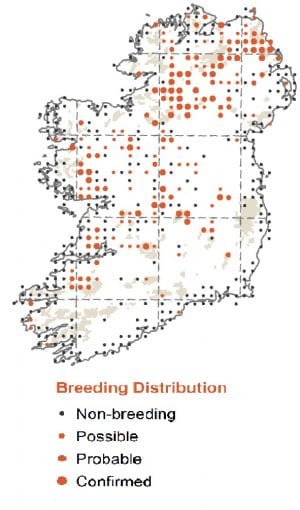 Numbers bolstered in Winter due to influx from Europe. Shannon & Fergus Estuary in County Clare, Cork Harbour in County Cork, Lough Foyle in County Londonderry, Lough Swilly in County Donegal, Strangford Lough in County Down and the Wexford Harbour & Slobs in County Wexford support between 1,500 and 2,500 birds.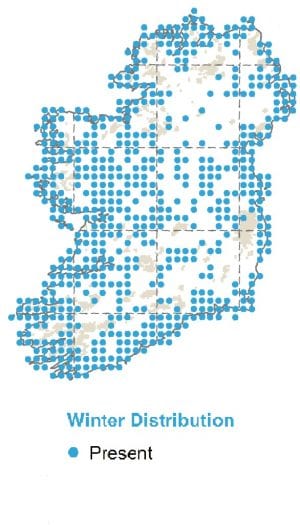 Blog posts about this bird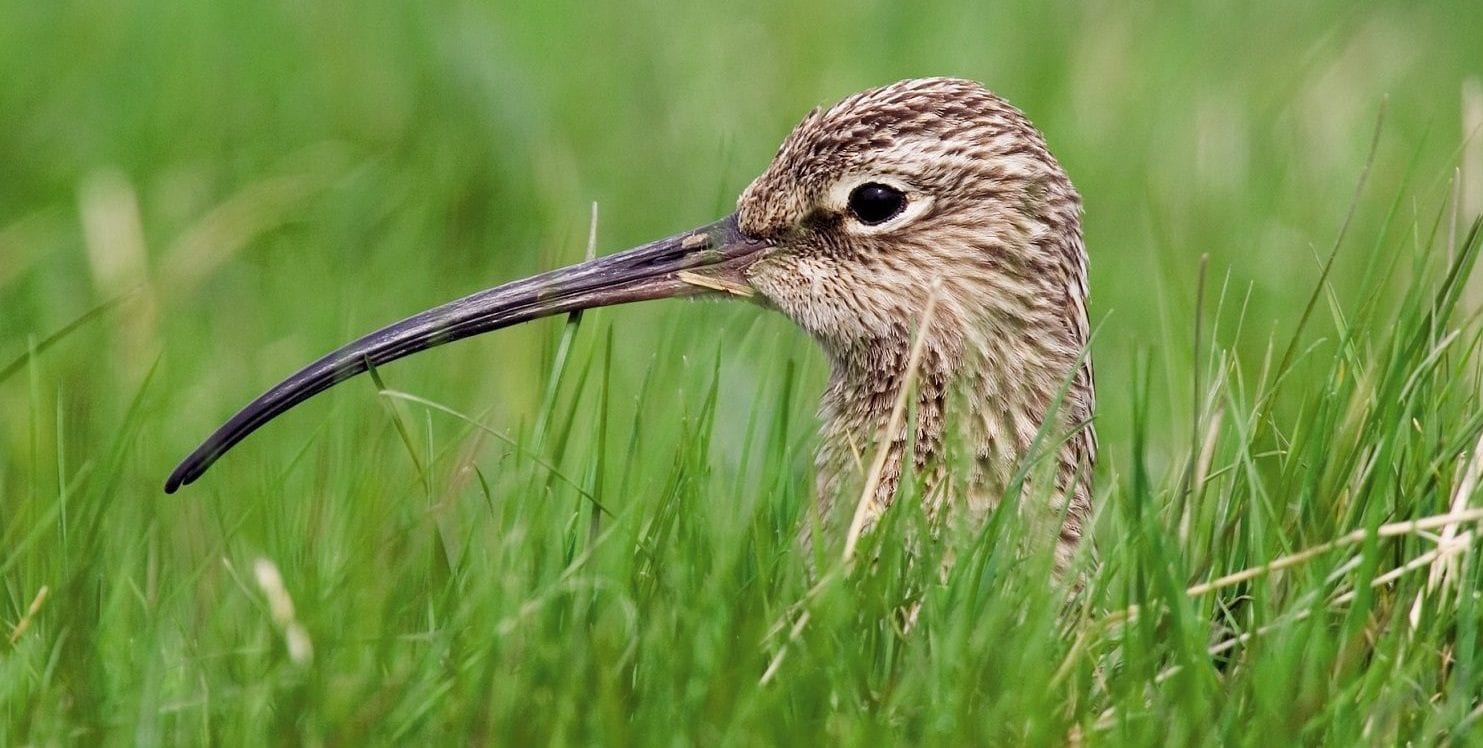 BirdWatch Ireland staff meet ministers to demand action over shocking wild bird declines
On World Curlew Day, the Curlew is a symbol of successive government failure to protect our wildlife
. BirdWatch Ireland's top scientists are today, on World Curlew Day, meeting Ministers of State Malcolm Noonan and Pippa Hackett to discuss alarming wild bird declines. Experts on farmland birds, waterbirds and seabirds will tell the ministers that successive governments have ignored biodiversity and that they must seize the moment to turn around the fate of so many species. Last week
BirdWatch Ireland and RSPB Northern Ireland jointly published the Birds of Conservation Concern in Ireland 2020-2026 list
. Using a traffic-light system, it reviewed the conservation status of 211 regularly occurring bird species in Ireland. The findings revealed a shocking 46% increase in the number of bird species on the Red List, the highest threat category, since the last review in 2013. Altogether 63% of bird species on the island of Ireland are now in serious trouble, a truly shameful and unacceptable situation that must urgently be addressed by government. Ministers will hear that the catastrophic declines of farmland birds, especially breeding waders like the Curlew and the Lapwing, are a consequence of successive agriculture and forestry policies which have prioritised intensification and afforestation at the cost of homes for biodiversity. Dr. Anita Donaghy, BirdWatch Ireland Head of Species and Land Management said: "On World Curlew Day we are still waiting on government to implement the recommendations of the Curlew Task Force published in 2019. We cannot delay anymore. "We have reached a tipping point in the future of many of our wild bird populations. The declines in the Kestrel, the beautiful and formerly common farmland bird of prey that hovers while hunting rodents, are grave. They indicate that our countryside is becoming ever more inhospitable for nature. This must be resolved in AgriFood Strategy 2030, the CAP Strategic plan and in the Forestry Programme for once and for all. "Successive governments have targeted funding on intensification and forestry premia, and much less so at supporting farmers to save the habitats of threatened species on their farms." Dr. Lesley Lewis of BirdWatch Ireland, co-author of the Birds of Conservation Concern in Ireland paper said: "Ireland's waterbirds are declining at rate higher than those in most other EU member states. Government must now put in place a multilateral and all-of-government approach with biodiversity at the heart of decision making. Otherwise the trend will be for more species to join the Red List and to head for extinction here" Dr. Stephen Newton, BirdWatch Ireland Senior Seabird Conservation Officer said: "Post Brexit, Ireland is the most important EU member state for the 4 Red-listed seabird species Puffin, Razorbill, Kittiwake, and Leach's Storm Petrel. We must meet national and EU targets to cut emissions and also ensure that offshore renewables safeguard threatened species. To do this we need a lot more funding for research into species ecology". Oonagh Duggan, BirdWatch Ireland's Head of Advocacy said: "Failure to adequately fund the National Parks and Wildlife Service has hindered species and habitat conservation at every level. Government ambitions to meet climate targets can be supported by ambitious restoration of habitats, but significantly increased staff numbers and funding is required within the NPWS so it can be fit for purpose for this task."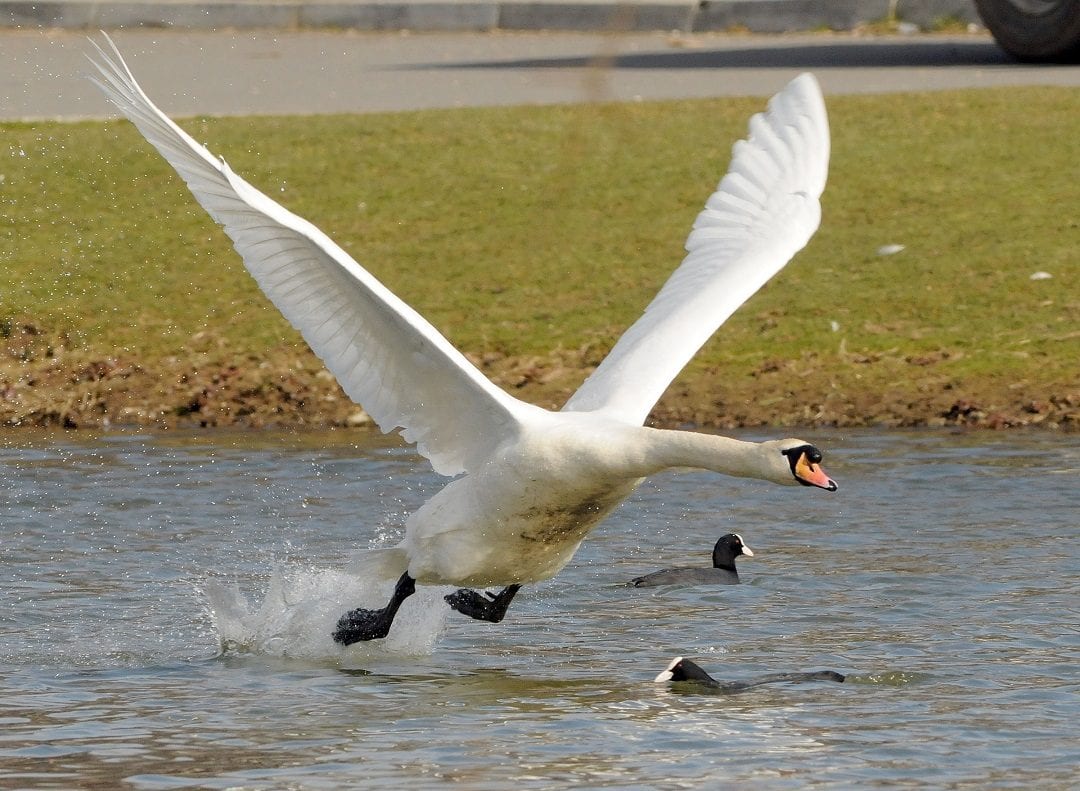 Cases of Avian Flu Detected in Ireland
BirdWatch Ireland are asking members of the public to report any dead or sick waterbird species they might find, so the birds can be tested for avian flu.
(This Article has been updated on 16/12/2020 in light of Update No. 16 of 2020 from the Department of Agriculture)
Avian Influenza has been confirmed in ten wild birds in Ireland so far this winter and a number of others are currently being tested. In addition, cases of avian influenza H5N8 have been identified in a small turkey flock in Co. Wicklow and the necessary precautions and restrictions have been put in place. Although the risk to both human health, or to garden birds, is very low, BirdWatch Ireland is asking the public to keep an eye out for any waterbird species that may be acting strangely or
any dead waterbirds, and to report them to the Department of Agriculture via the Avian Flu hotline (call 076 106 4403)
so that they can be tested appropriately. There are numerous strains and subtypes of avian flu that each vary in severity. The strain that has recently been detected in some wild birds in Ireland is Highly Pathogenic Avian Influenza (HPAI) H5N8, which spreads easily between birds and causes illness, with a high death rate. This strain had been detected in a number of European countries before arriving into Ireland last month.
BirdWatch Ireland are part of an early warning system
with regard to surveillance for signs of disease in wild birds, together with colleagues in the National Parks and Wildlife Service (NPWS), the Department of Agriculture, Food and the Marine and the National Association of Regional Game Councils (NAGC).
A Curlew in Mayo was one of the birds to test positive for avian flu in Ireland this year.
The confirmed cases of avian flu in the Republic of Ireland so far this winter were in a Curlew (Mayo), three Peregrine Falcons (Limerick, Cork, Mayo), a Whooper Swan (Wicklow), a Barnacle Goose (Cork) and four Mute Swans ( 2 in Monaghan, 1 in Kildare, 1 in Wexford). A Mute Swan in Derry
was also amongst five confirmed cases in Northern Ireland last month. Avian flu, in particular HPAI H5N8, is highly contagious for birds and migratory waterbirds are the species most likely to become infected – often ducks, geese, swans, gulls and waders. Many of these species migrate here for the winter, and congregate in large numbers, increasing the chances of the virus spreading. Certain birds of prey that might feed on waterbirds, particularly sick waterbirds that are vulnerable to predation, can also become infected and this includes Peregrines and White-tailed Eagles. Members of the public are advised
not to handle sick or dead wild birds, but to report them
to your local Regional Veterinary Office (
click here for contact details
) or contact the DAFM avian flu hotline on 1850 200456. It is important that any potential cases of avian flu are investigated and documented appropriately in order to monitor the spread of the virus.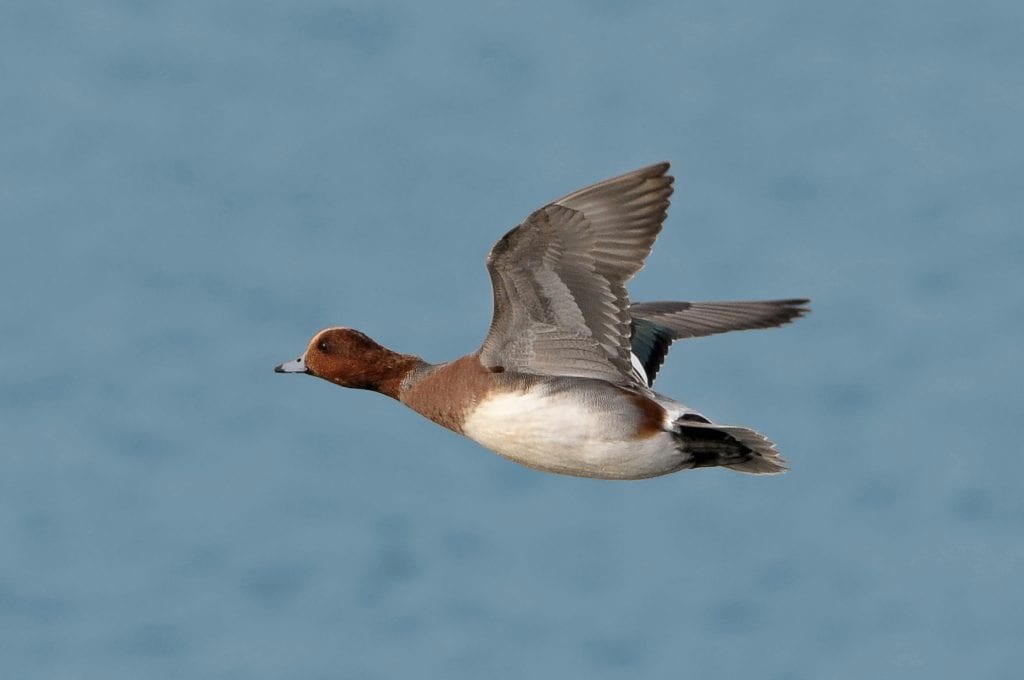 Other waterbird species such as Wigeon are vulnerable to avian flu and any dead or sick birds should be reported immeditately.
To date there have been no cases in poultry flocks in Ireland, but poultry owners should familiarise themselves with Department of Agriculture guidance on biosecurity and new regulations introduced as a precautionary measure. It should be stressed that there is
no food safety risk for consumers
and that properly cooked poultry and poultry products are safe to eat.
Further information and updates are regularly made available on the Department of Agriculture website: