Curlew
| | |
| --- | --- |
| Irish Name: | Crotach |
| Scientific name: | Numenius arquata |
| Bird Family: | Waders |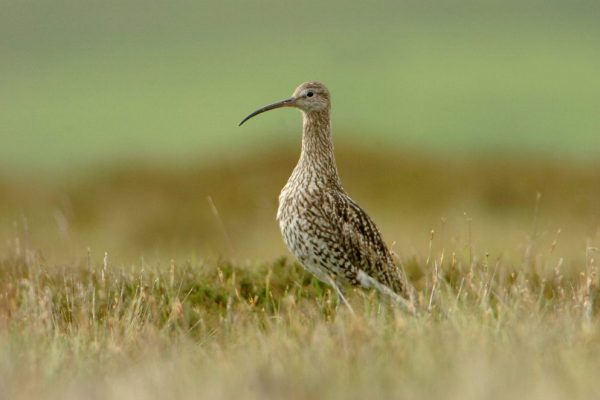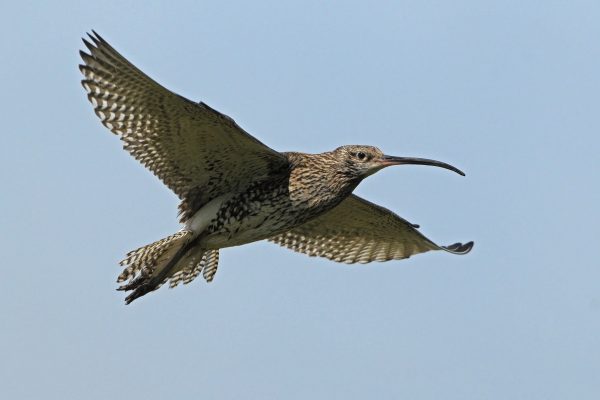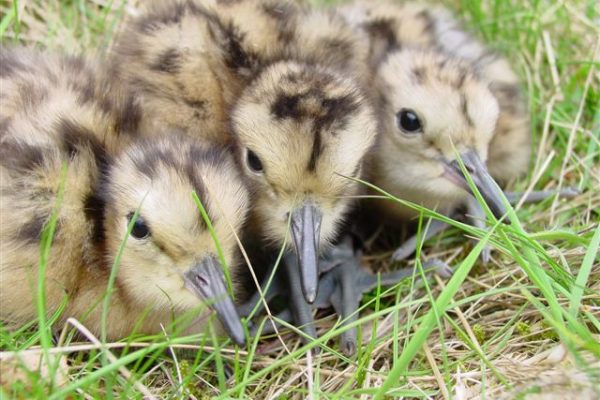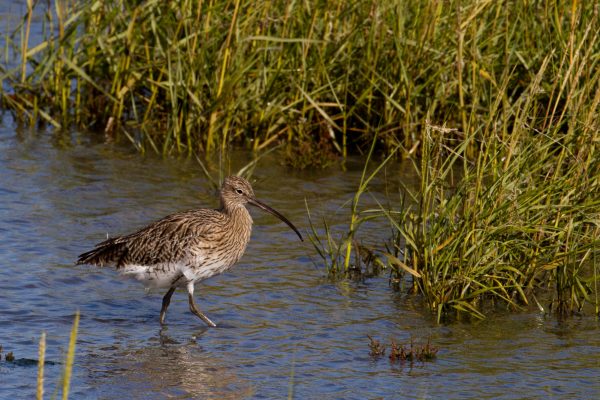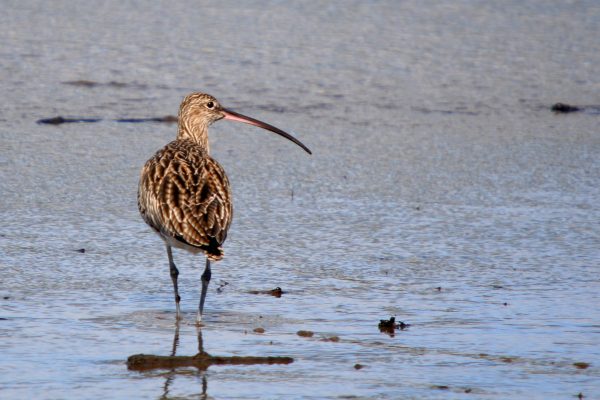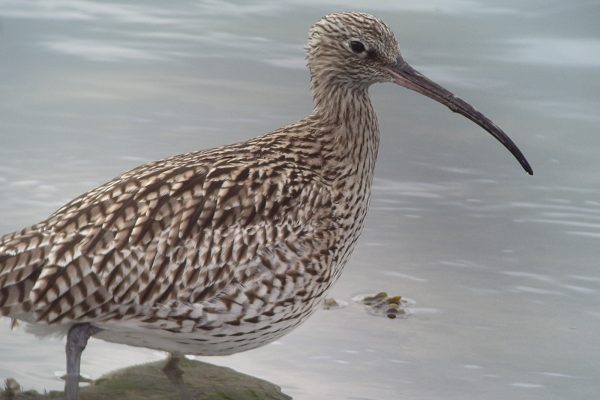 Status
Winter visitor to wetlands throughout Ireland, as well as breeding in small numbers in floodplains and boglands. Numbers and range have declined substantially in recent decades. It is likely that increased afforestation and agricultural improvement are responsible for these declines.
Identification
The largest wader - very distinctive with long legs, bulky body, long neck and long decurved bill. Fairly uniform greyish brown, with bold dark streaking all over. Only likely confusion species is the smaller Whimbrel, which occurs in spring and autumn.
Voice
Unmistakable ascending "cur..lee, cur..lee" whistle, or sometimes "cew, cew, cew". Song in breeding season a long, rapid bubbling repetition of a single note.
Diet
They feed mostly on invertebrates, particularly ragworms, crabs and molluscs. They are usually well dispersed across the estuary while feeding, but roost communally, usually along salt marshes and sand banks.
Breeding
Nests on the ground in rough pastures, meadows and heather. Not a common breeder, but found in most parts of the country.
Wintering
Winters in a wide range of wetland habitats (coastal and inland) and other good feeding areas including damp fields. The Irish breeding population is supplemented by Scottish and Scandinavian breeders in winter.
Monitored by
Internationally important resident population, has undergone serious decline. Breeds in a mosaic of upland habitats.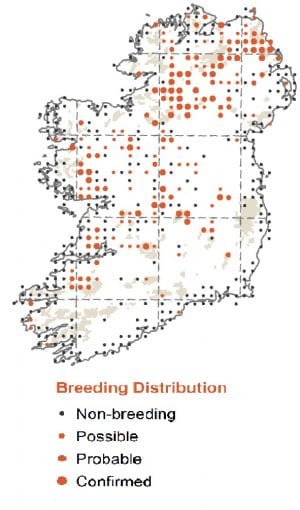 Numbers bolstered in Winter due to influx from Europe. Shannon & Fergus Estuary in County Clare, Cork Harbour in County Cork, Lough Foyle in County Londonderry, Lough Swilly in County Donegal, Strangford Lough in County Down and the Wexford Harbour & Slobs in County Wexford support between 1,500 and 2,500 birds.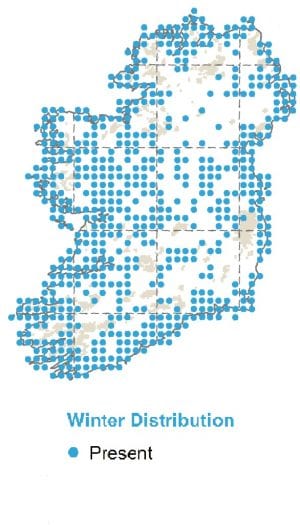 Blog posts about this bird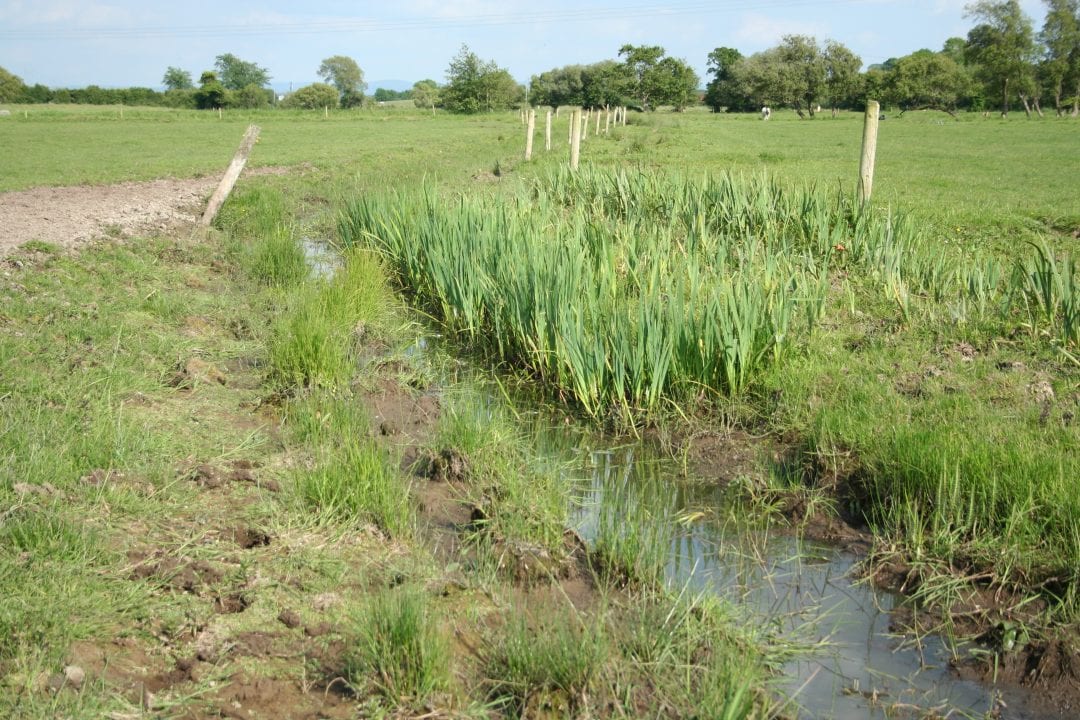 Government must find 17 million euro to save Ireland's most threatened farmland birds
Photo: Curlew chick feeding habitat on farmland BirdWatch Ireland has written to
Ministers McConalogue, Hackett
and
Noonan
calling for them to find 17 million euro to put in place a robust national scheme to support farmers to save threatened farmland birds. BirdWatch Ireland has identified that a scheme underpinned by at least a 30 million euro is required to support farmers to undertake habitat and other measures to save Ireland's breeding waders from extinction. Those are Curlew, Lapwing, Dunlin, Golden Plover, Redshank and Snipe. In this regard, the Irish Government is found wanting, as to date it has only secured 13 million euro in Ireland's Common Agriculture Policy Strategic Plan, split between the Department of Agriculture, Food and the Marine and the Department of Housing, Local Government and Heritage. Oonagh Duggan, Head of Advocacy at Birdwatch Ireland said, "The budget for farming in the next CAP is 9.8 billion euro yet a mere 6 million euro of this has been allocated to pay farmers to protect and restore farmland for Curlew and other breeding waders, the most threatened of our farmland bird species.
This is not even one-sixteenth
of a percentage point of the available funds
while 1.25 billion is allocated to the Area for Natural Constraints scheme yet it has no linkage with environmental action. And the 1.5 billion ecoscheme is very weak on environmental ambition". "Coupled with the right policies, the breeding wader scheme is one which can deliver real results if properly funded. Farmers want to act for nature but need the funding to enable them to do so. We call on Ministers McConalogue, Noonan and Hackett to work together to secure the additional 17 million needed to ensure a robust national breeding wader scheme is in the next CAP. We know that conservation actions work, but political will and investment is urgently needed to fund these actions before it is too late. "Agriculture policy has played a significant role in driving the losses of bird species like Curlew and Lapwing, and funds must be found in Ireland's budget for the Common Agriculture Policy to stop these declines and reverse them. If these species go extinct in Ireland, costly re-introduction plans will be required and no one wants to be in that position. The time to invest in our natural heritage is now." Breeding waders are the most threatened group of farmland birds. Loss of populations and range is down to policies which have encouraged specialisation and intensification in agriculture, peat cutting and now afforestation policy and the impacts of predation too.
Breeding Waders
Conservation Status (BoCCI 2020)
Percent Change 1970-2010
Percent Change 1990-2010
Curlew
Red List
-78
-73
Dunlin
Red List*
-69
-71
Golden Plover
Red List*
-50
-42
Redshank
Red List
-55
-47
Lapwing
Red List
-53
-33
Snipe
Red List
-34
-8
Figures from Bird Atlas 2013
* = Annex 1 Birds Directive
Farm schemes for waders, also have benefits for other threatened ground nesting birds, including skylark and meadow pipit, insects including pollinators, species rich and High Nature Value grasslands. These sustainable agricultural systems, contribute to improving water quality, mitigating greenhouse gas emissions, and support a healthier agri-environment overall. We know that conservation actions work but political will and investment is needed to fund these actions. Recently the
European Commission sent a letter to the Irish Government
stating that its approval of Ireland's Common Agriculture Policy Strategic Plan and its budget of 9.8 billion euro in citizens' funding hinges on a significant ramp-up in environmental ambition. The necessary measures include reversal of farmland biodiversity loss, effectively tackling polluted waterways and cutting greenhouse gas emissions from agriculture. However, BirdWatch Ireland
analysis
shows that only 7% of the overall budget targeted towards the Cooperative Projects will result in effective action for the environment, with the rest going to fund measures that are not targeted enough to secure environmental improvements.
BirdWatch Ireland's submission
to the observation letter states clearly what needs to be done to get Ireland on track to meet environmental obligations within the CAP. Oonagh Duggan continued, "CAP public funds should be redirected to pay for public benefits on farmland. Farmers desperately want to act on climate, water quality and biodiversity loss and should be supported to do so. It is outrageous that so little funding is allocated to these and that schemes are not designed to ensure quality outcomes." One of the objectives of the CAP is that agriculture funds must contribute to reversing the losses of farmland birds. BirdWatch Ireland has mapped out where these species are and Ireland's CAP Strategic Plan is not doing anywhere near enough to meet this objective. If Government fails to fund the breeding wader scheme adequately it will mean that they have turned their back on these most threatened of our farmland birds and that will be the lasting legacy of this government.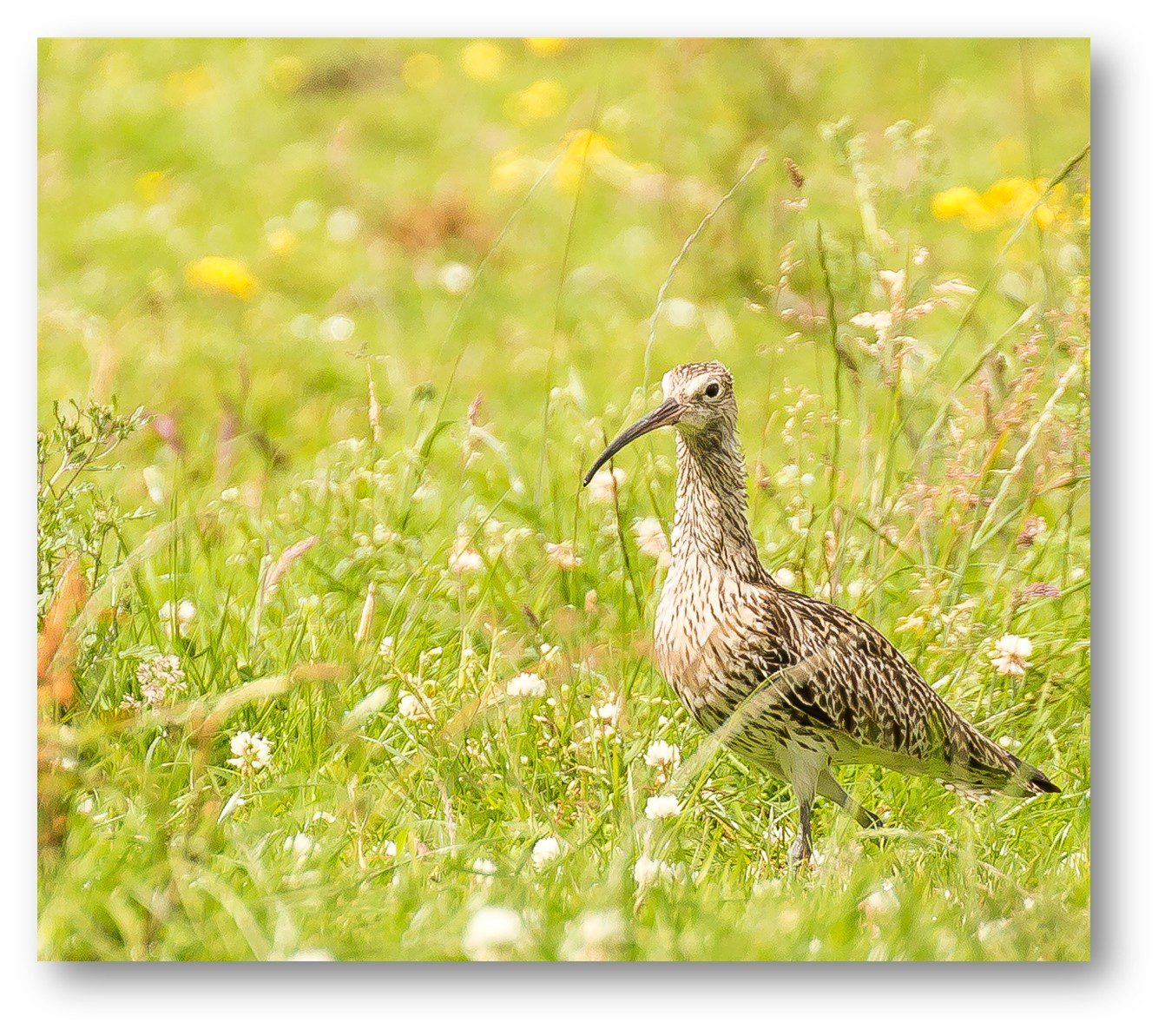 World Curlew Day: celebrating one of Ireland's most precious birds
by Kathryn Finney Project Manager, Irish Breeding Curlew EIP
Today, 21
st
April, is
World Curlew Day
. What better way to celebrate than to be out in the field watching these magnificent waders perform their territorial display flights and listening to their bubbling call? For me, this always signals the end of winter and the beginning of summer. Sadly, we are in real danger of losing this evocative and beautiful bird as a breeding species in Ireland. Only around 135 pairs survive, down from approximately 8,000 a mere 30 years ago. Thankfully there are a number of projects currently working to ensure breeding Curlews do not become extinct. Along with a dedicated team I am lucky enough to be working on one of them – the
Curlew EIP
, funded by the Department of Agriculture, Food and the Marine through the European Innovation Programme. Together with farmers in the project area, the Curlew EIP is designing and trialling agri-environmental schemes to tackle the main factors in the birds' decline; namely, poor-quality breeding habitat and predation. These measures will be suitable for roll-out nationally to all breeding Curlew areas as part of Ireland's next CAP programme.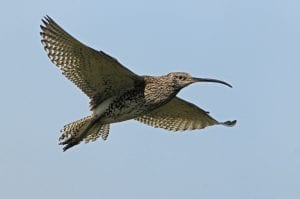 Curlew in flight
"A lot of important work has been done in these EIP groups with much success, for example in restoring habitats and biodiversity enhancements. May of the lessons from these EIP's are being incorporated into our CAP schemes now that these have been successfully piloted on the ground," said Minister of State for Land Use and Biodiversity, Pippa Hackett TD, announcing further extension to the Curlew EIP in 2022.
As this year's breeding season kicks off, Curlew EIP staff are out surveying their breeding sites and monitoring populations. Farmers have signed up to management agreements and are already working to create suitable breeding habitat for nesting and chick rearing. Together with these dedicated farmers, our Curlew Keepers are working hard to keep the birds, their eggs and their chicks safe from predation, which is now a major factor in the species' decline.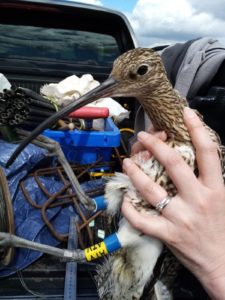 The tagging of Curlews is a vital part of efforts to save these highly threatened birds
This week, we are out satellite tagging adult Curlews. This exciting element of the project will not only help us locate and protect nests, but also to gather valuable information on Ireland's breeding Curlews. The Curlew EIP is delighted to be collaborating with NPWS BioData, which is also satellite-tagging birds. Between both projects, we will gather data from right across the country and all of the habitats that Curlews breed on. Pooling data and working in co-operation will really help to inform future targeting of agri-environmental schemes and close knowledge gaps about Ireland's breeding Curlews. It is a lovely example of how positive collaboration and cooperation can help to solve a biodiversity crisis and we are delighted to be part of it. Fingers crossed that we catch our birds to satellite tag! And, of course, what better way to celebrate Curlews today than by playing a part in their conservation, whether as part of a conservation team, as a farmer providing safe suitable breeding habitat or as a member of the public supporting our efforts and advocating for the conservation of these very special and irreplaceable birds?
If you would like to support our work to save Ireland's Curlews and other threatened birds and habitats, please donate what you can to the BirdWatch Ireland Species Recovery Appeal.