Hen Harrier
| | |
| --- | --- |
| Irish Name: | Cromán na gCearc |
| Scientific name: | Circus cyaneus |
| Bird Family: | Raptors |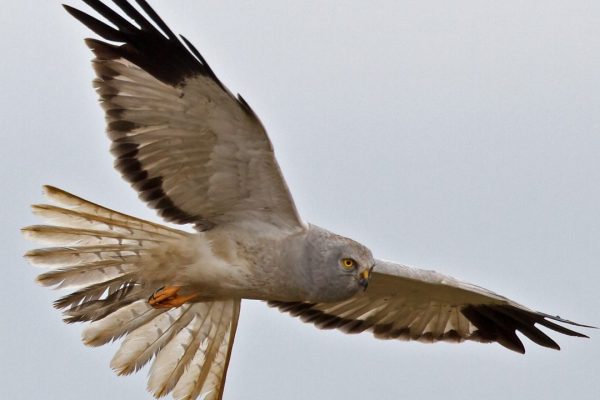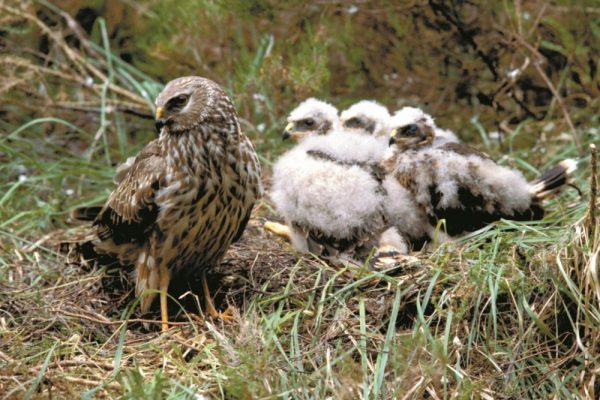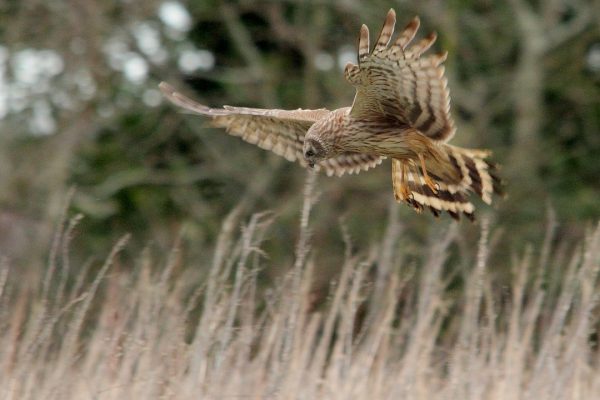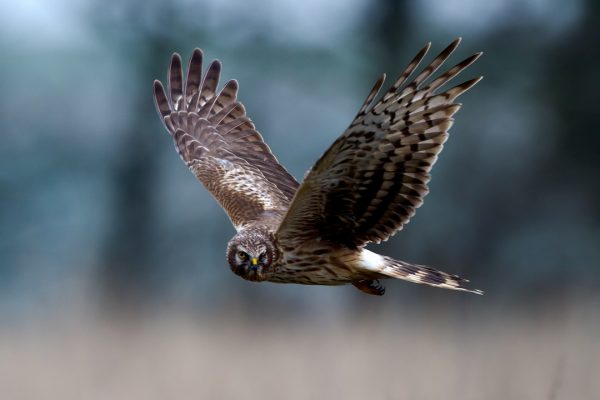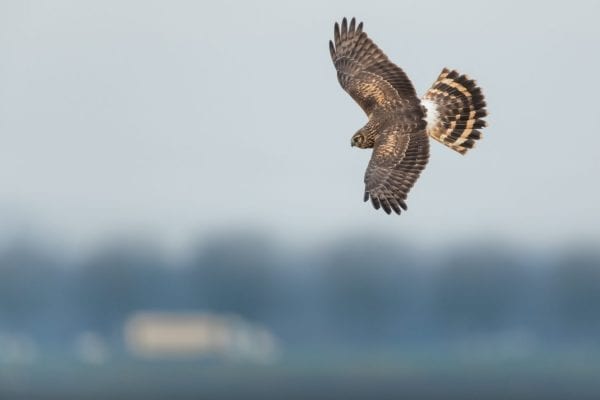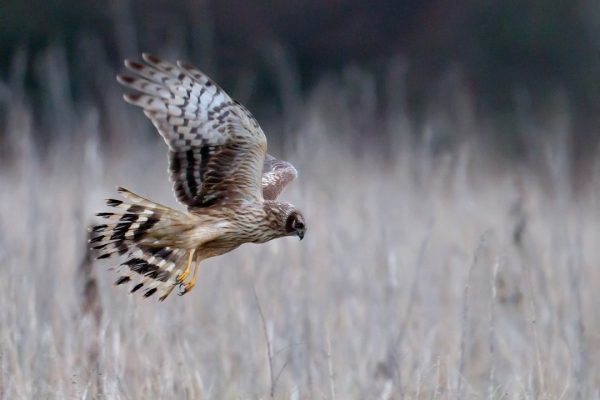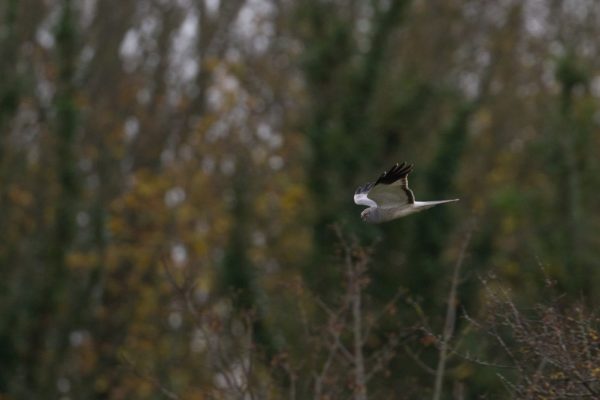 Status
Breeds in the uplands and bogs of Ireland.
Identification
Size between Montagu's Harrier and the larger Marsh Harrier. Females and juveniles similar - brown with white rump and dark rings on the tail, hence often referred to collectively as 'ringtails'. Females are bigger than males. Males very distinctive, appearing strikingly pale below, with blue grey upper parts and jet black wing-tips. Hen Harriers have somewhat of an owl-like face, particularly accentuated in female birds.
Voice
Usually only heard in the breeding season near the nest site. Quick, chattering calls in alarm and display and whistling calls from female to male, when receiving food.
Diet
Small birds and mammals, which are caught by surprise. Will sometimes use cover, such as woodland edges and bushes, to surprise prey.
Breeding
Breeding birds are confined largely to heather moorland and young forestry plantations, where they nest on the ground. Hen Harriers are found mainly in Counties Laois, Tipperary, Cork, Clare, Limerick, Galway, Monaghan, Cavan, Leitrim, Donegal and Kerry. The species has declined, probably due to the loss of quality moorland habitat due to agricultural changes, and maturing forest plantations. Hen Harriers mainly hunt over moorland whilst breeding where they take small ground nesting birds and mammals.
Wintering
Spends winter in more coastal and lowland areas throughout Ireland hence most easily seen on the coast in the winter months. Good sites include the North Slob Nature Reserve and Tacumshin Lake in County Wexford, as well as the East Coast Nature Reserve in Co. Wicklow.
Monitored by
BirdTrack and the Hen Harrier Roost Survey.
Breeding birds are confined largely to heather moorland.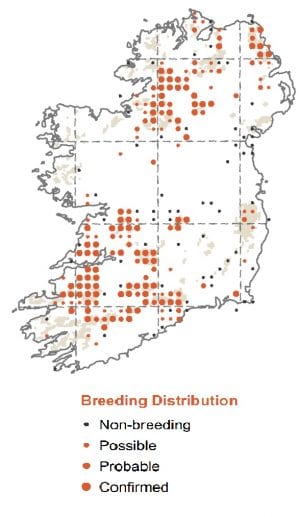 Widespread in the winter due an influx of migrants. Found in open low-lying countryside and along the coast.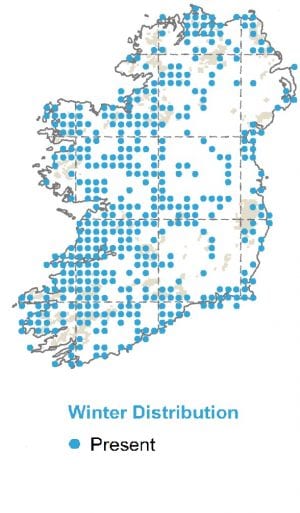 Blog posts about this bird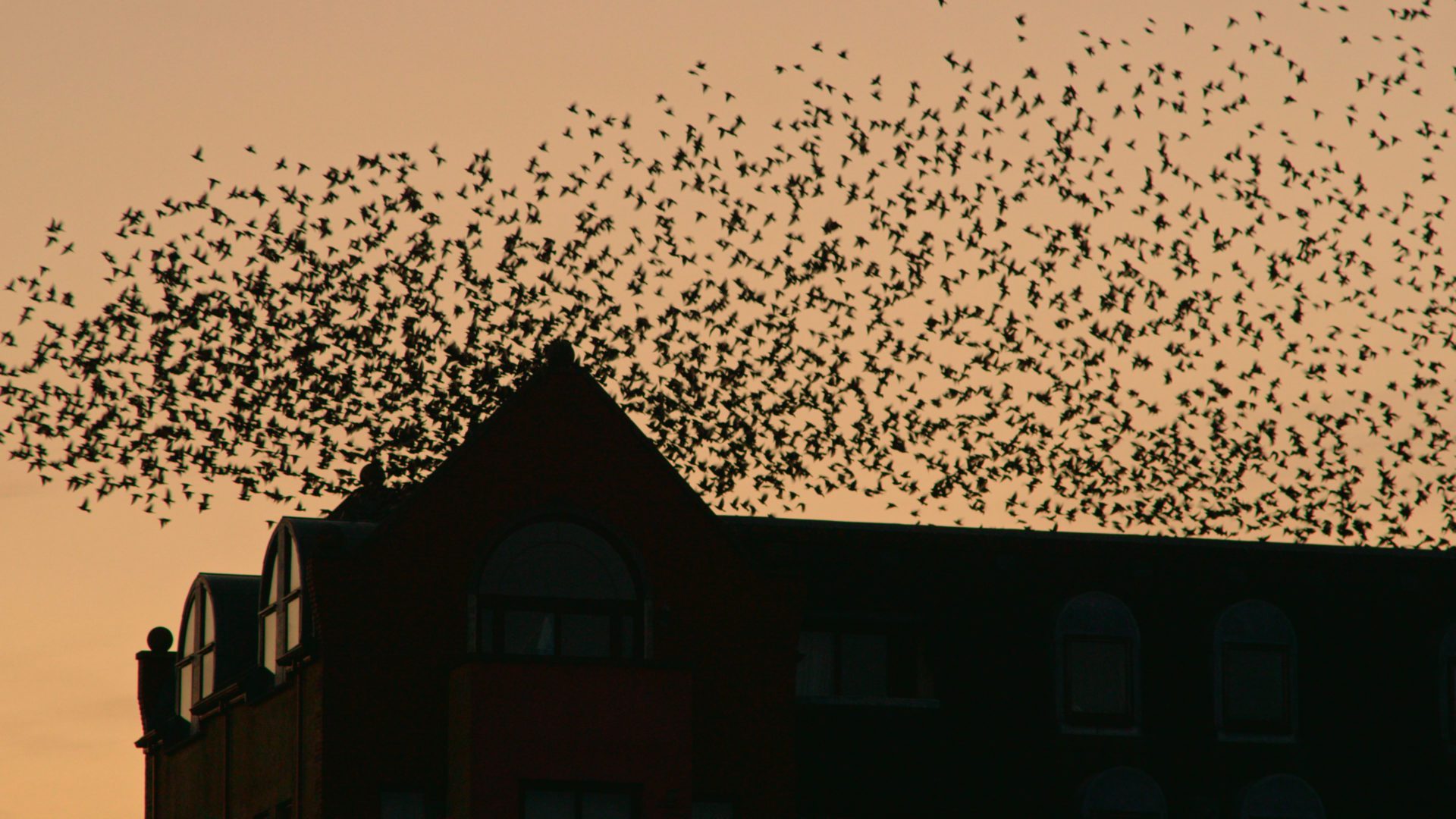 Wildlife in Buildings documentary
[vc_row type="in_container" full_screen_row_position="middle" scene_position="center" text_color="dark" text_align="left" overlay_strength="0.3" shape_divider_position="bottom" shape_type=""][vc_column column_padding="no-extra-padding" column_padding_position="all" background_color_opacity="1" background_hover_color_opacity="1" column_link_target="_self" column_shadow="none" column_border_radius="none" width="1/1" tablet_width_inherit="default" tablet_text_alignment="default" phone_text_alignment="default" column_border_width="none" column_border_style="solid"][vc_column_text]
A new video highlights the importance of the built environment for wildlife and celebrates the species which have adapted to live alongside us and share our homes, and the measures that we can take to ensure we make space for nature
People live in buildings, and wildlife lives in "nature" - right? Well, not quite. For as long as we have built structures for our protection and shelter, wildlife has taken advantage of these buildings for the very same reasons. From the diverse range of birds and mammals which have colonised abandoned ruins in remote rural landscapes, to wildlife which has moved into suburban and urban areas to live alongside us and even share our homes, buildings have become an integral component of the Irish landscape for biodiversity.
A ruined Abbey which is used by a wide range of wildlife ©  John Lusby
Certain species are expected residents within our buildings, and for some the association with buildings is apparent even from their names, such as the 'House Martin' which builds its mud nest in the apex of the roof of occupied houses, and the 'Barn Swallow' which travels from Africa to nest in farmyards throughout the country. The vision of a Barn Owl floating silently from a ruined castle at dusk may seem familiar, but less expected occupants may be a pair of Kestrels nesting in a flower box outside a busy kitchen window, or a female Pine Marten raising her kits in the roof space of an occupied dwelling. Of course, much of the wildlife which use buildings go unnoticed, such as bats roosting in the attic of a house in which the inhabitants beneath remain blissfully unaware of their presence.
Swift ©  Artur Tabor, Lesser Horseshoe Bat © Ruth Hanniffy
Given the importance of buildings for wildlife, changes to the built environment can affect wildlife associated with it. Wildlife in buildings can often be harmed during works due to a lack of awareness of their presence or indeed knowledge of how plan renovations and works in order to avoid disturbance, which is usually always possible. The loss of old stone structures due to demolition, dilapidation or renovation is linked to declines in species such as Barn Owl and Swift, which are dependent on these structures. Modern buildings do not provide the same opportunities for wildlife. However, there is a lot that we can do to improve modern buildings for wildlife to ensure that we continue to make space for nature.
There are many ways we can improve modern buildings for wildlife such as this example, where a purpose built Barn Owl nest site was incorporated in the building  
BirdWatch Ireland and CrowCrag Productions in partnership with Laois County Council, Clare County Council and Tipperary County Council and supported by the National Biodiversity Action Plan Fund of the Department of Housing, Local Government and Heritage have produced a nature documentary to celebrate the wildlife which have taken up residence in the built environment, and to showcase some of our most iconic wildlife species which are reliant on buildings for their survival. John Lusby, BirdWatch Ireland, commented,
'We wanted to celebrate the importance of buildings for wildlife and to create a better link between our built heritage and our natural heritage – as the two are intertwined. The diversity of species which use buildings, and the ways in which they have adapted to use the built environment, is truly astonishing.
As the built environment is constantly changing, we need to make sure that we avoid disturbance to sensitive species and also to continue to provide space for wildlife in buildings, which has benefits for wildlife as well as ourselves. We hope that this feature increases awareness and appreciation of the importance of the built environment for wildlife and provides the necessary information to help conserve some of our most vulnerable and iconic wildlife which are dependent on buildings for their survival'.
Kestrel in flight © Michael O'Clery, Kestrel nest in castle © John Lusby
Roisin O'Grady, Heritage Officer with Tipperary County Council said
'We share the world with nature and it can be closer to us than we think. Tipperary County Council is delighted to support this film highlighting the importance of our built environment, heritage or otherwise in providing shelter for such a variety of species, some of which are our most vulnerable. Given the high levels of habitat loss we have experienced over the last number of years it is more important than ever to be aware of how species have adapted to our built environment and how we can support this 'co-habitation' and equally important in newer development how we 'make space' for nature'.
Renovations and other works on buildings can have unintended consequences for wildlife if not planned appropriately © Conor Kelleher
Congella McGuire, Heritage Officer with Clare County Council commented
'The Local Authority Heritage Officer Network is delighted to be associated with this Wildlife in Buildings video and the guidance booklet 'Wildlife in Buildings: linking our built and natural heritage' both of which were produced with the support of the Local Authorities and National Biodiversity Action Plan Fund'.
Workhouse in ruins © Michael O'Clery, Barn Owls in chimney nest © John Lusby
The video 'Wildlife in Buildings: linking our built and natural heritage' is available to view below or here:
https://www.youtube.com/watch?v=5lQt3C8uI5E
This video accompanies the guidance booklet on Wildlife in Buildings, which is available here:
https://www.kerrycoco.ie/wildlife-in-buildings/
'Wildlife in Buildings: linking our built and natural heritage' was produced by BirdWatch Ireland, Kerry County Council and Donegal County Council, with funding from the Department of Housing, Local Government and Heritage through the National Biodiversity Action Plan Fund.
https://www.youtube.com/watch?v=5lQt3C8uI5E&t=782s[/vc_column_text][/vc_column][/vc_row]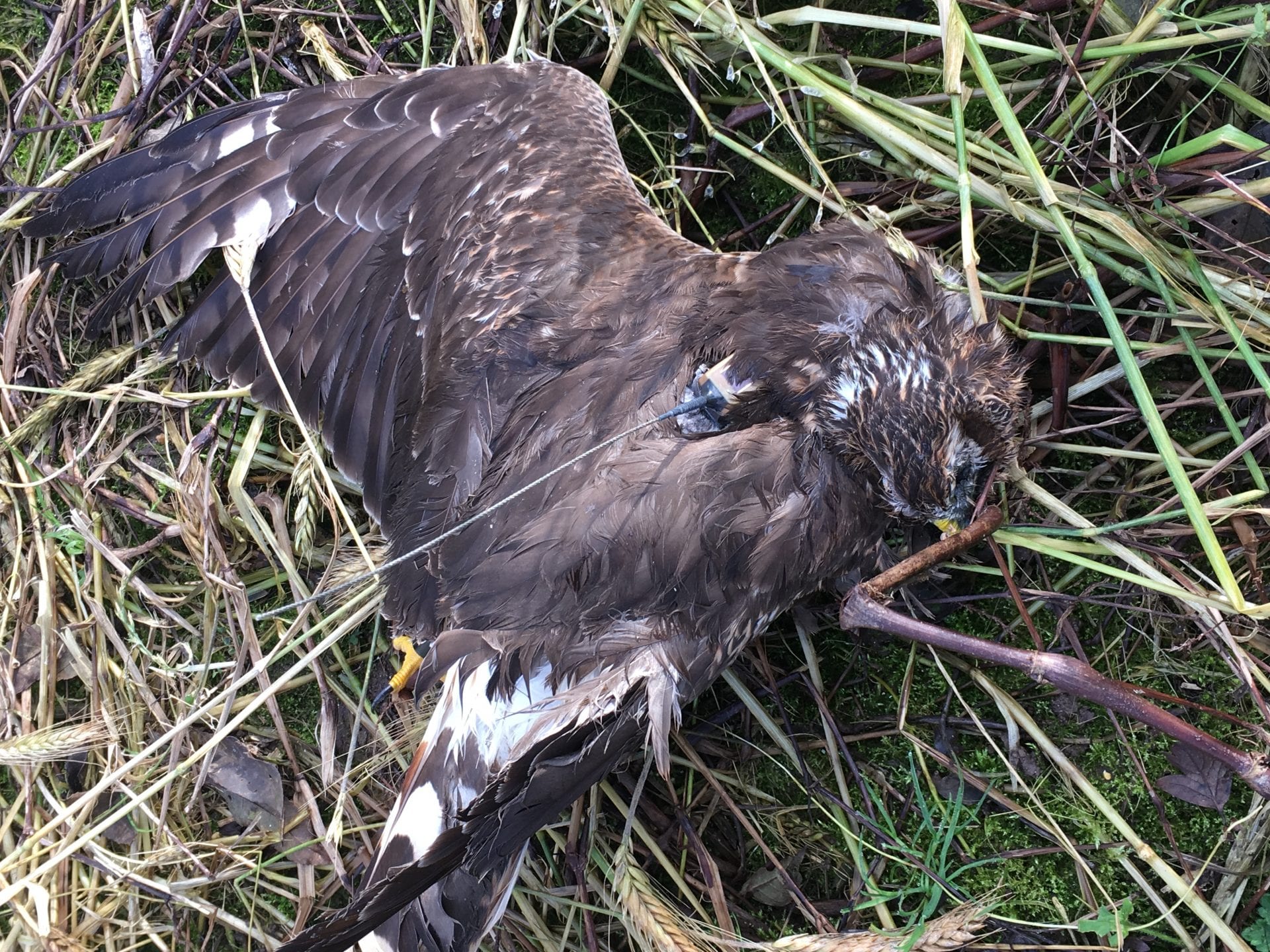 Widespread revulsion at the illegal poisoning of rare, protected Hen Harrier in Co. Meath
Conservation groups in Ireland, UK and Isle of Man unite to condemn this heinous crime.
BirdWatch Ireland, Ireland's largest conservation charity, is utterly appalled by the illegal killing of yet another protected bird of prey in Ireland. The victim this time was a female Hen Harrier called Mary, who hatched in the summer of 2019 from a nest on the Isle of Man and met her tragic end in a field in Drumconrath, Co. Meath. She was fitted with a tracking device as part of the EU Hen Harrier LIFE project, which Manx BirdLife and the RSPB, our UK BirdLife International partner, had been using to monitor her movements and survival. There was great excitement when the tracking data revealed that Mary had flown westwards from the Isle of Man to Co. Meath. Unfortunately, on 2nd November the data from her tracking device revealed that she had died suddenly. RSPB Investigations and the National Parks and Wildlife Service (NPWS) found her body on land managed for pheasant shooting. The NPWS investigation revealed that she had been illegally poisoned: a dead pigeon, which had been laced with the banned toxin Carbofuran, which is dangerous to animals and humans, along with poisoned chunks of meat were also found at the scene. Pieces of poisoned meat were also found in Mary's body, proving that she had eaten some of the bait and succumbed. The use both of Carbofuran and of poisoned meat bait, are serious criminal offences. Hen Harriers are fully protected in Ireland under the EU Birds Directive and under the national Wildlife Act 1976 (as amended), to kill or injure one is a criminal offence. Despite this, Hen Harriers and other protected birds of prey continue to be killed, or disappear in suspicious circumstances. John Lusby, Raptor Conservation Officer at BirdWatch Ireland, said, "It is devastating to learn of the fate of this bird. Each Hen Harrier is precious, and particularly those from the Isle of Man and from Britain, where their numbers have been decimated by illegal killing. "For this bird to have travelled to Ireland, with so many people invested in its survival and eagerly following its journey, only to suffer the same fate at the hands of wildlife criminals, is truly devastating. We are appalled, but sadly not surprised, as this is far from an isolated incident. The fact is that, of the small number of birds of prey that have been fitted with tracking devices in Ireland or which have travelled here, a high proportion has been found in similar circumstances to Mary. We urge the National Parks and Wildlife Service and Gardaí to take the appropriate steps to bring the perpetrators to justice, and we offer our assistance in this regard. NPWS is responsible for recording and investigating incidents of wildlife crime, and established the RAPTOR (Recording and Addressing Persecution and Threats to Our Raptors) protocol for this purpose, to which Lusby commented, "The NPWS has recently stepped up efforts to record incidents of illegal killing of birds of prey, but there needs to be more effective investigation and enforcement of wildlife crimes, and better liaison with the Gardaí, otherwise we should expect that the horrific killing of protected birds of prey, such as this one, will continue". "Mary was a particularly special bird," said Niall Hatch, Public Relations, Branches and Development Officer with BirdWatch Ireland. "So many people were invested in her survival and followed her journey from her nest on the Isle of Man to her arrival in Ireland. That she was illegally killed is incredibly damaging to Ireland's reputation, and highlights that the illegal poisoning of raptors remains a disgusting and sinister element in our countryside and continues to affect our wildlife." Neil Morris, Managing Director of Manx Birdlife, said, "Despite a great deal of effort by many dedicated individuals and agencies, including the Manx Ringing Group and RSPB, little is known about the movements of Manx Hen Harriers. We know our young birds have a tendency to wander, in common with other bird of prey species, but none has yet survived long enough away from the Isle of Man to either settle to nest or to return to the island. We applaud efforts to understand the circumstances of Mary's premature demise and to demand a full and transparent investigation."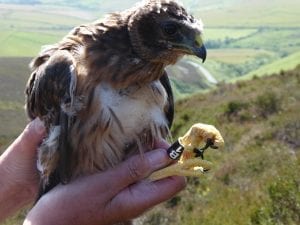 Martin Harper, Global Conservation Director at RSPB, said, "Here is another Hen Harrier which has failed to make it through its first year, thanks to the spectre of illegal persecution. Time and time again, satellite-tagging is pinpointing illegal persecution and critically proving that young Hen Harriers are being killed before they have the chance to breed and bolster the fragile British population. Raptor persecution in connection with land managed for shooting is the number one threat to the Hen Harrier in Britain." The Hen Harrier population is under significant pressure in Ireland too, and the species' population declines here have been well documented. Conservation efforts to protect Hen Harriers and restore their populations have been established, funded by taxpayers' money. The actions of the criminals responsible for the illegal killing of this bird compromise such efforts, damage Ireland's reputation internationally and have a devastating effect on our wildlife: they cannot be tolerated.
For a video showing the recovery of the body of Mary the Hen Harrier, please click here.
For more details about Hen Harriers in Ireland, please click here.
For a video about Ireland's Hen Harriers, please click here.