Swift
| | |
| --- | --- |
| Irish Name: | Gabhlán gaoithe |
| Scientific name: | Apus apus |
| Bird Family: | Swift |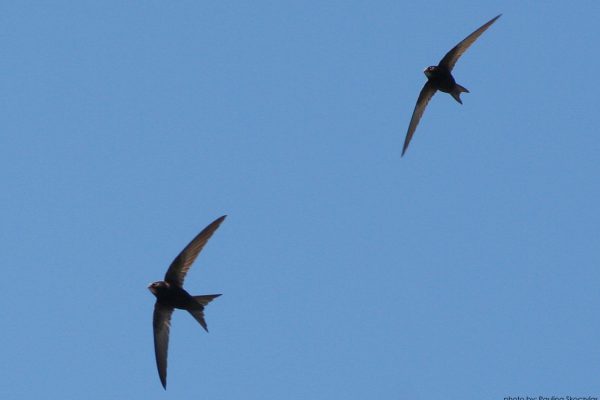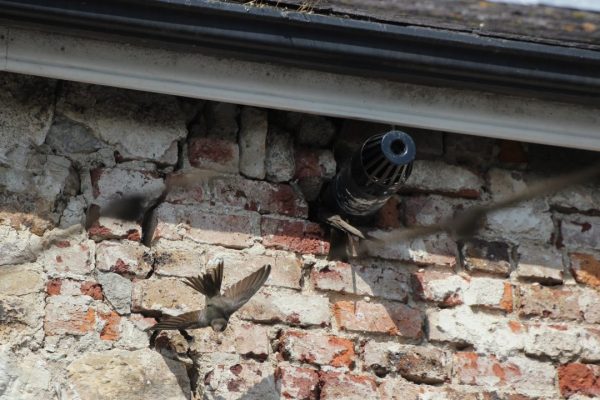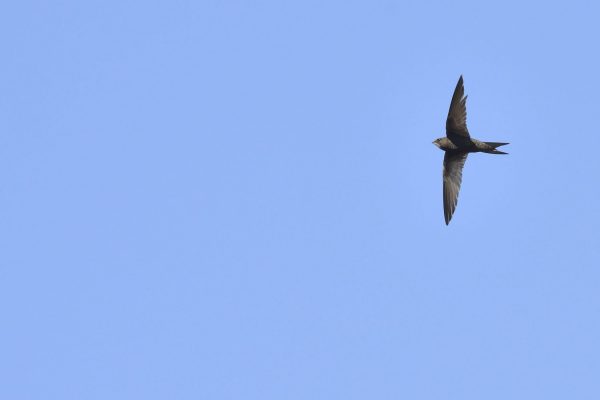 Status
Widespread though declining summer visitor throughout Ireland from May to early September.
Identification
About the same size as a Swallow, but all dark. Spends virtually all of its life airborne and never seen resting on wires, as Swallows and Martins frequently do. The weak and small feet of a Swift only allow it to cling to vertical surfaces or shuffle akwardly on the ground (at the nest). In flight, has a distinctive shape with scythe shaped wings held straight out from the body. One of the fastest flying birds in Ireland.
Voice
Most frequently heard is a high-pitched scream "srrrriii". Often given by pairs in high speed chases.
Diet
Feeds exclusively on various invertebrates (midges, flies, spiders) caught in flight
Breeding
Breeds throughout Ireland, usually in small recesses in buildings, both occupied and derelict. Less frequently in holes in trees or caves in uplands or coastal areas.
Wintering
Winters in tropical Africa. Migrants arrive from the end of April onwards and most will have departed by mid-August. A few individuals can usually be seen up until the start of September.
Monitored by
Widespread Summer visitor. Usually breeds in urban areas throughout Ireland. Population declining.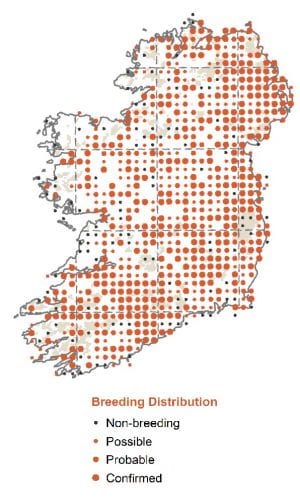 Long distance migrant. Winters in Southern Africa.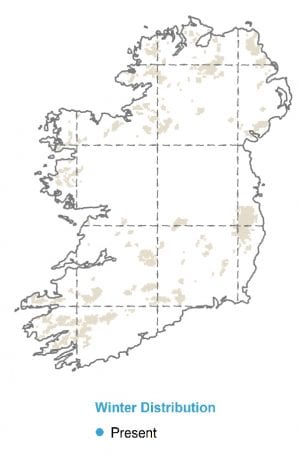 Blog posts about this bird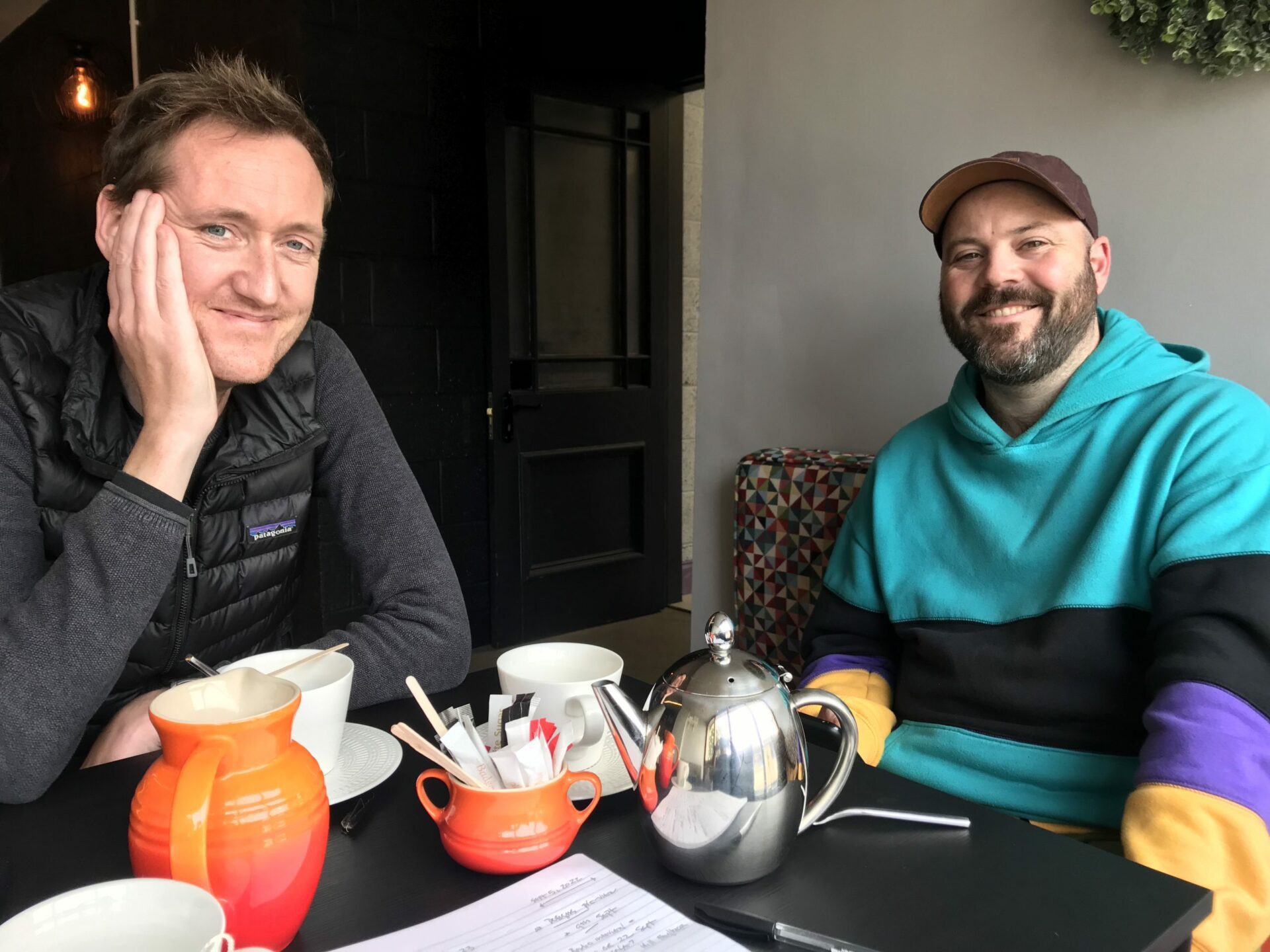 Launch of mural in Mountmellick celebrating Swifts for Laois Culture Night
BirdWatch Ireland's Ricky Whelan with street artist, James Kirwan at Notions Coffee, Mountmellick, September 2022
For Culture Night Laois on Friday, September 23rd, Creative Ireland Laois, Laois County Council Heritage Office and BirdWatch Ireland launch a street mural by artist, James Kirwan to celebrate Ireland's threatened Swift (Apus apus). The mural is located at the gable end of the Butch's Bar  on Patrick Street, Mountmellick, Co. Laois and is adjacent to Mountmellick Community School. The Swift is a small migratory bird which arrives in Ireland to breed from Africa in May and departs in August each year. Although similar in appearance to Swallows and Martins, the Swift's nearest relatives are thought to be the Hummingbirds, native to North and South America. Catherine Casey Heritage Office for Laois County Council said: "We are delighted to be launching this wonderful mural as part of Culture Night as it represents the coming together of the biodiversity of Laois through the Swift and the creative artistic side of the county through the medium of street art. As Swifts are such an urban bird, living in our towns and villages, I can't think of a better subject for a large-scale street mural. This project will rise awareness of the importance of Mountmellick for swifts and also the other work being done to survey and conserve swifts across Laois, with the support of the Heritage Council and the Local Biodiversity Action Fund." The Swift's scientific name Apus apus, meaning 'without feet', refers to the Swift's short legs rather than to any lack of feet. Swift's legs and feet are adapted to cling to vertical surfaces rather than perching or walking on the ground. If they find themselves on the ground, it can be difficult for them to take off again. Swifts are more common in urban areas, nesting in small crevices in buildings, as well as under roof tiles and similar cavities. Swifts pair for life and return to the same nest site for many years. They spend most of their life in flight, drinking, feeding, mating and evening sleeping in the air. Mountmellick native and BirdWatch Ireland Project Officer Ricky Whelan said: "Mountmellick has a wonderful cultural heritage, and I am so proud to see its rich natural heritage enshrined by the Swift mural. Mountmellick is a stronghold within county Laois for these charismatic and threatened birds which is something we should all celebrate and be vigilant to protect into the future." Swifts are among the fastest of birds in the world, able to reach speeds of over 110km per hour. The average Swift weights about 40 grams – the same weight as a Cadbury's Crème Egg! They feed on airborne invertebrates (spiders, flies, and small insects) captured in flight. The Swift's call is a loud, piercing scream and Swifts will often form 'screaming parties' on summer evenings, when ten to twenty Swifts will gather in a group flight above their nesting area, calling out to each other excitedly. Street Artist, James Kirwan said "From the moment Creative Ireland Laois reached out to me about this mural project, I was very interested and excited, especially because I am a huge fan of Swifts. I had also recently listened to Ricky Whelan's and Niall Hatch's
'In Your Nature' podcast
on Swifts, so it is an added bonus to work closely with Ricky and learn even more about these fascinating birds. To be an artist who gets to paint a mural about the conservation of swifts is an honour and it goes without saying that I am wholeheartedly looking forward to being in Mountmellick and creating this mural that highlights the uniqueness of this bird". Wexford-born James Kirwan is an experienced artist based in Dublin. His work has been showcased in solo and group exhibitions, and his mural work has been seen as far away as Canada. James has worked extensively in Ireland too, with recent work appearing in Gorey, Waterford, Thurles and Dublin. James' work is often made with bold colours, with a mix of playful abstract forms and references to the natural world and landscapes. James has a keen interest in the importance of the protection of birds and their habitats in Ireland. He brings this, in his distinctive style, in the stunning piece for Mountmellick's Swift mural. In October, James is scheduled to return to Mountmellick to facilitate a creative workshop with art students in Mountmellick Community College which will explore his street artworks and techniques, and reflect his interest in nature, and his use of abstract shapes.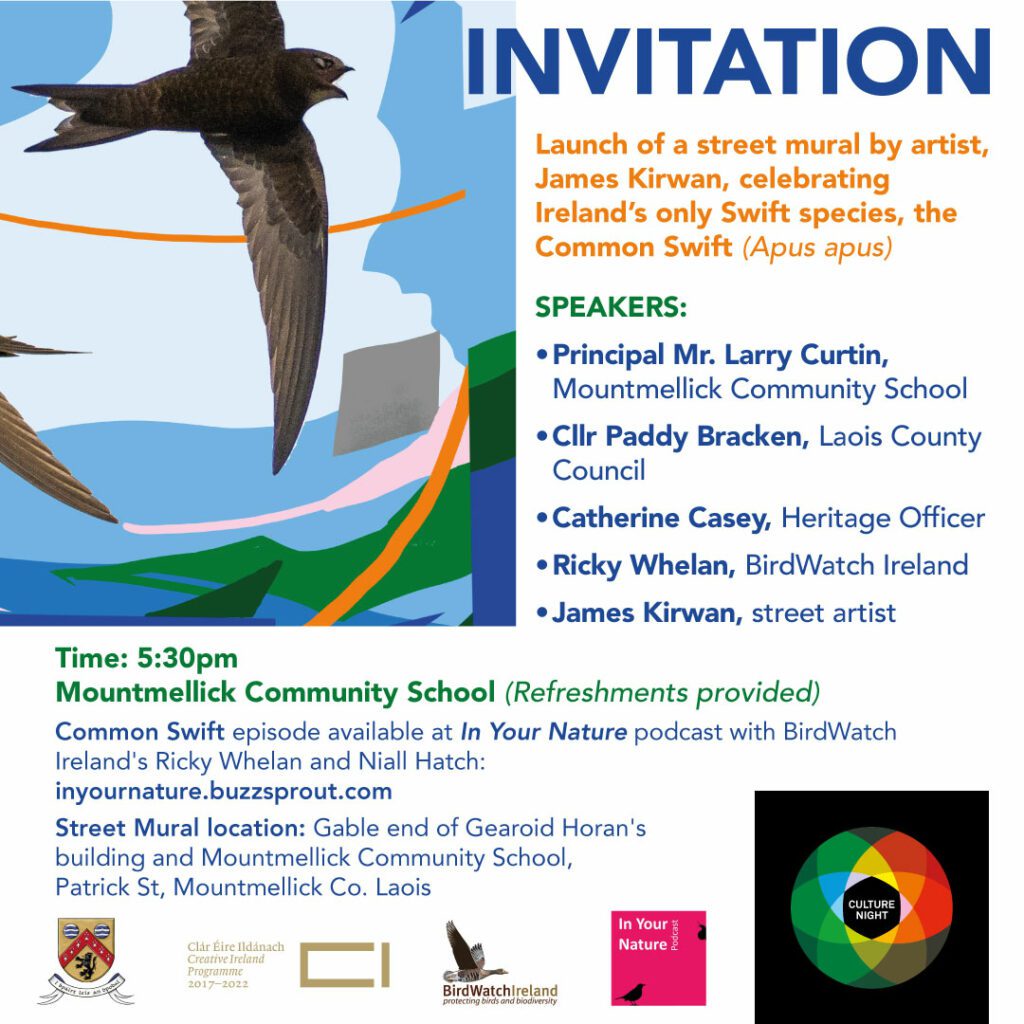 Mural Launch Invite (Culture Night, Friday 23rd, Sept) - September 22
The mural launch takes place on
Fri Sept 23rd at 5.30pm at Mountmellick Community School
. The Swift episode reissue is available at BirdWatch Ireland's
'In Your Nature' podcast
on Buzzsprout or any good podcast provider. 'In Your Nature' is produced in partnership with the Heritage Offices of Laois and Offaly County Councils, supported by the Heritage Council and the Department of Housing, Local Government and Heritage, and is edited by Ann-Marie Kelly. The Swift mural project will be featured on RTE Radio 1,
Mooney Goes Wild Show
on Monday, Sept 19th at 10pm. Laois County Council and BirdWatch Ireland are very grateful to Gearoid Horan for giving permission for the use of his building for the mural, and also sincere gratitude for the support of Principal Larry Curtin and Deputy Principal Frances Kerry – La Rosa of Mountmellick Community School. The Mountmellick Swift Project mural is supported by Creative Ireland Laois as part of the Creative Ireland Programme – in partnership with Laois County Council Heritage Office and BirdWatch Ireland.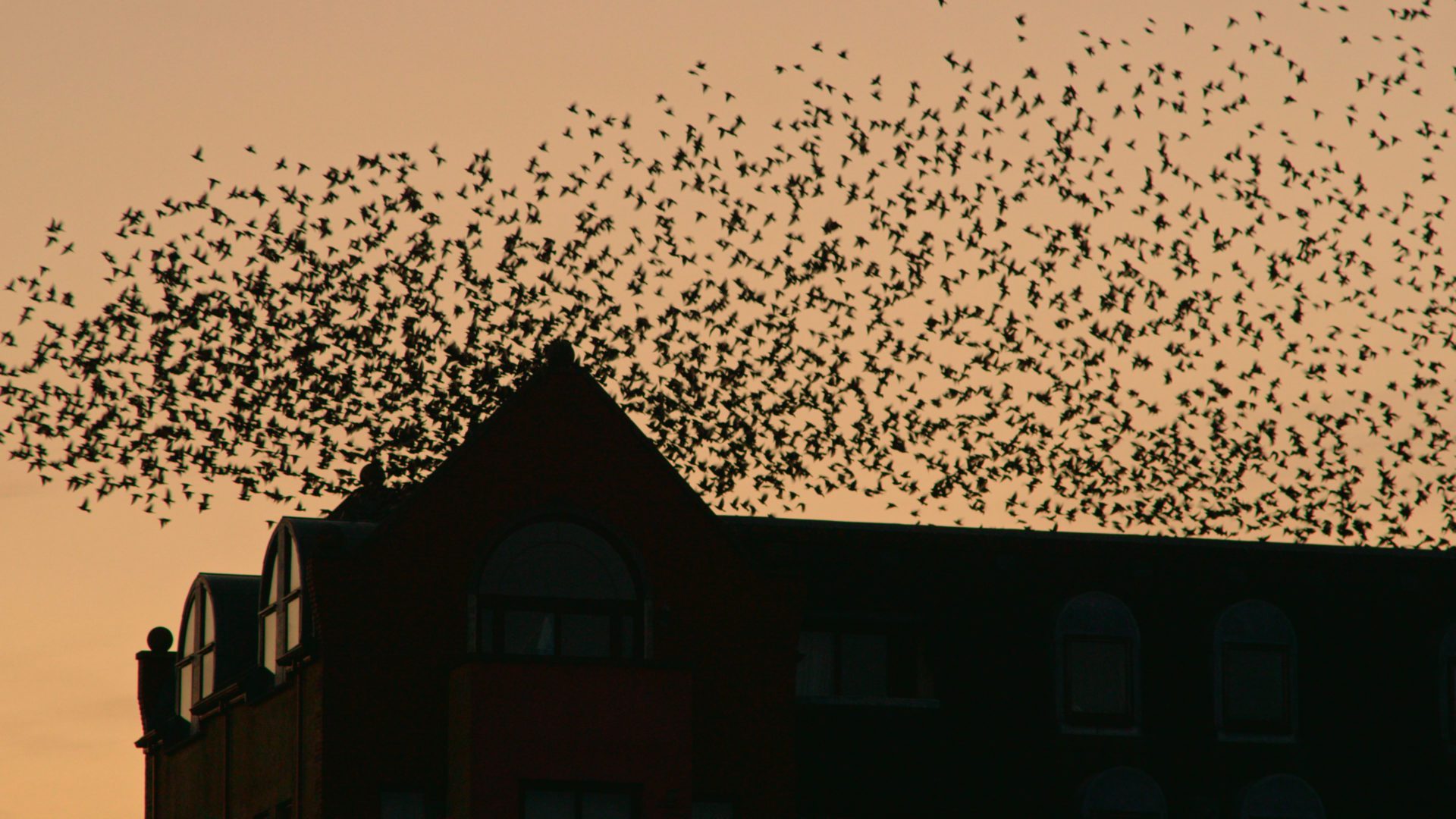 Wildlife in Buildings documentary
[vc_row type="in_container" full_screen_row_position="middle" scene_position="center" text_color="dark" text_align="left" overlay_strength="0.3" shape_divider_position="bottom" shape_type=""][vc_column column_padding="no-extra-padding" column_padding_position="all" background_color_opacity="1" background_hover_color_opacity="1" column_link_target="_self" column_shadow="none" column_border_radius="none" width="1/1" tablet_width_inherit="default" tablet_text_alignment="default" phone_text_alignment="default" column_border_width="none" column_border_style="solid"][vc_column_text]
A new video highlights the importance of the built environment for wildlife and celebrates the species which have adapted to live alongside us and share our homes, and the measures that we can take to ensure we make space for nature
People live in buildings, and wildlife lives in "nature" - right? Well, not quite. For as long as we have built structures for our protection and shelter, wildlife has taken advantage of these buildings for the very same reasons. From the diverse range of birds and mammals which have colonised abandoned ruins in remote rural landscapes, to wildlife which has moved into suburban and urban areas to live alongside us and even share our homes, buildings have become an integral component of the Irish landscape for biodiversity.
A ruined Abbey which is used by a wide range of wildlife ©  John Lusby
Certain species are expected residents within our buildings, and for some the association with buildings is apparent even from their names, such as the 'House Martin' which builds its mud nest in the apex of the roof of occupied houses, and the 'Barn Swallow' which travels from Africa to nest in farmyards throughout the country. The vision of a Barn Owl floating silently from a ruined castle at dusk may seem familiar, but less expected occupants may be a pair of Kestrels nesting in a flower box outside a busy kitchen window, or a female Pine Marten raising her kits in the roof space of an occupied dwelling. Of course, much of the wildlife which use buildings go unnoticed, such as bats roosting in the attic of a house in which the inhabitants beneath remain blissfully unaware of their presence.
Swift ©  Artur Tabor, Lesser Horseshoe Bat © Ruth Hanniffy
Given the importance of buildings for wildlife, changes to the built environment can affect wildlife associated with it. Wildlife in buildings can often be harmed during works due to a lack of awareness of their presence or indeed knowledge of how plan renovations and works in order to avoid disturbance, which is usually always possible. The loss of old stone structures due to demolition, dilapidation or renovation is linked to declines in species such as Barn Owl and Swift, which are dependent on these structures. Modern buildings do not provide the same opportunities for wildlife. However, there is a lot that we can do to improve modern buildings for wildlife to ensure that we continue to make space for nature.
There are many ways we can improve modern buildings for wildlife such as this example, where a purpose built Barn Owl nest site was incorporated in the building  
BirdWatch Ireland and CrowCrag Productions in partnership with Laois County Council, Clare County Council and Tipperary County Council and supported by the National Biodiversity Action Plan Fund of the Department of Housing, Local Government and Heritage have produced a nature documentary to celebrate the wildlife which have taken up residence in the built environment, and to showcase some of our most iconic wildlife species which are reliant on buildings for their survival. John Lusby, BirdWatch Ireland, commented,
'We wanted to celebrate the importance of buildings for wildlife and to create a better link between our built heritage and our natural heritage – as the two are intertwined. The diversity of species which use buildings, and the ways in which they have adapted to use the built environment, is truly astonishing.
As the built environment is constantly changing, we need to make sure that we avoid disturbance to sensitive species and also to continue to provide space for wildlife in buildings, which has benefits for wildlife as well as ourselves. We hope that this feature increases awareness and appreciation of the importance of the built environment for wildlife and provides the necessary information to help conserve some of our most vulnerable and iconic wildlife which are dependent on buildings for their survival'.
Kestrel in flight © Michael O'Clery, Kestrel nest in castle © John Lusby
Roisin O'Grady, Heritage Officer with Tipperary County Council said
'We share the world with nature and it can be closer to us than we think. Tipperary County Council is delighted to support this film highlighting the importance of our built environment, heritage or otherwise in providing shelter for such a variety of species, some of which are our most vulnerable. Given the high levels of habitat loss we have experienced over the last number of years it is more important than ever to be aware of how species have adapted to our built environment and how we can support this 'co-habitation' and equally important in newer development how we 'make space' for nature'.
Renovations and other works on buildings can have unintended consequences for wildlife if not planned appropriately © Conor Kelleher
Congella McGuire, Heritage Officer with Clare County Council commented
'The Local Authority Heritage Officer Network is delighted to be associated with this Wildlife in Buildings video and the guidance booklet 'Wildlife in Buildings: linking our built and natural heritage' both of which were produced with the support of the Local Authorities and National Biodiversity Action Plan Fund'.
Workhouse in ruins © Michael O'Clery, Barn Owls in chimney nest © John Lusby
The video 'Wildlife in Buildings: linking our built and natural heritage' is available to view below or here:
https://www.youtube.com/watch?v=5lQt3C8uI5E
This video accompanies the guidance booklet on Wildlife in Buildings, which is available here:
https://www.kerrycoco.ie/wildlife-in-buildings/
'Wildlife in Buildings: linking our built and natural heritage' was produced by BirdWatch Ireland, Kerry County Council and Donegal County Council, with funding from the Department of Housing, Local Government and Heritage through the National Biodiversity Action Plan Fund.
https://www.youtube.com/watch?v=5lQt3C8uI5E&t=782s[/vc_column_text][/vc_column][/vc_row]
House Martin
Irish Name:
Gabhlán Binne
Scientific name:
Delichon urbicum
Bird Family:
Swallows & Martins