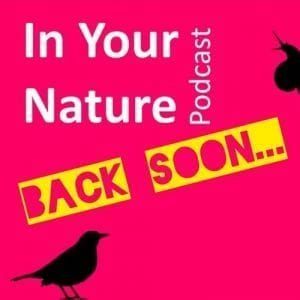 On Monday 31st our popular In Your Nature Podcast returns for a second season. This follows the success of six initial "spring" podcast episodes co-hosted by BirdWatch Ireland's Niall Hatch and Ricky Whelan.
The podcast will return with six new summer season episodes in all, with the first topic of conversation being the Swift, a bird that has captured the imagination of many, not least the podcast hosts who are both its fair to say, smitten with Swifts!
Listeners to In Your Nature can expect an episode on the Shannon Callows, a very special episode to celebrate Cruinniú na nÓg, as well as seabirds, gulls and curlew all been thrown into the mix. Listeners can also look forward to the end of episode "bird of the week" feature where a new bird is discussed to help grow our avian knowledge each week.
New episodes go live each Monday for six weeks, with the first dropping on Monday May 31st. Our Cruinniú na nÓg special drops on Saturday June 12th to coincide with the special day. The podcast is available here for download or wherever you get your podcasts, including Apple Podcasts, Spotify and iTunes.
In Your Nature is made in partnership with Heritage Offices of Laois and Offaly County Councils with the support of the Department of Housing, Local Government and Heritage, the National Biodiversity Action Plan and the Heritage Council.
In Your Nature is edited by Ann-Marie Kelly.
To comment or give feedback you can email info@birdwatchireland.ie