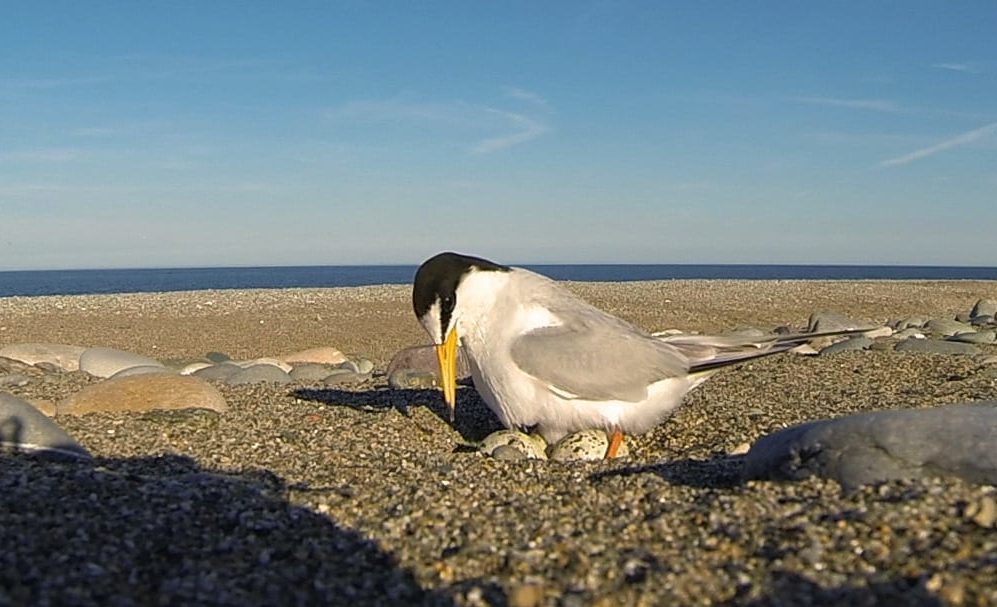 It has been a little over two weeks since we found the first Little Tern egg at the NPWS and BirdWatch Ireland conservation project at Kilcoole in north Wicklow. So, what has happened since?
Eggs!
For species that nest in colonies, like the Little Tern, it's important that all birds nest at the same time to gain maximum benefit in terms of protection. If one pair nested today, and another 2 or 3 nested next week, some waited until July etc, then there isn't the critical mass of birds present in the same place at the same time, with high-value nests to defend, to ensure successful breeding and keep away predators such as gulls. With that in mind, the first few nests in a colony such as this start a chain-reaction, and though we might be waiting a week or two for that first egg, after that they come thick and fast! So, as of Thursday 2nd June 2022, 18 days after our first Little Tern nests, we now have a minimum of 216 pairs on eggs! Unfortunately we've lost a small number of nests to crows (Magpie and Rook), and one or two to Oystercatchers, but overall everything is going well.

A marker for Little Tern nest number 200 – the eggs are not far behind this rock, but incredibly well camouflaged! (P. Kavanagh)
Oystercatcher and Ringed Plover
Little Terns are our top priority, but they're not the only species in town! We've had 9 pairs of Ringed Plover in and around the colony, at least five of which have hatched chicks so far. We also have two pairs of Oystercatchers, one of which has hatched chicks. Wader chicks are incredibly mobile within a day or so of hatching, so these tiny brand-new birds have already moved considerable distances from their nest and are keeping their parents busy. If you think herding cats is hard, try herding Ringed Plover chicks! They have long legs and lots of energy, so move amazingly quick!

Oystercatcher egg about to hatch. Photo taken under NPWS license. (P. Kavanagh)

Ringed Plover chick, only a few days old. They're easily missed on a shingle beach! Photo taken under NPWS license.(P. Kavanagh)
Big journey for a Little Tern
Through colour-ringing the Little Terns at Kilcoole we've learned a lot about their movements once they fledge. We know that the majority return to Kilcoole to breed, though some have chosen sites further afield in Dublin (Portrane), Louth (Baltray) and even the Isle of Man and Wales. Little Terns swap colonies with a bit more frequency than other seabirds, and so they really view these locations as part of one big meta-colony and aren't afraid to swap sites if conditions haven't been good at the original location.
Their use of the breeding sites is arguably the most important bit of information for us as we seek to ensure they have the right conditions to nest successfully and enhance the population, but some of our birds have also been seen on migration and wintering grounds in West Africa, which is an important piece of the puzzle and emphasises the importance of international conservation efforts, particularly with regards the marine environment. No fish? No Little Terns!
Every now and again though, colour-ringing produces something much more unexpected and unusual. Last Friday, we got word that only the 4th ever Little Tern was seen in Iceland! Not long after we got an email to say it was wearing a green ring with code 'A77' on its left leg. This is a bird ringed at Kilcoole as a chick back in 2019, clearly exploring the wider world before settling down to breed, and ended up exploring much further than most Little Terns do! Needless to say this caused much delight both in Wicklow and in Iceland! Hopefully we'll see A77 on a beach near us soon!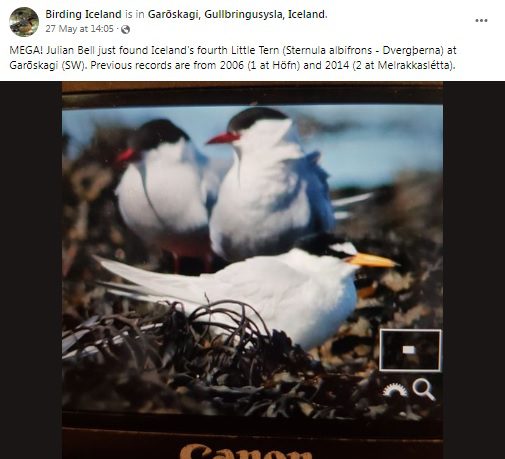 News of Iceland's fourth ever Little Tern sighting broke last week, much to the delight of local birders (per 'Birding Iceland' facebook page)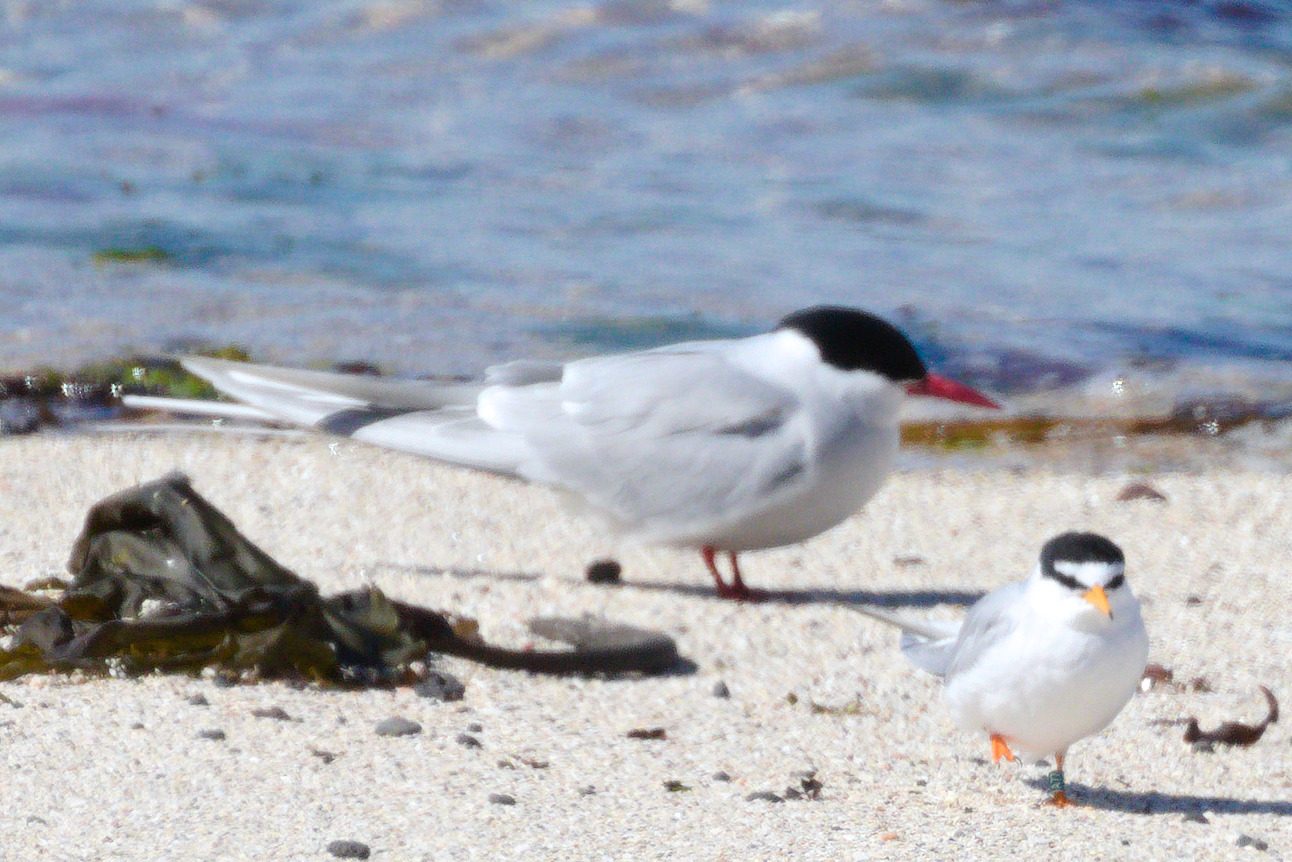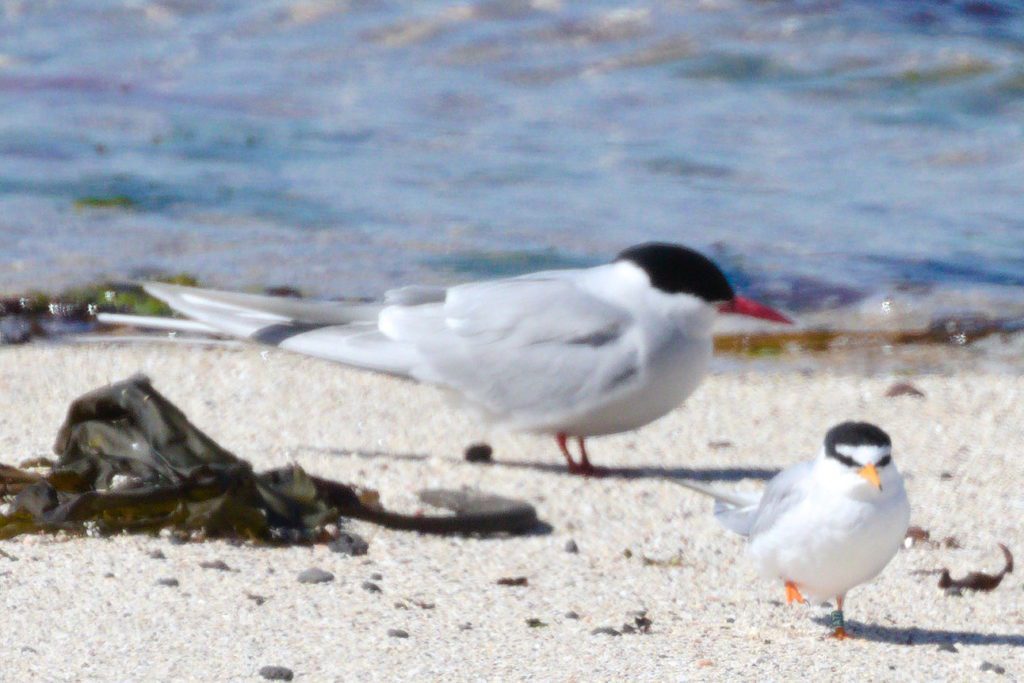 Iceland's 4th ever record of a Little Tern, and it's from our Kilcoole colony! (Sölvi Rúnar Vignisson)
That's all for now! We're expecting the first Little Tern chicks this weekend, so fingers crossed the weather and tides stay in our favour. If you're in the area, come down to the colony to see what all the fuss is about!
---
The Kilcoole Little Tern Conservation project delivered by BirdWatch Ireland under contract to the  National Parks and Wildlife Service and our team of wardens work closely with the Conservation Rangers and staff in Wicklow throughout the season to ensure this project continues to be a success.