Barn Owl
| | |
| --- | --- |
| Irish Name: | Scréachóg reilige |
| Scientific name: | Tyto alba |
| Bird Family: | Owls |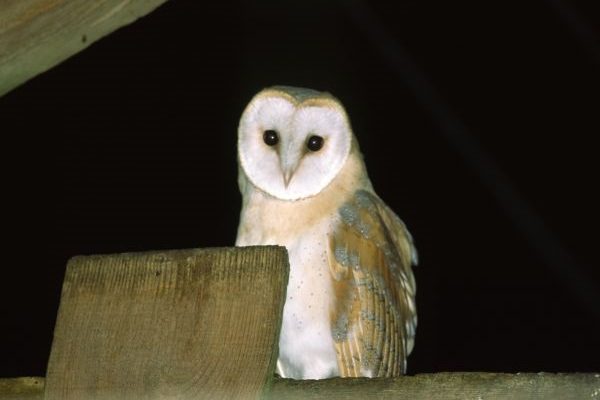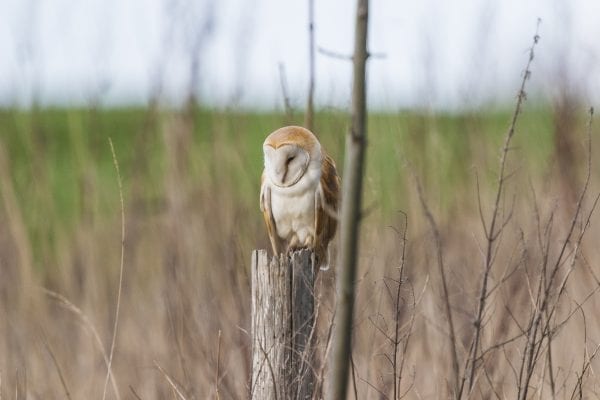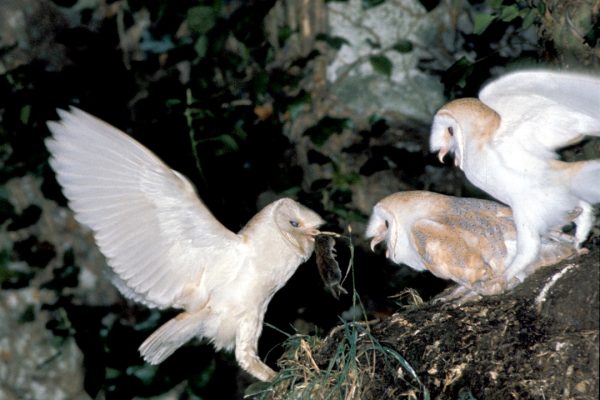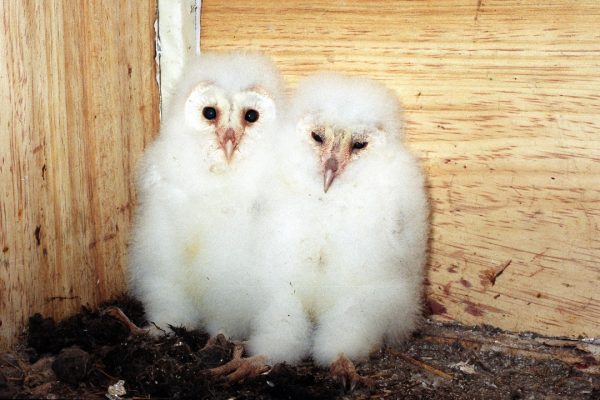 Status
Scarce resident mainly in central and southern Ireland. No longer breeds in large patches of northern, western and eastern Ireland. Red-listed in Ireland due to a significant decline in the breeding population. The European population is currently evaluated as Declining.
Identification
Rarely seen during the day, only active late at night. Most frequently seen flying across road in car head-lights. Appears a ghostly white, with no markings on the underwing - Long-eared owl has a dark comma mark. Given a close view, shows a remarkably intricate patterning on the wings, back and head.
Voice
A loud shriek is most frequently heard
Diet
Hunts small mammals and frogs. In Ireland, found to be very dependent on Greater White-tooted Shrew with other small mammals forming a much smaller percentage of prey caught.
Breeding
Breeds in ruined buildings, such as castles and to a lesser extent in outbuildings (barns/sheds). Will use special nest boxes. Breeding success heavily dependent on the availability of suitable prey.
Wintering
Largely resident, though young birds will wander in search of new territories.
Monitored by
Barn Owl Project, BirdTrack and Countryside Bird Survey.
Resident, declining population mainly concentrated in the Midlands and Southwest Ireland. All sightings should be reported to BirdWatch Ireland.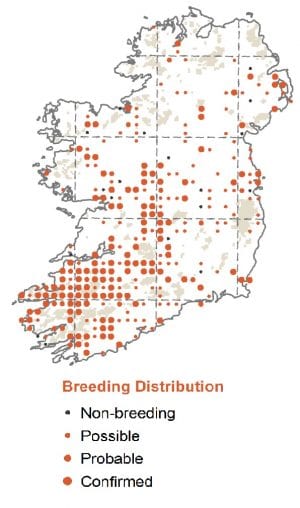 In Winter juveniles expand their range in search of new territories.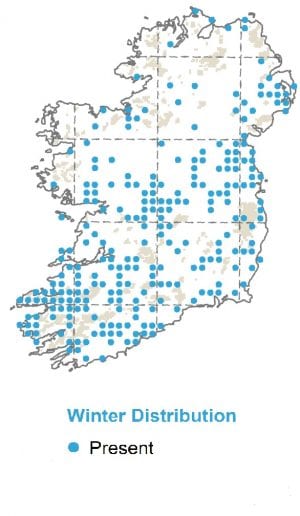 Blog posts about this bird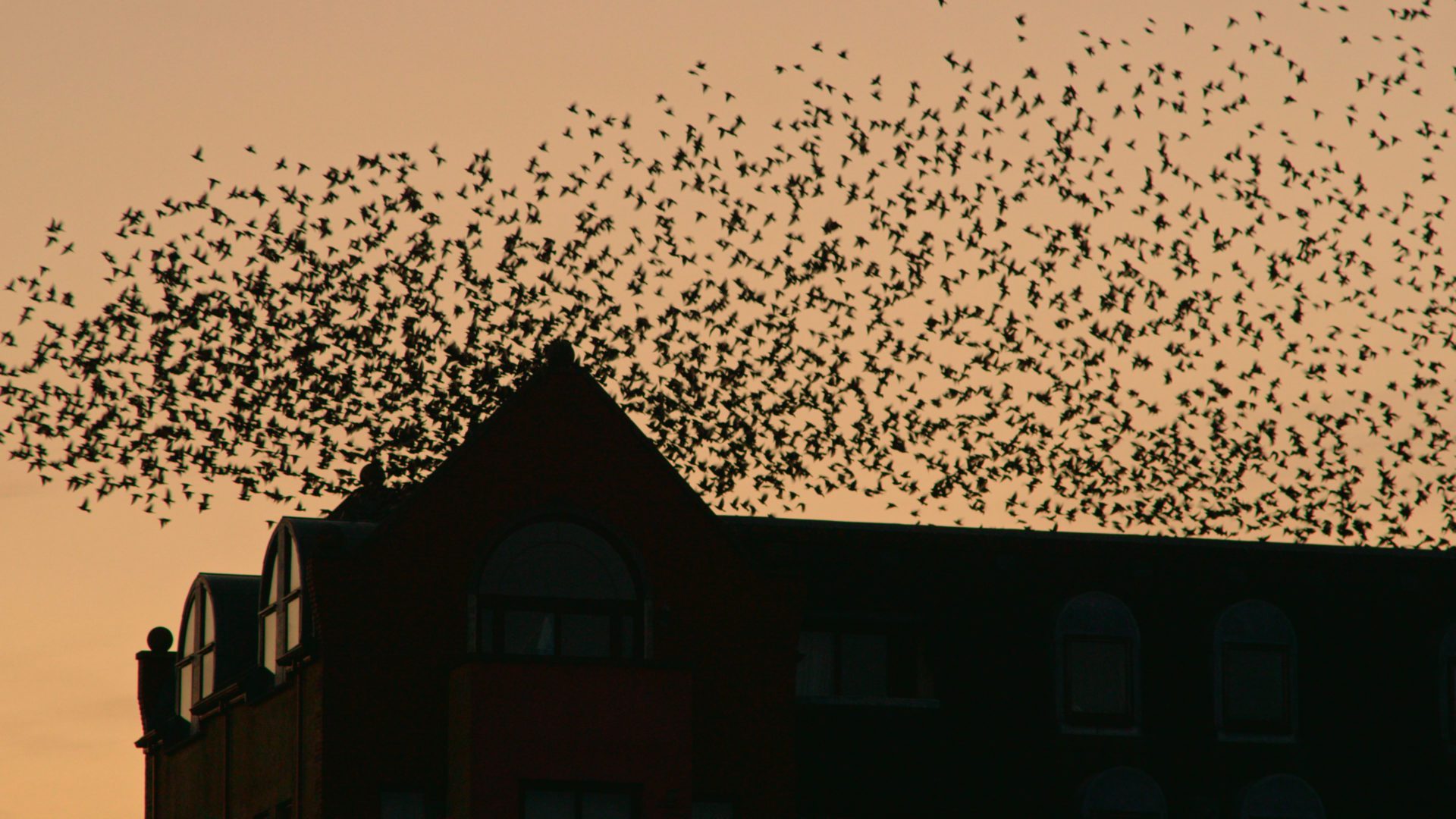 Wildlife in Buildings documentary
[vc_row type="in_container" full_screen_row_position="middle" scene_position="center" text_color="dark" text_align="left" overlay_strength="0.3" shape_divider_position="bottom" shape_type=""][vc_column column_padding="no-extra-padding" column_padding_position="all" background_color_opacity="1" background_hover_color_opacity="1" column_link_target="_self" column_shadow="none" column_border_radius="none" width="1/1" tablet_width_inherit="default" tablet_text_alignment="default" phone_text_alignment="default" column_border_width="none" column_border_style="solid"][vc_column_text]
A new video highlights the importance of the built environment for wildlife and celebrates the species which have adapted to live alongside us and share our homes, and the measures that we can take to ensure we make space for nature
People live in buildings, and wildlife lives in "nature" - right? Well, not quite. For as long as we have built structures for our protection and shelter, wildlife has taken advantage of these buildings for the very same reasons. From the diverse range of birds and mammals which have colonised abandoned ruins in remote rural landscapes, to wildlife which has moved into suburban and urban areas to live alongside us and even share our homes, buildings have become an integral component of the Irish landscape for biodiversity.
A ruined Abbey which is used by a wide range of wildlife ©  John Lusby
Certain species are expected residents within our buildings, and for some the association with buildings is apparent even from their names, such as the 'House Martin' which builds its mud nest in the apex of the roof of occupied houses, and the 'Barn Swallow' which travels from Africa to nest in farmyards throughout the country. The vision of a Barn Owl floating silently from a ruined castle at dusk may seem familiar, but less expected occupants may be a pair of Kestrels nesting in a flower box outside a busy kitchen window, or a female Pine Marten raising her kits in the roof space of an occupied dwelling. Of course, much of the wildlife which use buildings go unnoticed, such as bats roosting in the attic of a house in which the inhabitants beneath remain blissfully unaware of their presence.
Swift ©  Artur Tabor, Lesser Horseshoe Bat © Ruth Hanniffy
Given the importance of buildings for wildlife, changes to the built environment can affect wildlife associated with it. Wildlife in buildings can often be harmed during works due to a lack of awareness of their presence or indeed knowledge of how plan renovations and works in order to avoid disturbance, which is usually always possible. The loss of old stone structures due to demolition, dilapidation or renovation is linked to declines in species such as Barn Owl and Swift, which are dependent on these structures. Modern buildings do not provide the same opportunities for wildlife. However, there is a lot that we can do to improve modern buildings for wildlife to ensure that we continue to make space for nature.
There are many ways we can improve modern buildings for wildlife such as this example, where a purpose built Barn Owl nest site was incorporated in the building  
BirdWatch Ireland and CrowCrag Productions in partnership with Laois County Council, Clare County Council and Tipperary County Council and supported by the National Biodiversity Action Plan Fund of the Department of Housing, Local Government and Heritage have produced a nature documentary to celebrate the wildlife which have taken up residence in the built environment, and to showcase some of our most iconic wildlife species which are reliant on buildings for their survival. John Lusby, BirdWatch Ireland, commented,
'We wanted to celebrate the importance of buildings for wildlife and to create a better link between our built heritage and our natural heritage – as the two are intertwined. The diversity of species which use buildings, and the ways in which they have adapted to use the built environment, is truly astonishing.
As the built environment is constantly changing, we need to make sure that we avoid disturbance to sensitive species and also to continue to provide space for wildlife in buildings, which has benefits for wildlife as well as ourselves. We hope that this feature increases awareness and appreciation of the importance of the built environment for wildlife and provides the necessary information to help conserve some of our most vulnerable and iconic wildlife which are dependent on buildings for their survival'.
Kestrel in flight © Michael O'Clery, Kestrel nest in castle © John Lusby
Roisin O'Grady, Heritage Officer with Tipperary County Council said
'We share the world with nature and it can be closer to us than we think. Tipperary County Council is delighted to support this film highlighting the importance of our built environment, heritage or otherwise in providing shelter for such a variety of species, some of which are our most vulnerable. Given the high levels of habitat loss we have experienced over the last number of years it is more important than ever to be aware of how species have adapted to our built environment and how we can support this 'co-habitation' and equally important in newer development how we 'make space' for nature'.
Renovations and other works on buildings can have unintended consequences for wildlife if not planned appropriately © Conor Kelleher
Congella McGuire, Heritage Officer with Clare County Council commented
'The Local Authority Heritage Officer Network is delighted to be associated with this Wildlife in Buildings video and the guidance booklet 'Wildlife in Buildings: linking our built and natural heritage' both of which were produced with the support of the Local Authorities and National Biodiversity Action Plan Fund'.
Workhouse in ruins © Michael O'Clery, Barn Owls in chimney nest © John Lusby
The video 'Wildlife in Buildings: linking our built and natural heritage' is available to view below or here:
https://www.youtube.com/watch?v=5lQt3C8uI5E
This video accompanies the guidance booklet on Wildlife in Buildings, which is available here:
https://www.kerrycoco.ie/wildlife-in-buildings/
'Wildlife in Buildings: linking our built and natural heritage' was produced by BirdWatch Ireland, Kerry County Council and Donegal County Council, with funding from the Department of Housing, Local Government and Heritage through the National Biodiversity Action Plan Fund.
https://www.youtube.com/watch?v=5lQt3C8uI5E&t=782s[/vc_column_text][/vc_column][/vc_row]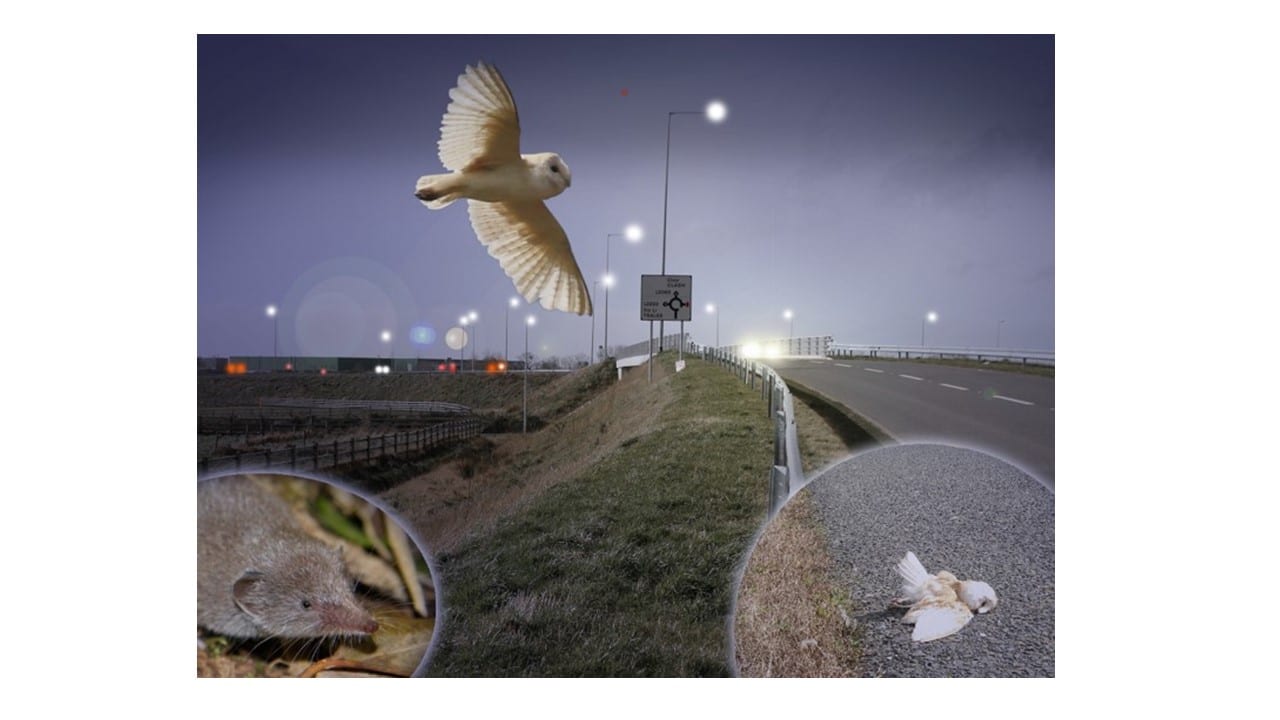 New mitigation to reduce Barn Owl deaths on Irish roads
Throughout the Barn Owl's extensive range, where there are major roads, there are inevitably road fatalities. Barn Owls are one of the most susceptible birds to vehicle collisions. Research carried out by BirdWatch Ireland and Transport Infrastructure Ireland has shed light on the extent of Barn Owl deaths which occur on Irish roads and for the first time an insight on the behaviour of Barn Owls in relation to roads, particularly how they use roadside verges for foraging and how this can increase the risk of collision. The findings of this research has now been applied to the design of new mitigation measures which will be incorporated during the early planning phases of national road schemes, with the aim of reducing the effects of road networks on Barn Owl populations.

The design of the mitigation which is aimed to prevent Barn Owls from crossing the road at the flight height of vehicles, while maintaining suitable foraging conditions protected behind a natural screen
Road infrastructure is essential to our everyday lives, but it can come at a cost for biodiversity. Vehicle collision is the main cause of death for a diverse range of wildlife and can contribute to population declines and increase the risk of extinction for vulnerable species. Mitigation strategies to reduce collisions and impacts on wildlife are standard in the planning and design of all new road developments in Ireland. Since the mid noughties, all new constructed motorways were fitted with a range of structures to prevent road deaths of mammals, including fencing to restrict animal access to the road, underpasses to allow for safe crossing and an overpass green bridge for bats. Although the potential impacts of new road developments and the inevitable mortality of Barn Owls were recognised by road authorities and developers, there were no measures in place to reduce the risk of collision. This was partly due to the inherent difficulties in designing and implementing road mitigation strategies for birds, but an additional obstacle had been a limited understanding of the response and behaviour of Barn Owls to major roads, and how this influences their risk of collision.

Barn Owl in flight © Mike Brown. Barn Owl road casualty © Barry O'Loughlin.
This has now changed, with the publication of new research led by BirdWatch Ireland and commissioned by Transport Infrastructure Ireland which answers many of the previously unknown questions, such as the extent of mortality of Barn Owls on Irish roads, the factors which influence their risk of vehicle collision, and importantly how Barn Owl behave in relation to roads and how they exploit roadside verges for foraging.
The grass roadside verges of major roads provide suitable habitat for small mammals and thus can be attractive foraging habitats for Barn Owls. Greater White-toothed Shrew © John Murphy.
A road casualty survey on the M8 Motorway and the Tralee Bypass estimated a mortality rate of 51 and 60 Barn Owls per 100 km per year on these routes. This information is necessary to understand the scale of the problem and the requirement for effective mitigation solutions. This study, published by Transport Infrastructure Ireland also identifies the specific characteristics of roads where risk of collision for Barn Owls is greatest, and with the use of specialised GPS transmitters, uncovered how Barn Owls use and exploit roadside verges. John Lusby, of BirdWatch Ireland who led the research explained, "We
saw that individual birds which were fitted with GPS transmitters routinely hunted along the verges of major roads. Barn Owls are attracted to hunt these long, linear habitats, which are also suitable for their small mammal prey. However, this can be a high-risk foraging habitat due to the proximity to the road, and we observed that the places that Barn Owls were most frequently killed on roads were those which were close to suitable foraging conditions."
A female Barn Owl fitted with a GPS transmitter (left) to track her movements and foraging behaviour in relation to the nearby M8 motorway © Michael O'Clery. The movements of this female are shown in the map, which shows her frequent encounters with the M8 motorway (right).
The findings of this research have been used to develop new measures which are aimed at reducing the risk of Barn Owl mortality on Irish roads. Transport Infrastructure Ireland and BirdWatch Ireland devised the '
Survey and Mitigation Standards for Barn Owls'
, now published by Transport Infrastructure Ireland. These standards include survey requirements for Barn Owl to ensure that direct disturbance effects to breeding sites can be identified and avoided during the construction of new road projects. The more challenging mitigation to design has been measures to reduce the risk of vehicle collision for Barn Owls. These measures, which will be considered in the planning of new road projects, aim to discourage Barn Owls from flying or foraging in close proximity to major roads and to divert the flight height of birds above the height of vehicles. Where the width of the verge allows, suitable foraging conditions will be provided, behind natural screening to protect the birds while foraging. These measures will be targeted to the sections of road where they are most required and based on proximity to known Barn Owl nest sites.

                                                  The mitigation measures which will now be considered in the planning of all new national road projects.
Dr. Vincent O'Malley, Head of Environment of Transport Infrastructure Ireland, commented, "We
are delighted to support innovative research such as this because it provides the scientific evidence for the development of appropriate mitigation measures for the protection of Barn Owls which interact with the national road network. As many of these new measures have not been implemented previously, it will be important to regularly monitor these measures to ensure their effectiveness."
The research report
'The Interactions between Barn Owls and Major Roads: Informing Management and Mitigation'
is available here: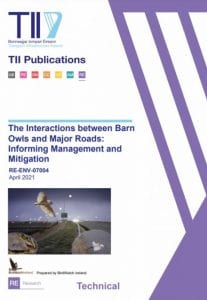 The '
Survey and Mitigation Standards for Barn Owls to inform the Planning, Construction and Operation of National Road Projects'
is available here: