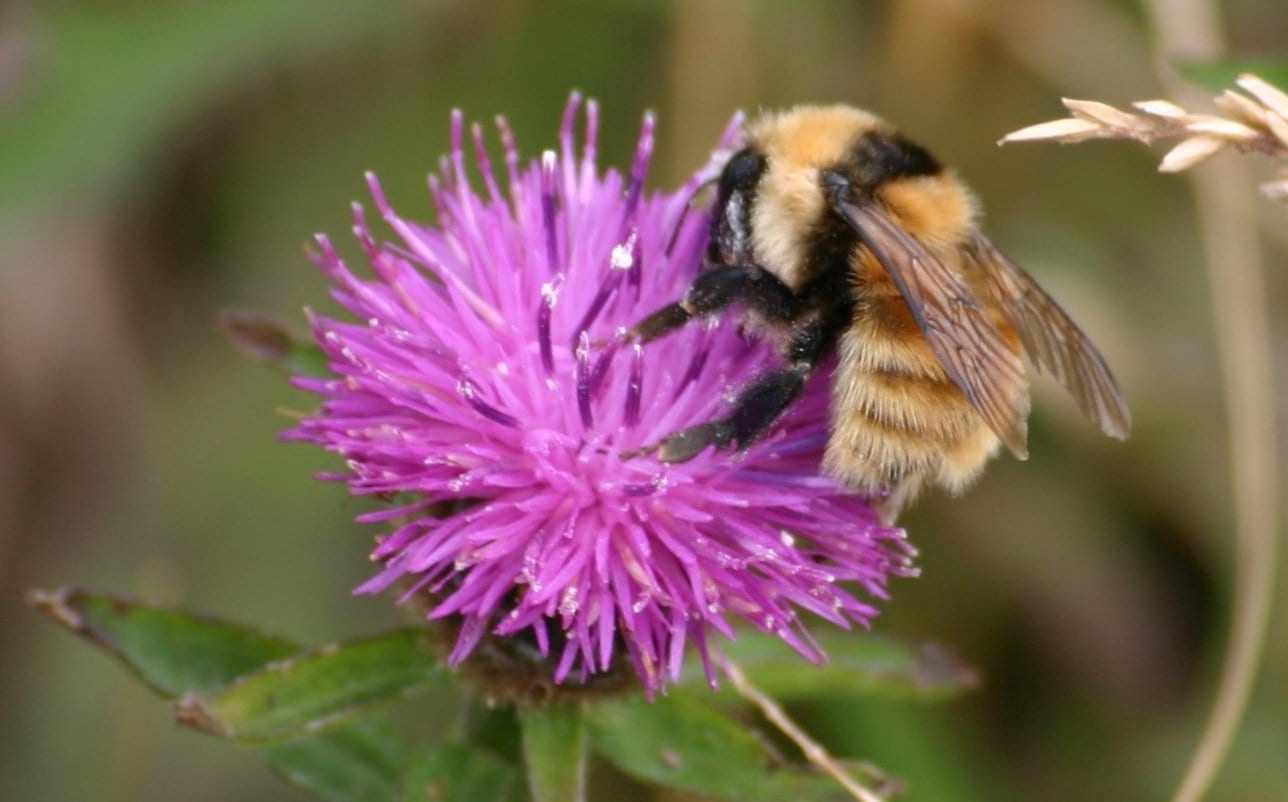 BirdWatch Ireland is not just for the birds. A recent paper published in the Journal of Insect Conservation highlights that our reserves on the Mullet Peninsula hold the highest numbers of one of the rarest insects in Ireland: the Great Yellow Bumblebee.
Our reserves on the Mullet Peninsula extend to some 50 hectares over three different sites. Nearly half of this constitutes the Termoncarragh Lake 'bed', whilst the rest is associated with our Annagh Marsh reserve and Termoncarragh Meadows and coastal grasslands reserve. At these sites our focus species during the summer months are either breeding waders or breeding Corncrakes and therefore our management is geared towards providing the conditions necessary to improve their breeding successes. However, it is not just the birds that have benefited from this management!
We first became aware of a rather rare bee, called the Great Yellow Bumblebee Bombus distinguendus, in the summer of 2002, when on a lunchtime stroll a few were seen foraging on Common Knapweed plants at our Annagh Marsh reserve. Each summer thereafter more were noted, and as our meadows at Termoncarragh started to develop into more species-rich grasslands, these bumblebees became more evident there. However, it wasn't until the Bumblebee Monitoring Scheme was established in 2011, as part of the Irish Pollinator Initiative, that we began systematically to record their numbers at these reserves. In that first summer we recorded peak numbers of some 30 Great Yellow Bumblebee workers on the two transect walks, something not witnessed elsewhere in the country. Today similar numbers are still recorded foraging during August.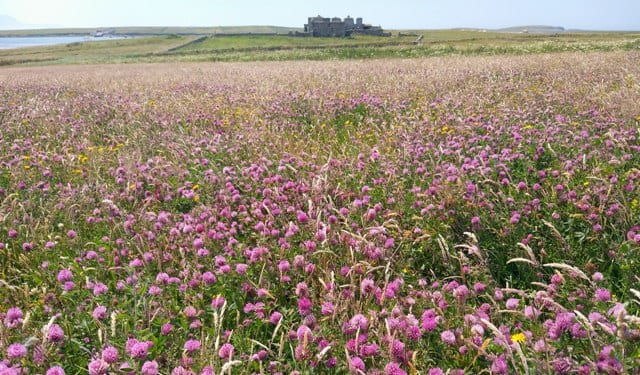 BirdWatch Ireland's Termoncarragh Meadows Nature Reserve, Mullet Peninsula, Co. Mayo:
meadow with extensive Red Clover
(Dave Suddaby)
With more diligent searching we have, in recent summers, started to find the nests of these very special insects within the earthen boundary walls and within grass tussocks, which has given us a rare opportunity to study their nesting behaviour. However, very little is known about their requirements, especially in an Irish context, and so to further our knowledge, research was carried out in summer 2019 by University College Dublin. The research study confirmed that the Great Yellow Bumblebee is a rare bee, even on the Mullet Peninsula which is home to the only remaining population currently known, and that BirdWatch Ireland's reserve areas hold the highest numbers. The study also confirmed that they favour foraging on Common Knapweed, although they do also forage on a variety of other plants, particularly clovers and vetches.
Our management at our reserves remains focused on breeding waders and breeding Corncrakes, although this works well for these bumblebees and other pollinators, in that we provide good stands of foraging plants such as Kidney Vetch, Red Clover and Common Knapweed for them in the grassland structure. Then when it comes to the autumn, delaying mowing, which is good for Corncrakes, also benefits these foraging plants in allowing them to set seed. At this time we also leave areas unmown, which brings additional benefits, such as providing areas for winter hibernation for the bumblebees.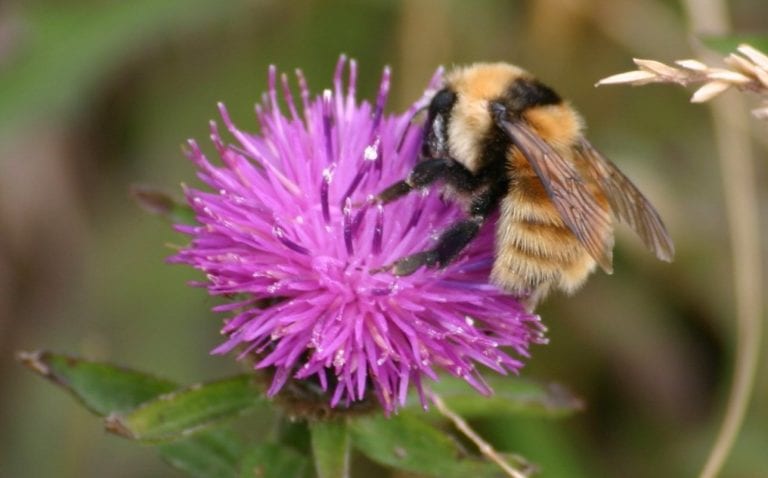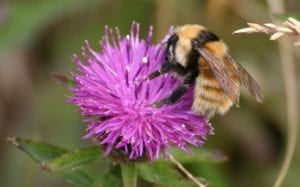 Great Yellow Bumblebee at BirdWatch Ireland's Termoncarragh Meadows Nature Reserve
(Dave Suddaby)
The Great Yellow Bumblebee is a rare bee, classified as Endangered on the Irish Red List. It is a very distinctive bee, being 'big and blonde', and although they are active from May, if you are keen to see one then the best time to visit is from late June to August, especially on a fine sunny day when the workers are actively out foraging. Beware though that a similar-looking big blonde bee, the Moss Carder Bumblebee, will also be out foraging in numbers at this time!
For more information –
• Investigating the ecology of the Great Yellow Bumblebee (Bombus distinguendus) within the wider bumblebee community in North-West Ireland
• All-Ireland Pollinator Plan: Protecting Rare Pollinators guidelines: Great Yellow Bumblebee
Dave Suddaby
Reserves Manager