Species rich grassland: Colin Stanley; Barn Owl in Flight: John Bridges (RSPB-images.com); Barn Owl nest box in tree: Alan McCarthy
A measure to improve Barn Owl conservation, designed by BirdWatch Ireland and the Department of Agriculture, Food and the Marine is now available to farmers in the new Agri-Climate Rural Environment Scheme (ACRES). It is hoped that this measure, which focuses on improved methods of rodent control on farms to reduce the use and effects of rodenticides, providing safe and secure nest sites for Barn Owls and linking to habitat enhancement measurers will deliver real benefits for the farmer and Barn Owls and help the Barn Owl population recovery across the country.
The Barn Owl is one of Ireland's most recognisable and admired birds. Known as the 'farmers friend', it has long been closely linked with farming practices in Ireland, and traditionally nested in old stone farm buildings, often within the farmyard. However, it is a species which has struggled in recent decades and, due to widespread declines in their population and range, it is a Red-listed Bird of Conservation Concern in Ireland. The decline of the Barn Owl in Ireland has been driven by several factors, such as land use changes, the intensification of farming which has caused the loss of suitable habitat, the loss of nest sites (such as old stone farm buildings) and the increased use of rodenticides (rat poisons). Despite this decline, we know that Barn Owls respond well to conservation measures and their population is increasing in certain parts of the country after decades of declines.
Barn Owl hotspot maps which show important areas for the species in the country, prepared by John Kennedy, BirdWatch Ireland. Barn Owl illustrations by Mike Langham (RSPB-images.com)
The Agri-Climate Rural Environment Scheme (ACRES) recently announced by the Department of Agriculture, Food and the Marine includes a Barn Owl specific measure, to help address some of the factors which have caused the Barn Owl population decline. The measure requires adopting an Integrated Pest Management approach to reduce the use and effects of rodenticides and to provide a nest box in a suitable location, for which the farmer receives a payment of €36.48 per unit per year.
Barn Owl nest box in barn (left): Declan Franks; Barn Owl chicks in nest box (center): Nathy Gilligan & John Lusby; Barn Owl nest box in tree (right): Alan McCarthy
BirdWatch Ireland have prepared practical and easy-to-follow guidance for farmers who are interested in this measure, to identify whether their farm is suitable for this action and to implement it to achieve the best results. John Lusby, of BirdWatch Ireland, commented, 'we have seen that nest box measures in previous agri-environment schemes have not always been implemented appropriately and therefore become a waste of time and resources and provide no real conservation benefits, in actual fact, providing a nest box should be relatively straightforward and we have prepared very clear but simple guidance including practical videos on exactly how to implement this measure to get the best results, for farmer and biodiversity'. The Barn Owl Action is only available to farmers who meet certain criteria to ensure that the nest boxes are placed in suitable locations.
Farm buildings which are suitable for Barn Owl nest boxes: John Lusby & Alan McCarthy
The provision of nest boxes for Barn Owls has been a huge conservation success story in recent years. BirdWatch Ireland have recorded over 150 nest boxes which are used by breeding Barn Owls and this number continues to increase each year. It is expected that the number of nest boxes in suitable areas will significantly increase through this measure. Oonagh Duggan, Head of Advocacy at BirdWatch Ireland, commented 'the provision of nest boxes can deliver benefits for Barn Owls, but also important to remember the benefits for the farmer, Barn Owls are called 'the farmers friend' for good reason, and having a pair of Barn Owls on the farm can help with rodent control, many farmers that we work with that have encouraged Barn Owls now no longer use or need to use rodenticides, which is a win, win, for biodiversity and farmers alike'.
Rodents form a large part of the diet of Barn Owls, however this can cause problems if the small mammals on which they feed have been exposed to rodenticides: Image: Richard T Mills
John Lusby, stressed however, that the provision of nest boxes is only one element of addressing the Barn Owl declines and the provision of nest boxes alone does not solve all the problems for Barn Owls. He commented, 'The main reason that Barn Owls, and many other farmland birds have suffered is due to the loss of habitat, and therefore it stands to reason that measures focused on restoring habitat will deliver the greatest benefits. Providing a nest site for Barn Owls can help but this needs to be accompanied by providing suitable foraging habitats'. The guidance lists the biodiversity habitats available through ACRES which should be linked with the Barn Owl Action, which includes grass margins and winter bird food. He said, 'this is where we will see real benefits, where the provision of nest sites is linked with changes and improvements in pest management and the provision of suitable foraging habitat, where these are aligned, Barn Owls will thrive, it is that simple'.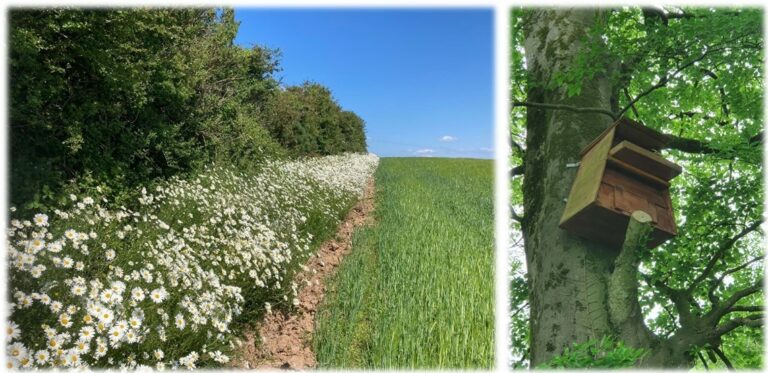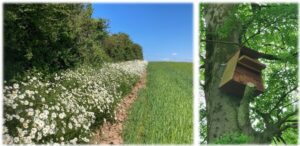 The provision of suitable habitat alongside nest boxes delivers benefits to Barn Owls and other wildlife. Images: Paul Moore & John Lusby
All information on the Barn Owl Action, including the guidance prepared by BirdWatch Ireland and a range of practical videos are available in the guidance document below or on the Department of Agriculture, Food and the Marine website, here: https://www.gov.ie/en/service/f5a48-agri-climate-rural-environment-scheme-acres/. Farmers who are considering joining ACRES and think they might be eligible for the Barn Owl Action are encouraged to view the information provided by BirdWatch Ireland to determine whether they are suitable for this measure.