Black-tailed Godwit
| | |
| --- | --- |
| Irish Name: | Guilbneach earrdhubh |
| Scientific name: | Limosa limosa |
| Bird Family: | Waders |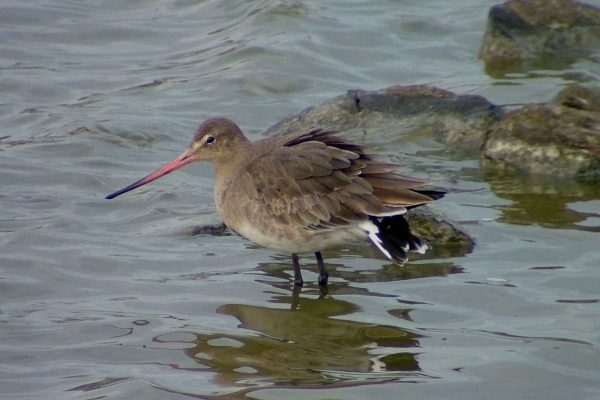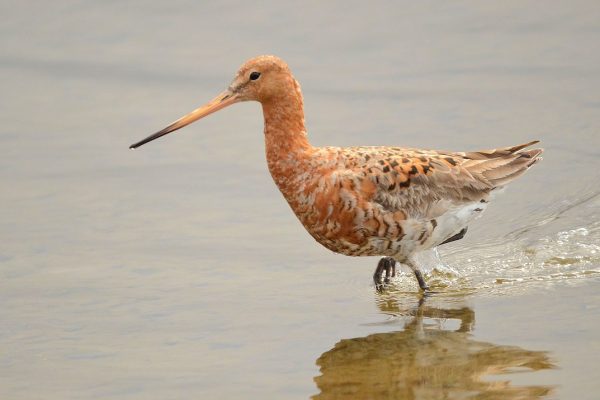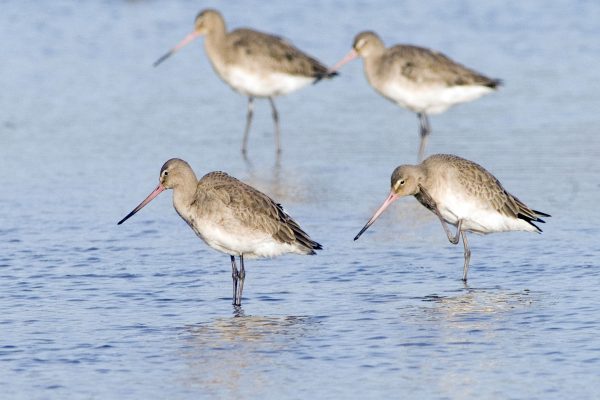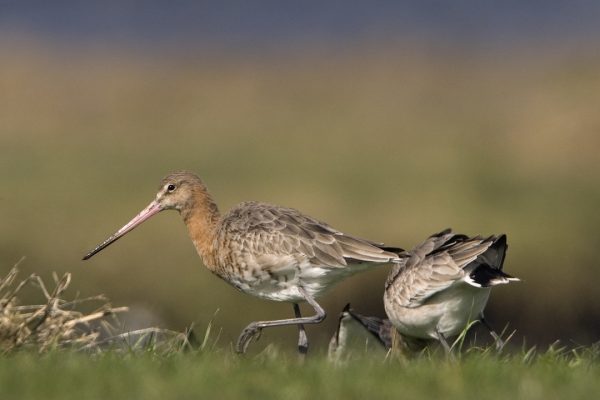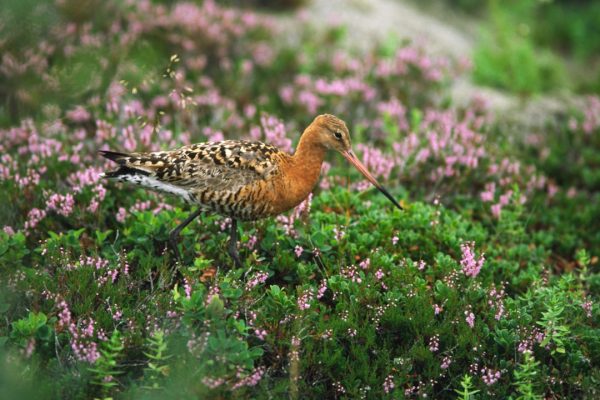 Status
Winter visitor from Iceland. Numbers remain high throughout the winter, especially September.
Identification
Very similar in size and shape to Bar-tailed Godwit, but the slightly longer, straighter bill, neck and legs give it a more elegant appearance. Winter plumage is a similar greyish brown to Bar-tailed, but generally plainer, with less dark-centred feathers, especially on the wings. In flight, the similarities between the godwits disappears - Black-tailed shows a striking contrasty upperwing - mostly black with bold white wingbars, a square white rump and a black tail (Bar-tailed has quite uniform brown wings and a long white rump which extends well up the back forming a white wedge). Summer plumaged or moulting birds often occur, showing varying amounts of rich orange. Typically wades in shallow water on tidal mudflats - favours the inner, more silty parts of estuaries and inlets. Can occur in large flocks of several hundred birds.
Voice
Described as loud 'wicka' repeated three times.
Diet
Visual and tactile feeders - feed on a range of invertebrates, including bivalves, polychaete worms and shore crabs. Prefer to feed on muddier estuaries, but also feed in brackish pools and on nearby rough pasture. While on pasture, they feed on the larvae of crane fly (Tipulidae) and on the amphipod Corophium volutator. They have also been recorded feeding on grain in stubble fields on the Wexford Slobs.
Breeding
Breed in lowland wet grassland and marshes. Nine breeding sites were identified in Ireland during the last breeding atlas. More recently, birds were present during the breeding season between 1996 and 1999 inclusive, though breeding was not proven.
Wintering
Winters in a variety of habitats, both inland (particularly grassland and river deltas) and coastal (particularly estuaries), though seldom seen along non-estuarine coast.
Monitored by
Irish Wetland Bird Survey.
Main breeding range in Iceland. Rare and sporadic records of breeding birds in Ireland, however very few confirmed in the past number of years.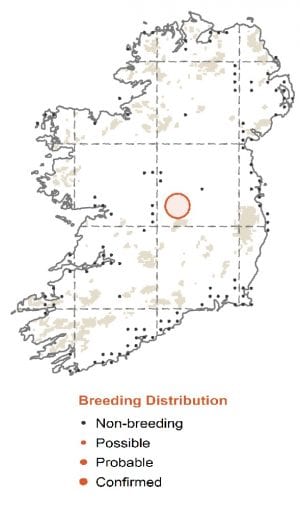 Winters mainly in Africa, however, Little Brosna Callows in County Offaly, Shannon & Fergus Estuary in County Clare, Cork Harbour in County Cork, Dundalk Bay in County Louth and Ballymacoda in County Cork support 1,000-3,000 birds.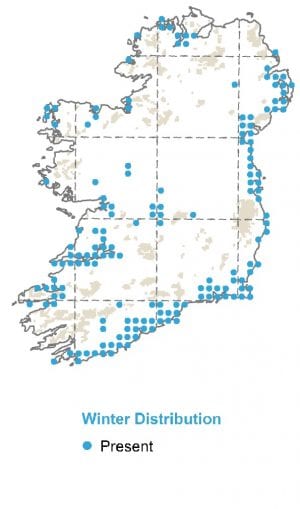 Blog posts about this bird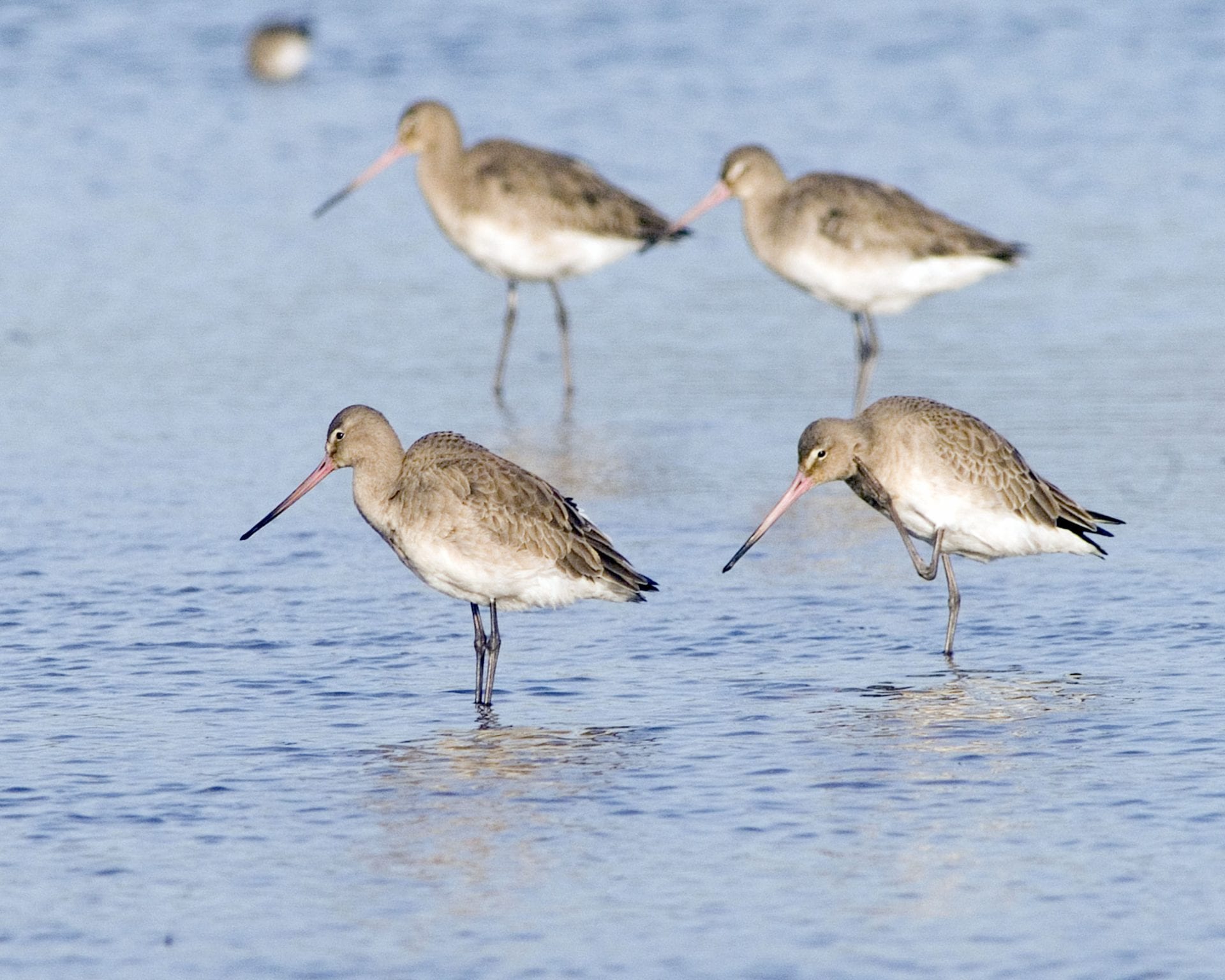 Planned airport in Lisbon estuary a threat to migratory waterbirds of Irish concern
BirdWatch Ireland has written to the
Portuguese Ambassador to Ireland Mr. Miguel de Almeida e Sousa
, to express our deep concerns about his government's plans to build a new international airport in the Tagus Estuary near Lisbon and calling for a complete rethink. The Tagus estuary is the most important wetland in Portugal for waterbirds, and a major stepping stone for migratory species that breed in northern latitudes and migrate south to spend the winter in southern Europe and Africa. Every year, thousands of migratory birds use this estuary for resting and foraging during their migration, and thousands more stay throughout the entire winter period. More than 250 species are known to use this area, many of which are declining and some are already threatened with extinction. BirdWatch Ireland Chief Executive Officer Nicholas Williams said, "The Tagus is one of the most critically important sites for wintering birds in Europe. For this reason, it is afforded many levels of national and international protection, including as a Special Protection Area, and has UNESCO Biosphere status, just like Dublin Bay. It would be inconceivable to imagine a proposal to build an airport in Dublin Bay. We ask the Portuguese Government to please reconsider this plan in order to protect our shared biodiversity, and to think of the climate impacts too." Impacts from the proposed airport would not only affect the birds while they are wintering at the Tagus, but may also affect their survival during migration, and ultimately their ability to return to breeding grounds in good enough physical condition to breed successfully. This could cause
population level impacts,
in that the effects would be seen at the population level in terms of declines. A declining flyway/global population means that the effects would then be seen at every wetland site along a species' migratory route, including Ireland. Examples of key species affected include the Icelandic Black-tailed Godwit (
Limosa limosa islandica
) and Greenland-breeding Sanderling (
Calidris alba
), both of which rely heavily on wintering grounds in the UK, Ireland, Spain and Portugal - impacts upon one of their main wintering grounds such as the Tagus Estuary has great potential to affect the entire flyway population, hence impact upon Ireland's future over-wintering numbers. Moreover, the constant movement of birds in the areas surrounding the proposed new airport, including large species like cormorants, flamingos, ducks and geese, overlaps with take-off and landing routes. This will lead to substantial risks to aircraft operations and safety because of the possibility of bird strikes, which in turn may be used to justify additional measures such as bird culls in the future once the airport is operational. The Tagus estuary is classified as a Nature Reserve under the Portuguese network of protected areas, and as a Special Protection Area, Site of Community Interest, and RAMSAR Site under national law, European Union directives and international treaties. It serves a similar purpose as our very own
Dublin Bay which is also a Ramsar Site, Special Protected Area, Important Bird & Biodiversity Area, and a UNESCO Biosphere.
An airport in the Tagus Estuary would be an absolute travesty for the network of important sites for birds on the East Atlantic Flyway and for the conservation of several species of waterbirds. It is also deeply concerning since the EU declared a climate and environment emergency in 2019 and plans for a new airport are ignoring the climate crisis. We hope that the Portuguese government will reverse this decision and we stand in solidarity with our BirdLife International partner
SPEA
in their opposition to these plans.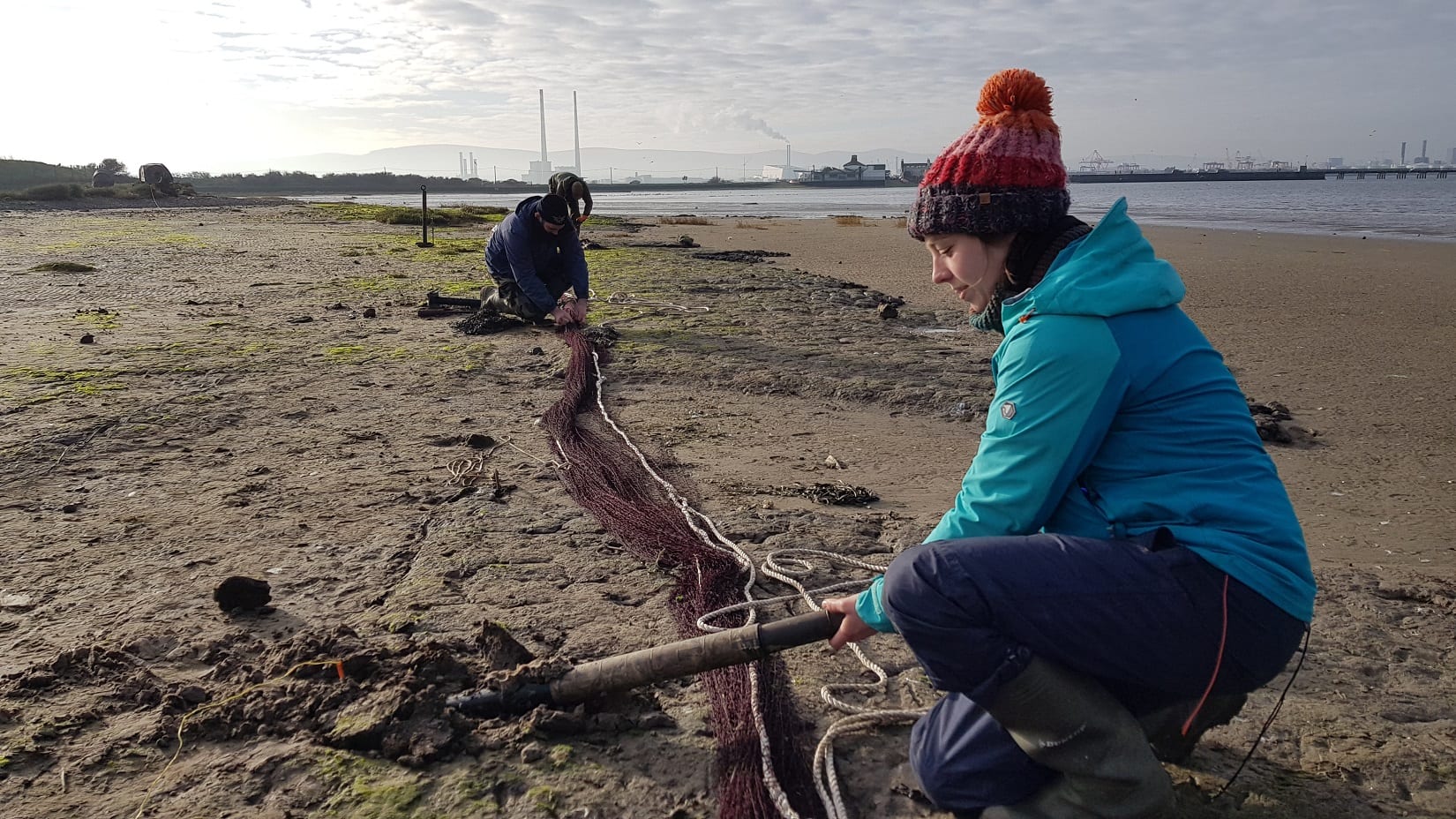 Starting 2020 with a (literal) BANG!! Catching and colour-ringing waders in Dublin Bay
In January 2020, the
Dublin Bay Birds Project
Team
put in a huge effort to fit colour-rings (safely, and under license) to the legs of a portion of the wintering waders in Dublin Bay. Over four days and nights, we caught and ringed 235 waders of 6 species, with 23 're-trapped' birds, two of which were Icelandic-ringed Oystercatchers! The precise tally is 199 Oystercatchers, 23 Black-tailed Godwits, 5 Redshank, 4 Dunlin, 3 Curlew, and 1 Knot.
We used a highly specialised technique called 'cannon-netting' (firing a large net outwards using weighted projectiles propelled from cannons) to capture the birds. To do this, we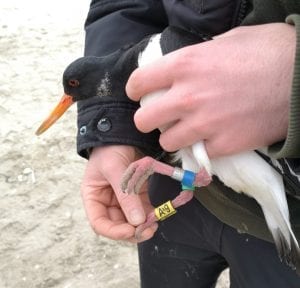 once again drafted in the skills of licensed cannon-netters from the Highland and Grampian Ringing Groups in Scotland.  The catching effort involved pre-dawn starts, night-time mist-netting, hole-digging, hiding in saltmarsh and marram grass, tide-watching, precision placement of cannons and nets, lots of waiting and hoping, and running at speed to the net when it fired over a flock of birds!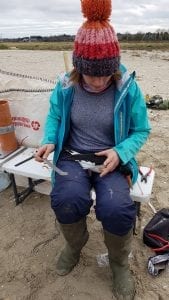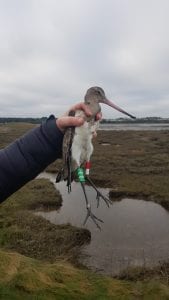 Once the birds are captured and safely removed from the net they are kept calm until they are 'processed'. This means swiftly and carefully recording some biometric measurements, like wing length, bill length, and assessing the birds age from plumage characteristics, and each bird is fitted with colour-rings. The DBBP uses a combination of carefully planned colours on each bird,  including one ring that is inscribed with a unique, two-digit alphanumeric code (see photo of colour-ringed Oystercatcher).
The colour-ring schemes for all waders are registered with a strictly controlled system co-ordinated by the
International Wader Study Group
.  This ensures that every scheme is unique and that no two birds of the same species could ever be fitted with the same combination of rings anywhere across its flyway. This allows every bird to be individually identifiable making the resultant data exceptionally useful.
Essentially, the fitting of colour-rings to the legs of these wintering waders in Dublin and the subsequent reading and reporting of them (and similarly the fitting of small GPS-devices to birds) is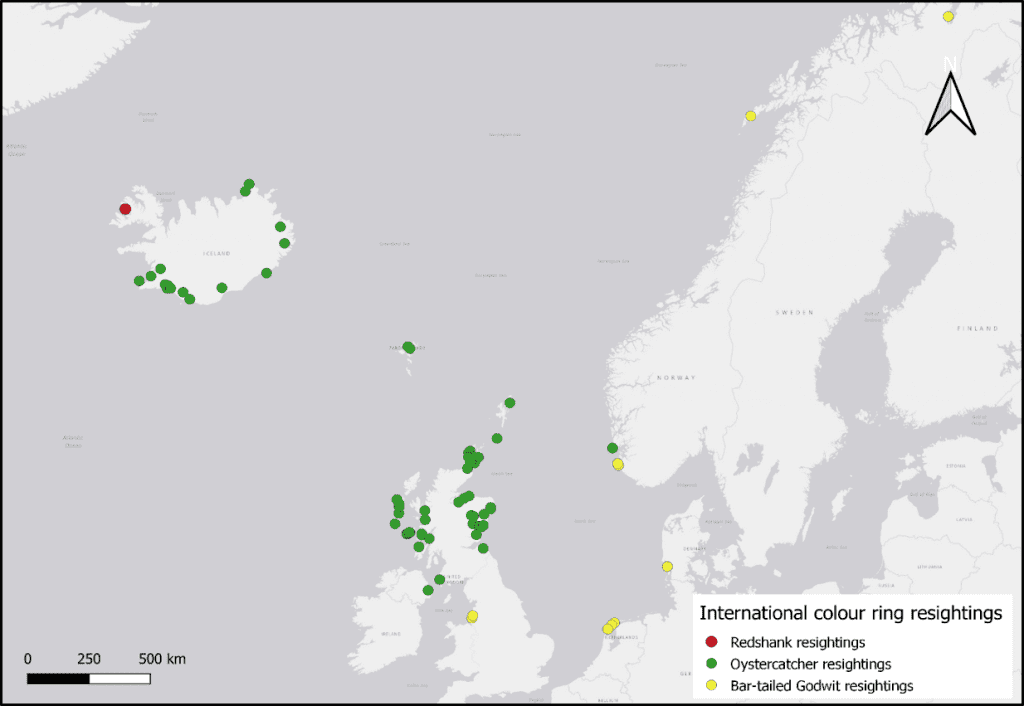 all about trying to understand where they go for roosting and foraging at a local level, and about their migratory and breeding movements at international, flyway level. In this case, the colour-ring observations provide information about what areas of Dublin Bay the waders use during different tidal states and if they appear to be particularly reliant or show fidelity to certain areas, all helping to identify and thus conserve important areas. Colour-ringing can also generate valuable information about the timing of migratory arrivals and departures, and confirm migratory links between Ireland and breeding grounds elsewhere. The map with green red and yellow dots shows the locations of international resightings of waders colour-ringed in Dublin. Colour-ringing work is something that the Dublin Bay Birds Project, supported by Dublin Port Company, has been carrying out over the last few years (see other escapades here! dublinbaybirds.blogspot.com) with constant management of a database now containing in excess of 4,500 'resightings' (observations) of individually colour-marked birds at various locations, yielding some fascinating information, see HERE for an example.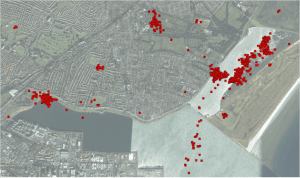 Bolstering this, detailed data was generated in 2016 when we fitted a selection of waders (Redshank, Curlew and Oystercatcher) with small GPS tracking devices (in addition to colour-rings) that provided un-biased daily data about the location of the individual birds, across entire tidal cycles, both day and night. The map shows the downloaded tracks (red dots) of a Curlew in the winter of 2016/17 at Bull Island and the Tolka Estuary. This GPS-tracking work was co-funded by SEAI and Dublin Port Company.
In addition to the valuable data generated by marking and tracking birds,
valuable connections and collaborations with scientists and ring-readers across the flyways
of these waders are created
.
Our January activities have crossover with several international projects. This summer, we expect that some of our marked Oystercatchers will be observed in Iceland by the Icelandic Oystercatcher Team (University of East Anglia, South Iceland Research Centre, University of Iceland), in the same way that we see Icelandic-ringed birds in Dublin Bay.
  This nice blog 'Wader Tales' by Graham Appleton summarises some of the Icelandic work and its connections with Ireland.
And one of the
Dublin-ringed
Oystercatchers 'XN'
has already been seen on its breeding ground in Scotland  (5TH February 2020)
by our valuable observer John Bowler of the RSPB … the fourth year in a row! Ongoing international projects on Black-tailed Godwits and Knot allowed us to borrow and deploy their colour schemes on the 23 Black-tailed Godwit and single Knot that we caught in January, with thanks to Pete Potts (UK) and Jim Wilson (Norway), respectively for allowing us to use those. We hope the resightings to come from these birds across the flyway will enhance on-going work for these researchers. The January 2020 cannon-netting was a massive effort by a brilliant team (just some of which is pictured below). In particular, thanks to our super-skilled cannon-netters, Ewan Weston and Kenny Graham, for parachuting in for the few days to put their skills and gear to great use, and to Kendrew Colhoun for key logistical support and assistance with licensing and equipment.  There was also a huge effort from dawn 'til dusk by an outstanding and enthusiastic team of volunteers, licensed ringers, NPWS and BirdWatch Ireland to get it all done. It was a great, and really quite rare, opportunity for the team to get to see several species of wader up so close.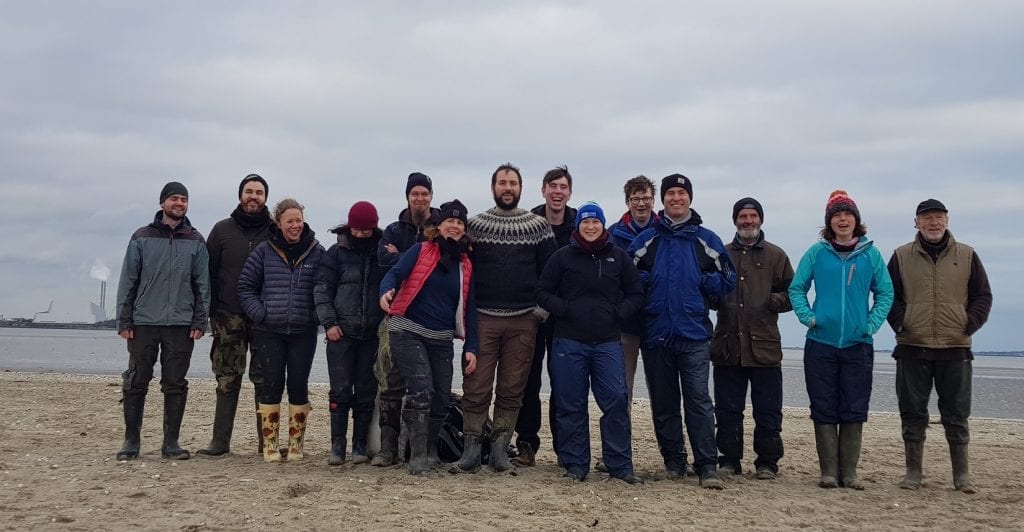 Now the work is to go out and look for all of these colour-ringed birds, read those inscriptions and submit them to us!
Submit your resightings HERE!
The Dublin Bay Birds Project is very lucky to be supported by Dublin Port Company who keenly recognise the value of this work and the data it generates.

This work was carried out under license from the National Parks and Wildlife Service and the British Trust for Ornithology.