Black-tailed Godwit
| | |
| --- | --- |
| Irish Name: | Guilbneach earrdhubh |
| Scientific name: | Limosa limosa |
| Bird Family: | Waders |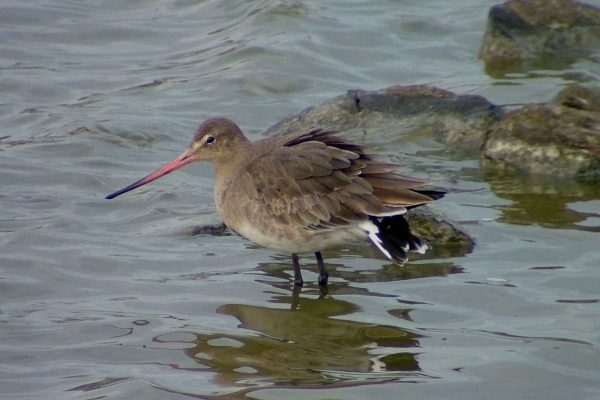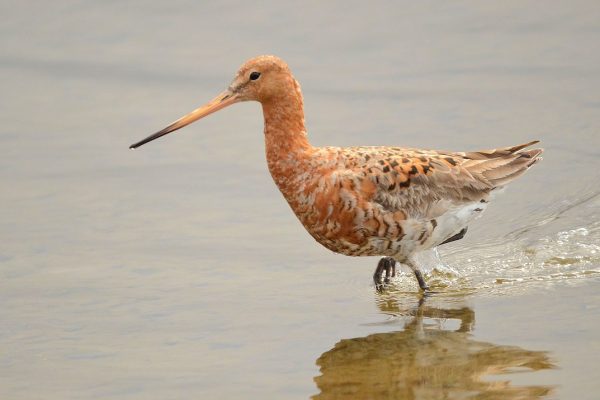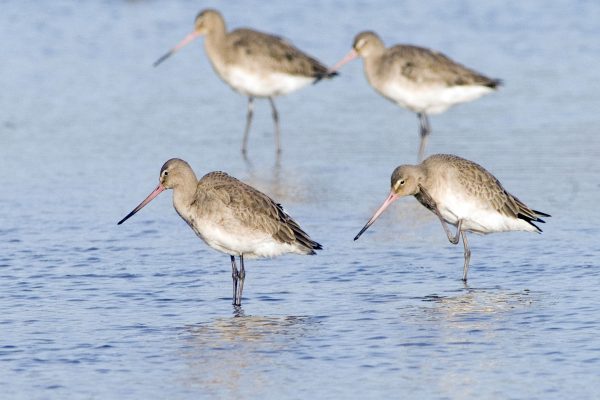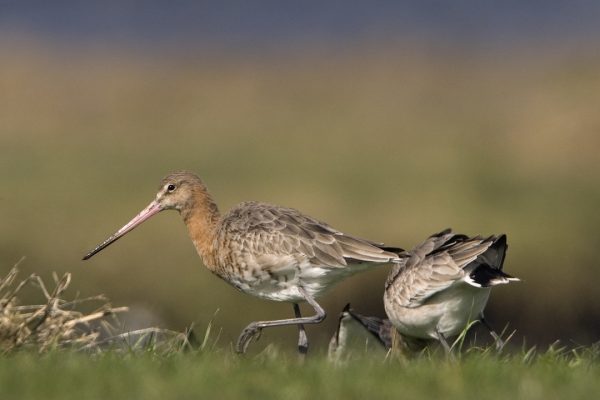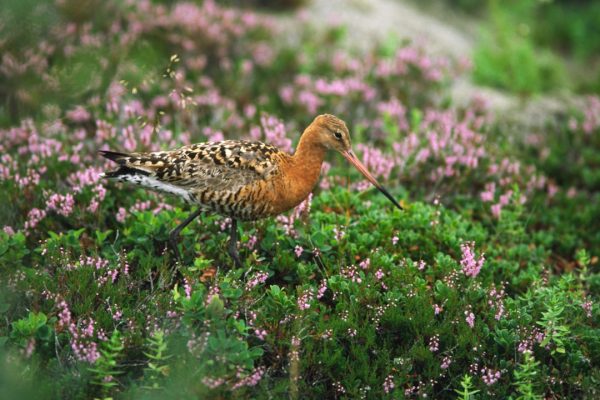 Status
Winter visitor from Iceland. Numbers remain high throughout the winter, especially September.
Identification
Very similar in size and shape to Bar-tailed Godwit, but the slightly longer, straighter bill, neck and legs give it a more elegant appearance. Winter plumage is a similar greyish brown to Bar-tailed, but generally plainer, with less dark-centred feathers, especially on the wings. In flight, the similarities between the godwits disappears - Black-tailed shows a striking contrasty upperwing - mostly black with bold white wingbars, a square white rump and a black tail (Bar-tailed has quite uniform brown wings and a long white rump which extends well up the back forming a white wedge). Summer plumaged or moulting birds often occur, showing varying amounts of rich orange. Typically wades in shallow water on tidal mudflats - favours the inner, more silty parts of estuaries and inlets. Can occur in large flocks of several hundred birds.
Voice
Described as loud 'wicka' repeated three times.
Diet
Visual and tactile feeders - feed on a range of invertebrates, including bivalves, polychaete worms and shore crabs. Prefer to feed on muddier estuaries, but also feed in brackish pools and on nearby rough pasture. While on pasture, they feed on the larvae of crane fly (Tipulidae) and on the amphipod Corophium volutator. They have also been recorded feeding on grain in stubble fields on the Wexford Slobs.
Breeding
Breed in lowland wet grassland and marshes. Nine breeding sites were identified in Ireland during the last breeding atlas. More recently, birds were present during the breeding season between 1996 and 1999 inclusive, though breeding was not proven.
Wintering
Winters in a variety of habitats, both inland (particularly grassland and river deltas) and coastal (particularly estuaries), though seldom seen along non-estuarine coast.
Monitored by
Irish Wetland Bird Survey.
Main breeding range in Iceland. Rare and sporadic records of breeding birds in Ireland, however very few confirmed in the past number of years.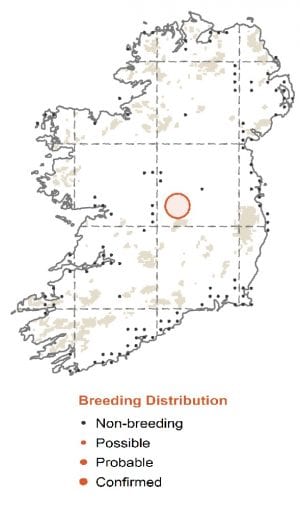 Winters mainly in Africa, however, Little Brosna Callows in County Offaly, Shannon & Fergus Estuary in County Clare, Cork Harbour in County Cork, Dundalk Bay in County Louth and Ballymacoda in County Cork support 1,000-3,000 birds.