Sandwich Tern
| | |
| --- | --- |
| Irish Name: | Geabhróg scothdhubh |
| Scientific name: | Sterna sandvicensis |
| Bird Family: | Terns |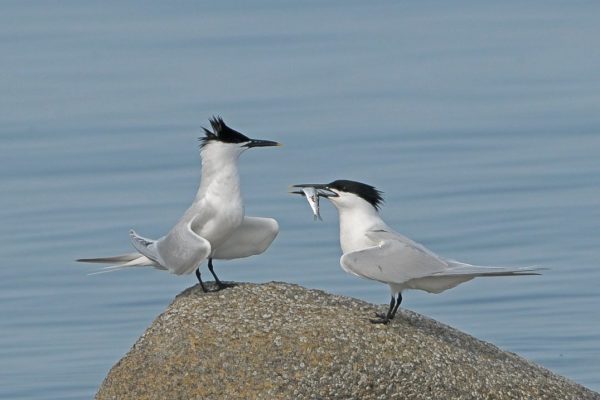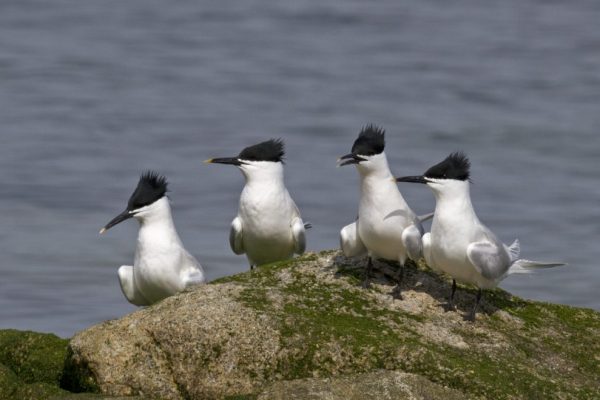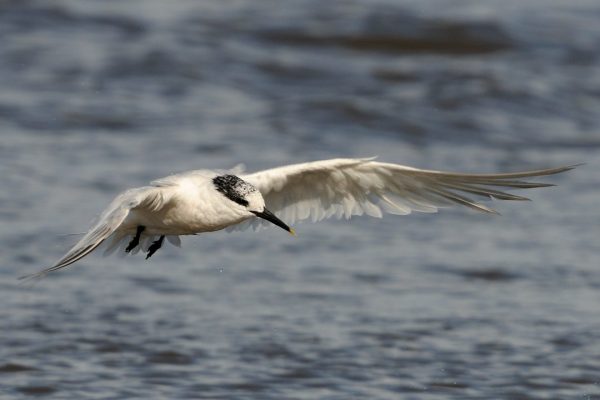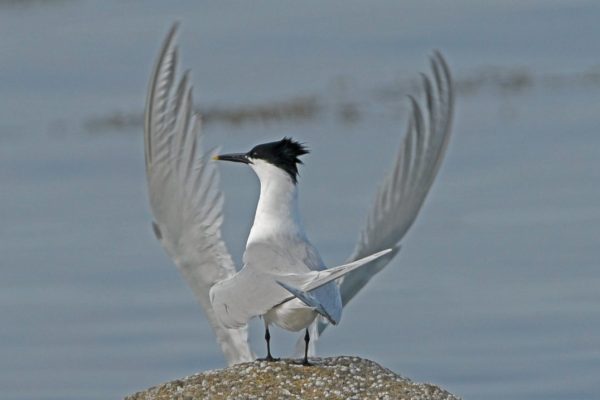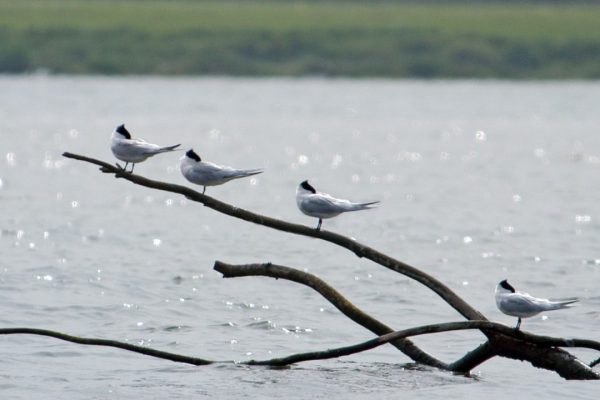 Status
Summer visitor to all Irish coasts from March to September. Winters in small numbers in Galway Bay and Strangford Lough.
Identification
Usually seen over the sea. Relatively slender seabird with narrow, pointed wings, long, forked tail and long, pointed bill. Grey above and white below, dark cap to head. Flight light and buoyant, will hover briefly over the sea before diving in. The largest of the terns in Ireland, similar in size to Black-headed Gull. Told from other terns by its size and longer bill. Has a small yellow tip to its dark bill, which at closer quarters confirms identification. Distinct dark wedge to wing tip. Winter plumage, like all terns is different from breeding plumage, a white forehead develops in June/July. Juvenile plumage different from adult plumage with barred upperparts and darker wings.
Voice
A loud grating call, heard from colonies and whilst in flight.
Diet
Mainly surface dwelling fish, taken from shallow dive.
Breeding
Nest colonially on the ground, mainly on the coast but with some colonies inland. Nests on islands, shingle spits and sand dunes. Populations of colonies fluctuate dramatically between years. Present in Ireland from March to September, with occasional winter records
Wintering
Winters in southern Europe and Africa. Irish breeders have been recorded as far away as the Indian Ocean. About 10 to 15 birds winter in Galway Bay and Strangford Lough.
Monitored by
All-Ireland tern survey in 1995. Breeding seabirds are also monitored through breeding seabird surveys carried out every 15-20 years. Sandwich Terns are also monitored annually at Lady's Island Lake.
Mainly a summer visitor from late March to September. One of the largest colonies in Ireland can be seen at Lady's Island, near Rosslare, in County Wexford, regularly with several hundred breeding pairs.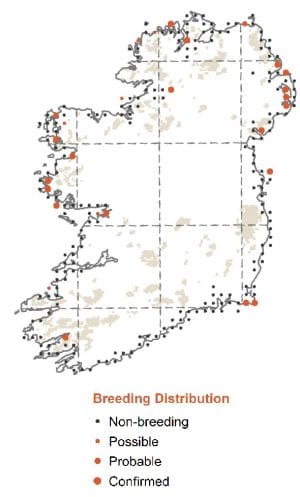 Localised populations overwintering at sites including Strangford Lough Co. Down and Galway Bay.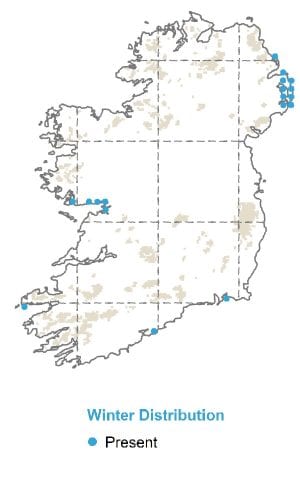 Blog posts about this bird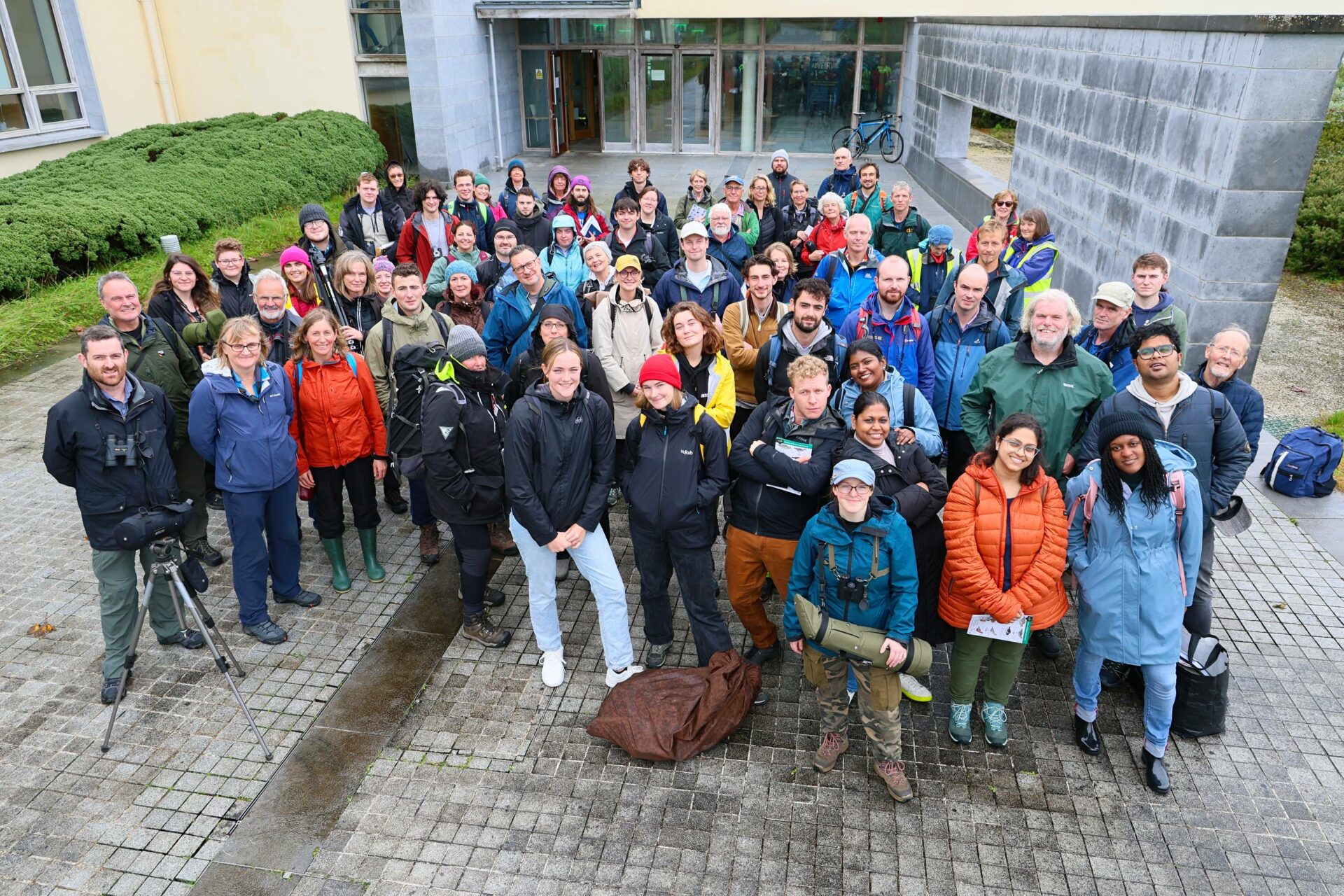 Record attendance at I-WeBS workshops highlights public appetite to support biodiversity
The high attendance at two recent introductory
Irish Wetland Bird Survey (I-WeBS)
workshops in Galway highlighted an increasing public desire to learn about and support biodiversity. Organised by BirdWatch Ireland in collaboration with Galway County Council and Galway City Council with the support of the NPWS, the workshops were aimed at showing birdwatchers how they can help monitor wintering waterbird populations at Inner Galway Bay and in turn, inform their conservation. Additionally, BirdWatch Ireland also hoped to recruit new skilled I-WeBS observers to survey this important site during the 2023/ 24 season. Over 120 people attended the workshops across the two days. The training days, which involved a combination of informative talks about the I-WeBS survey followed by an outdoor field method demonstration, were held on the 23
rd
September at Knocknacarra Community Centre and the 6
th
of October the Marine Institute. Within the talks, attendees found out about why it is so important to survey our wintering waterbirds as well as some hot tips for identifying and counting waterbirds. To pick up some tips and tricks for identifying waterbirds, take a look at the
I-WeBS training tools
.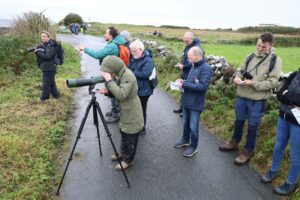 Workshop participants getting a glimpse of some interesting waterbirds at Rinville.
The outdoor portion of the events – which took place at Rusheen Bay and Rinville – proved fruitful, offering views of waterbirds such as
Lapwing
,
Curlew
,
Turnstone
and
Sandwich Terns
, to name but a few. Although not a waterbird, the sight of a beautiful female
Wheatear
hopping along the nearby rocks was a delightful bonus. Attendees brought with them a wealth of relevant experiences, skills and interests, with a high number of local university students and ecological consultants particular taking part. The interactive and informative workshops have thus far resulted in the recruitment of 30 new I-WeBS volunteers for Inner Galway Bay, with many more attendees choosing to sign up to survey at other sites. Meanwhile, the events inspired many more to get involved with their local Galway Branch of BirdWatch Ireland. In addition to boosting survey volunteer numbers, the recent events also offered a fantastic platform to spread the word about I-WeBS – a National Parks and Wildlife Service (NPWS) funded monitoring project that has been running since 1994. Every year between September and March, close to 500 I-WeBS volunteers record wintering waterbirds at important wetland sites around the country. Irish wetlands are extremely important for the survival of these birds and I-WeBS keeps track of how these birds are faring so that informed conservation action can be taken.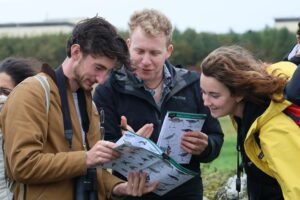 Participants working together to identify birds at Rinville.
The recent I-WeBS workshops focused predominantly on Inner Galway Bay – an internationally important site for wintering waterbirds, hosting over 20,000 birds every season.  Inner Galway Bay is a site of international importance for the Great Northern Diver and Light-bellied Brent Goose, meaning that it regularly supports one per cent or more of the flyway population of these species. It is also a site of national importance for many birds, including Red-listed species such as
Shoveler
,
Grey Plover
,
Dunlin
,
Redshank
,
Black-tailed Godwit
,
Bar-tailed Godwit
and
Lapwing
. In all, the workshops proved to be a great success, in large part due to the strong collaboration between BirdWatch Ireland, BirdWatch Ireland's Galway Branch, Galway County Council, Galway City Council, the Marine Institute and Knocknacarra Community Centre. BirdWatch Ireland is particularly grateful to Galway County Council and Galway City Council for funding binoculars and telescopes, which will be available for survey volunteers to rent from Galway City Library.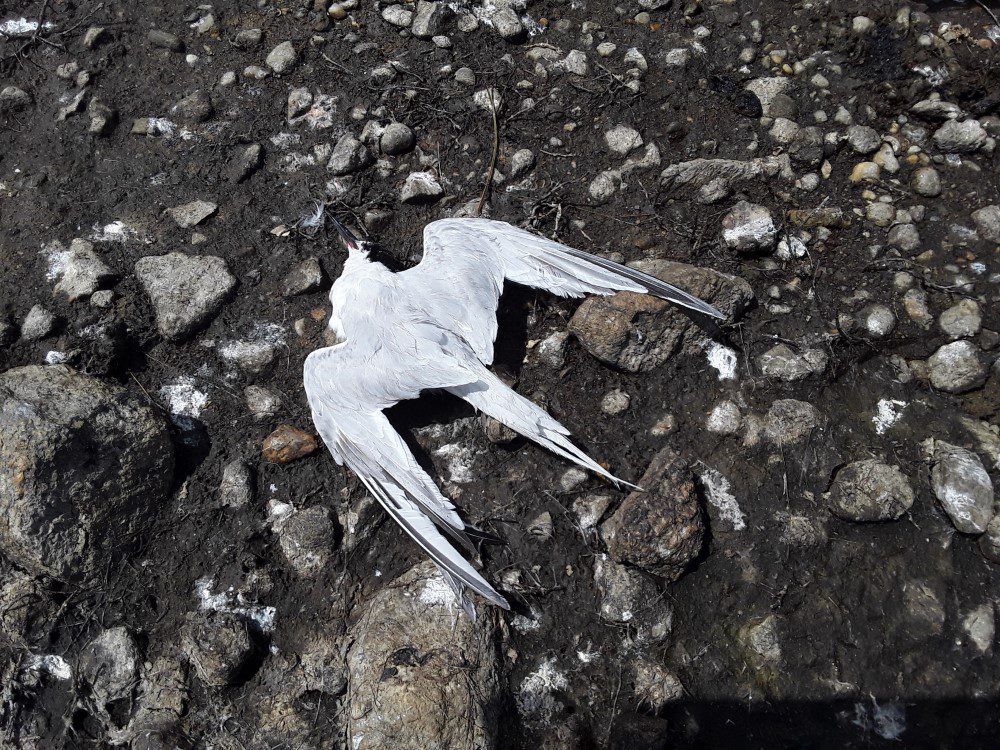 Bird 'Flu Devastates Key Irish Seabird Colonies
BirdWatch Ireland staff have been dealing with alarming and unprecedented outbreaks of the highly pathogenic H5N1 strain of avian influenza, or bird 'flu, at some of Ireland's most important seabird colonies. Over the past few weeks, the carcasses of hundreds of dead seabirds, both adults and chicks, have been recovered for disposal, in an effort to try to prevent further spread of this highly contagious viral disease. There are fears for the long-term devastating consequences this outbreak may have on Ireland's seabird populations, which are of international importance. During the current nesting season, the hardest hit birds have been members of the tern family, a group of migratory seabirds which visit Ireland each summer to breed. All five of Ireland's breeding tern species are 'Amber-listed' species of conservation concern, meaning that their populations were already been identified as being at risk before the current disease outbreak.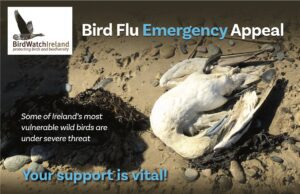 Please click here to donate to our Bird 'Flu Emergency Appeal
Last summer, seabird colonies across Ireland, Britain, Europe and other parts of the world were severely impacted by the same H5N1 strain of bird 'flu, in what was the worst global outbreak of this disease in history. Populations of the Gannet, Ireland's largest breeding seabird species, were particularly hard-hit:
please click here for more details
. Elsewhere in Europe, large numbers of terns perished at their nesting colonies. Our Irish tern colonies were not impacted last summer, but unfortunately it seems that their luck has run out this year. BirdWatch Ireland manages the four most important tern colonies in Ireland. Monitoring and conservation at Lady's Island Lake (Wexford), Rockabill Island (Dublin) and Kilcoole Beach (Wicklow) is in conjunction with, and funded by, the National Parks and Wildlife Service, and our work on the Dublin Port Tern colony is funded by Dublin Port Company. Although it is still too early to assess the full impacts on populations, at the time of writing more than 160 adult Common Terns, along with over 450 Common Tern chicks, have been found dead at the breeding colony at Lady's Island Lake, with the disease now also threatening the populations of Sandwich Terns and Roseate Terns that also nest there. The disease has probably spread from the earlier-nesting Black-headed Gulls also present at the same location, which hosts the species' largest colony in Ireland.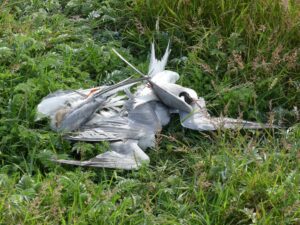 Dead terns at Lady's Island Lake, Co. Wexford: victims of bird 'flu (Photo: BirdWatch Ireland)
Lady's Island Lake and Rockabill Island are home to the two largest mixed-species tern colonies in Ireland, with the latter holding 1,750 pairs of Roseate Terns. This means that it is, by far, the largest and most important breeding colony for this threatened species in all of Europe, holding approx. 60% of the European population. A large-scale outbreak of bird 'flu in this colony would have disastrous repercussions for Roseate Terns at an international level. Since 1
st
July, a small number of adult Common Terns have been found dead or dying on Rockabill Island. Unfortunately, the carcasses sent to the Department of Agriculture, Food and the Marine for analysis have tested positive for bird 'flu.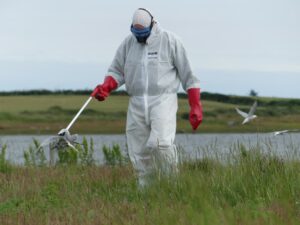 BirdWatch Ireland fieldworker wearing PPE, collecting bird 'flu victims (Photo: BirdWatch Ireland)
These outbreaks are very worrying for the future conservation of our tern species. A poor breeding season at a tern colony, with few chicks surviving, is unfortunate, but can be compensated for by better breeding success in subsequent years. However, the deaths of large numbers of adult terns of breeding age has a much bigger impact, and recovery will take a long time. BirdWatch Ireland will continue to monitor these outbreaks and remove carcasses, wherever it possible to do so safely. Experience from seabird colonies elsewhere in Europe last summer has shown that carcass removal is a key action to minimising the spread of avian influenza.
*********************************
All of us at BirdWatch Ireland would like to extend our heartfelt thanks and appreciation to everyone who has donated to our Bird 'Flu Emergency Appeal to date. The funds raised have been an enormous help in covering the cost of specialist personal protective equipment and training for our tern colony wardens. When faced with a crisis such as this one, we depend heavily on the generosity of our members and supporters, and your support has been vital in minimising the impacts of this terrible disease and keeping our wardens safe. If you wish to donate to BirdWatch Ireland's Bird 'Flu Emergency Appeal,
please click here
.
*********************************
We would like to remind the public not to touch any sick or dead seabirds, but to report them via BirdTrack and the Department of Agriculture's 'Avian Check' web page.
If you own chickens or other poultry then please consult the Department of Agriculture website for further advice.