Common Tern
| | |
| --- | --- |
| Irish Name: | Geabhróg |
| Scientific name: | Sterna hirundo |
| Bird Family: | Terns |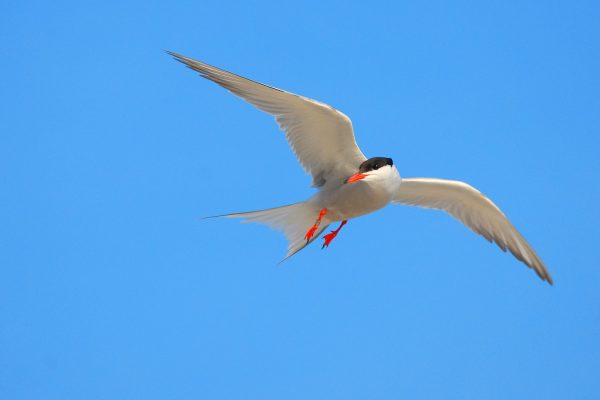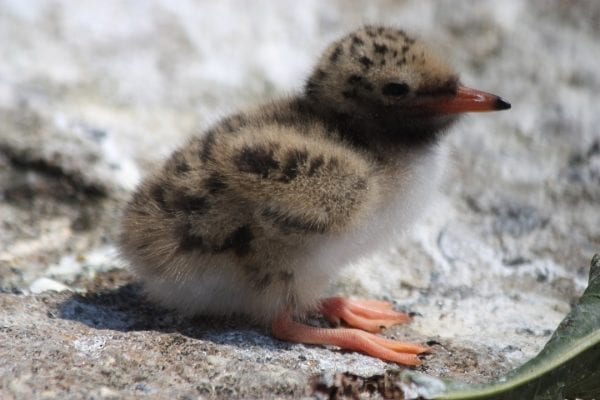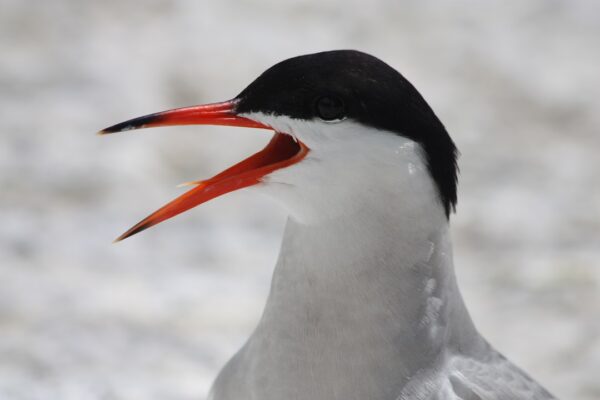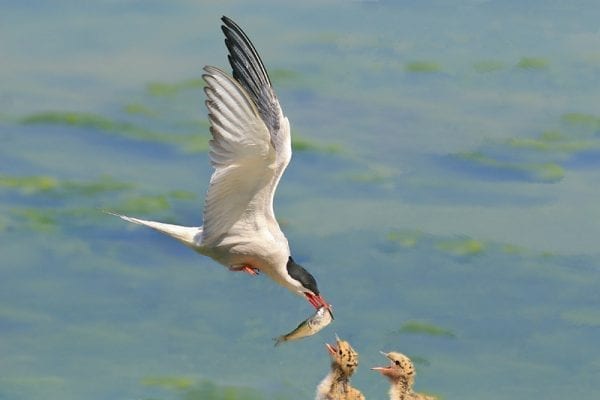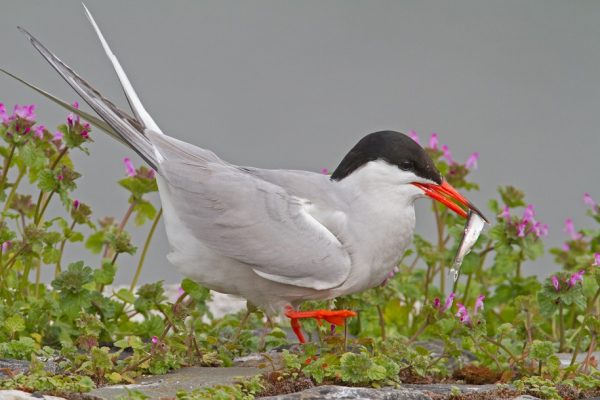 Status
Summer visitor from March to October to all Irish coasts.
Identification
Usually seen over the sea or over large inland lakes. Slender seabird with narrow, pointed wings, long forked tail and long, pointed bill. Grey above and white below, dark cap to head. Flight light and buoyant, can hover briefly over the sea before diving in. Very similar to Artic Tern (with which it breeds) and told apart by plumage and structure. Common Tern has a longer head and bill and slightly broader wings, which look central on the body. Adults have a orangey red bill, usually with a small dark tip. Underparts are whiter than Artic Tern and there is no contrast with cheek. The wing pattern is useful in separation, Common tern shows a dark wedge in the primaries which develops over the summer and a defuse bar to the trailing edge of the primaries. Common terns have shorter tail steamers, not extending beyond the wing tips. Adult winter plumage, like all terns is different from breeding plumage and can develop in the summer months. Has a white forehead, all dark bill and dark carpel bar. Also has distinctive juvenile plumage with gingery mantle, a dark secondary bar and dark carpel bar. Bill base is orange. Shows a diffuse trailing edge to the primaries. First and second summer plumages are rarely seen in Europe.
Voice
A noisy bird when breeding, giving a rapid series of quarrelsome calls
Breeding
Nest colonially on the ground from April to October. Breeds on the coast, with larger colonies in Co. Dublin, Co. Wexford and Co. Galway. Also breeds inland on islets in freshwater lakes, notably in Co. Galway and in Co. Mayo.
Wintering
Winters in west and south Africa
Monitored by
All-Ireland tern survey in 1995, and through breeding seabird surveys carried out every 15-20 years, the last was Seabird 2000, which was undertaken between 1998 & 2002. Common Terns are also monitored annually at Rockabill and Lady's Island Lake.
Summer visitor, breeding on inshore islands and undisturbed beaches.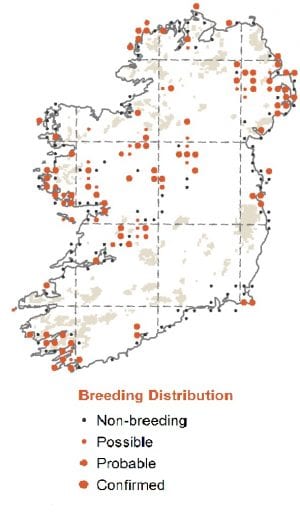 Wintering in West Africa.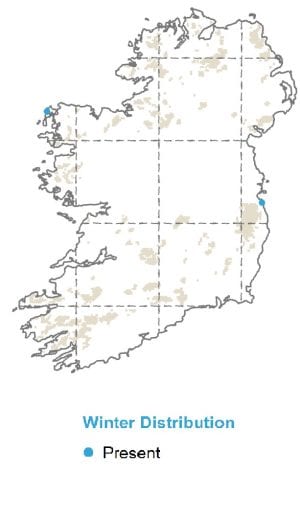 Blog posts about this bird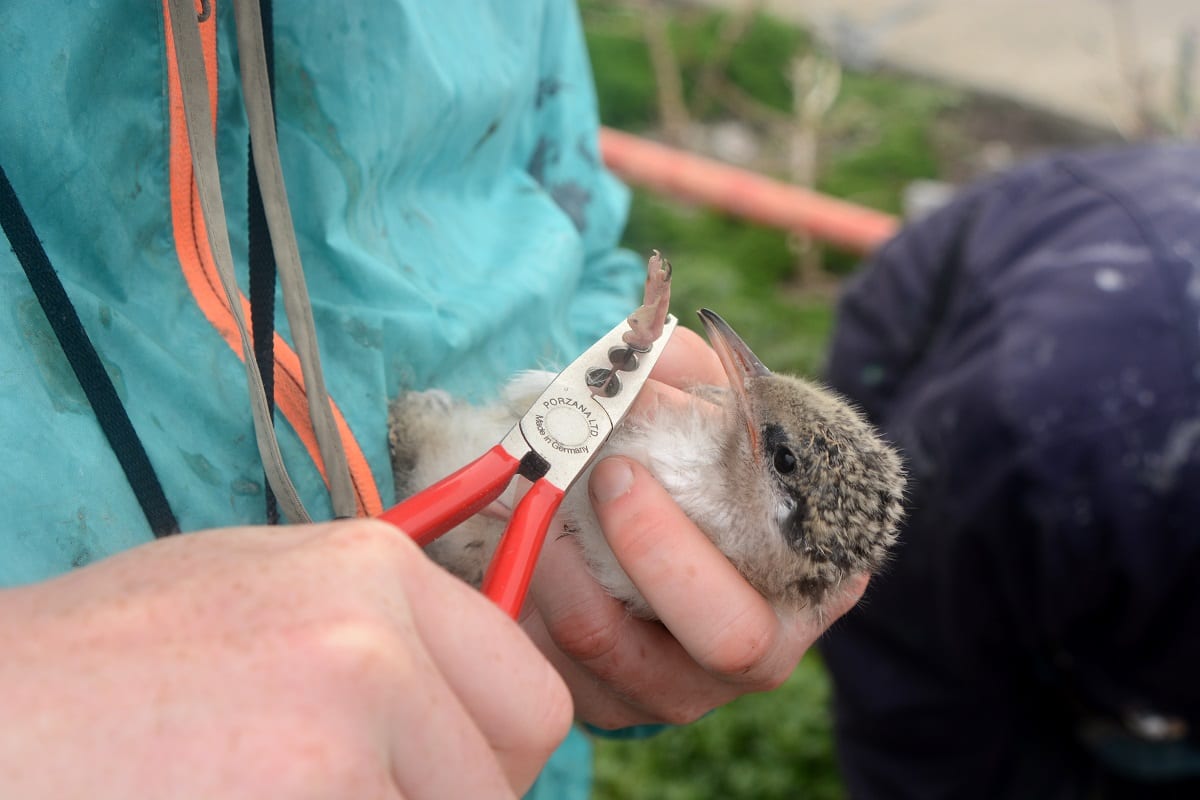 Rockablog - Ringing Blitz Bonanza!
It has been an exciting time on Rockabill with the annual ringing blitz taking place during the first week of July. The three wardens were joined by BirdWatch Ireland staff and experienced ringers Dr. Steve Newton and Brian Burke. Enna O'Conner also joined us a volunteer and proved an extraordinarily efficient scribe! The goal of the ringing blitz is to ring every single one of the Tern chicks on the Island in about two days. By giving all of the chicks a tiny, uniquely-coded leg ring, it means we can continue to learn about them through their lifetime. Do chicks hatched on Rockabill come back here to nest? Do they go to other colonies? What age are birds in the Rockabill colony? Do they pair with birds of a similar age? Do younger or older birds have better breeding success? And of course, they might get seen or caught on migration too, helping to confirm migration patterns and help fill in gaps in our knowledge. For the bird, wearing a leg ring is like a person wearing a watch - after you first put it on you forget it's even there. Bird ringing is strictly licensed in Ireland through both the NPWS and BTO and requires extensive training before licenses are granted!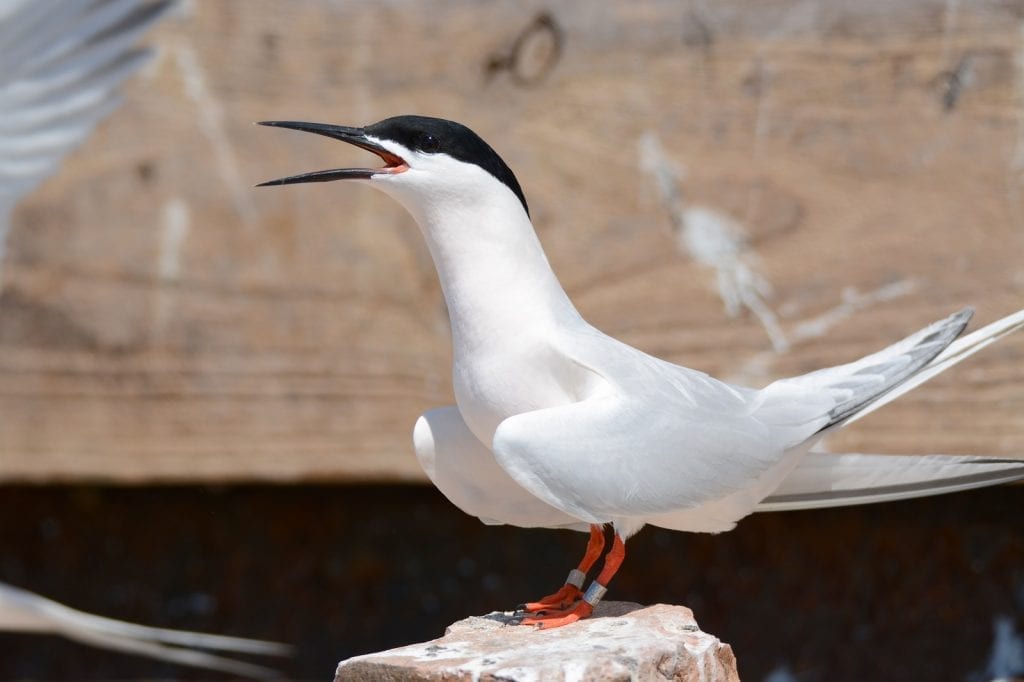 Roseate Tern adult - note the leg rings, which allow us to keep learning from these birds throughout their lifetime. (B. Burke, photo taken under NPWS license).
The process starts by lining up and sweeping through each subcolony, picking up as many chicks as possible as the team moves through the area. The smaller birds are easy to catch as they freeze or try to hide under leaves or rocks, but the larger, braver chicks often make dash for safety. A person is needed on each side to 'herd' the chicks for an easier catch. Once caught, Enna gave the ringer a uniquely coded ring and recorded the species, location, wing size and other important details while others ringed the chick, placed it back in its original setting and moved on with our grid searching. It proved to be a very busy few days!
Roseate (left, right) and Common Tern (middle) chicks trying to hide as the wardens approach! (K. Owens, photos taken under NPWS license)
In total 146 Common Tern chicks and 619 Roseate Tern Chicks were ringed in the two day period. This is much lower than most years, and we'll get into that in a future blog... Following the blitz it is the wardens job to find any other chicks that don't have rings and ring them as needed. Some will have been missed during the original blitz, and others will have hatched in the weeks since. The wardens will sweep the entire island a couple more times and also pick up chicks as they are walking through, working or ring reading in the colony. They are still finding chicks to ring today as the late nest chicks are hatching and growing.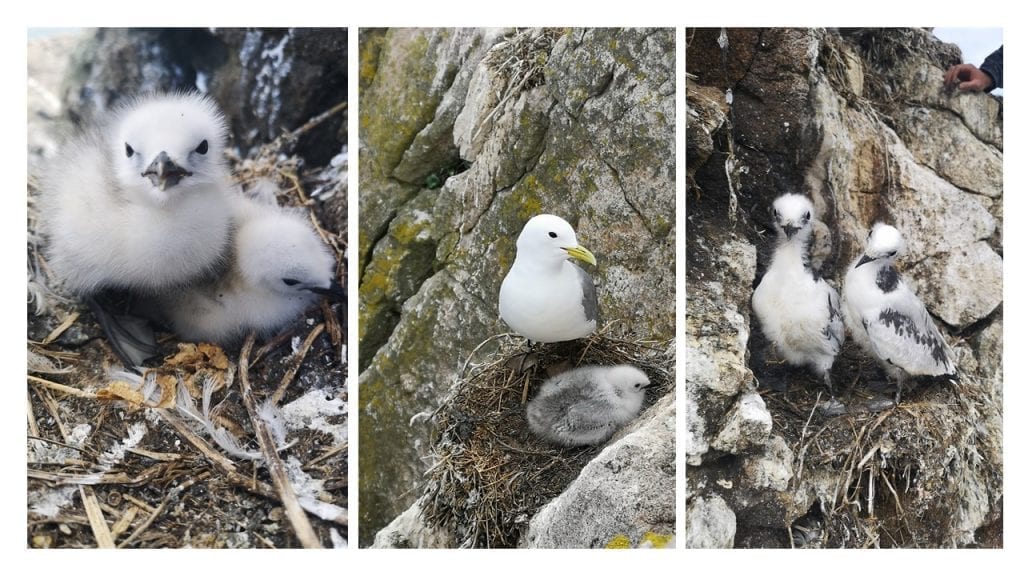 Kittiwake chicks on Rockabill - most are well grown now and are sporting new leg rings! (K. Owens, photos taken under NPWS license)
In the following weeks after the Tern-ringing blitz, project manager Steve returned to Rockabill to ring the Kittiwake and Guillemot chicks with the help of the wardens. There are much fewer of these chicks but they are however a bit more difficult to get to! Staff were climbing up and down rock faces and putting their arms in long dark holes to retrieve these birds out of their nests. A total of 94 Kittiwake chicks and 72 Black Guillemot chicks were ringed this year.

Warden George, carefully accessing some Kittiwake nests on the cliff in order to ring the chicks (K. Owens)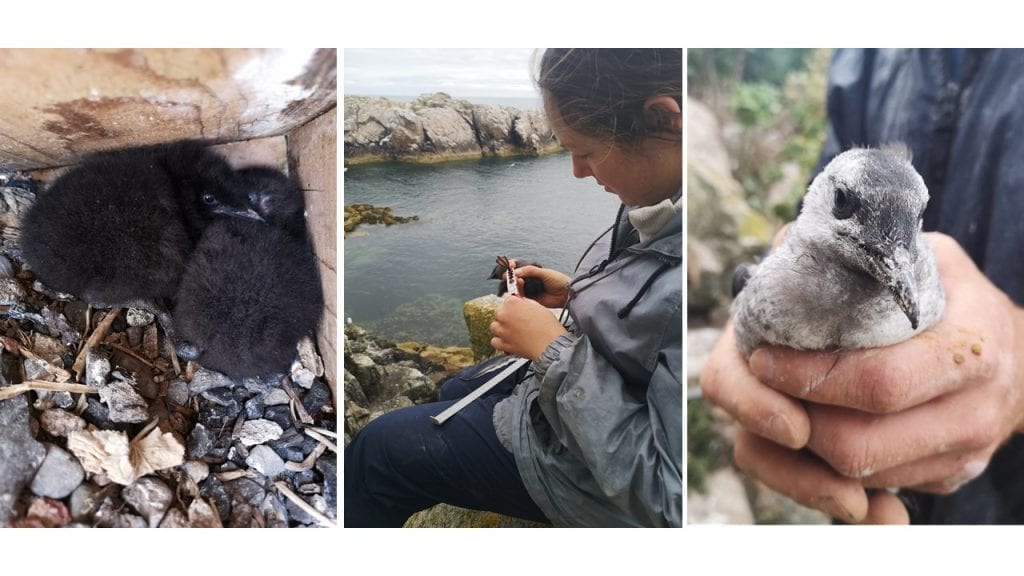 Ringing Black Guillemot chicks on Rockabill (K. Owens, photos taken under NPWS license)
Now that almost all the chicks on the island are ringed and starting to fly it is nearing time to pack up and leave. The wardens have started bringing in nesting boxes to clean and store for next season. There is also a lot of data collation and report writing going on, it is nice to see the chicks start to fly but sad to see the absence of young chicks around. Stay tuned for the next blog which will be the last one of the season!
 - Kristy & the Rockabill team
(PS - Don't forget to keep an eye out for terns roosting around the coast at this time of year, and let us know!
See here for more
)
---
This year's work to protect and monitor the terns and other breeding seabirds on Rockabill would not be possible without the Roseate Tern EU LIFE project, support from the National Parks and Wildlife Service and the cooperation of the Commissioners of Irish Lights.
To revisit news and blogs from previous years on Rockabill, click the link here.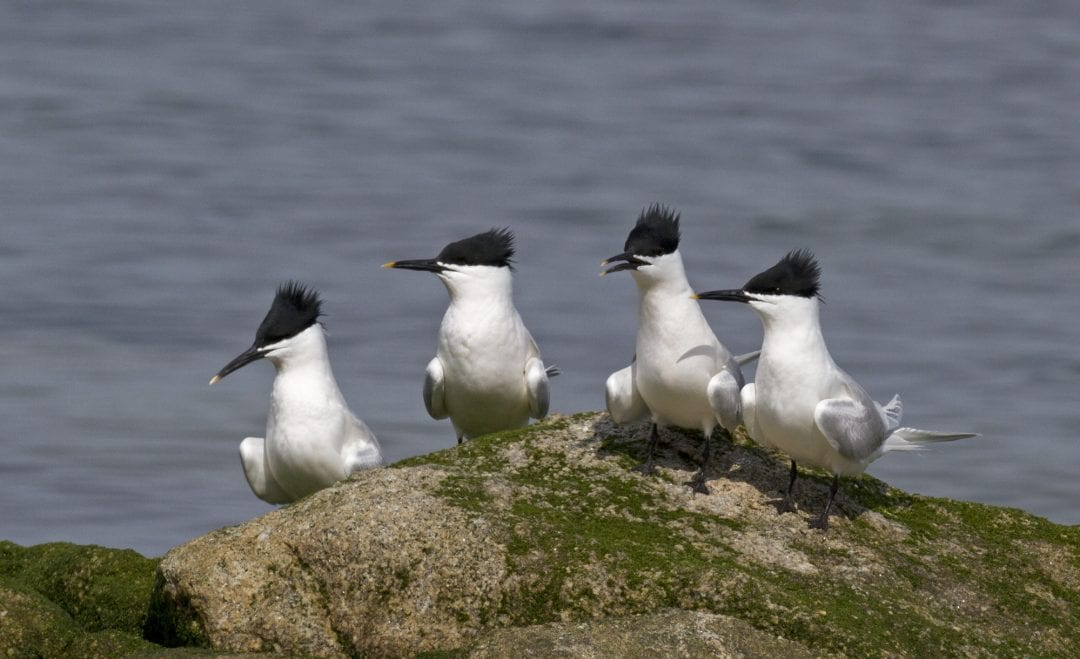 Request for sightings of Terns roosting around the Irish coast
The seabird nesting season is nearly over for most species. With the exception of some species like Gannets and Manx Shearwaters that have some of the longest chick-rearing periods of all of our birds here in Ireland, most seabirds have finished nesting and their chicks have fledged. Gull chicks have taken to the air, Puffin chicks have fled from their burrows, and Razorbill chicks have taken a big leap of faith off their nesting cliff ledge. Our five species of Terns – Sandwich Terns, Common Terns, Arctic Terns, Roseate Terns and Little Terns are all preparing to head back to Africa and beyond, but first they'll spend a few weeks feeding and resting in preparation – you can't start a big journey on an empty stomach (equally applicable to humans!).
We need your help to find out what locations they're using to roost (i.e. rest) in August and September, to help inform the management and protection of these sites in the future.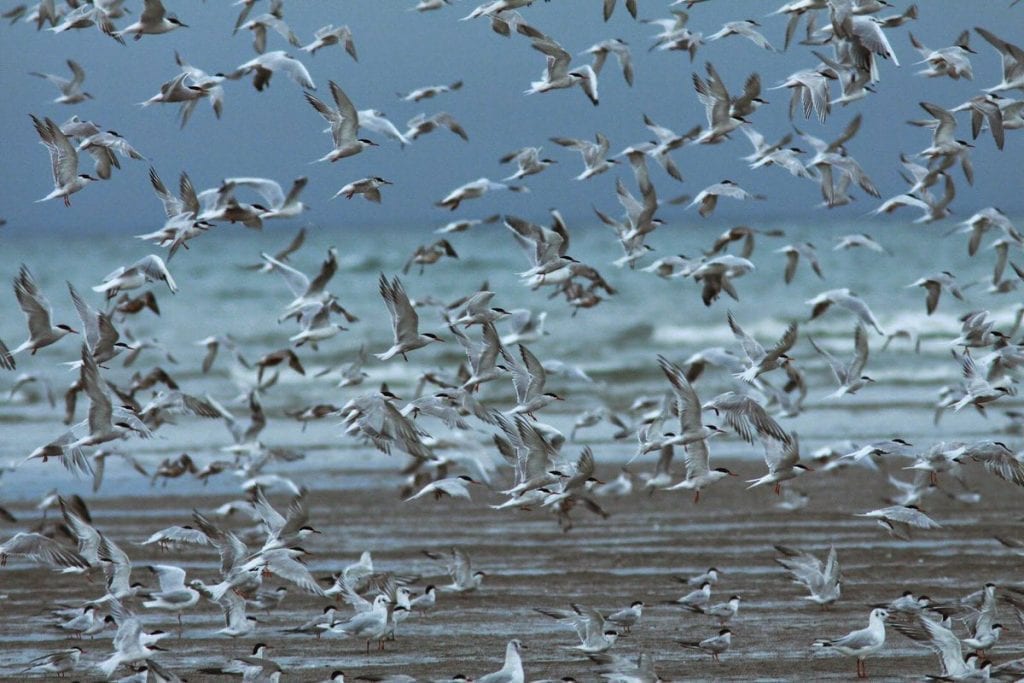 Hundreds of Common and Arctic Terns taking flight from a roost at Sandymount Strand in Dublin.
Between now and the end of September there will be flocks of tens, hundreds, and in some cases thousands of Terns resting along the Irish coast in the evening and spending their days catching fish and building their fat reserves to ensure they make it safely to the breeding grounds. It won't just be Terns from the Irish colonies that will be here, but thousands of birds from the UK and even mainland Europe, all heading west to enjoy what Irish waters have to offer, before heading south. Without these sites where they can rest together and build their fat reserves, they would struggle to survive the arduous journey to west Africa (Common and Roseate Terns), South Africa (Sandwich Terns) and Antarctica (Arctic Terns).  With this in mind, it's important that we know the locations where the Terns are resting (a.k.a. 'roosting') so that we can monitor and protect them – and for this, we need your help!
If you see any Terns resting/roosting on a beach or coastal rocks in the coming weeks, please let us know by submitting details here: https://www.surveymonkey.com/r/TernRoost .
It doesn't matter if you can't identify the species, and it's fine to just get a rough count of how many are present – it's all important information for us to capture!
The locations used by Terns in this way are known as 'stopover' or 'staging' sites – i.e. they're stopping or taking a break here before heading off on the rest of their journey. Since 2016 we've been gathering records of these sites from birdwatchers all around the coast to identify where the most important locations are for each species, and determine any patterns in usage – are they used by all species of terns, or just some? Are they 'busy' at the same time of year, or does it vary? Are they used by similar numbers each year, or are there good years and bad years?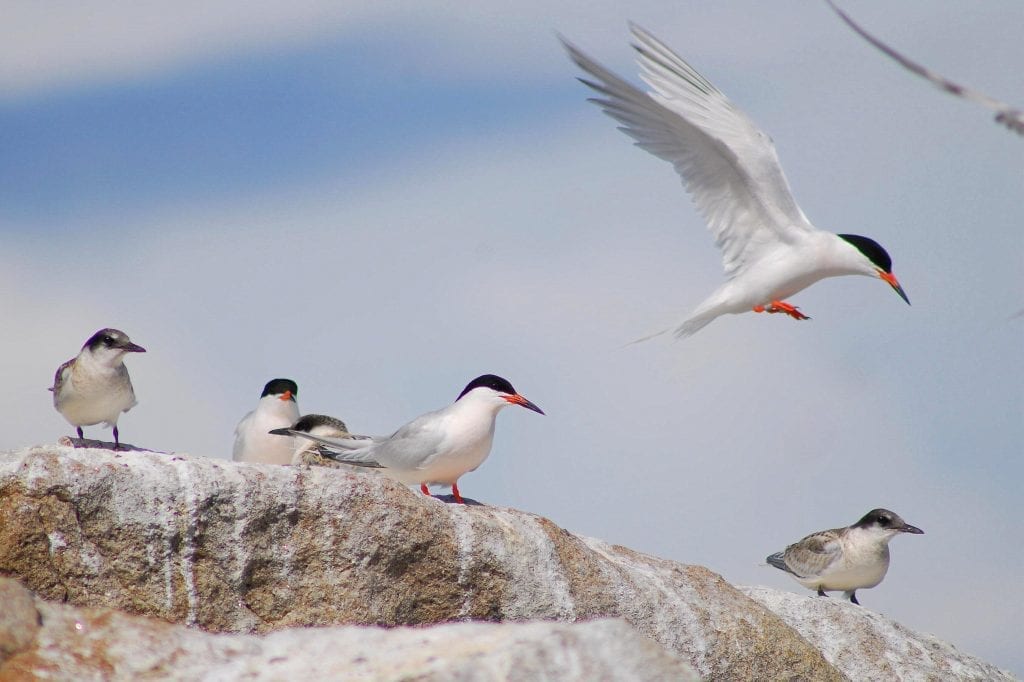 Roosting adult and juvenile Roseate Terns.
We published the results of the first three years of this 'Post-breeding Tern survey' in the Irish Birds journal earlier this year, identifying 45 different sites around the Irish coast used by Terns during August and September in advance of migration. The numbers and timing of Terns being present varied considerably from year to year, and the study very much highlighted the need to gather this sort of data every year if we want to ensure we protect our Terns at their most important sites. See below for the distribution of tern roosts in the first three years (2016-2018) of this study.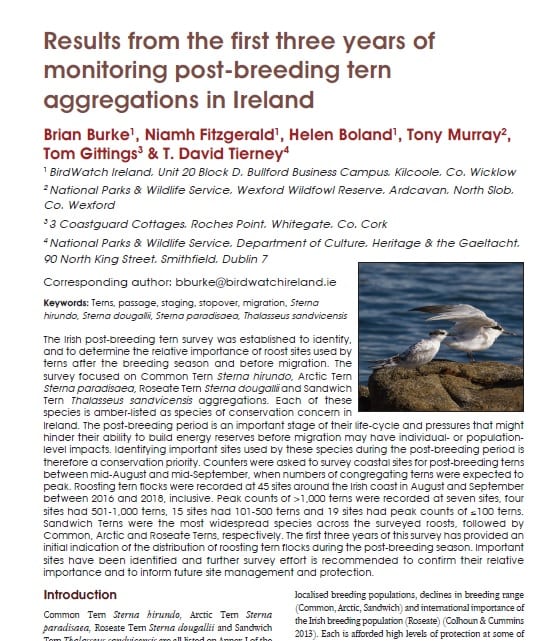 So please, keep your eyes peeled if you're around the coast in the coming weeks, particularly in the evenings when the Terns will be settling down for the night. If you see any Terns roosting (not flying/feeding) then please record whatever details you can at
https://www.surveymonkey.com/r/TernRoost
See below for maps of the locations of roosts of different tern species from 2016 to 2018: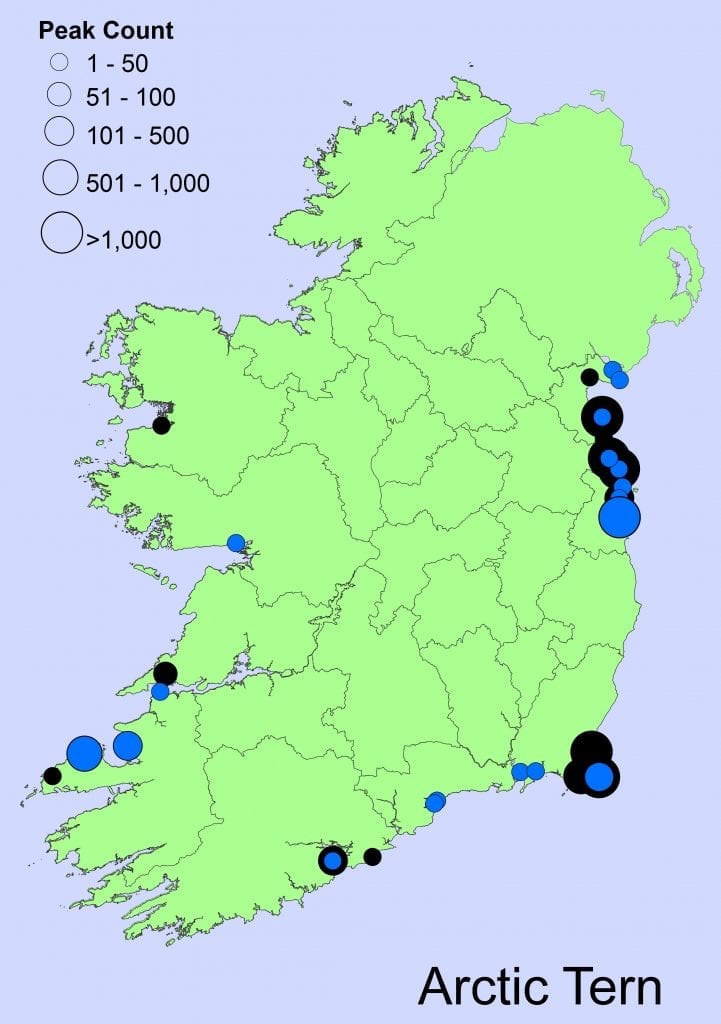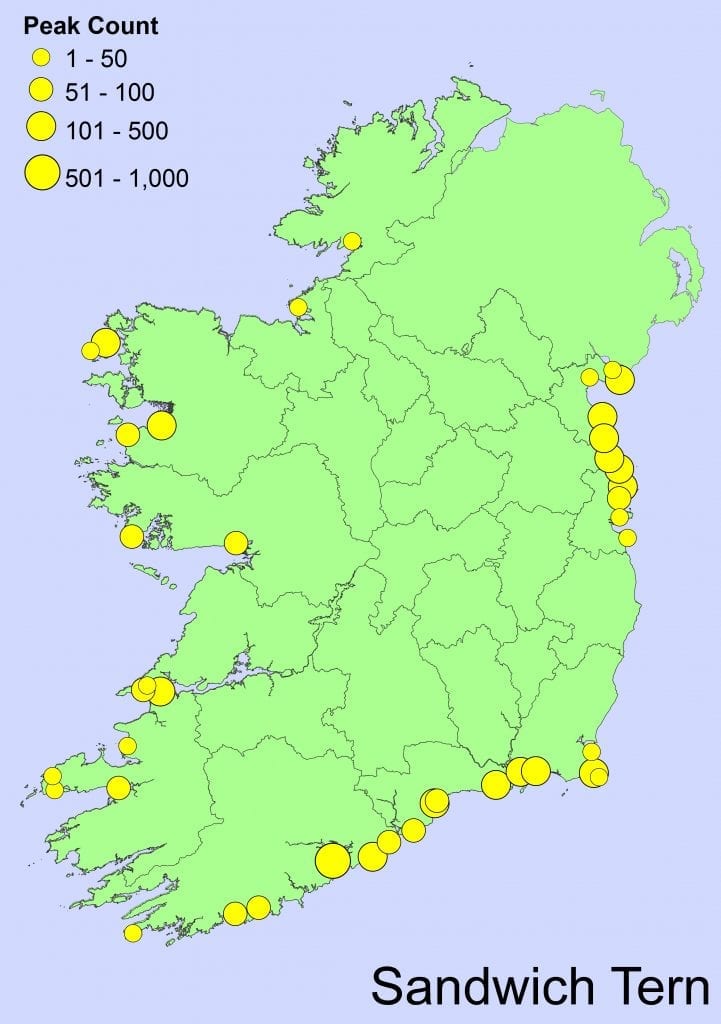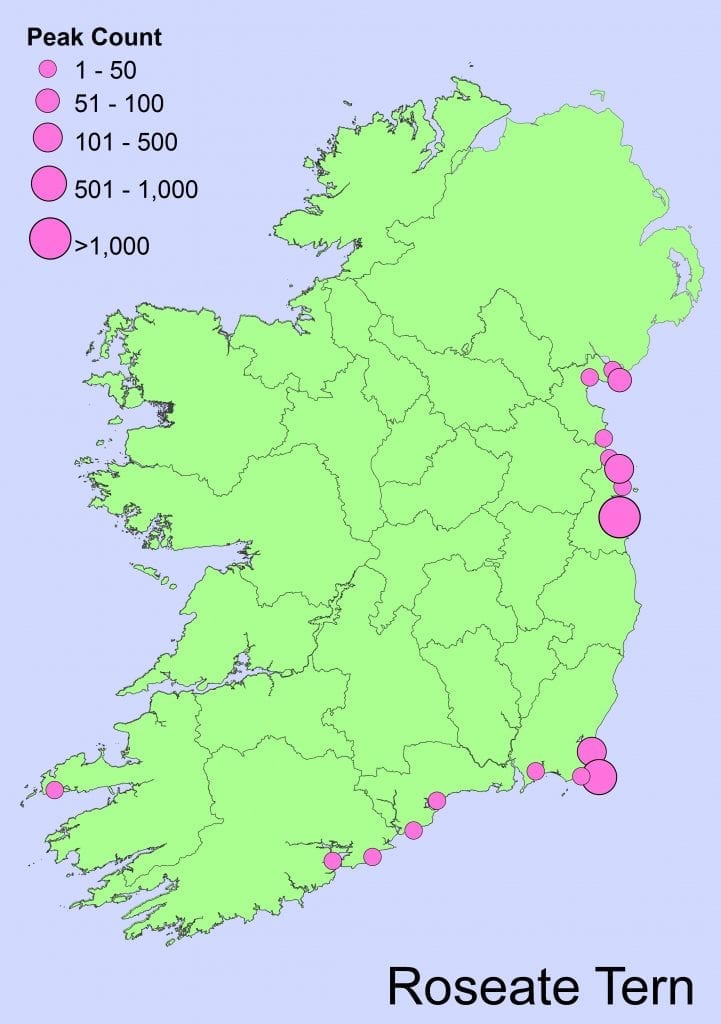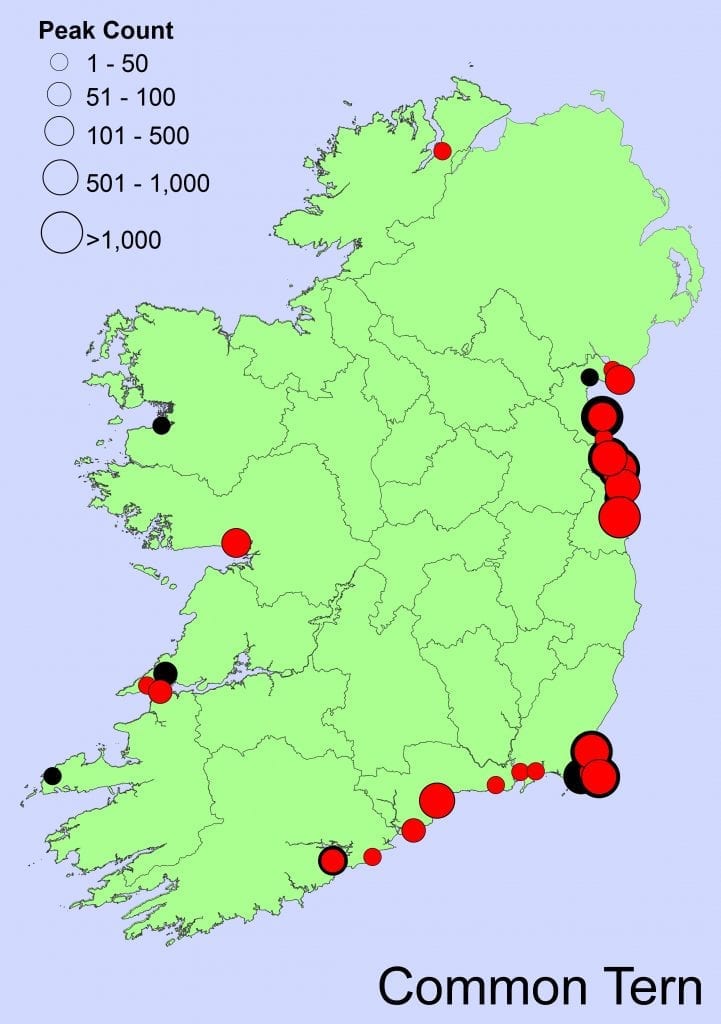 If you want to get out and see some Tern roosts we'd recommend some of the locations below. Best to visit in the evening and when the tide is pretty high:
Louth – Clogherhead beach
Meath – Gormanstown
Dublin – Skerries Coast or Sandymount Strand
Wexford – Crossfintan Point
Waterford – Clonea Bay
Cork – Cork Harbour
Kerry – Brandon Bay, Tralee Bay
Galway – Galway Bay
Mayo – Clew Bay
Sligo– Drumcliff Bay
Donegal – Donegal Bay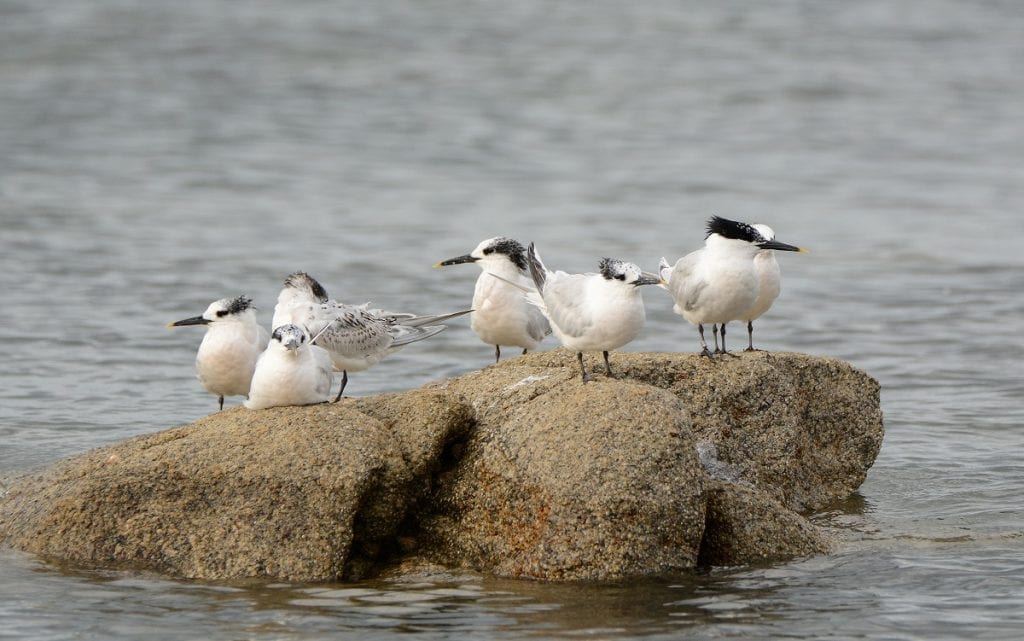 Sandwich Terns roosting on a small rock at high tide.
---
This post-breeding Tern monitoring project is part of the Irish Wetland Bird Survey (I-WeBS), which is coordinated by BirdWatch Ireland and funded by the the National Parks and Wildlife Service /