Arctic Tern
| | |
| --- | --- |
| Irish Name: | Geabhróg artach |
| Scientific name: | Sterna paradisaea |
| Bird Family: | Terns |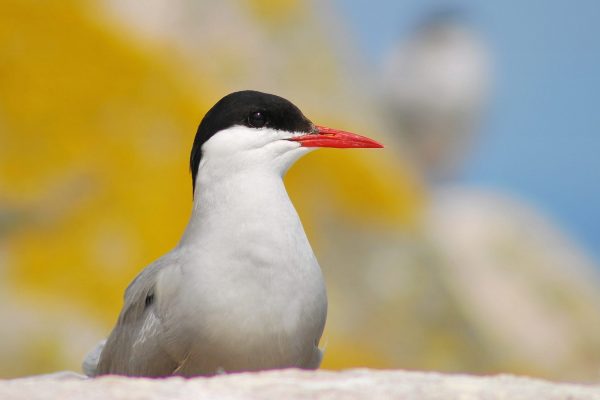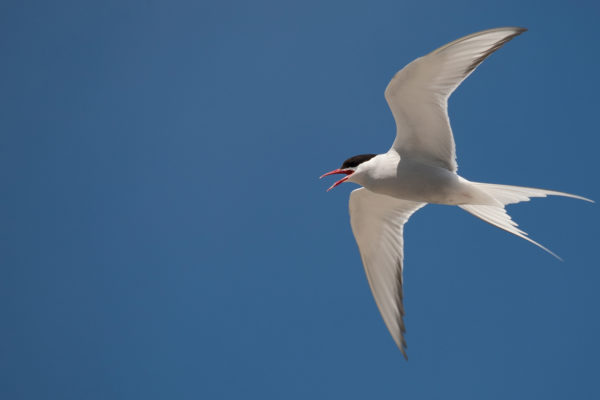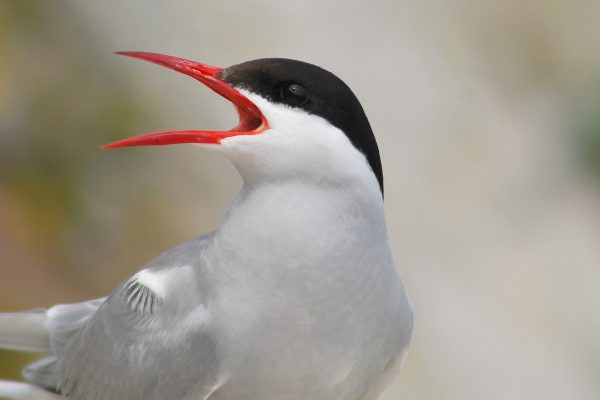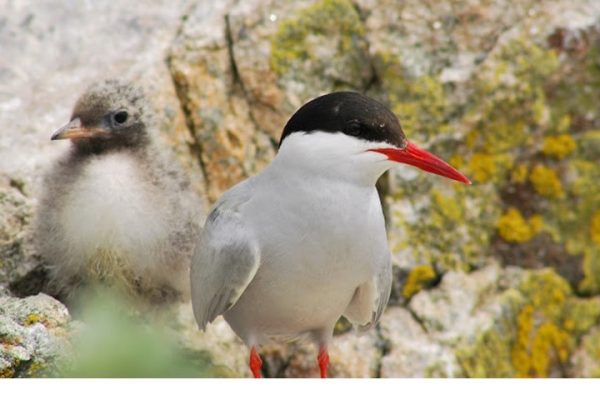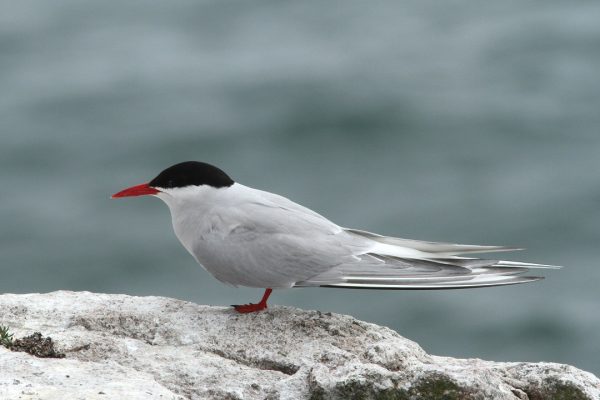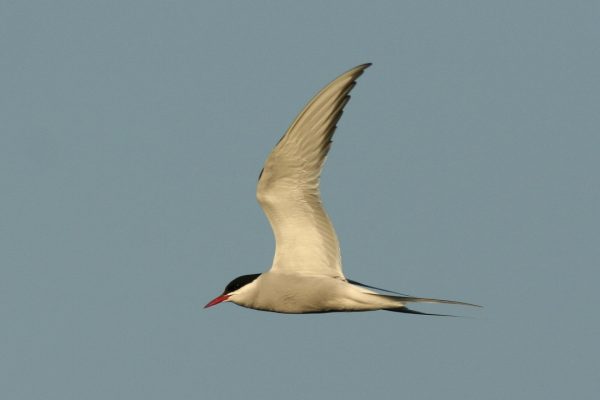 Status
Summer visitor from March to September to all Irish coasts. Winters off south Africa and as far south as Antarctica.
Identification
Usually seen over the sea. Slender seabird with narrow, pointed wings, long forked tail and long, pointed bill. Grey above and white below, dark cap to head. Flight light and buoyant, can hover briefly over the sea before diving in. Very similar to Common Tern (with which it breeds) and told apart by plumage and structure. Arctic tern is smaller, with a smaller head, neck and bill and slightly narrower wings, which look forwardly placed on the body. Very short legs. Adults have a blood red bill, usually with no dark tip. The underparts are greyer than Common Tern and there some contrast with the cheek. The wing pattern is useful in separation, Arctic terns shows no dark wedge in the primaries but shows a distinct trailing edge. Arctic terns have longer tail steamers, extending beyond the wing tips. Adult winter plumage, like all terns is different from breeding plumage, but is only seen in the wintering range. Also has distinctive juvenile plumage, with some brown in the mantle, a dark carpel bar and white secondaries. Shows a distinct trailing bar to the primaries, bill darkens rapidly.
Voice
Similar to Common Tern
Diet
Marine fish, crustaceans and insects.
Breeding
Mainly a coastal breeding bird, but in Ireland the species also breeds inland on the fresh water lakes of Lough Corrib (Co. Galway) and Lough Conn (Co. Mayo). More colonies are found on the west coast with Co. Wexford, Co. Kerry, Co. Mayo and Co. Donegal having the largest number of birds
Wintering
Considered to have the longest migration of all birds, utilizing the summer of both hemispheres.
Monitored by
All-Ireland tern survey in 1995, and through breeding seabird surveys carried out every 15-20 years, the last was Seabird 2000, which was undertaken between 1998 and 2002. Arctic Terns are also monitored annually at Rockabill and Ladys Island Lake
Lady's Island Lake, near Rosslare, in County Wexford has up to 300 pairs. As well as other tern species.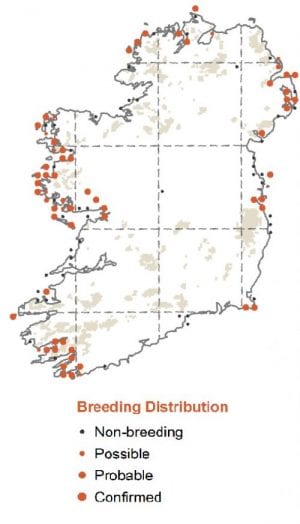 Lady's Island Lake, near Rosslare, in County Wexford has up to 300 pairs. As well as other tern species.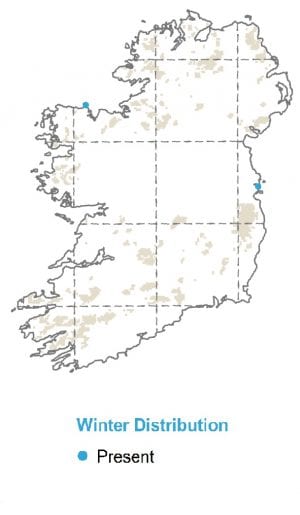 Blog posts about this bird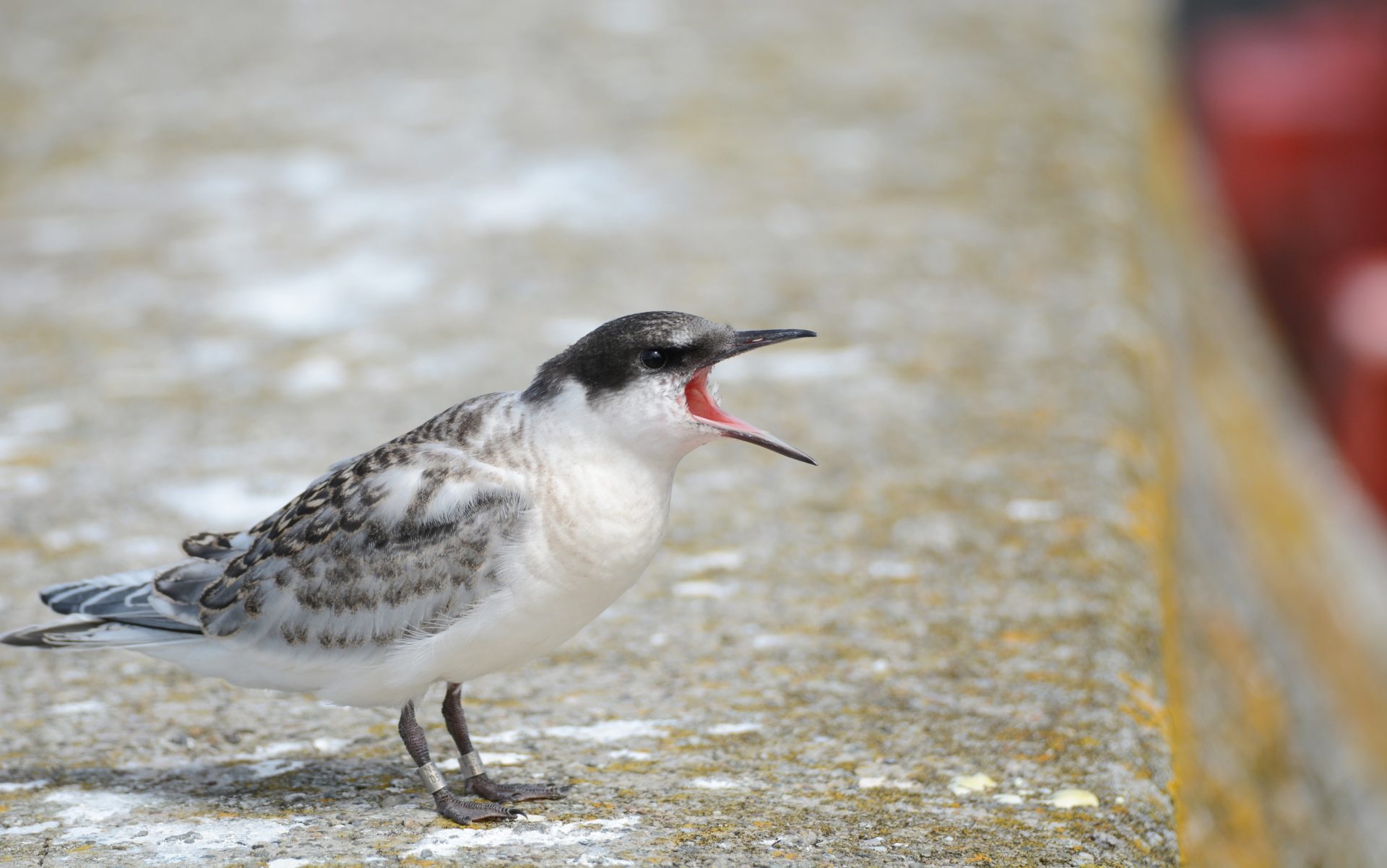 All Grown Up and Ready to Ring
Life continues to move fast out here on Rockabill. This year we recorded a record number of Roseate Tern nests on the island. That is a lot of chicks to watch over! Not only that, but each of these chicks need to be ringed with a uniquely coded leg ring so that we can continue to monitor them after they migrate and when they hopefully return to Rockabill to nest in the years to come. In no time at all our tiny tern chicks had shed their fluffy down feathers and had grown into their more elegant flight feathers.
Common Tern chicks at different stages of their growth. Photos by Emma Tiernan, taken under NPWS license.
Roseate tern chicks at different stages of their growth. Photos by Emma Tiernan & Alex Fink, taken under NPWS license.
Common tern chicks will start to wander away from their nest as early as 1 or 2 days old. Roseate tern chicks on the other hand will wait a bit longer and at 10 to 15 days old they will start to investigate the world outside their nest boxes.
Common tern chick cosy under their parent on a cold day. Photo by Emma Tiernan, taken under NPWS license.
Roseate tern chicks from the same clutch stepping outside their nest box for the first time. Photo by Emma Tiernan, taken under NPWS license.
It's not just the terns, the Black Guillemots and Kittiwakes have also been getting very big, very fast.
Black Guillemots at 5 days old (left) and over 15 days old (right) before getting weighed for biometrics analysis. Photos by Emma Tiernan, taken under NPWS license.
Kittiwake chicks at 5 days old (left) and over 20 days old (right), now almost ready to fledge. Photos by Emma Tiernan & Alex Fink, taken under NPWS license.
Ringing Takes Time
As the tern chicks continued to grow throughout June it wasn't long before it was time for the annual ringing blitz. While we had each ringed the majority of Roseate and common Tern chicks within our study areas, thousands of chicks still remained to be ringed around the rest of the island. We definitely would not be able to accomplish this with just the three of us. Thankfully, on the 28
th
of June, we were joined by Dr Stephen Newton, BirdWatch staff Brian Burke and Tara Adcock, and ringers Caroline McKeon and Thorfinn Newton to help us with this daunting task. Bird ringing is strictly licensed in Ireland through both the NPWS and BTO and requires extensive training before licenses are granted! We spent the next 3 days sweeping through each sub-colony of the island, systematically searching every box and nest location to catch and ring every Roseate and Common Tern chick that could be found. Once caught, the chicks were given a uniquely-coded metal ring and Dr. Newton recorded the ring number and other important details including the species, location and wing size (which gives us an idea of how many days old that chick is). Once ringed, the chick was released in its original setting and we moved on with our search. It was a tedious job, but with the help of the volunteers and some good weather, we managed to get the bulk of this ringing completed quickly.
Warden Micheal Fitzgearld and ringer Caroline McKeon busy ringing Common and Roseate chicks. Photo by Emma Tiernan, taken under NPWS license.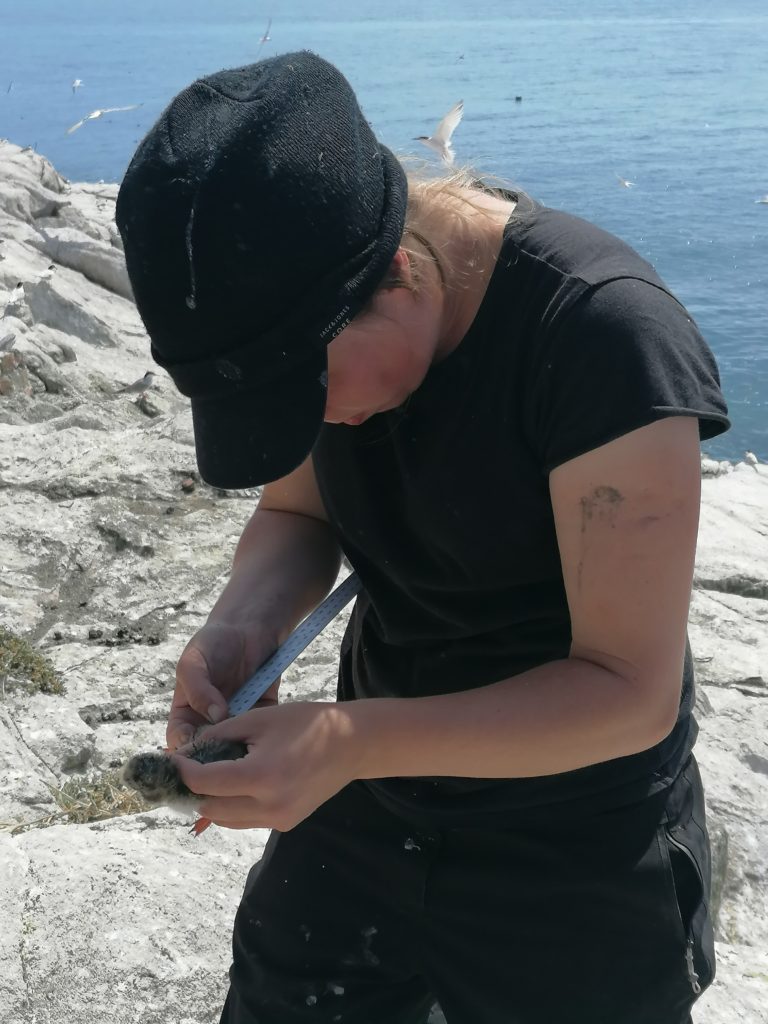 Tara Adcock ringing a young Common Tern chick. Photo by Emma Tiernan, taken under NPWS license.
Good News for our Arctic Terns
We are lucky to have thirty-seven Arctic Tern pairs nesting on the Rock this year. In previous breeding seasons, Arctic tern chicks out here have not been very lucky and most nest have been destroyed by either predation or wet weather. However, this year is looking good for our Arctic terns and 17 chicks have fledged. Fifteen Arctic chicks were fitted with BTO and special colour rings. Keep an eye out for some Arctic Terns along the East coast wearing a black ring with 2 white letters on the left leg.
Dr Steven Newton colour ringing an Arctic Tern chick. Photo by Emma Tiernan, taken under NPWS license.
An adult Arctic Tern with a colour ring (black 'E5') on the right leg. Hopefully this years fledglings will return to Rockabill in the coming years! Photo by Brian Burke, taken under NPWS license.
Climbing for Kittiwakes
There were more than just Tern chicks to ring however, and with the majority of this work completed we set about catching adult Kittiwakes from the cliff tops on the Rock. Kittiwakes are now globally red-listed, so we're trying to increase our monitoring of this beautiful gull on Rockabill. As well as ringing them, we also attached GLS tags to each one so that their movements over the next fifteen months could be tracked. All in all, we caught twenty of these beautiful birds over the course of two days.
Kittiwake with a GLS tag (on the green ring), plus identifying metal and colour rings, before being released back into the colony. Photo by Brian Burke.
The week concluded with the Steve and the volunteers' departure, leaving the wardens to look after more and more fledglings by the day. However, we were not left for too long, as a few weeks later it was time to go climbing to ring some Kittiwake chicks. Dr. Stephen Newton returned with work experience student Hannah O' Connor, who helped us earlier in the season with the nest census, and we set off. As Kittiwakes are cliff nesting seabirds, catching some of the chicks for ringing required some Micheal's rock climbing expertise.
Warden Micheal Fitzgerald has been a keen rock climber for years and was looking forward to climbing cliffs for Kittiwakes, Photo by Emma Tiernan.
We set to work and over the course of two days, we ringed 174 Kittiwake chicks on the Bill and on the Rock.
The Rockabill team ringing Kittiwake chicks while Micheal waits to carefully put them back in their nests. Photo by Emma Tiernan, taken under NPWS license.
While its always enjoyable to find fluffy Kittiwake chicks, the work was made a bit more difficult as we worked through the recent heatwave. At the end of each day the wardens and Hannah enjoyed a well-deserved swim in the sea. After a very sweaty few days, it was time for Dr Newton to leave us again and we were once again left to our own devices, this time, however, on an island bustling with teams of busy fledglings, as they took to the air for the first time.
and let us know via the link here
)
---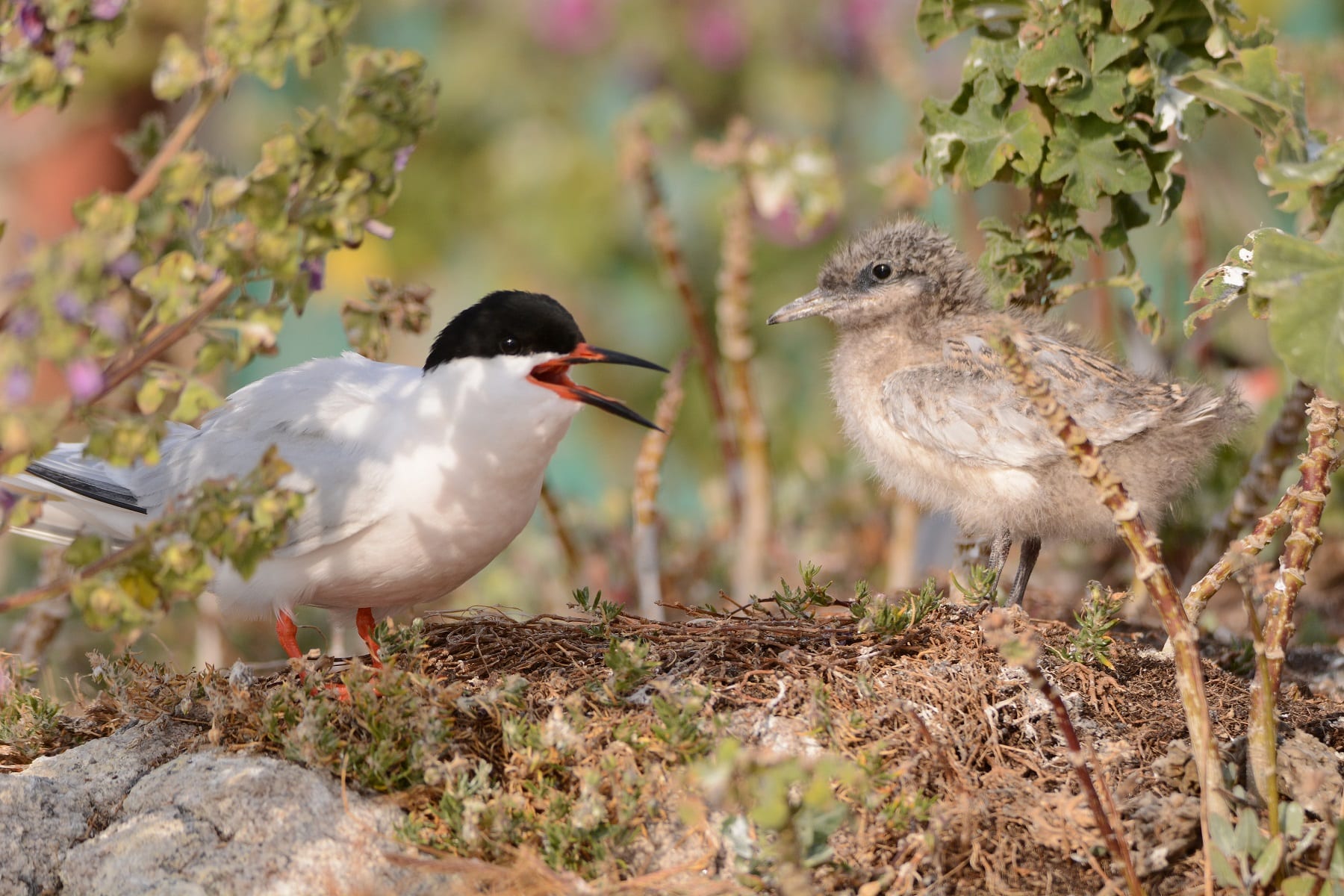 Another record broken on Rockabill!
It's been a long time since we have updated you about what has been happening on Rockabill. So why have we been so quiet? Have we been enjoying our splendid isolation so much that we completely forgot about the outside world? A bit. (Only joking!)
The splendour of a Rockabill sunset, with colours ranging from the most violent orange to the lightest pastel pinks. Over this stunning sight, it is easy to forget about everything else. [Photo: Alex Fink]
The real reason behind our delayed update is the very simple fact that June is typically the busiest month in seabird colonies, and Rockabill is no exception. In June, most birds are sitting on eggs and chicks of all species are beginning to hatch everywhere. It is also the time when the colony is very vulnerable, and therefore demanding even more close attention. Too much rain and cold wind at this time of the year can severely affect the chicks' chances of survival (luckily, June has mostly been a benign month with respect to the weather!). But let's return to the timeline. At least on Rockabill, the chicken-and-egg-problem has a clear and definite answer: eggs first! After the first egg was found, it was only a few days until egg laying by both Roseate and Common Terns started in earnest. Once it had started, the number of eggs increased very rapidly! The Arctic Terns started laying their eggs slightly later. No wonder, as they arrive later than the other species and have also got a much longer journey. (They overwinter in Antarctica, while Roseate and Common Terns typically spend their winters on the coast of West Africa.) Approximately three weeks after the first egg was found, it was time for the big nest census. This is an island-wide count of every nest with eggs in it. As this means checking every single one of the roughly 900 nest boxes, as well as crawling through bushes and through the remaining forest of tree mallow, we were very glad when help arrived: Hannah O'Connor and Thorfinn Newton, both work experience students, joined Dr Stephen Newton on his trip out to the island. (And a much needed trip. Without every single one of those provisioning trips, we would starve/run out of gas/have no chocolate left (which is the worst!))
Micheál, Alex, Dr Newton, Thorfinn, Hannah all ready for the census. From the clothes, it's easy to tell who lives permanently on the island. [Photo: Emma Tiernan]
Combing through the dense tree mallow forest, watching every step to find all the nests. The birds really like using as their vantage points! [Photo: Emma Tiernan]
Having a team of six made the seemingly impossible possible – and the team literally ploughed through the work! The island was "combed" through methodically with the aim to find every single nest, as well-hidden as it might be. Nests can be located under boulders, in cracks and crevices, under dense vegetation and some eggs are just incredibly well camouflaged! Nests which have been recorded, had to be marked – and a lot of markers were needed indeed! There were instances where three Roseate Tern pairs nested in very close vicinity: one pair inside a box, another pair behind the box and the third pair on one of the box's sides!
Two Roseate Tern eggs laid in an "open nest". This nest has been marked with a clothes peg bearing a number. We have 1000 of these pegs ready for deployment! [Photo: Alex Fink]
There are three Roseate Tern nests in this picture! One on top (with a chick, one on the left with an egg that is hatching, and obviously the nest box itself! [Photo: Alex Fink]
Nesting space is very much sought after on Rockabill:
This year we recorded a record number of 1,704 Roseate Tern pairs on Rockabill, as well as 1,656 Common Tern and 37 Arctic Tern nests.
This is especially good news for Roseate Terns which are the rarest breeding seabird in Europe! Rockabill hosts around 85% of the northwest European population, so what happens here has international consequences for this species! It is only through a constant conservation effort over 33 years, and the support of countless wardens, friends, volunteers, the National Parks and Wildlife Service (NPWS) and the Commissioners of Irish Lights that this has been possible. However, it now places A LOT of responsibility on us to ensure all those chicks will be safe. To learn what the wardens are doing to find out about how the chicks are doing and the breeding success in general, see the next blog post!
A Common Tern chick that is only a few days old at its nest site. They are absolutely adorable at that age! [Photo: Alex Fink]
---
To find out more about what life is like as a seabird warden on Rockabill island, watch the Rockabill documentary here
This year's work to protect and monitor the terns and other breeding seabirds on Rockabill would not be possible without support from the National Parks and Wildlife Service and the cooperation of the Commissioners of Irish Lights.
To revisit news and blogs from previous years on Rockabill, click the link here.