Arctic Tern
| | |
| --- | --- |
| Irish Name: | Geabhróg artach |
| Scientific name: | Sterna paradisaea |
| Bird Family: | Terns |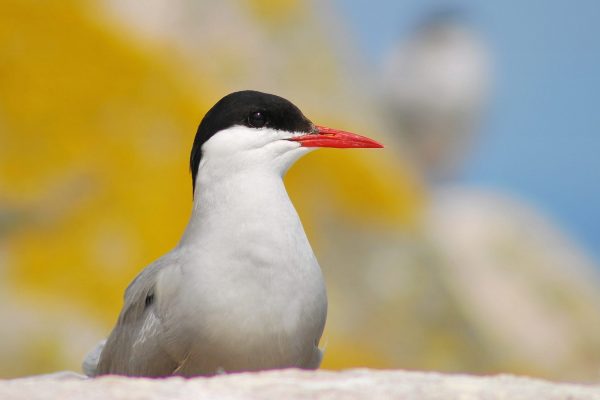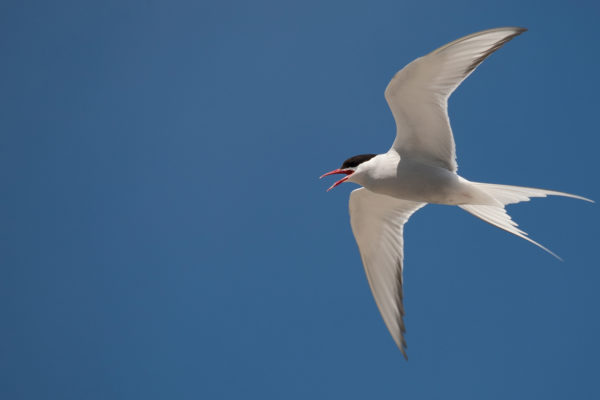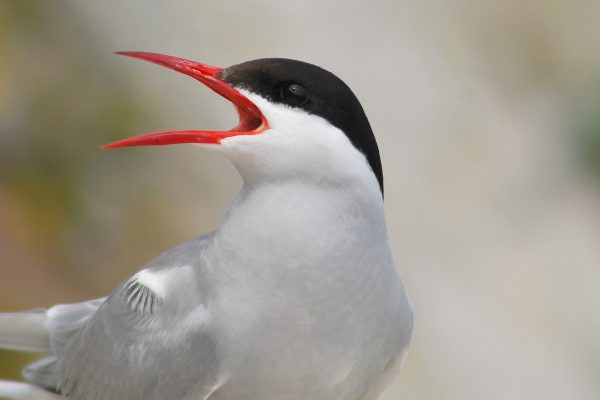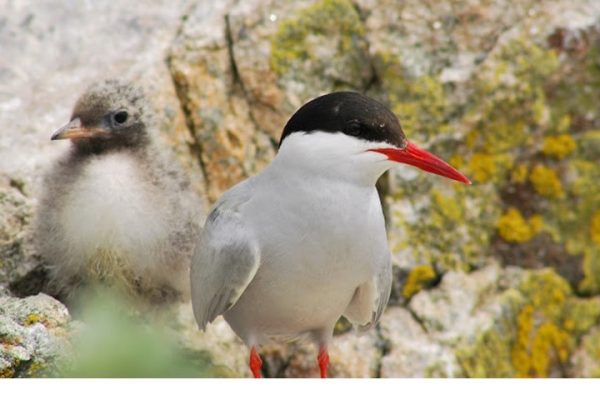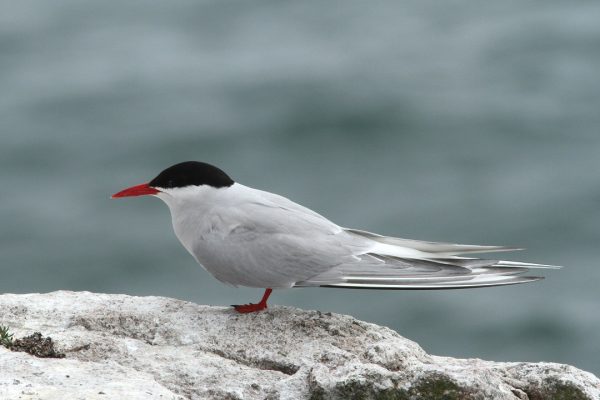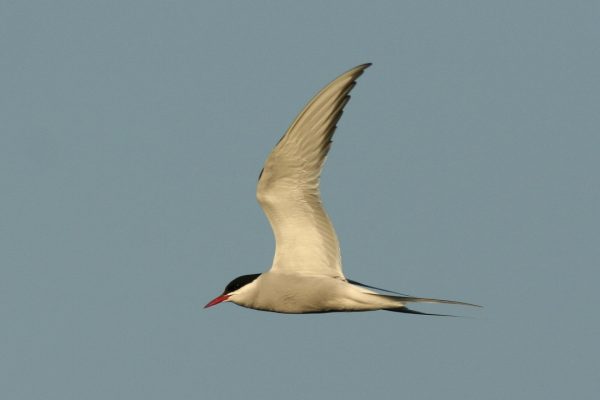 Status
Summer visitor from March to September to all Irish coasts. Winters off south Africa and as far south as Antarctica.
Identification
Usually seen over the sea. Slender seabird with narrow, pointed wings, long forked tail and long, pointed bill. Grey above and white below, dark cap to head. Flight light and buoyant, can hover briefly over the sea before diving in. Very similar to Common Tern (with which it breeds) and told apart by plumage and structure. Arctic tern is smaller, with a smaller head, neck and bill and slightly narrower wings, which look forwardly placed on the body. Very short legs. Adults have a blood red bill, usually with no dark tip. The underparts are greyer than Common Tern and there some contrast with the cheek. The wing pattern is useful in separation, Arctic terns shows no dark wedge in the primaries but shows a distinct trailing edge. Arctic terns have longer tail steamers, extending beyond the wing tips. Adult winter plumage, like all terns is different from breeding plumage, but is only seen in the wintering range. Also has distinctive juvenile plumage, with some brown in the mantle, a dark carpel bar and white secondaries. Shows a distinct trailing bar to the primaries, bill darkens rapidly.
Voice
Similar to Common Tern
Diet
Marine fish, crustaceans and insects.
Breeding
Mainly a coastal breeding bird, but in Ireland the species also breeds inland on the fresh water lakes of Lough Corrib (Co. Galway) and Lough Conn (Co. Mayo). More colonies are found on the west coast with Co. Wexford, Co. Kerry, Co. Mayo and Co. Donegal having the largest number of birds
Wintering
Considered to have the longest migration of all birds, utilizing the summer of both hemispheres.
Monitored by
All-Ireland tern survey in 1995, and through breeding seabird surveys carried out every 15-20 years, the last was Seabird 2000, which was undertaken between 1998 and 2002. Arctic Terns are also monitored annually at Rockabill and Ladys Island Lake
Lady's Island Lake, near Rosslare, in County Wexford has up to 300 pairs. As well as other tern species.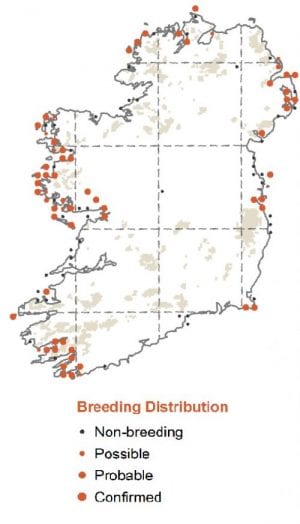 Lady's Island Lake, near Rosslare, in County Wexford has up to 300 pairs. As well as other tern species.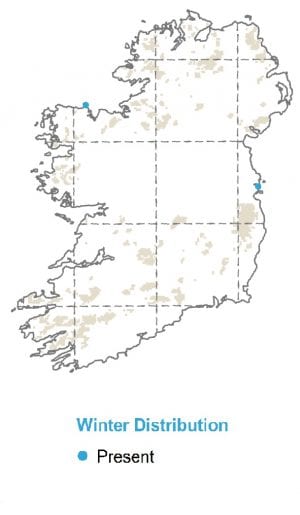 Blog posts about this bird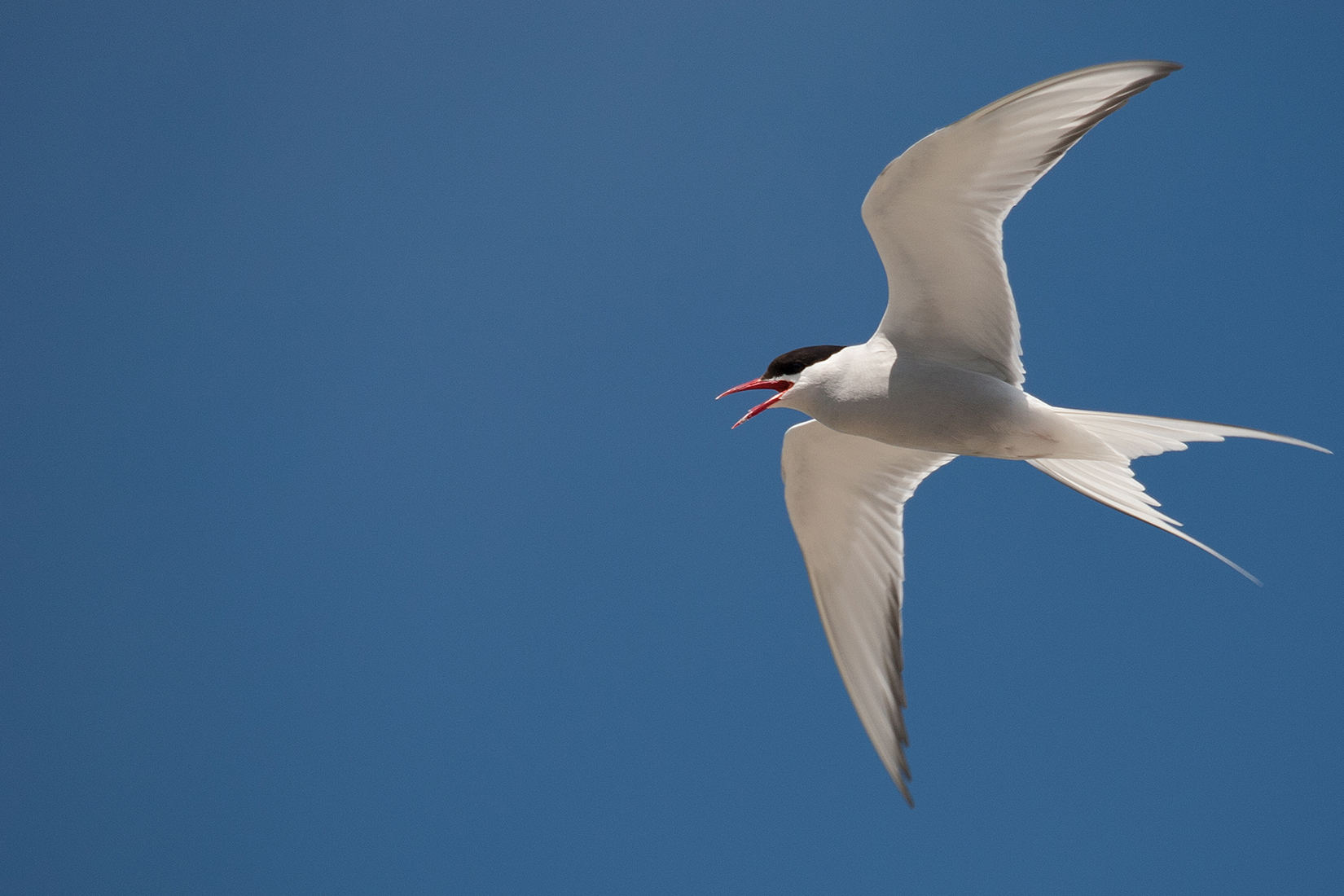 Arctic Tern chicks take flight on Dalkey Island
For the first time on record, this year Arctic Terns have successfully raised chicks on the main island of Dalkey, south Co. Dublin, giving the vulnerable colony, which is protected by BirdWatch Ireland, a much-needed lift. So far six chicks have taken to the wing from the island, with a seventh expected to take its first flight over the next few days. This is much a needed triumph, as although Arctic Terns have in the past successfully reared young on both Maiden Rock and Lamb Island (also part of the Dalkey Island archipelago), prior to this year chicks have never survived to take flight, or "fledge", on Dalkey Island itself. This is most likely due to the effect of predators, and combined with unseasonable weather regularly flooding the other two islands in the archipelago, there were great concerns for the future of this dwindling Arctic Tern colony. Conservationists' efforts to remove at least a large proportion of the rat population on Dalkey Island, paired with the tenacious protection of the tern parents, have allowed these chicks to survive and take flight. On top of the success on Dalkey Island, Lamb Island has also confirmed six fledglings, but the true figure is thought to be higher. A further nine chicks are currently waiting in the wings. The Arctic Tern, nicknamed 'sea-swallow' after its long tail streamers and buoyant flight, is the world's greatest long-distance traveller, migrating further than any other animal. During our summer months, they breed in Ireland and other areas of the Northern Hemisphere and then fly all the way to the Southern Ocean, off Antarctica, where they wait out the northern winter. This means that they see more daylight each year than any other creature on the planet. Throughout the course of their lives Arctic Terns can travel more than 3 million kilometres; an especially impressive achievement for a bird that weighs just 100 grams. To put the overall distance which these birds travel into context, they migrate the equivalent of almost 4 round trips to the moon over the course of their lives (25 – 30 years). "All of us at BirdWatch Ireland are thrilled with how well this small but resilient colony has done this year," said Tara Adcock, BirdWatch Ireland's Dalkey Tern warden. "Prior to this season, chicks surviving past two weeks, never mind fledging from Dalkey Island itself, was unheard of! This is thanks to management from BirdWatch Ireland staff and volunteers, support and funding from the EU LIFE Roseate Tern Recovery Project and Dun Laoghaire – Rathdown County Council, advice from the RSPB and the tenacity of the Arctic Tern parents themselves. "This project truly shows that if you give nature a chance, it can bounce back. It has been a real pleasure to work to protect these phenomenal birds. It's incredible to think that in a few weeks, these chicks along with their parents will undertake the longest migration in the natural world, all the way to the Antarctic!" Arctic Terns are Amber-listed on the list of Birds of Conservation Concern in Ireland, meaning that they are a particularly vulnerable species. One of the reasons for this is that the availability of suitable breeding habitat, namely undisturbed rat- and mink-free offshore islands, is quite limited. To tackle this, BirdWatch Ireland carried out rat-baiting across Dalkey and Lamb Island before this year's nesting season. Canes were also erected across a portion of Lamb Island to exclude gulls from the tern colony. This work was carried out as part of the Dalkey Tern Conservation Project, which is funded by the EU LIFE Roseate Tern Recovery Project and Dún Laoghaire–Rathdown County Council. With continued management and funding we hope to see this small but mighty tern colony flourish over the coming years, growing in capacity from its current level of 29 pairs. It is also hoped that eventually another species, the elegant Roseate Tern, one of Europe's most endangered seabirds, will also be persuaded to nest at Dalkey. Europe's largest colony of Roseate Terns (holding approximately 50% of Europe's breeding population) is on Rockabill Island, off the coast of north Co. Dublin, so the birds would not have far to travel. Roseate Terns prefer to nest in colonies where other tern species are already established, so the presence of a thriving Arctic Tern colony at Dalkey could prove very attractive for them. By providing these birds with multiple nesting habitats, such as at Dalkey, we can help to safeguard their future.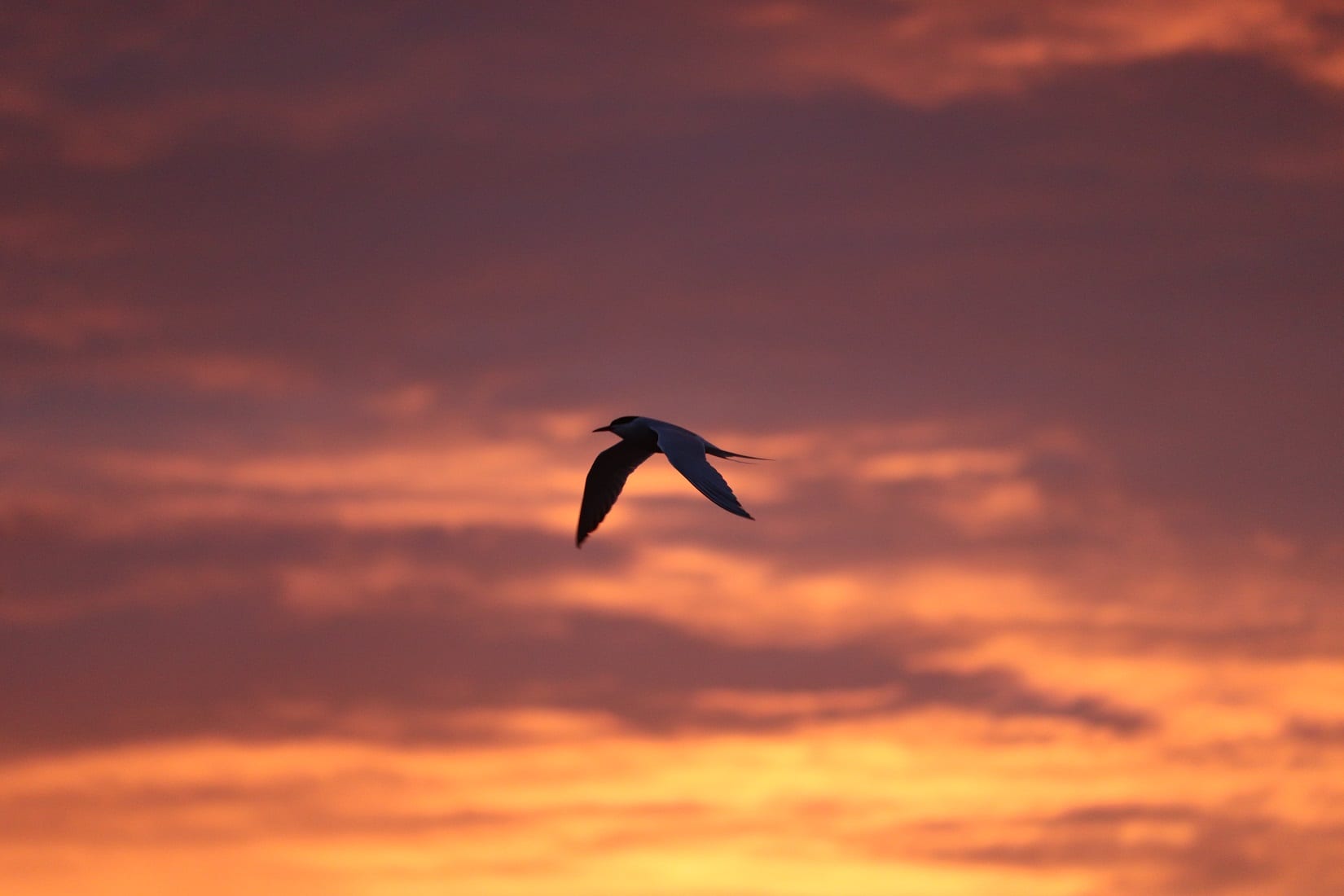 Rockabill 2019 - One week down, plenty to go!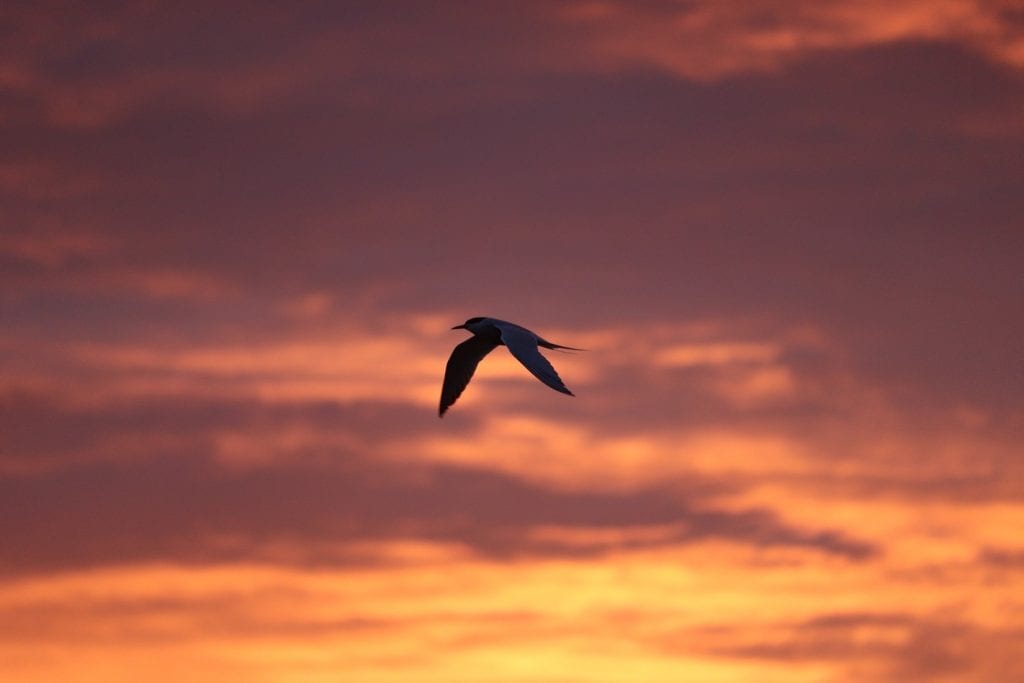 We've finished our first week out here on Rockabill and it certainly did not disappoint. From Storm Hannah to the arrival of the Common Terns, it's been an interesting week.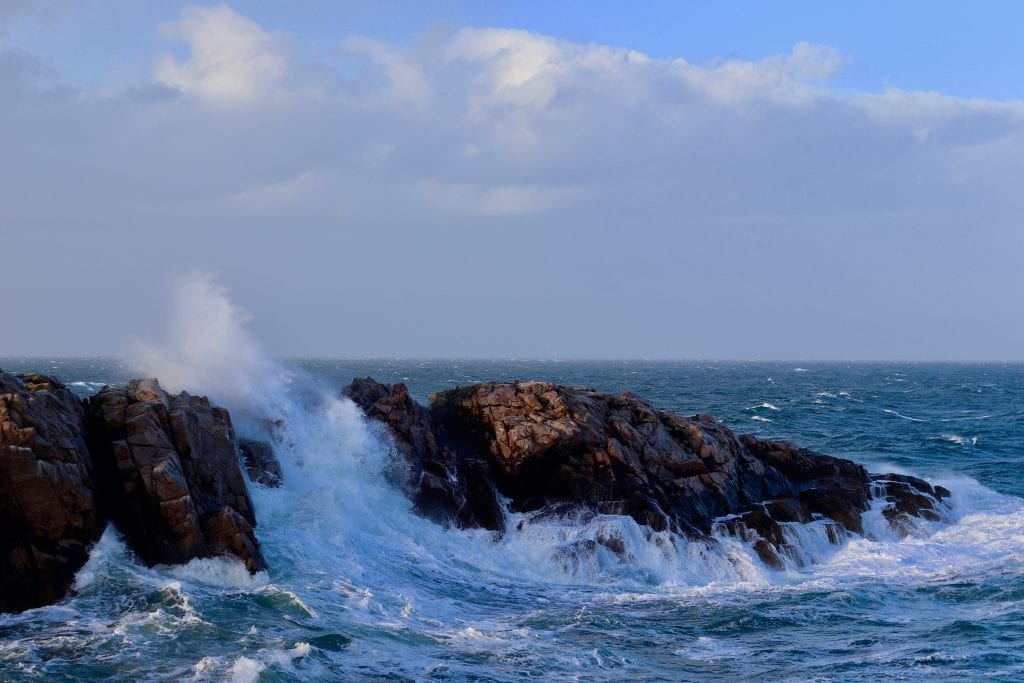 Our bird species list is now at 21. Kittiwakes have started to occupy cliff ledges in KittiCity and KittiPoint along with in section 4C and out in the Bill.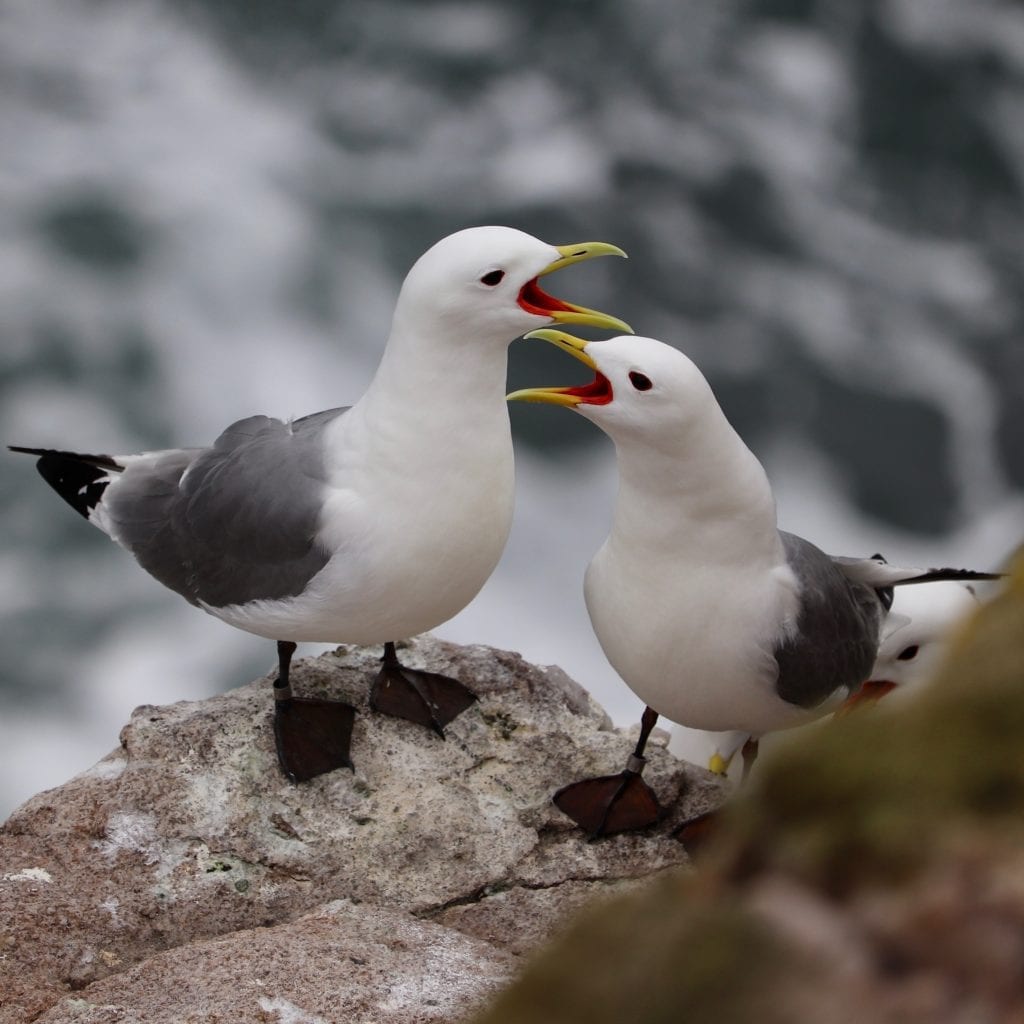 Black Guillemots have also started to spend more time on the island rather than rafting up around it. Every morning we go out to count them and our highest count so far has been 213!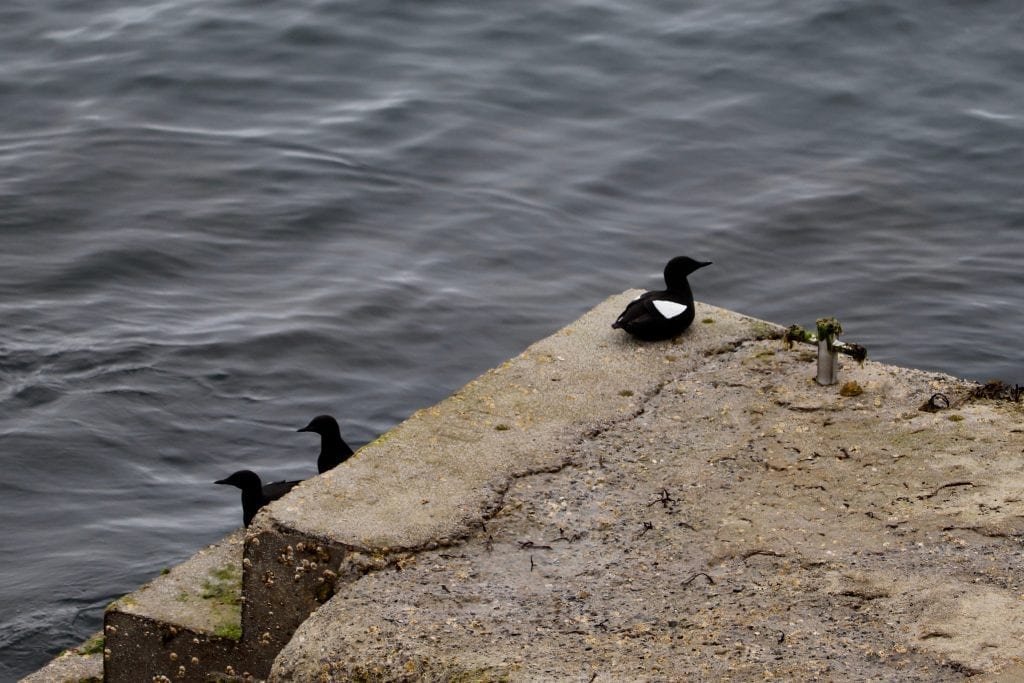 Myself and Andrew have started to settle down into the routine of island life and getting stuck into our work. Emma, the third warden will be arriving tomorrow. All the study sites have now been cleared of tree mallow.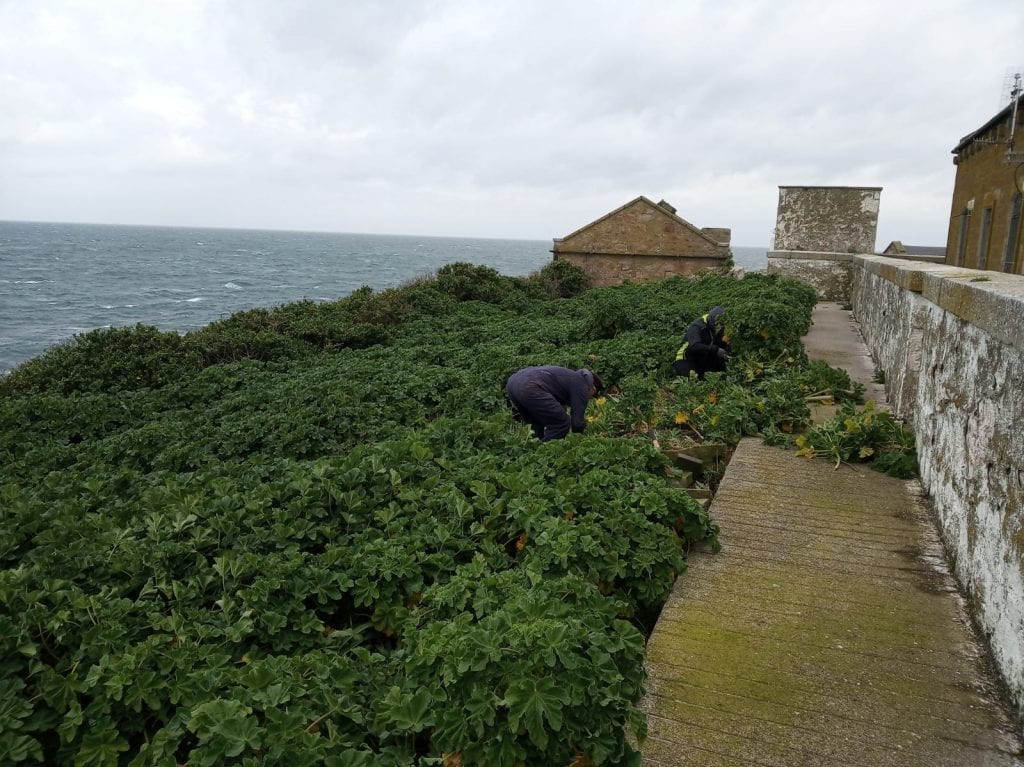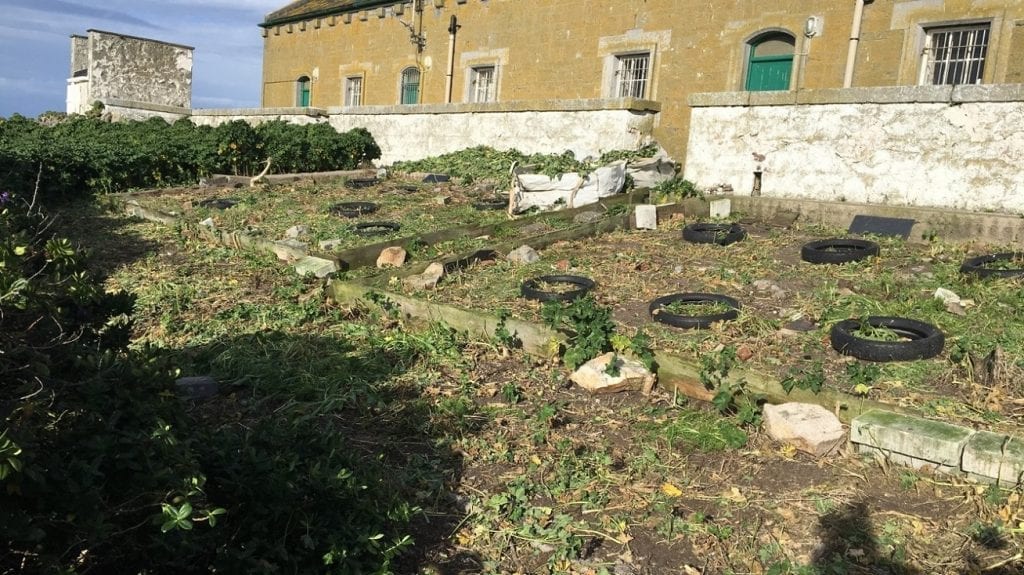 We have taken out all the nest boxes from inside the house and sorted them in numerical order ready to go to their various parts of the island. Any nest boxes that were broken have been set aside to be repaired or replaced.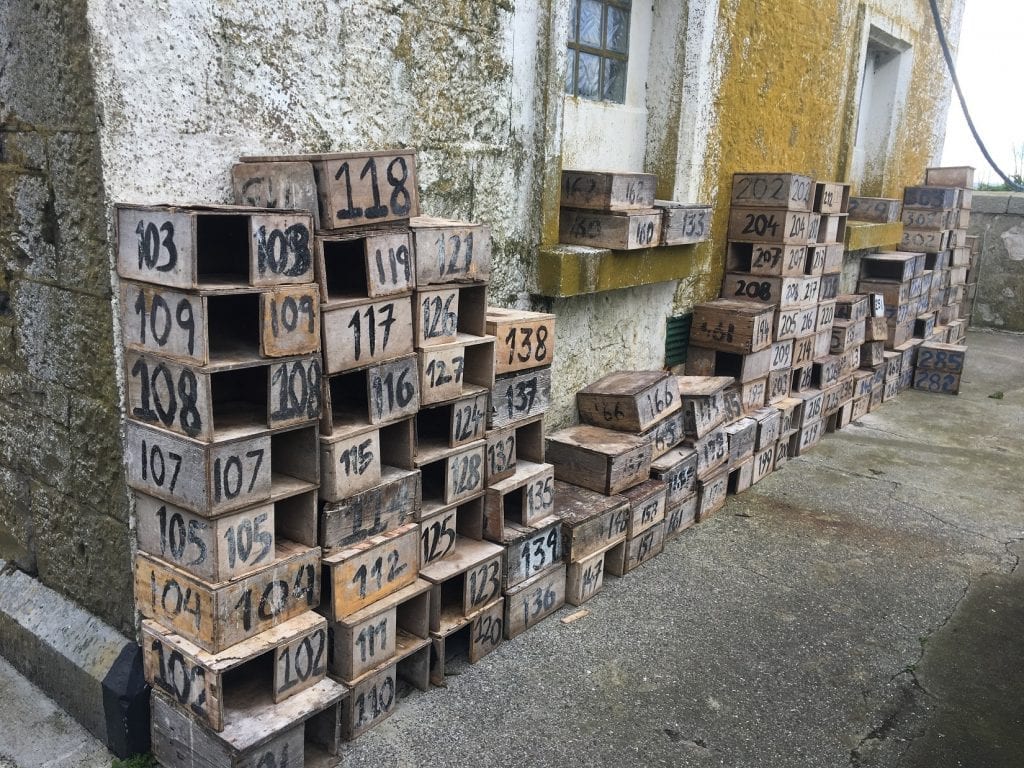 For birds that aren't nesting in nest boxes, their nests will be marked with pegs. We took out all the pegs from last year and sorted them into Common Tern, Artic Tern and Roseate Tern piles. We then sorted all of the Common Tern pegs on bamboo sticks from number 1-250 and Roseate and Artic pegs will soon follow.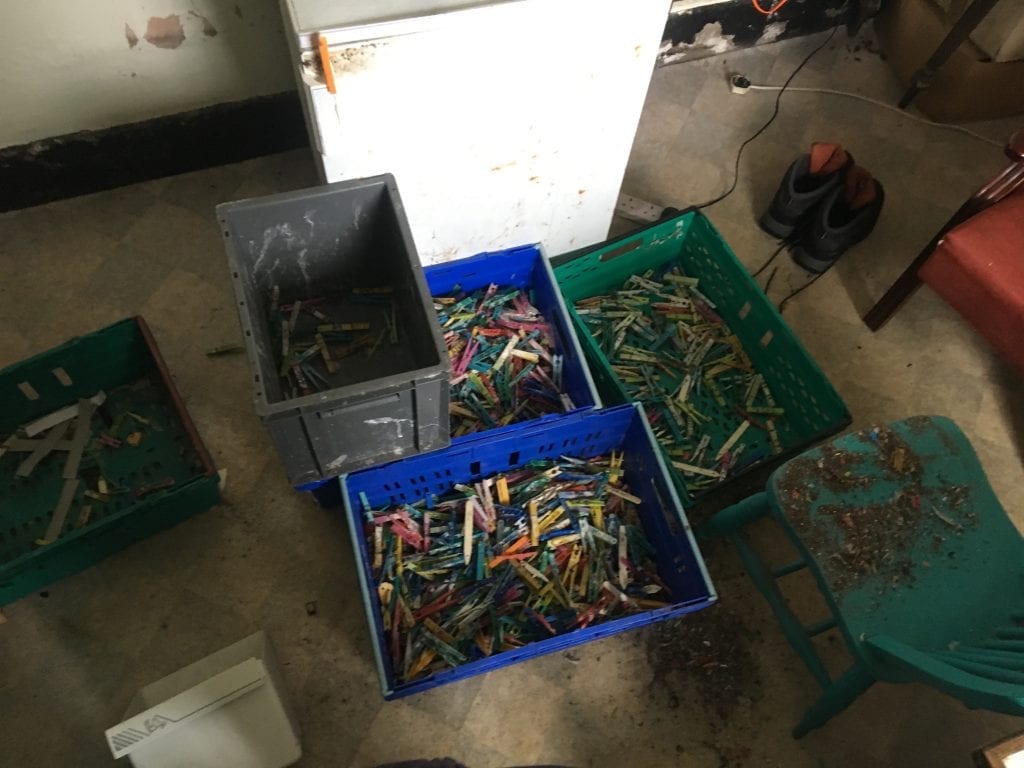 Last night we were treated to a beautiful sunset with Common Terns flying across making for some beautiful shots.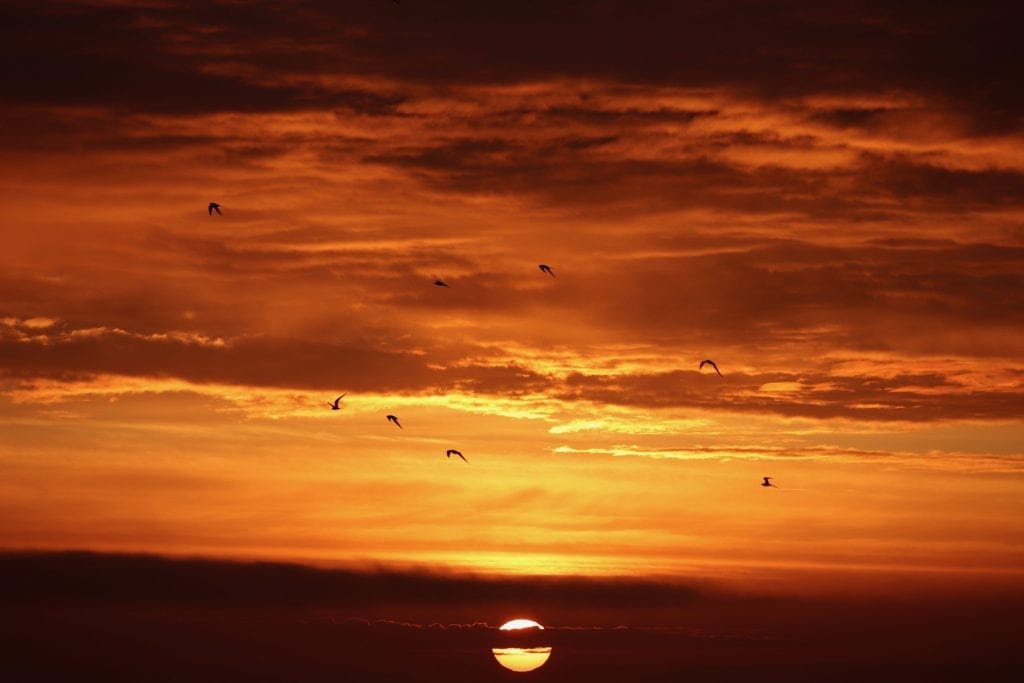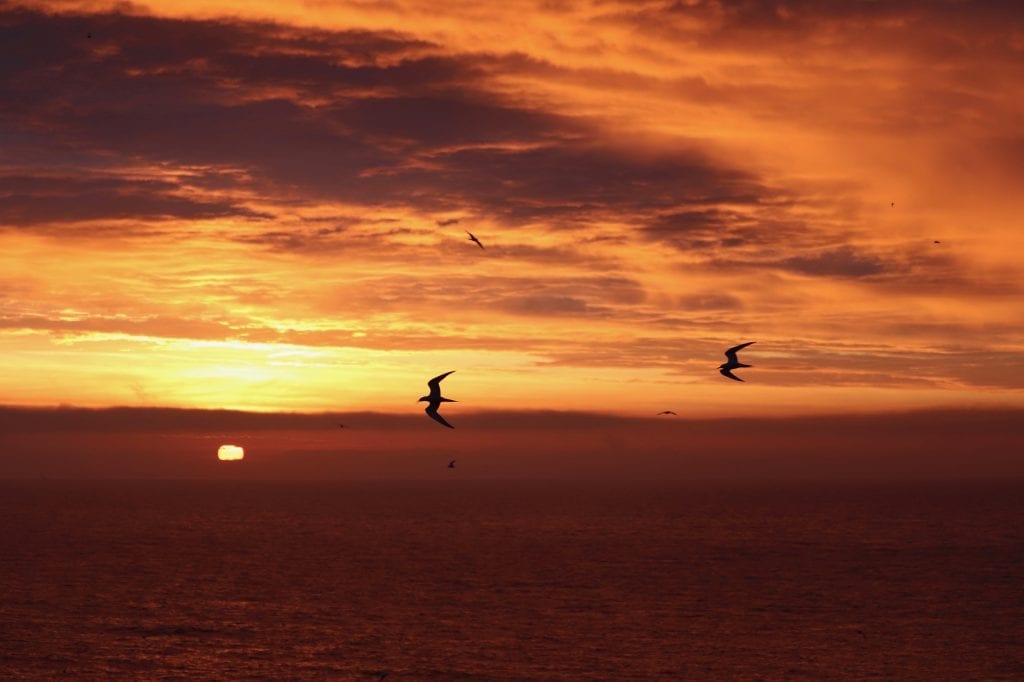 Lorna Gill & The Rockabill Team.