Little Tern
| | |
| --- | --- |
| Irish Name: | Geabhróg bheag |
| Scientific name: | Sterna albifrons |
| Bird Family: | Terns |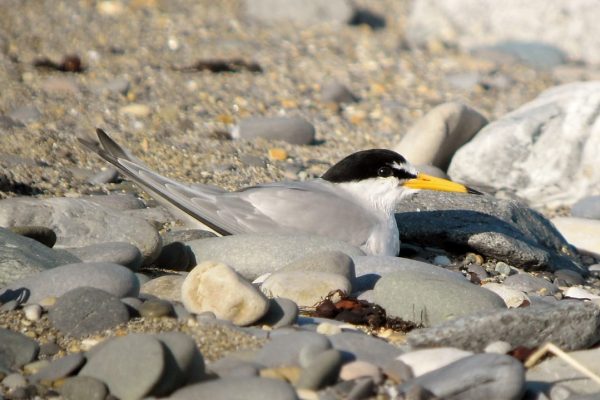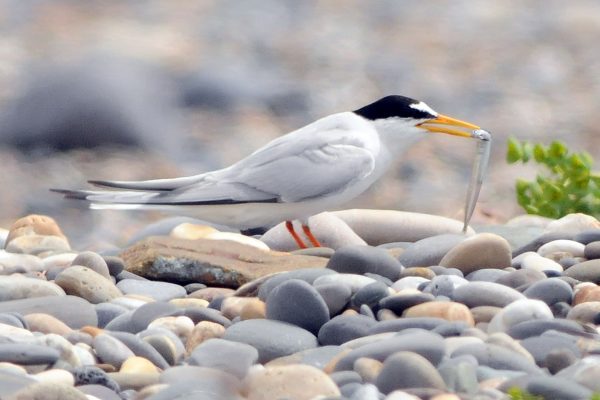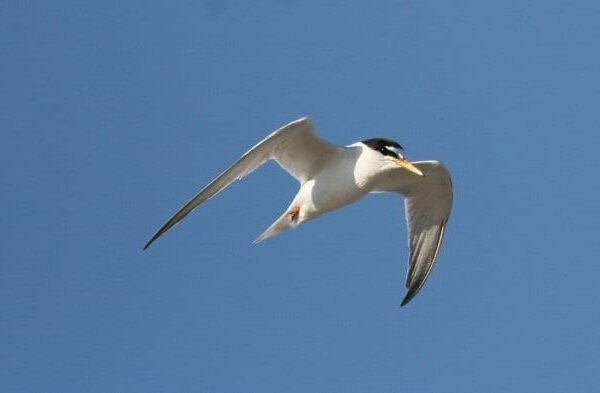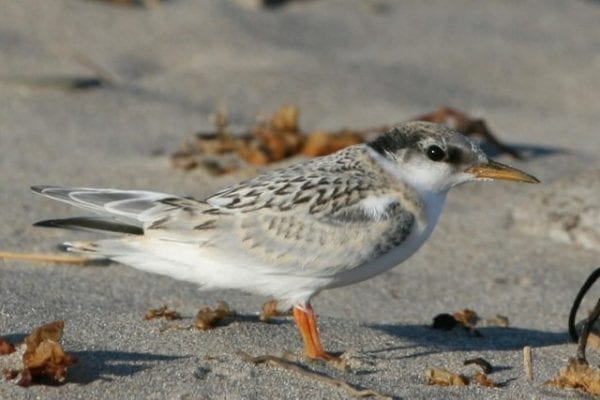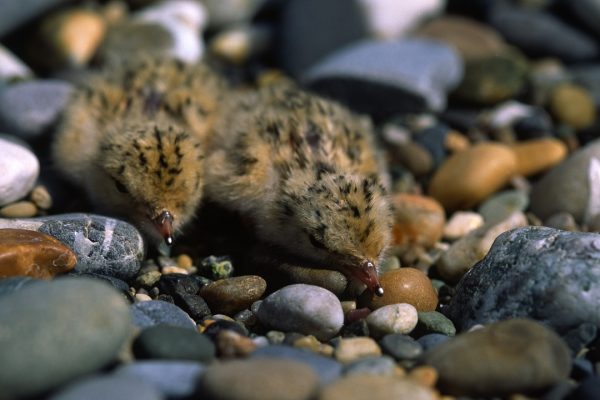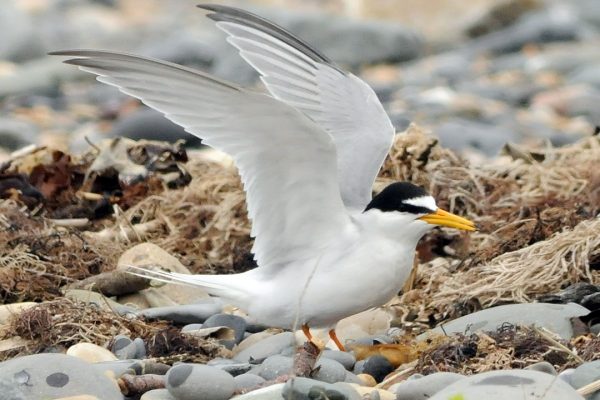 Status
Rare summer visitor from April to late August to shingle or sandy beaches, mainly on the east and west coasts
Identification
The smallest of the terns breeding in Ireland. Small slender seabird with narrow, pointed wings, long forked tail and long, pointed bill. Grey above and white below, dark cap to head, white forehead in all plumages. Flight is light and buoyant, hovers rapidly while foraging over the sea before repeatedly diving in. Has a dark leading edge to the primaries of its long narrow wings. Adult summer bird has long yellow bill with black tip. In winter plumage the white of the forehead extends up over the fore crown, the legs darken and the bill is all black. Juvenile plumage is distinct from the adult with dark bill, barred mantle and dark upper forewing.
Voice
Sharp, rasping and repeated.
Diet
Chiefly marine fish.
Breeding
Nest colonially on the ground on shingle beaches, making them very vulnerable to poor weather and ground predators. Only a few colonies are found in Ireland, with the majority breeding in Counties Louth, Wicklow and Wexford.
Wintering
Winters in coastal areas in western Africa.
Monitored by
BirdWatch Ireland has been monitoring and protecting breeding Little Terns at Kilcoole beach (Co. Wicklow) since 1985. In addition, the BirdWatch Ireland Fingal Branch have a Little Tern conservation project at Portrane (Co. Dublin), and BirdWatch Ireland partner with Louth Nature Trust to protect the Baltray (Co. Louth) colony.
Summer visitor, localised coastal range. Winters in coastal areas in Western Africa.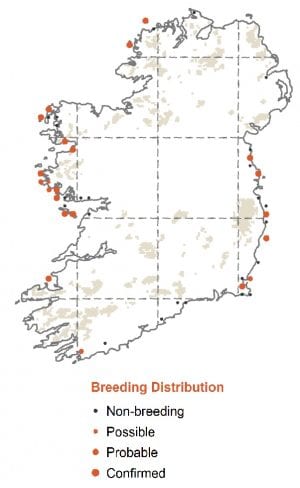 Blog posts about this bird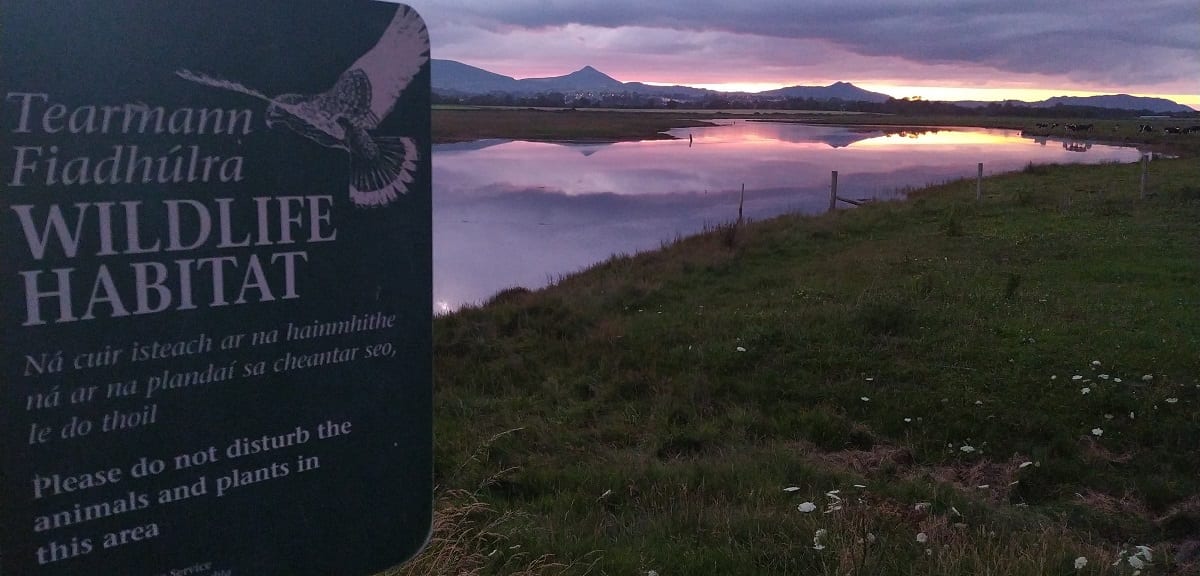 Time to 'Tern' it in at Kilcoole
Now that August is here, it is time to pack up the fencing for another year. We no longer have any active nests left in the colony, with our last nest hatching on the 25th July. Although the fences are now down, there are still a couple of chicks and fledglings on the beach and we would advice people to keep an eye out for them when walking along the shingle and please keep dogs on a lead in the area!
Nest 309, who hatched on the 19th & 20th of July (A. McManus)
This year we have ringed a total of 345 chicks, however as mentioned in the previous blog, we had some casualties of the bad weather. This has left us with 326 ringed birds alive & well, which is a good result overall. This number also excludes a number of birds that managed to escape un-ringed!

Sandwich Terns fishing at Kilcoole. Photo taken by A. McManus.
While the number of birds around the colony starts to dwindle, some of our fledglings have already been spotted in Dublin (Malahide, Portrane) and Louth (Baltray). Tern species generally exhibit this behaviour at the end of the breeding season, moving between different locations along the coastline before migrating south as a group to West Africa! This year we have had Arctic Tern, Common Tern and Sandwich Tern's roosting along the foreshore and fishing around the colony towards the end of the season. These re-sightings wouldn't be possible without the ringing scheme. The metal rings we put on have a 7-digit serial identifying individual birds. We also put on a green Darvic (a type of plastic) ring on the left leg with a three-number/letter code, which indicates the bird originated in Kilcoole. By reading these rings over the lifetime of the birds, we manage to get data on their movements, where they choose to breed and whether that changes from year to year, how successful an individual or pair is at breeding, how long they live and loads of other very detailed information that allows us to plan to conserve and protect them better.
One of Kilcoole's fledglings spotted at the Portrane Little Tern Colony, note the green Darvic ring on the left leg (J. Rod)
Another Kilcoole fledgling spotted at Baltray's Little Tern Colony, again note the colour ring on the left leg (R. Normanly)
That's all the news from Kilcoole for now as we begin analysing the data collected and writing the report for the 2020 season and while we haven't produced any figures yet, it looks like it has been another good season!
Sunset from the hide at Kilcoole (A. McManus)
All the best from Andrew & the Kilcoole 2020 Team!
---
This year's work to protect and monitor the Little Terns and other nesting birds on Kilcoole Beach would not be possible without funding from  the National Parks and Wildlife Service in Wicklow.
To revisit news and blogs from previous years at the Kilcoole LittleTern project, click here.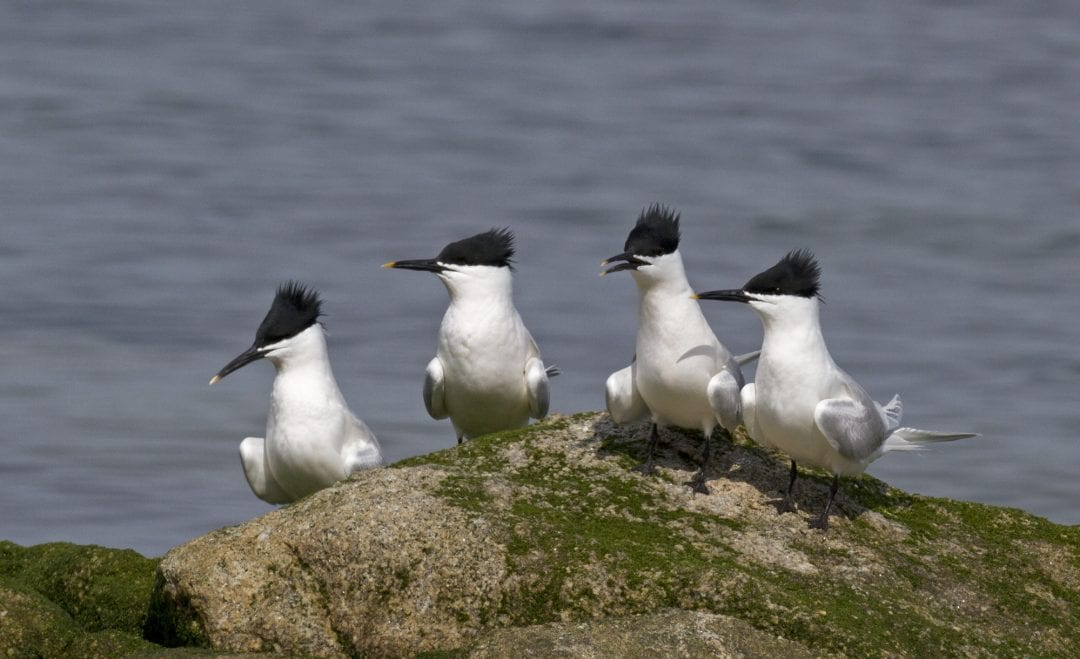 Request for sightings of Terns roosting around the Irish coast
The seabird nesting season is nearly over for most species. With the exception of some species like Gannets and Manx Shearwaters that have some of the longest chick-rearing periods of all of our birds here in Ireland, most seabirds have finished nesting and their chicks have fledged. Gull chicks have taken to the air, Puffin chicks have fled from their burrows, and Razorbill chicks have taken a big leap of faith off their nesting cliff ledge. Our five species of Terns – Sandwich Terns, Common Terns, Arctic Terns, Roseate Terns and Little Terns are all preparing to head back to Africa and beyond, but first they'll spend a few weeks feeding and resting in preparation – you can't start a big journey on an empty stomach (equally applicable to humans!).
We need your help to find out what locations they're using to roost (i.e. rest) in August and September, to help inform the management and protection of these sites in the future.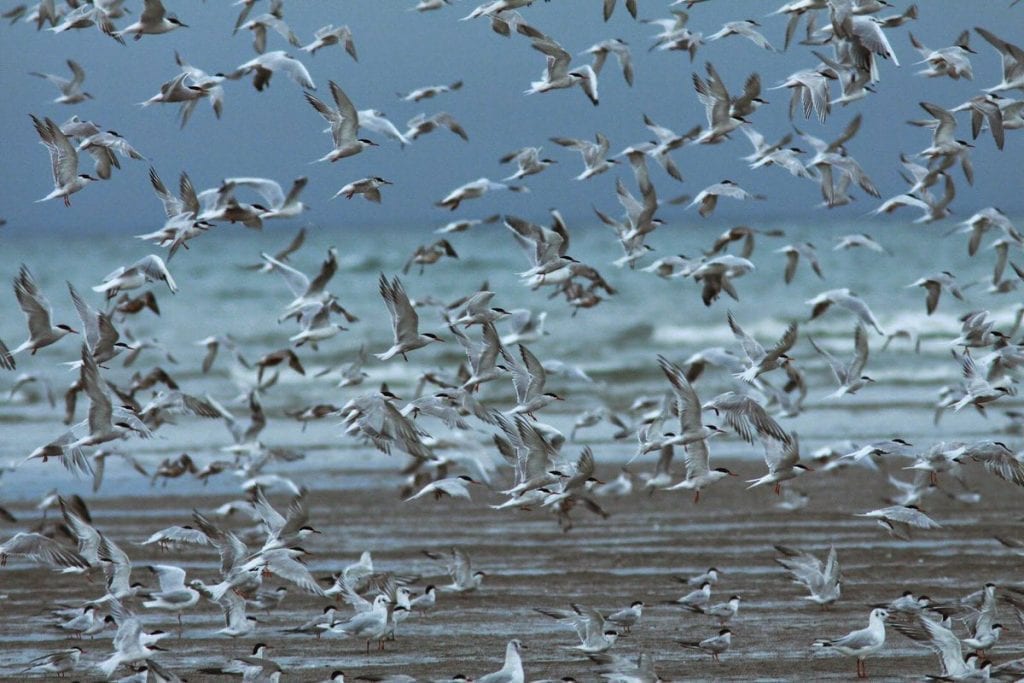 Hundreds of Common and Arctic Terns taking flight from a roost at Sandymount Strand in Dublin.
Between now and the end of September there will be flocks of tens, hundreds, and in some cases thousands of Terns resting along the Irish coast in the evening and spending their days catching fish and building their fat reserves to ensure they make it safely to the breeding grounds. It won't just be Terns from the Irish colonies that will be here, but thousands of birds from the UK and even mainland Europe, all heading west to enjoy what Irish waters have to offer, before heading south. Without these sites where they can rest together and build their fat reserves, they would struggle to survive the arduous journey to west Africa (Common and Roseate Terns), South Africa (Sandwich Terns) and Antarctica (Arctic Terns).  With this in mind, it's important that we know the locations where the Terns are resting (a.k.a. 'roosting') so that we can monitor and protect them – and for this, we need your help!
If you see any Terns resting/roosting on a beach or coastal rocks in the coming weeks, please let us know by submitting details here: https://www.surveymonkey.com/r/TernRoost .
It doesn't matter if you can't identify the species, and it's fine to just get a rough count of how many are present – it's all important information for us to capture!
The locations used by Terns in this way are known as 'stopover' or 'staging' sites – i.e. they're stopping or taking a break here before heading off on the rest of their journey. Since 2016 we've been gathering records of these sites from birdwatchers all around the coast to identify where the most important locations are for each species, and determine any patterns in usage – are they used by all species of terns, or just some? Are they 'busy' at the same time of year, or does it vary? Are they used by similar numbers each year, or are there good years and bad years?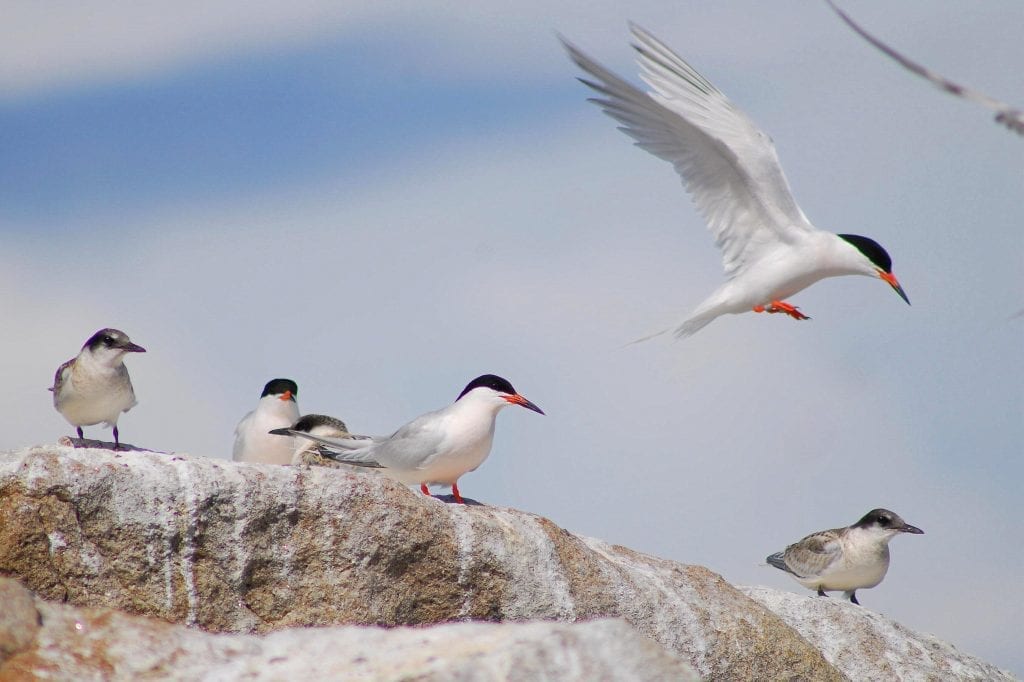 Roosting adult and juvenile Roseate Terns.
We published the results of the first three years of this 'Post-breeding Tern survey' in the Irish Birds journal earlier this year, identifying 45 different sites around the Irish coast used by Terns during August and September in advance of migration. The numbers and timing of Terns being present varied considerably from year to year, and the study very much highlighted the need to gather this sort of data every year if we want to ensure we protect our Terns at their most important sites. See below for the distribution of tern roosts in the first three years (2016-2018) of this study.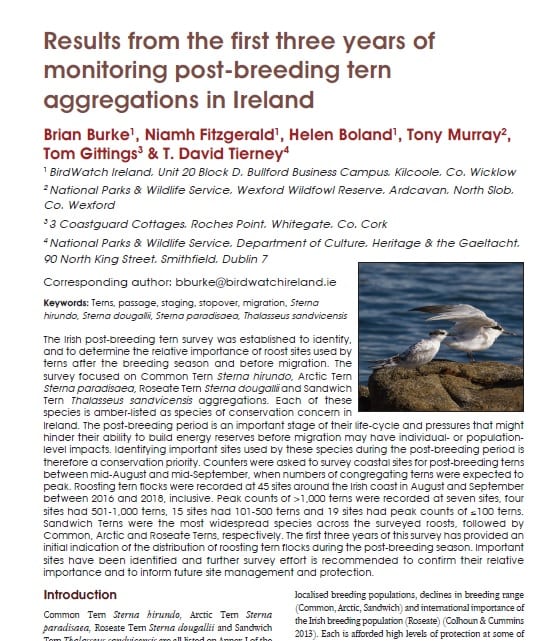 So please, keep your eyes peeled if you're around the coast in the coming weeks, particularly in the evenings when the Terns will be settling down for the night. If you see any Terns roosting (not flying/feeding) then please record whatever details you can at
https://www.surveymonkey.com/r/TernRoost
See below for maps of the locations of roosts of different tern species from 2016 to 2018: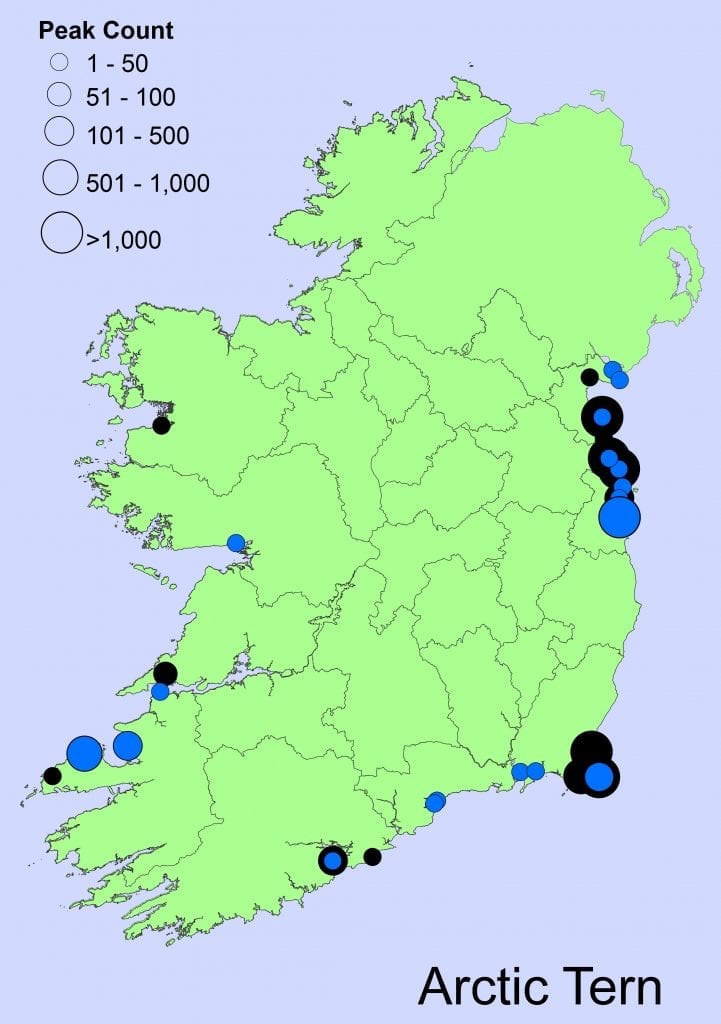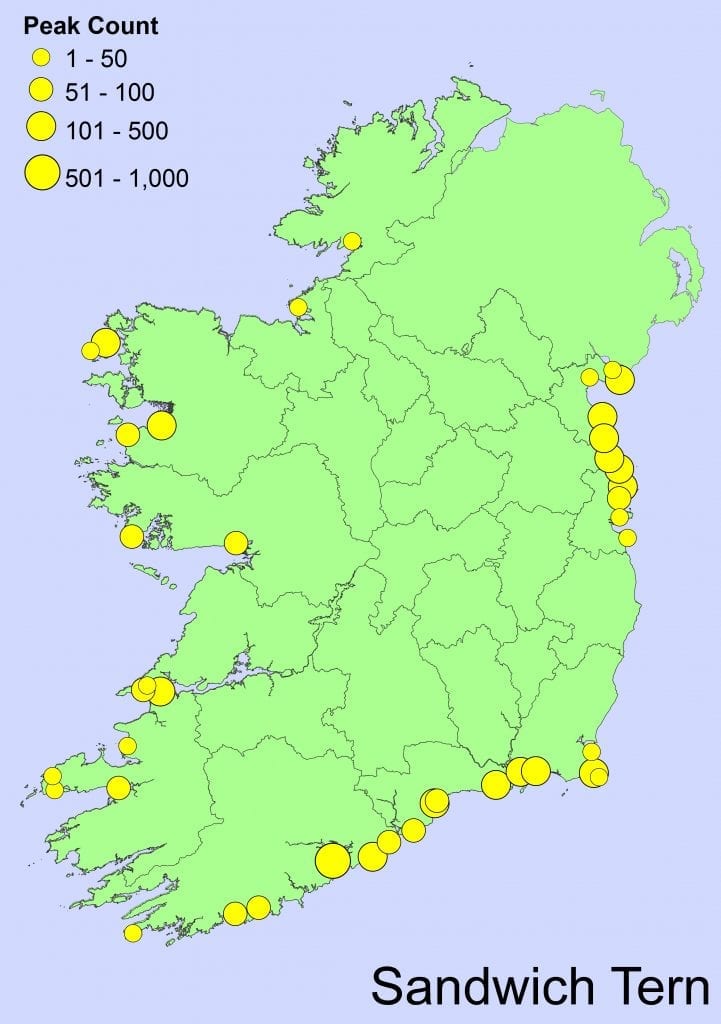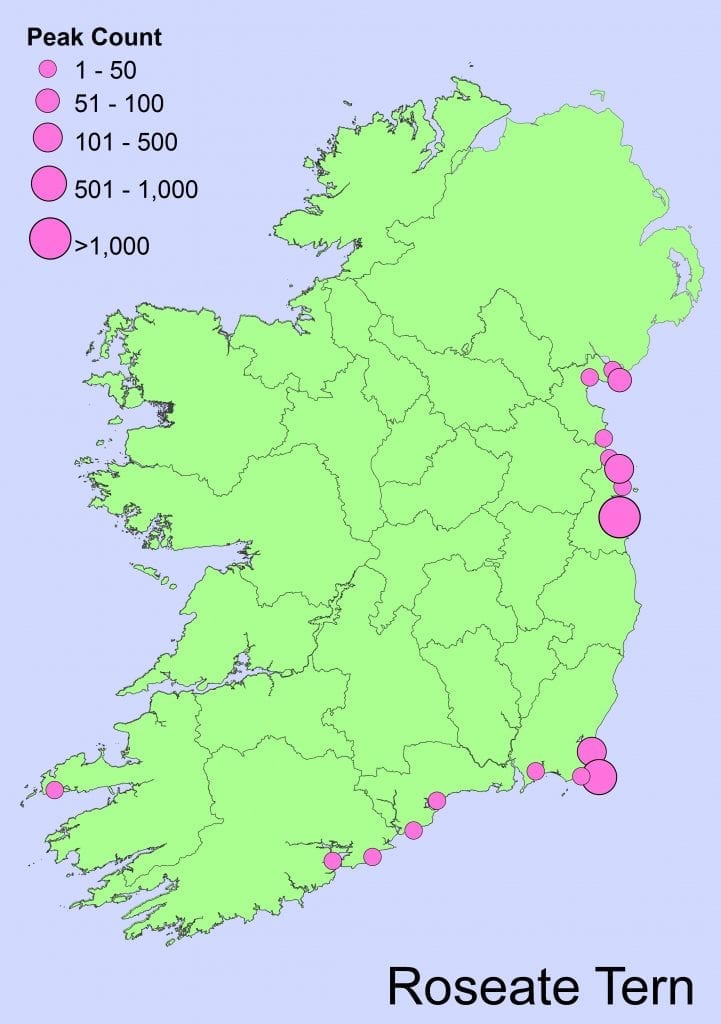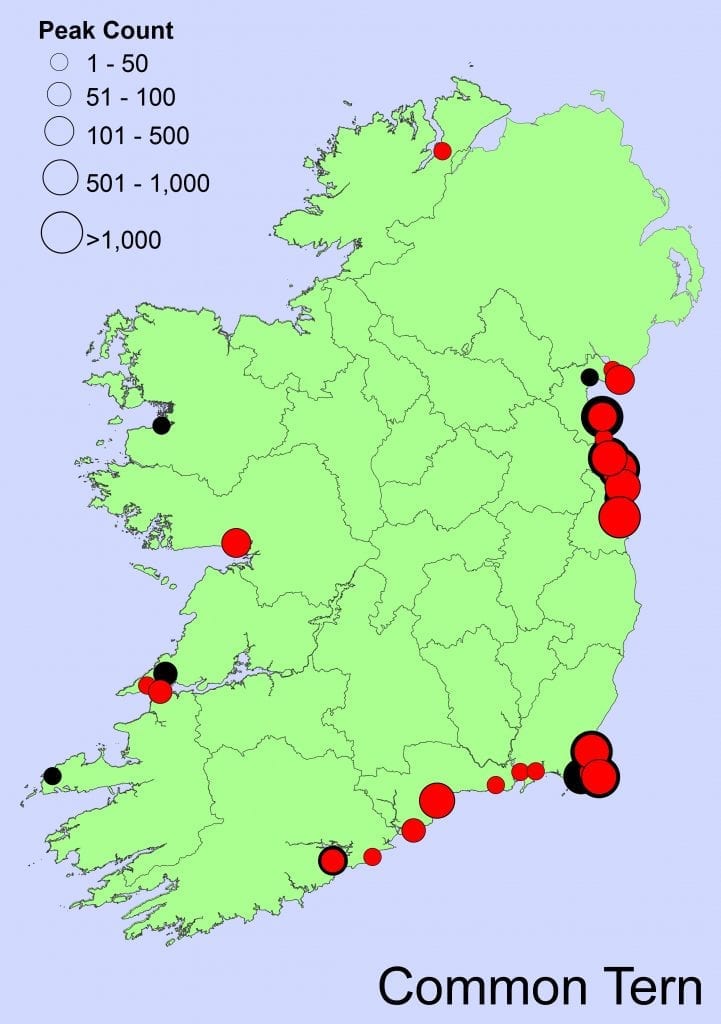 If you want to get out and see some Tern roosts we'd recommend some of the locations below. Best to visit in the evening and when the tide is pretty high:
Louth – Clogherhead beach
Meath – Gormanstown
Dublin – Skerries Coast or Sandymount Strand
Wexford – Crossfintan Point
Waterford – Clonea Bay
Cork – Cork Harbour
Kerry – Brandon Bay, Tralee Bay
Galway – Galway Bay
Mayo – Clew Bay
Sligo– Drumcliff Bay
Donegal – Donegal Bay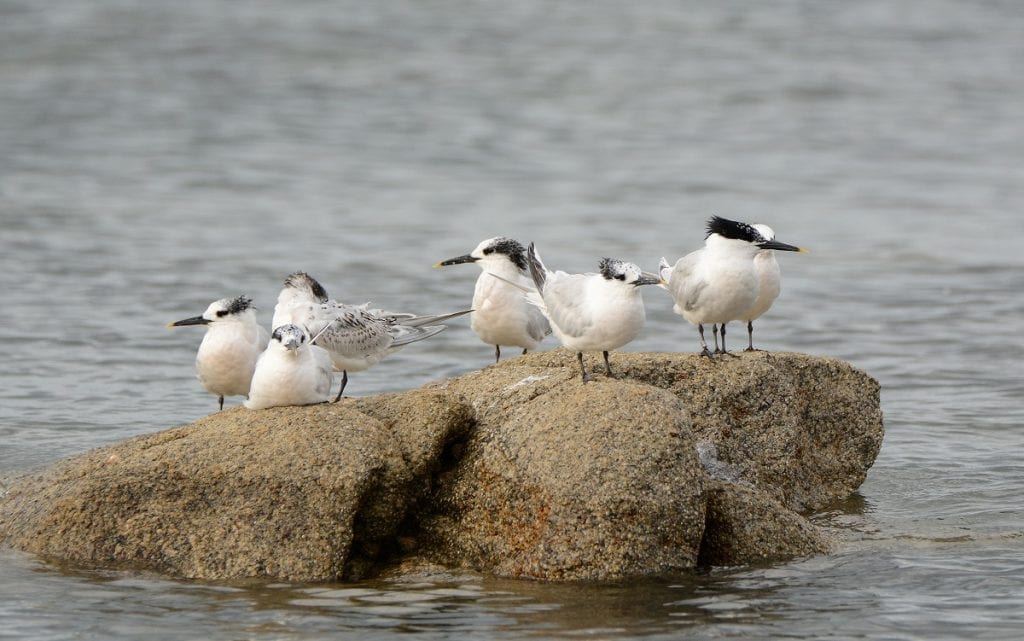 Sandwich Terns roosting on a small rock at high tide.
---
This post-breeding Tern monitoring project is part of the Irish Wetland Bird Survey (I-WeBS), which is coordinated by BirdWatch Ireland and funded by the the National Parks and Wildlife Service /