Corncrake
| | |
| --- | --- |
| Irish Name: | Traonach |
| Scientific name: | Crex crex |
| Bird Family: | Crakes & Rails |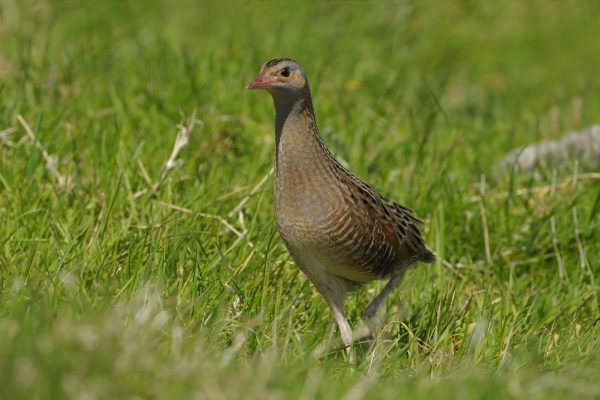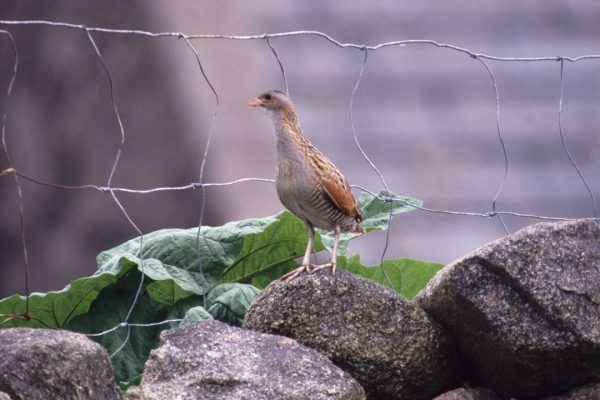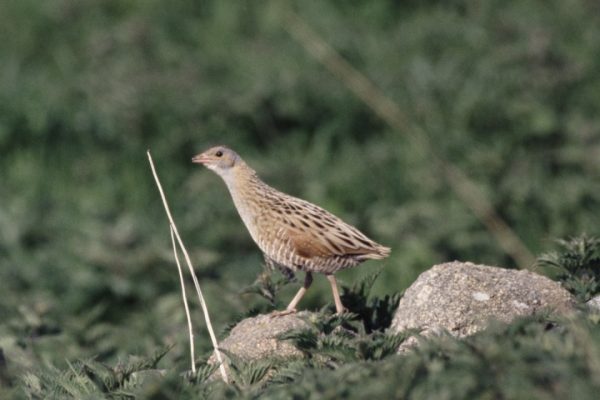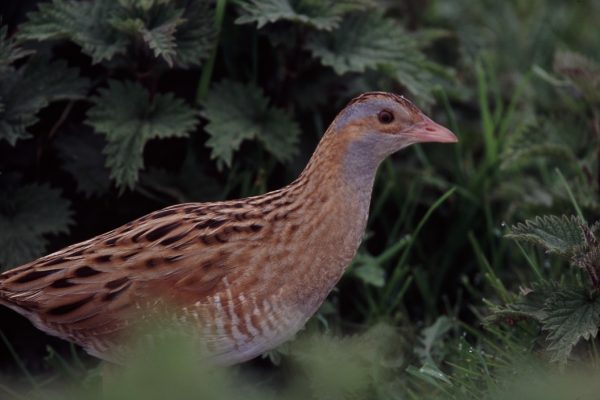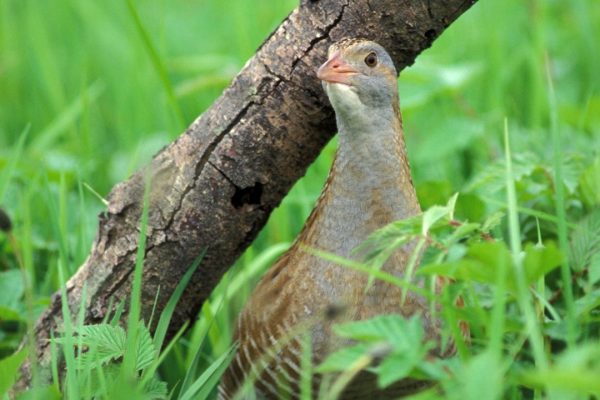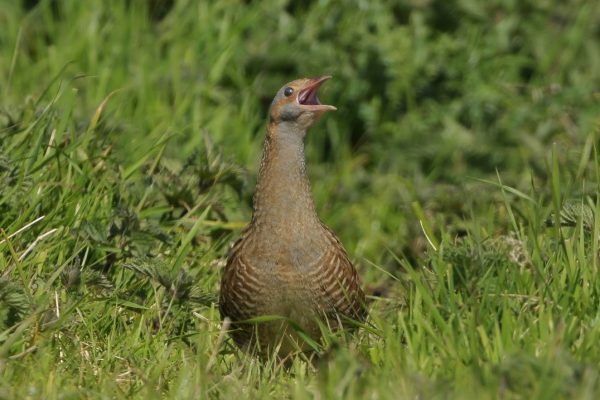 Status
Summer visitor from April to September.
Identification
A shy, secretive bird of hay meadows. The distinctive kerrx-kerrx call of the male often being the only indication of their presence. Adults show a brown, streaked crown with blue-grey cheeks and chestnut eye-stripe. Breast buffish grey with chestnut smudges on breast sides. Flanks show chestnut, white and thick black barring, fading on undertail. Wings bright chestnut, striking in flight. Short bill and yellow-brown legs. Prefers to run through thick cover, dropping quickly back into cover when flushed. Flight is weak and floppy. Large bright chestnut patches on wings and dangling legs are distinctive in flight
Voice
Males give a very loud, distinctive kerrx-kerrx call during the breeding season, which is repeated during the day in fits and starts, reaches a peak about dusk and continuing through the night till dawn. Its onomatopoeic Latin name seems to be derived from this sound
Diet
Corncrakes eat about four-fifths animal food and one-fifth vegetable matter. The animal part consists mainly of insects, but slugs, snails and earthworms are also eaten. Plant material taken includes seeds of grasses and sedges, eaten in larger quantities in the autumn.
Breeding
Breeding is from mid May to early August. Nests on the ground in tall vegetation. Most nests are in hay fields. The greenish-grey mottled eggs hatch after seventeen days of incubation. For the first four days after hatching the chicks are fed by their mother. They then learn rapidly to feed themselves. Flight takes place in a little over thirty days. Females have two broods, the first hatching in mid June and the second one in late July to early August. There can be as little as two weeks between the chicks fledging from the first brood to laying a second clutch.
Monitored by
Major annual conservation measures to protect this endangered species.
Formerly a common summer visitor, Corncrakes have suffered drastic population declines this century and are threatened with global extinction. Now only present in small numbers in North Donegal and Western parts of Mayo and Connaught. This decline is due in most part to intensive farming practices including early mowing to make silage and mechanised hay making practices which have destroyed nests and driven Corncrakes from old habitats. Now Corncrakes are confined to areas where difficult terrain precludes the use of machinery and where traditional late haymaking still takes place.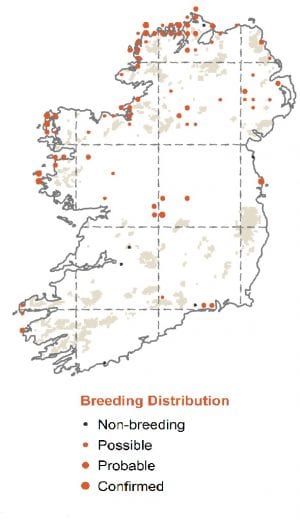 Winters in South East Africa.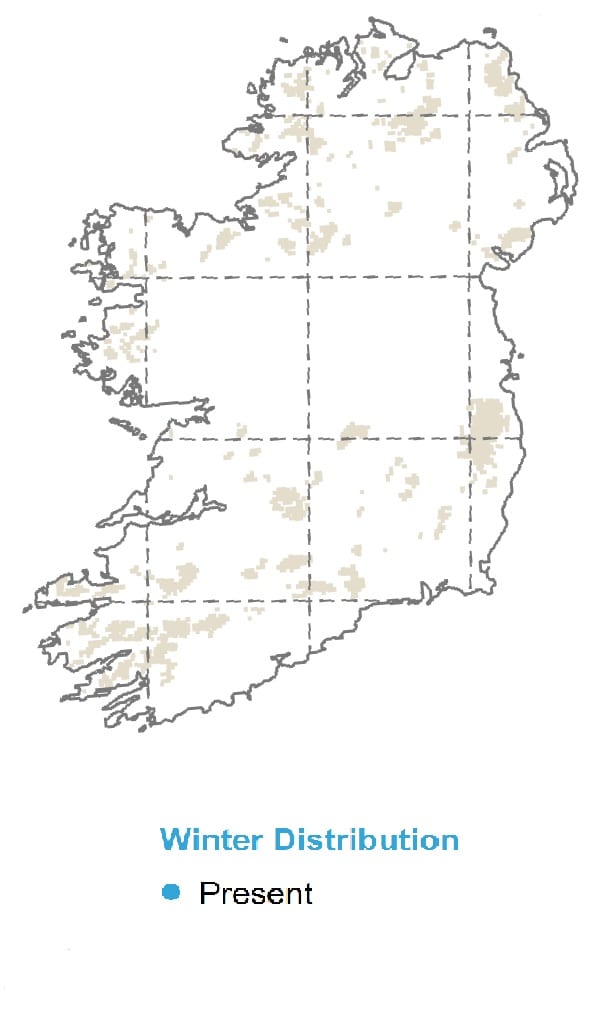 Blog posts about this bird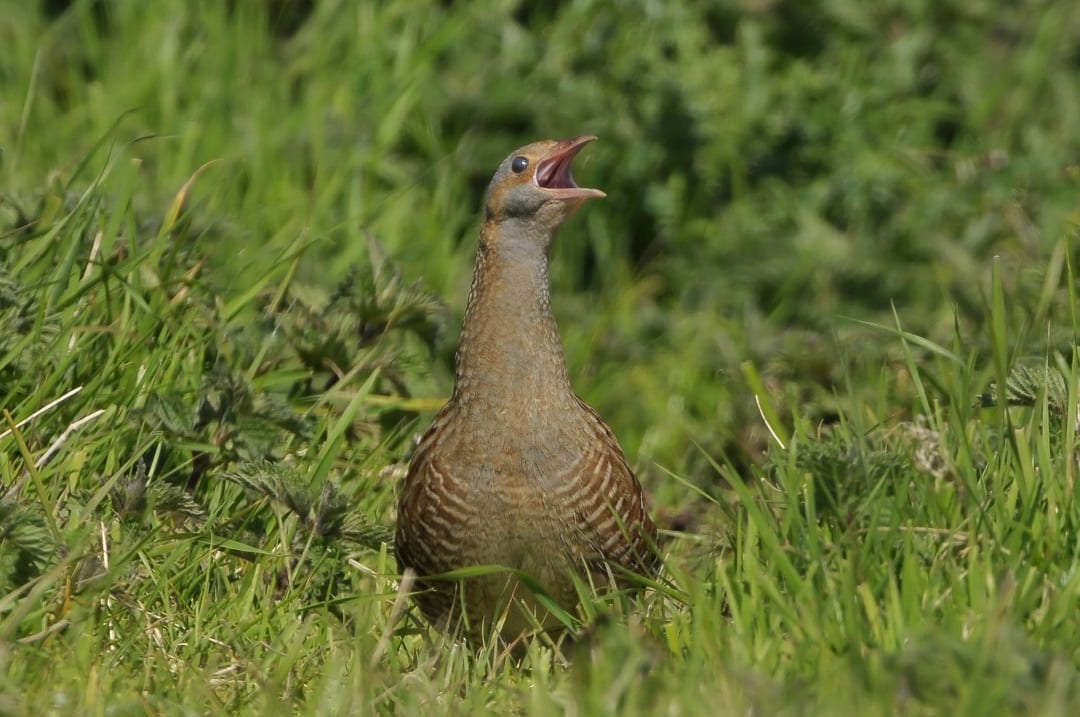 Positive news for Ireland's Corncrake population but numbers remain critically low
BirdWatch Ireland welcomes the news that Ireland's
Corncrake
population is on the rise but says that cautious optimism is required as numbers still remain critically low. Data released by the National Parks and Wildlife Service (NPWS) on Wednesday showed that numbers of Corncrakes recorded in the core breeding areas of Donegal, Mayo and Galway have increased since 2022. Additionally, the survey data notes the first confirmed sighting of a Corncrake on the Aran Islands for 25 years. A total of 218 Corncrake breeding territories were recorded in 2023, up by 10 per cent on 2022 and exceeding 200 for the first time in a decade. Since 2021, the Corncrake/Traonach LIFE Project – a five-year project funded through the EU and co-ordinated by the NPWS – has been working on a number of measures aimed at preventing the further decline of the Corncrake. Data about the Corncrake population in Ireland is gathered on an annual basis. BirdWatch Ireland welcomes the positive news for Corncrakes in Ireland. Through schemes implemented by Corncrake Life, farmers and landowners in the core breeding areas of Donegal, Mayo and Galway are managing 1,500 hectares of land for corncrakes. This includes just under 10ha of land owned by BirdWatch Ireland at our reserve at Termoncarragh, Co. Mayo, where four calling males were recorded this summer. With the numbers rising from a very low baseline, the organisation said there is a dire need for such conservation efforts to be continued and expanded upon if we are to bring the species back from the brink of extinction in Ireland. The Corncrake is a red-listed species that has suffered drastic population declines in recent decades. Once a common summer visitor whose distinctive "kerrx-kerrx" call was heard across Ireland, it is now confined to small parts of Donegal and Western parts of Connaught.  Their population decline is largely due to the advent of intensive farming practices, particularly the conversion of hay meadows to multiple cut silage and loss of marginal vegetation which would have provided cover for the birds on their first arrival in spring.  Corncrakes are now confined to areas where traditional farming methods are still utilised. BirdWatch Ireland staff are involved in Corncrake conservation measures including habitat management on Tory Island off the coast of Co Donegal and on our Termoncarragh Reserve in Co Mayo. This involves working very closely with local farmers and landowners, who play a crucial role in this vital work. Members of the public also play a vital role in Corncrake conservation as they are our eyes and ears around the country.  Corncrakes are nearing the end of their breeding season for this year so hearing the distinctive call would be unusual. However, if you have been fortunate enough to see or hear a Corncrake, we would ask you please to report it, along with as much information as you can about the location, habitat, appearance, sound and behaviour of the bird, via the
Corncrake Life website
. This will help to provide much-needed information on these scarce birds and will aid efforts to conserve this species in Ireland.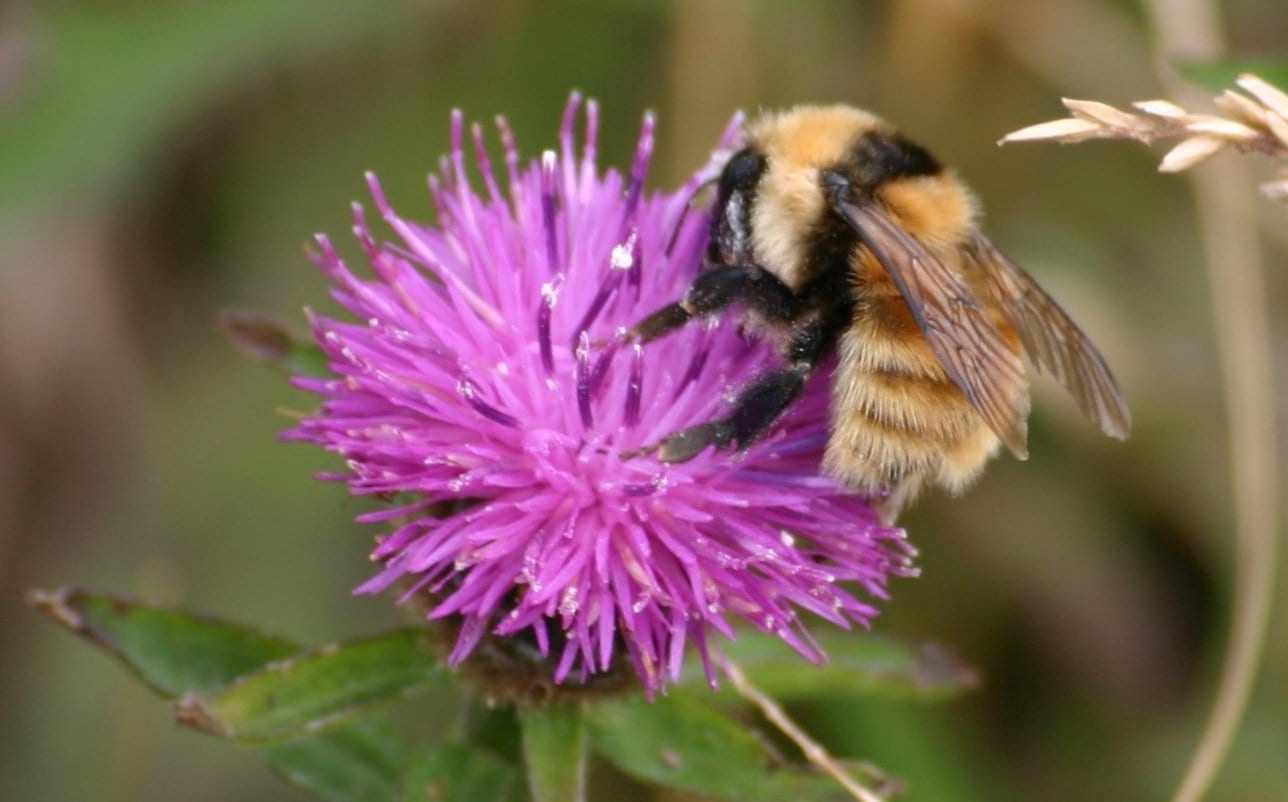 Conserving the Great Yellow Bumblebee in Co. Mayo
BirdWatch Ireland is not just for the birds. A recent paper published in the Journal of Insect Conservation highlights that our reserves on the Mullet Peninsula hold the highest numbers of one of the rarest insects in Ireland: the Great Yellow Bumblebee.
Our reserves on the Mullet Peninsula extend to some 50 hectares over three different sites. Nearly half of this constitutes the Termoncarragh Lake 'bed', whilst the rest is associated with our Annagh Marsh reserve and Termoncarragh Meadows and coastal grasslands reserve. At these sites our focus species during the summer months are either breeding waders or breeding Corncrakes and therefore our management is geared towards providing the conditions necessary to improve their breeding successes. However, it is not just the birds that have benefited from this management! We first became aware of a rather rare bee, called the Great Yellow Bumblebee
Bombus distinguendus
, in the summer of 2002, when on a lunchtime stroll a few were seen foraging on Common Knapweed plants at our Annagh Marsh reserve. Each summer thereafter more were noted, and as our meadows at Termoncarragh started to develop into more species-rich grasslands, these bumblebees became more evident there. However, it wasn't until the Bumblebee Monitoring Scheme was established in 2011, as part of the Irish Pollinator Initiative, that we began systematically to record their numbers at these reserves. In that first summer we recorded peak numbers of some 30 Great Yellow Bumblebee workers on the two transect walks, something not witnessed elsewhere in the country. Today similar numbers are still recorded foraging during August.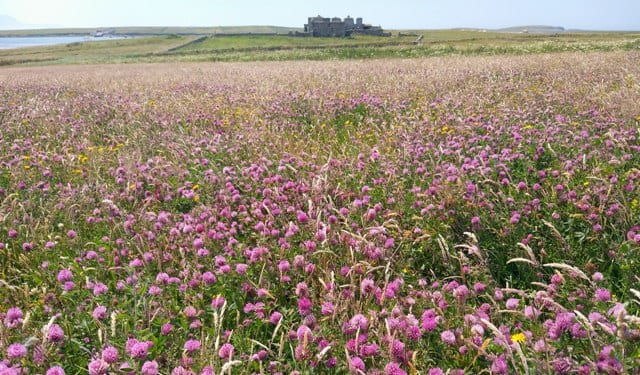 BirdWatch Ireland's Termoncarragh Meadows Nature Reserve, Mullet Peninsula, Co. Mayo: meadow with extensive Red Clover (Dave Suddaby)
With more diligent searching we have, in recent summers, started to find the nests of these very special insects within the earthen boundary walls and within grass tussocks, which has given us a rare opportunity to study their nesting behaviour. However, very little is known about their requirements, especially in an Irish context, and so to further our knowledge, research was carried out in summer 2019 by University College Dublin. The research study confirmed that the Great Yellow Bumblebee is a rare bee, even on the Mullet Peninsula which is home to the only remaining population currently known, and that BirdWatch Ireland's reserve areas hold the highest numbers. The study also confirmed that they favour foraging on Common Knapweed, although they do also forage on a variety of other plants, particularly clovers and vetches. Our management at our reserves remains focused on breeding waders and breeding Corncrakes, although this works well for these bumblebees and other pollinators, in that we provide good stands of foraging plants such as Kidney Vetch, Red Clover and Common Knapweed for them in the grassland structure. Then when it comes to the autumn, delaying mowing, which is good for Corncrakes, also benefits these foraging plants in allowing them to set seed. At this time we also leave areas unmown, which brings additional benefits, such as providing areas for winter hibernation for the bumblebees.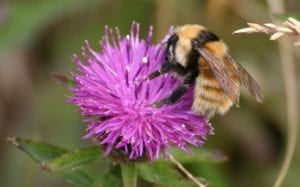 Great Yellow Bumblebee at BirdWatch Ireland's Termoncarragh Meadows Nature Reserve (Dave Suddaby)
The Great Yellow Bumblebee is a rare bee, classified as Endangered on the Irish Red List. It is a very distinctive bee, being 'big and blonde', and although they are active from May, if you are keen to see one then the best time to visit is from late June to August, especially on a fine sunny day when the workers are actively out foraging. Beware though that a similar-looking big blonde bee, the Moss Carder Bumblebee, will also be out foraging in numbers at this time! For more information - •
Investigating the ecology of the Great Yellow Bumblebee (Bombus distinguendus) within the wider bumblebee community in North-West Ireland
• All-Ireland Pollinator Plan:
Protecting Rare Pollinators guidelines: Great Yellow Bumblebee
Dave Suddaby Reserves Manager