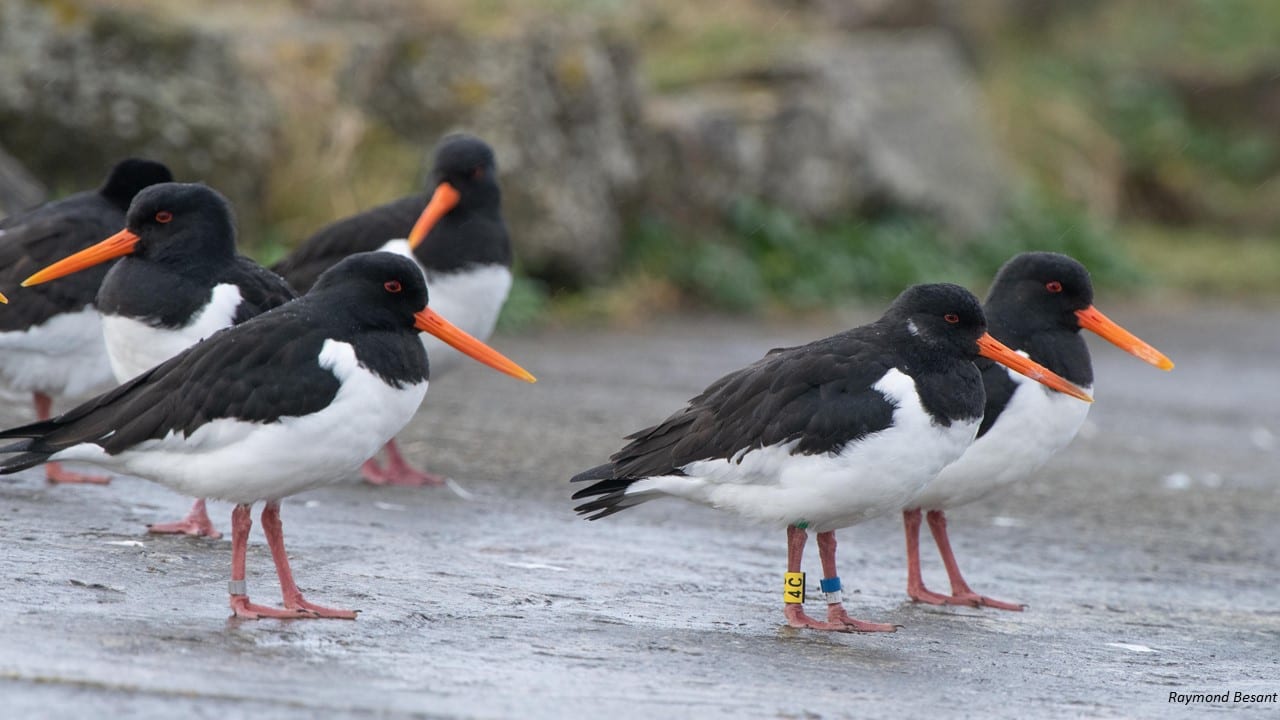 Migration is an amazing event! At the minute, Sandwich Terns are arriving to our shores in ever increasing numbers, their raucous calls and mohawks a bugle horn denoting spring. Reports of Swallows, Chiffchaffs, Blackcaps and Willow Warblers are coming in thick and fast. As these incoming migrants rush towards us though, our shores are emptying of waterbirds making their way to the breeding grounds.
Sandwich Terns. (Shay Connolly)
For Oystercatchers in Dublin Bay, the principal destinations during the breeding season are Scotland and Iceland, with a smaller number recorded in Norway. We know this thanks to colour ringing efforts by the Dublin Bay Birds Project and other ringing schemes. Colour rings are small rings which allow us to individually identify birds through either a unique inscription or combination of colours.
Colour-ringed Oystercatcher on the Isle of Bute, Scotland. (Ian Hopkins)
However, not all Dublin Bay Oystercatchers will leave our shores for more northerly climes. In fact, Oystercatchers are one of the few wading species that do not all but disappear from Dublin Bay during the breeding season. On average over 600 Oystercatchers have been recorded in Dublin Bay between May and June over the last seven years.
Oystercatchers in Dublin Bay: mean peak numbers per month 2013-2020 *(April: 2013-2019, Covid-19 restrictions), Dublin Bay Birds Project. Photo credit: Helen Boland.
Oystercatchers stay in Dublin Bay during the summer months for a couple of reasons. A small number breed in the local area. For instance, nine pairs were found breeding on the Dalkey islands (Dublin Bay-south) last year.
Oystercatcher and chick. (John Haslam)
One of the males in these pairs, just happened to have been colour ringed by the Dublin Bay Birds Project back in 2014, on Sandymount Strand. 'PF'  is known to have been breeding on Maiden Rock, a small islet that is part of the Dalkey islands complex, since at least 2015. With an annual commute of roughly 8 km from the wintering to the breeding grounds, this Oystercatcher has hit the jackpot in the migration stakes!
Oystercatcher 'PF' caught on camera on Maiden Rock, Dalkey islands in June 2020.
Another reason Oystercatchers remain in Ireland during the breeding season is age. Many young Oystercatchers that hatched in Scotland, Iceland and even Norway, will arrive in Ireland and won't leave our shores for roughly another 30 months. Ireland's more temperate climate and a comparative lack of competition for resources than at the breeding grounds, are probably the key drivers behind this decision.
Adult Oystercatcher in foreground, juvenile Oystercatcher in background. Note that the adult has red irises while the juvenile has brown irises and browner plumage overall. (Helen Boland).
This disparity in the ages of Oystercatchers still remaining in Dublin Bay is already apparent. When out ring reading last week, I noticed that six of the nine Oystercatcher rings I read were on two-year old birds. Oystercatchers don't begin to breed until at least three years of age, so we should see a lot more of these young'uns this summer.
If you would like to learn more about where Dublin Bay Oystercatchers have been spotted, why not head to our shores (if within your limit of course), with your binoculars, telescope or camera if you have it, and see if you can read some rings. It's a lovely way to make a difference and spend an hour or two. You can submit your resightings here. The Dublin Bay Birds Project colour-ring combinations are shown below. Birds colour-ringed at North Bull Island have a blue colour-ring with no inscription on the left leg rather than a yellow one.
Many thanks to everyone who has submitted colour rings over the years! And also, as always a massive thanks to Dublin Port Company for funding this work!
Dublin Bay Birds Project colour ring combination for wading birds ringed on south Dublin Bay. (Helen Boland).