Greylag Goose
| | |
| --- | --- |
| Irish Name: | Gé Ghlas |
| Scientific name: | Anser anser |
| Bird Family: | Geese |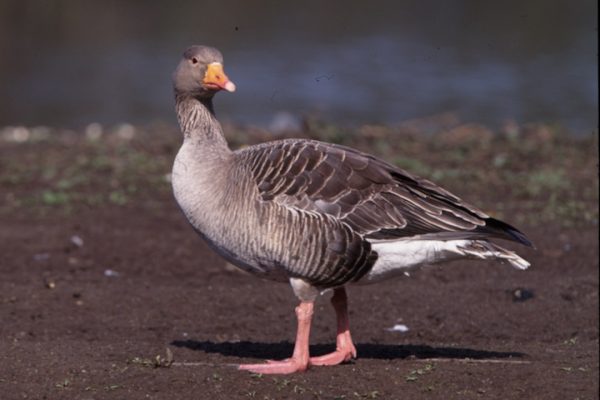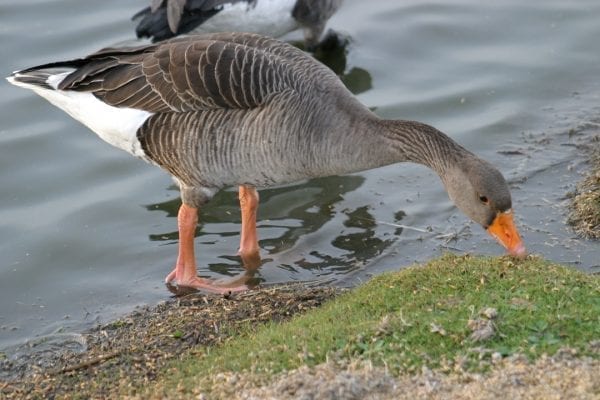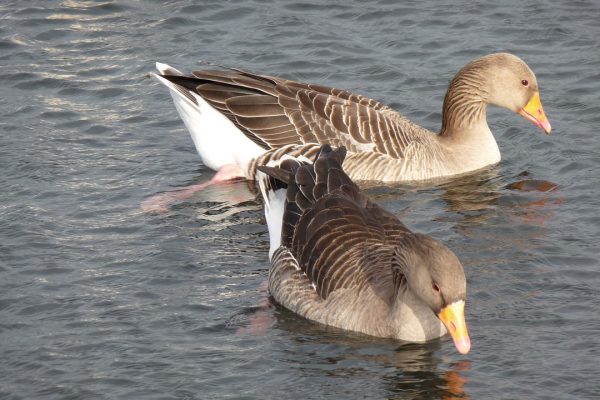 Status
Winter migrant, with Icelandic birds between November & April. Feral birds are present year round.
Identification
Large bulky grey goose, with pinkish-orange bill and dull pink legs. Plumage is plain grey/brown. Some with thin white rim at the base of the bill, and many with dark marks on the belly.
Voice
Nasal cackling noise, trisyllabic, with the first higher pitched.
Diet
Greylag Geese used to concentrate more on estuaries, where they fed on the roots of rushes and sedges. Arable farming in Scotland increased during the post-war years, and appeared to coincide with increasing numbers of Greylag Geese switching to feed on arable farmland. Greylag Geese currently feed mostly on cereal stubble and grassland in their wintering areas.
Breeding
Breeds by lakes and reservoirs, with the nest site often close to water and hidden in reeds or other waterside vegetation. Nests in pairs, but locally colonially.
Wintering
The Icelandic population winters in Scotland and Ireland, occurring mostly at coastal sites. Highly gregarious.
Breeding populations have patchy distribution, largest numbers breeding in Iceland.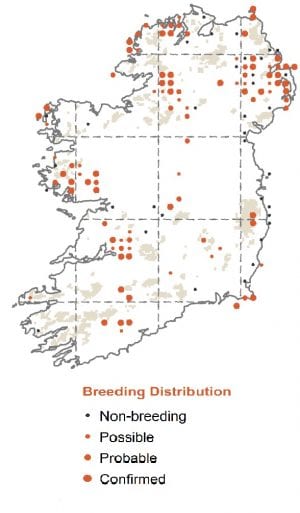 In Winter Icelandic birds occur at seven main locations, with numbers reaching 3,000, but usually in low hundreds, feeding on grasslands. The feral population is more widespread, occurring usually in smaller numbers, usually less than 10, throughout the country. Lough Swilly in County Donegal, Braganstown in County Louth, Poulaphouca Reservoir in County Wicklow, Mountseskin/Gortlum in County Dublin and the River Suir Lower in County Waterford are among the top sites.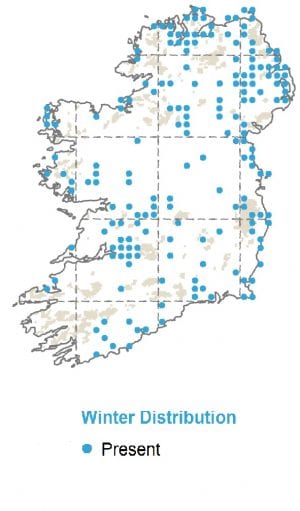 Blog posts about this bird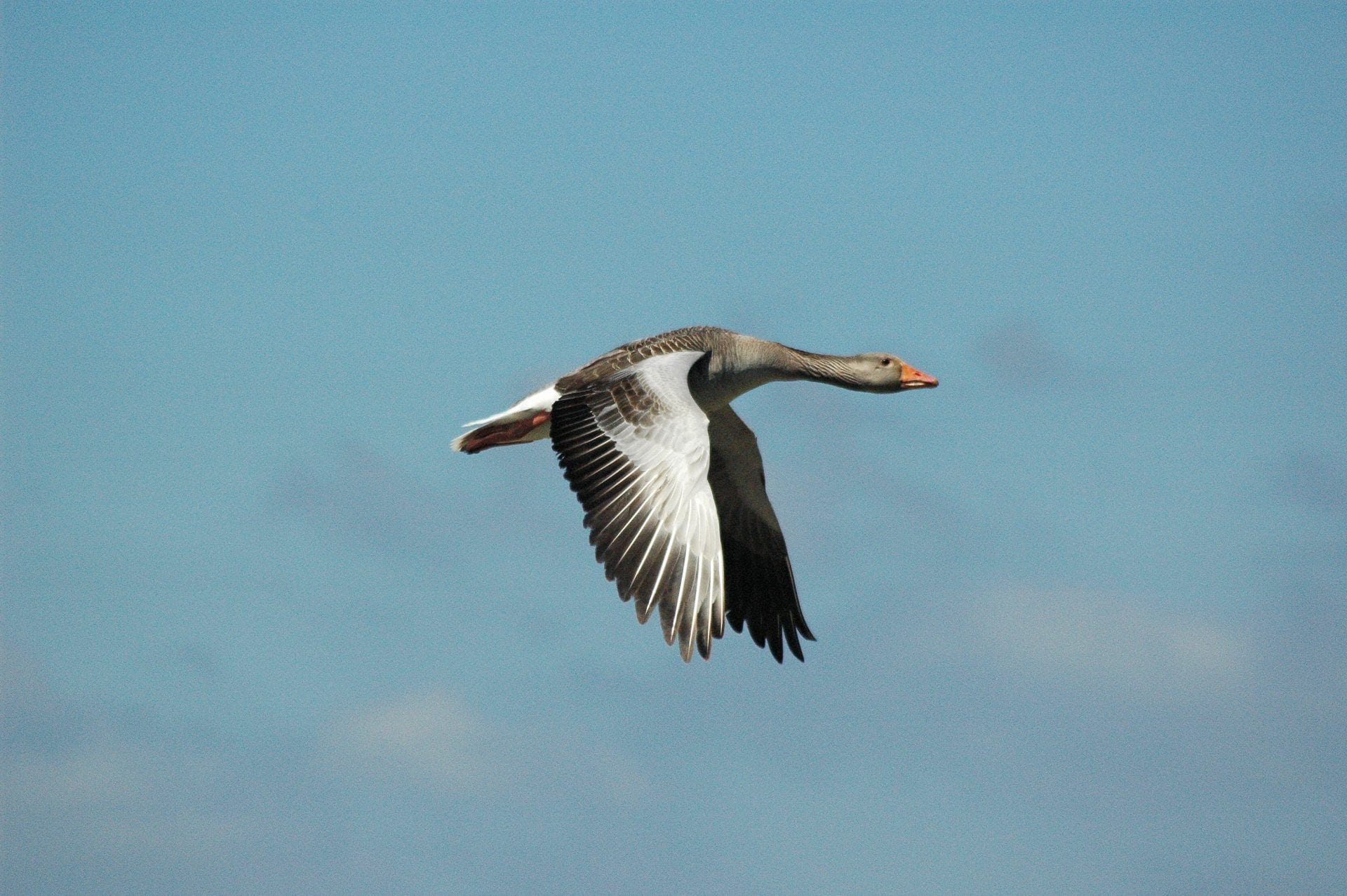 BirdWatch Ireland urge people to report any signs of bird flu in their area
A number of cases of Avian Influenza ('bird flu') have been confirmed in wild birds in Ireland since the start of the month. There are no known risks to human health, and similarly this isn't going to affect your garden birds, but please watch out for sick or dead waterbirds, birds of prey, or potentially large numbers of dead crows or starlings which may have died as a result of this virus. If you find any such birds, don't touch them, but rather report them immediately to the Department of Agriculture via the link below. It is important that any potential cases of avian influenza are investigated and documented appropriately in order to monitor the spread of the virus.
There are numerous strains and subtypes of the avian influenza virus that each vary in severity. The strain that has recently been detected in some wild birds in Ireland is Highly Pathogenic Avian Influenza (HPAI) H5N1, which spreads easily between birds and causes illness, with a high death rate. This strain had been detected in a number of European countries before arriving into Ireland this month as wild birds migrate southwards and westwards for the winter.
BirdWatch Ireland are part of an early warning system
with regard to surveillance for signs of disease in wild birds, together with colleagues in the National Parks and Wildlife Service (NPWS), the Department of Agriculture, Food and the Marine and the National Association of Regional Game Councils (NAGC).
What is the current situation with regards Avian Influenza in the Republic of Ireland?
To date there have been confirmed mortalities from the H5N1 strain of highly pathogenic avian influenza in counties Galway, Roscommon, Offaly, Donegal and Kerry, with further cases under investigation in other counties. The birds known to have been infected so far are Whooper Swans, Greylag Geese, Peregrine Falcons and a White-tailed Eagle. In winter, waterbirds of a range of different species congregate together at wetlands across the country, which allows the virus to spread easily amongst waterbird flocks and between species. When these birds become sick, they are easy prey for raptors such as Peregrines and Eagles, hence these species are often infected also.
What are the signs to watch out for?
Firstly, it's important to be aware that the only wild birds expected to become infected at present are waterbird species (wildfowl, waders, gulls) and birds of prey. If you own chickens or other poultry then please consult
the Department of Agriculture website for further advice
. If you find a dead waterbird of bird of prey, where the cause of death isn't obvious (e.g. car collision) then it's best to report it to the Department of Agriculture, so it can be collected and tested. If you find a bird of these species that's acting unwell or otherwise behaving strangely, then this too should be reported. It's important to note that potentially
sick birds should not be brought to a wildlife rehabilitator or the National Wildlife Hospital in Meath, as this could risk infecting the birds already in their care
. If you find a sick bird,
report it via this link first
, and secondly you may want to call the Avian Influenza Hotline (01 6072512 during office hours or 01 4928026 outside office hours).
Should I stop feeding my garden birds?
Although it is possible for garden bird species to get bird flu, they are at very low risk at present, for the simple reason that they don't interact with the species currently infected (i.e. waterbirds). As such, there is no reason to stop feeding your garden birds. If the situation deteriorates and this advice changes, we will spread the word and ensure everyone knows.
What should I do if I own poultry?
To date there have been no cases in poultry flocks in Ireland, but poultry owners should familiarise themselves with
Department of Agriculture guidance on biosecurity and the new regulations
introduced as a precautionary measure. It should be stressed that there is
no food safety risk for consumers
and that properly cooked poultry and poultry products are safe to eat.
What is the situation in Northern Ireland?
Full details on restrictions for poultry flock owners, and where to report possible cases in wild birds in Northern Ireland,
can be found on the DAERA website here
.
Further information and updates are regularly made available on the Department of Agriculture website:
https://www.gov.ie/en/publication/50ce4-avian-influenza-bird-flu/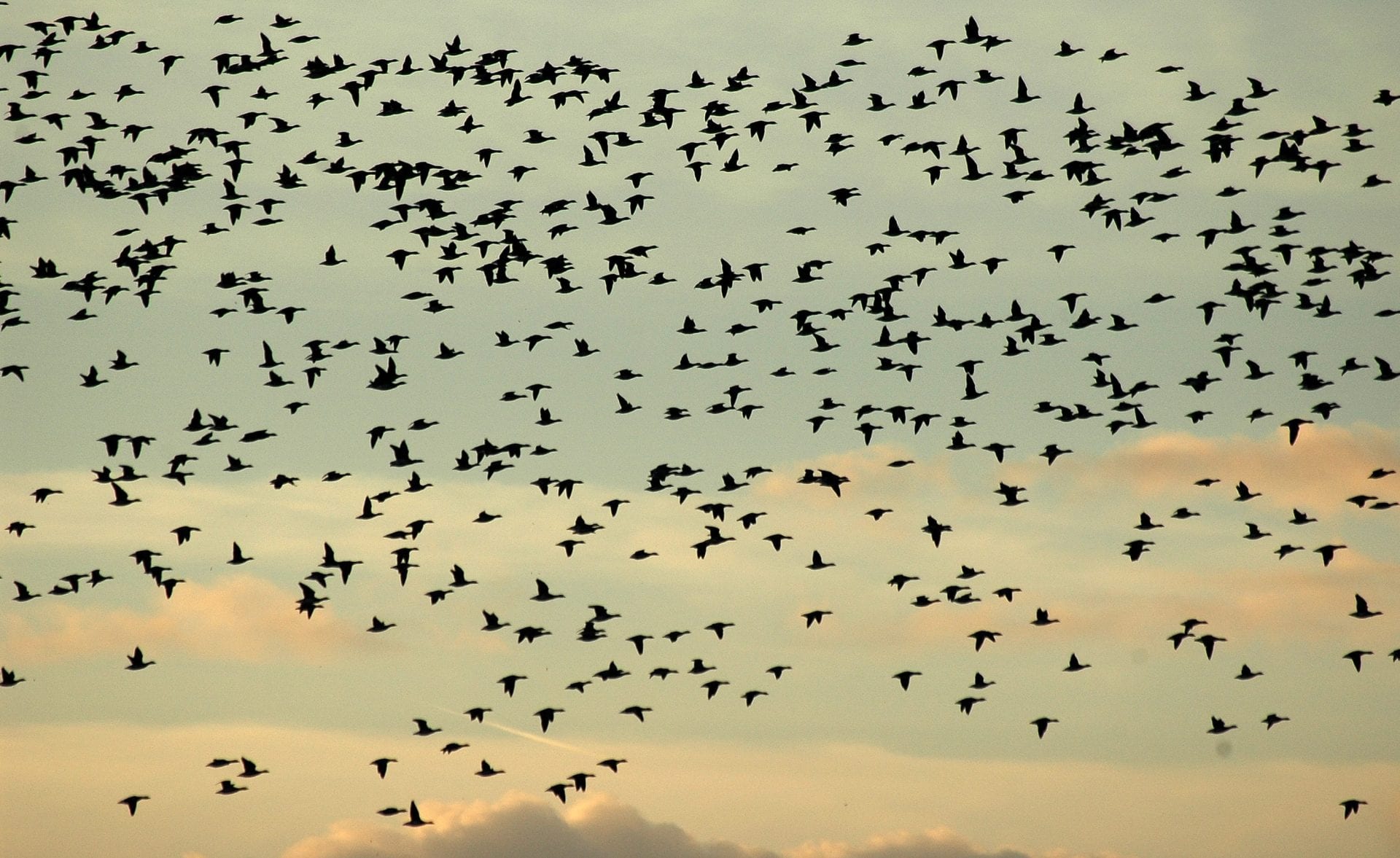 Geese and Swans return to Ireland for the winter
If you haven't noticed the dearth of swifts and swallows around the country recently, then this weeks weather will have put it beyond doubt that the summer is indeed over! When most people think of "birds flying south for the winter" they associate it with a mass exodus of Swallows, Martins, Swifts, Warblers and Terns (amongst others), but don't forget that it also means an influx of over 50 waterbird species from northerly latitudes into Ireland for the winter! In the last few weeks the first reports of our wintering goose and swan species have been filtering in, and here in BirdWatch Ireland we love this time of year! See below some of the details about our Goose and Swan species that have arrived in Ireland in recent weeks:
Greenland White-fronted Goose
The first Greenland White-fronted Geese of winter 2019/20 arrived on the North Slob in Wexford yesterday (01 October 2019) - four adults and a juvenile. The Greenland White-fronted Goose is the species on the BirdWatch Ireland logo. If you want to get a good look at this species, make sure you visit
Wexford Wildfowl Reserve
this winter. Later this month there will be a number of public events for their annual 'Goose Week' and they will also be celebrating the 50th Anniversary of the reserve.
Light-bellied Brent Goose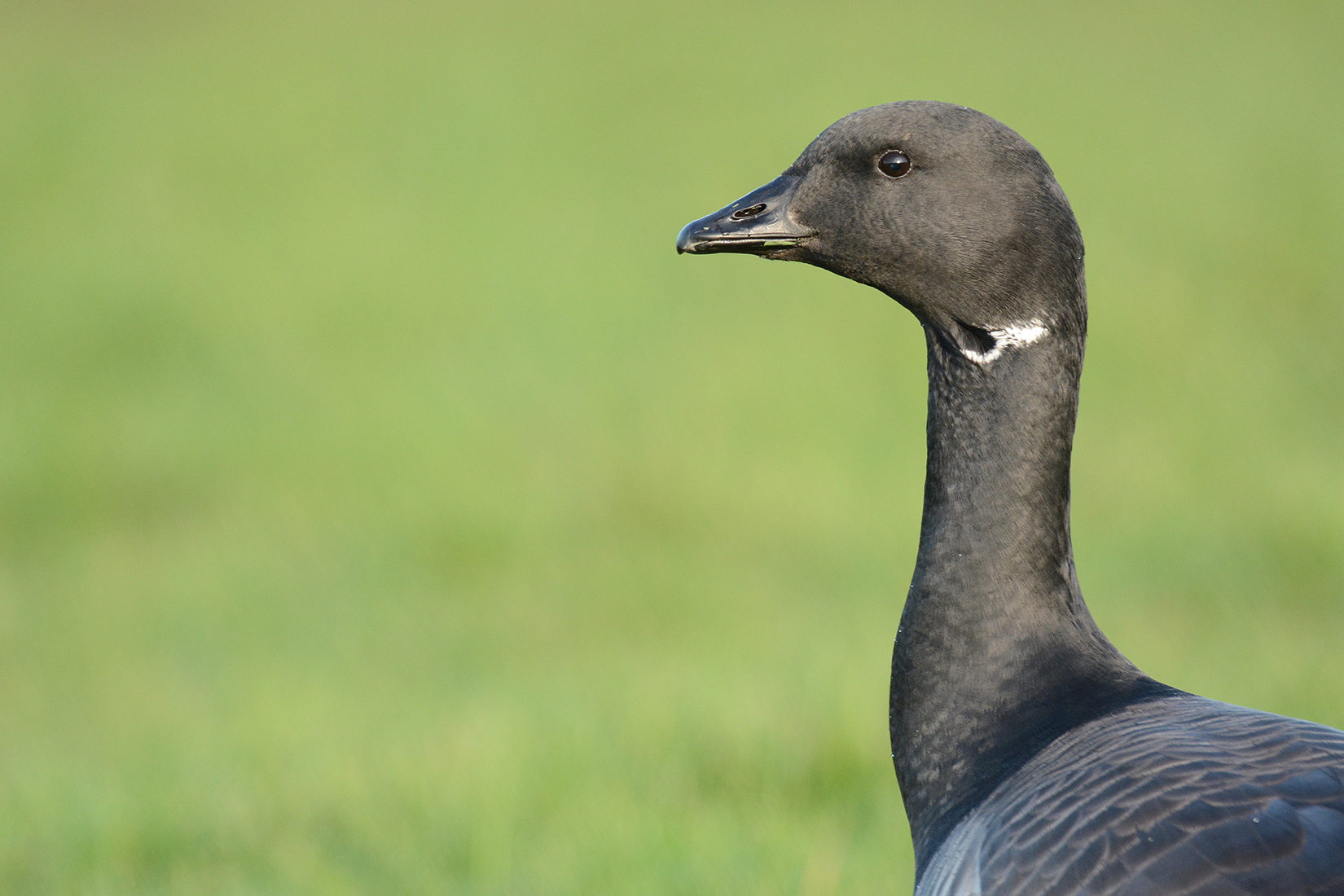 The first Brent records of 2019 came at the end of August, which isn't actually unusual, though the bulk of birds arrived several weeks later (and are still coming!). When they first arrive in Ireland they head en mass for Strangford Lough. After refueling there, they gradually disperse around the Irish coast as the winter goes on. Many Brent have already returned to their usual haunts in Donegal, Derry, Louth and Dublin, where they'll feed on eelgrass and algae in the sea, before turning to terrestrial grasslands for a few months before making the return journey back to Canada!
Pink-footed Goose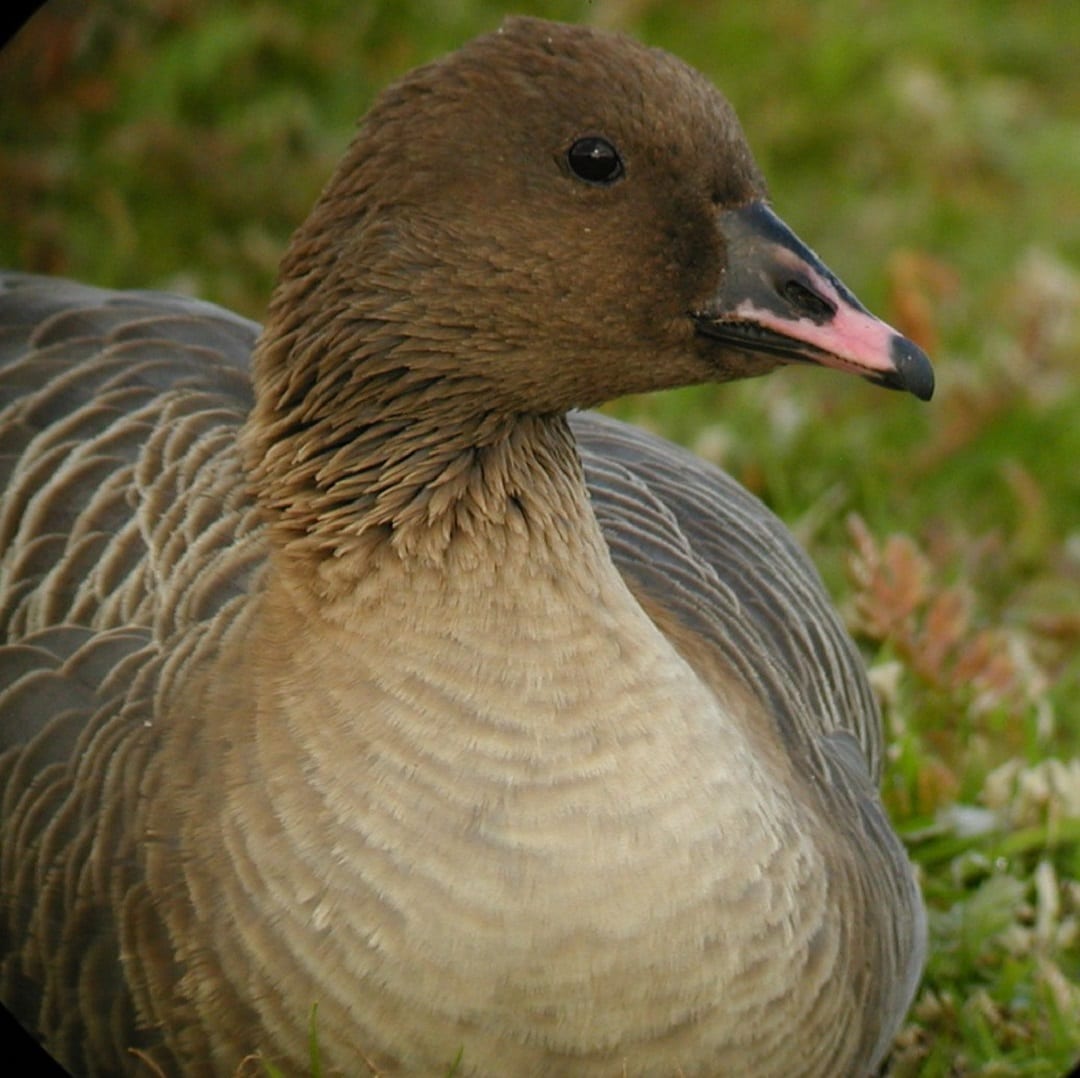 One of the first records in Ireland this year was via the WWT's Kane Brides who informed us of a satellite-tagged bird that arrived from Iceland on the 4th of September, spending a couple of hours in Roscommon before heading to Carlingford Lough on the east coast that night. Small numbers of Pink-footed Geese winter in Ireland, but hundreds of thousands winter in the UK and stop in Ireland en route from their Icelandic breeding grounds.  Since the start of September there have been loads of Pink-foots (Pink-feets?!) spotted in Donegal and smaller flocks in Wexford, Louth and Dublin.
Greylag Geese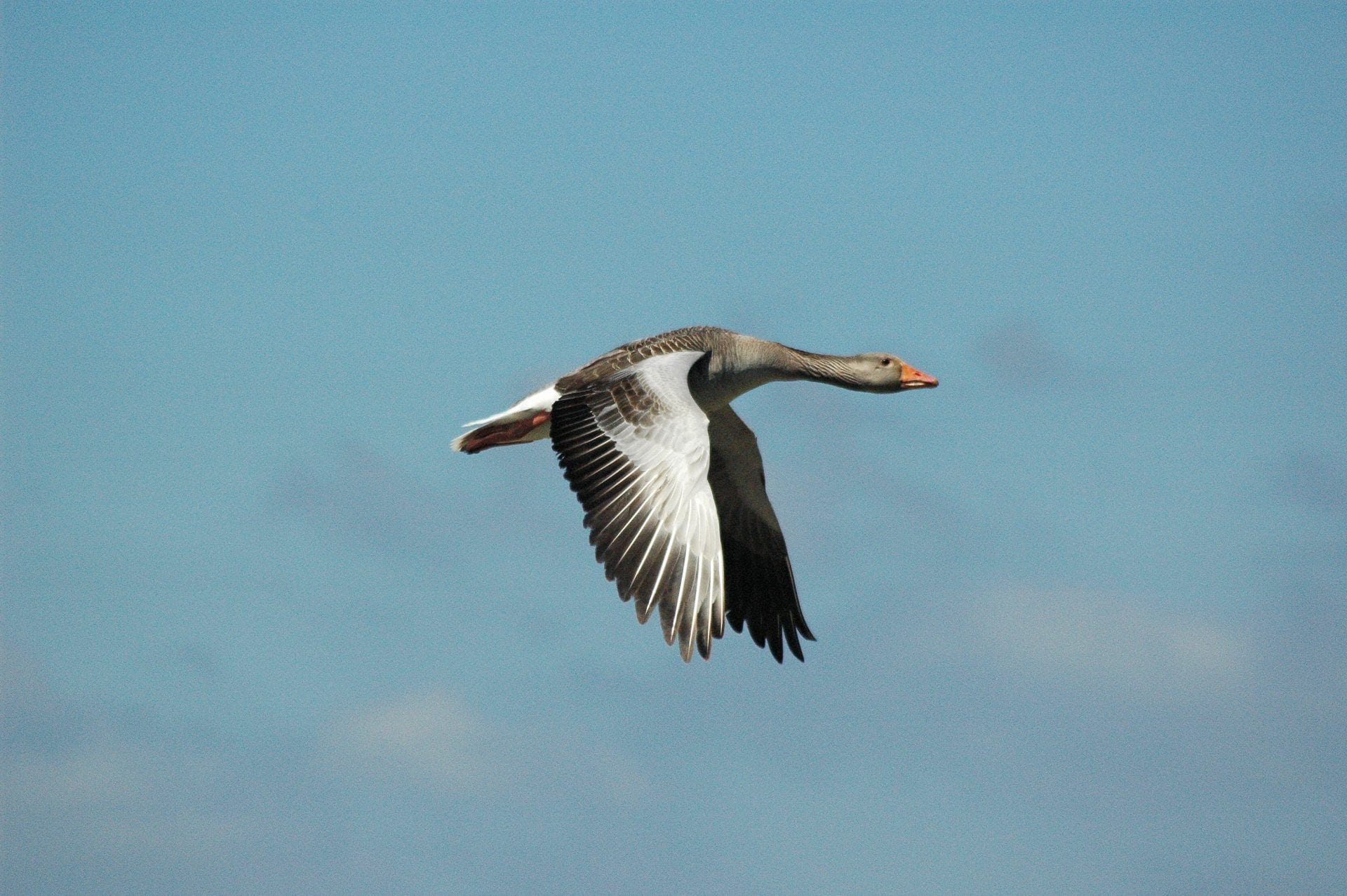 In the last few days there have been multiple reports of large flocks of Greylag Geese at coastal sites in Donegal. Greylags are a tricky one - we have a resident population that breeds here, but we also get migrants from Iceland for the winter too. And there's no way to tell which is which in the field as they look the exact same! Donegal has many feral/naturalised Greylag Geese, but some of those recent large flocks probably have some Icelandic-migrants mixed in too.
Barnacle Geese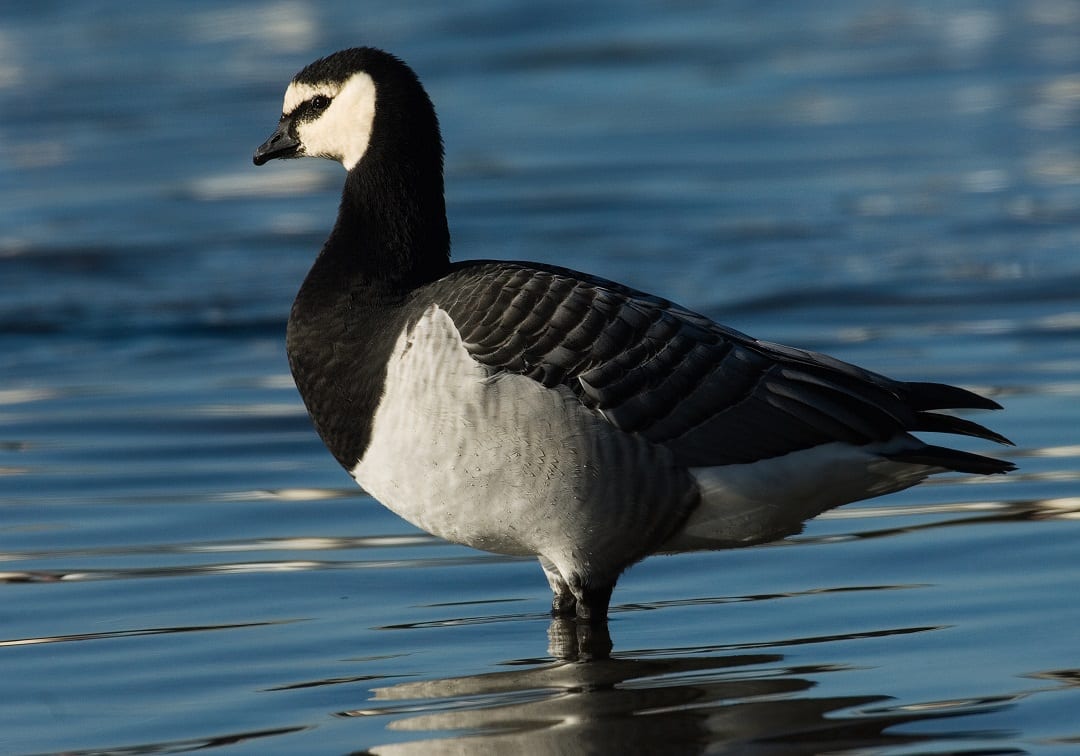 The first 'Barnies' of the season touched down in Donegal at the start of this week. This species prefers coastal grasslands and offshore islands in the west and north-west. Because of the remote locations they use, the NPWS recently carried out a Barnacle Goose census by plane!
Whooper Swan
The first definite migrants have only appeared in recent days - in Donegal, Derry and today in Wexford. In the last census, there were nearly 12,000 Whooper Swans in ROI and >3,500 in NI. The I-WeBS office in BirdWatch Ireland, together with our colleagues in Northern Ireland and further afield, will be coordinating another census of Whooper Swans in January 2020 so please keep an eye on your local flock as the winter progresses! So there you have it - thousands of geese and swans are currently migrating from Iceland, Greenland and Canada to spend the winter in Ireland! Many of these species are of conservation concern and we're lucky to have the wetlands to support them, so do keep an eye out for them in your area as the winter goes on!
---
Each winter we monitor Ireland's waterbird populations through I-WeBS - a survey coordinated by BirdWatch Ireland, funded by the National Parks and Wildlife Service, and carried out by a network of bird surveyors who volunteer their time and expertise.
The I-WeBS office is interested in any records of Greylag or Pink-footed Geese this winter - please email us at iwebs@birdwatchireland.ie with numbers, locations and dates.
The website 'IrishBirding' was also a useful source for this article. 
Greenland White-fronted Goose
Irish Name:
Gé Bhánéadanach
Scientific name:
Anser albifrons flavirostris
Bird Family:
Geese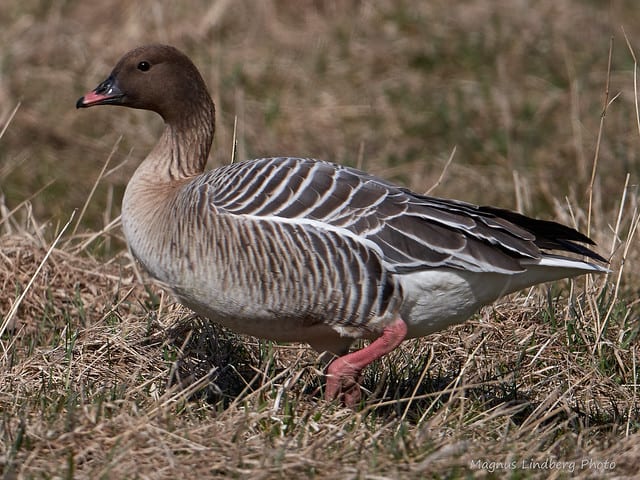 Pink-footed Goose
Irish Name:
Gé ghobghearr
Scientific name:
Anser brachyrhynchus
Bird Family:
Geese