Red Grouse
| | |
| --- | --- |
| Irish Name: | Cearc fhraoigh |
| Scientific name: | Lagopus lagopus hibernicus |
| Bird Family: | Game Birds |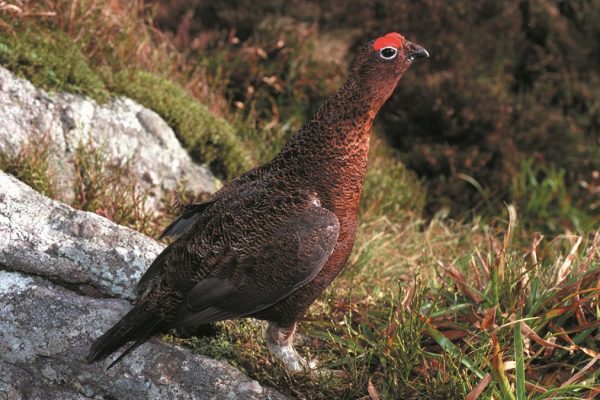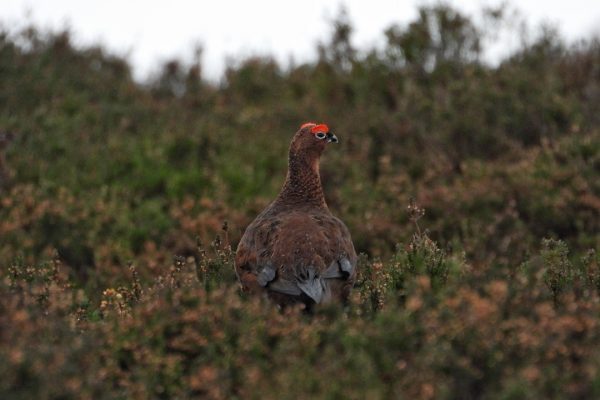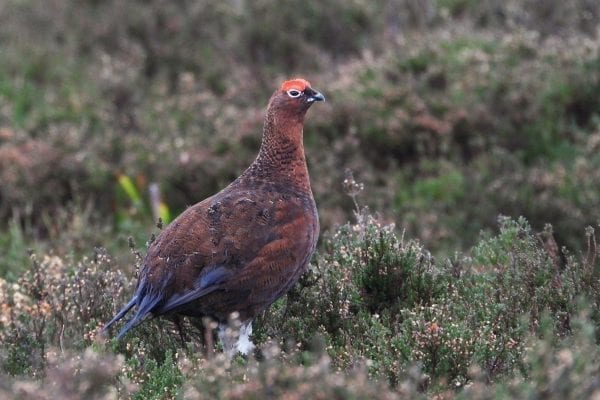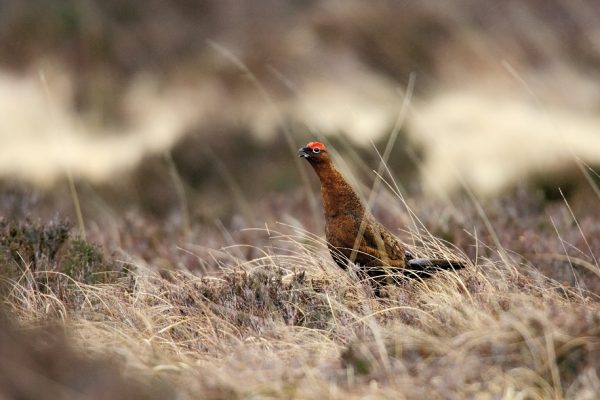 Status
Localised and declining resident on bogs and upland sites.
Identification
A heavy set bird with rounded body and wings, a short tail, small bill, small head and sturdy feathered legs. Has reddish brown upper and underparts with very finely marked feathers. Females are lighter in colour with more yellow on the feather edges, males are darker and redder and display a bright red eyebrow in the breeding season. A ground bird, will not usually be seen in flight except when flushed. Takes off explosively and flies with a series of rapid wing beats followed by a short glide. Males can be seen in the breeding season standing on prominences and will allow a reasonably close approach.
Voice
Calls are distinctive accelerating series of loud nasel clacks ending in a trill.
Diet
Eats mostly heather throughout the year, even where the plant is not abundant. Will also take other food including berries, insects and the shoots and leaves of other plant species.
Breeding
Nest on the ground. A sub-species of Willow Grouse, which has an all white plumage in the winter. Resident in the west and north of Britain and in Ireland. In Ireland, it is a widespread breeding bird but nowhere is it numerous. Found on mountains, moorland and lowland blanket bogs and raised bogs, where it is associated with heather, required for food, shelter and nesting. As a 'game' species it had benefited from past management of heather moorland. Densities of Red Grouse in Ireland are much lower in than in parts of northern England and eastern Scotland, where carefully controlled burning of heather on suitable moorland takes place and provides enhanced nesting and feeding opportunities. The national Red Grouse Survey 2006-08, found the species strongholds in Co. Wicklow, Co. Laois, Co. Waterford, and along the western seaboard from Co. Donegal to Co. Kerry. Few are remaining on the raised bogs in the Midland counties.
Wintering
Resident and sedentary (non-migratory). Will move in the winter if snow is on the ground, to wind swept ridges and lower ground.
Good areas of heather, in the uplands and on raised bogs may yield sightings. A hill walk across heather moorland, especially in early morning in February and March when males are defending their territories, is a good time to see this often secretive ground-dwelling bird.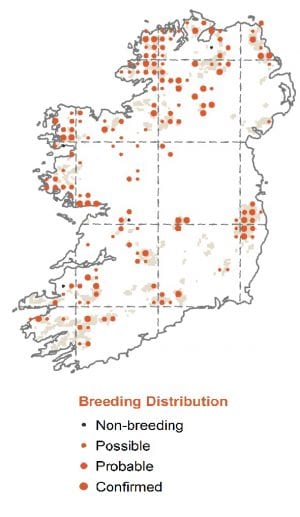 Sedentary resident occupying small territories. The Irish Red Grouse Lagopus l. hibernicus is an endemic Irish sub-species.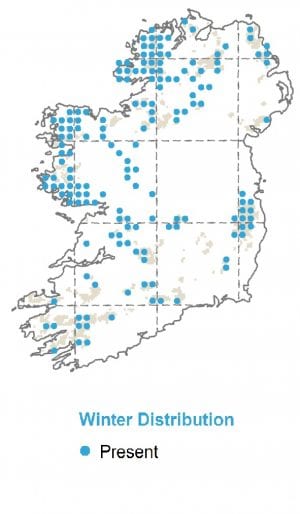 Blog posts about this bird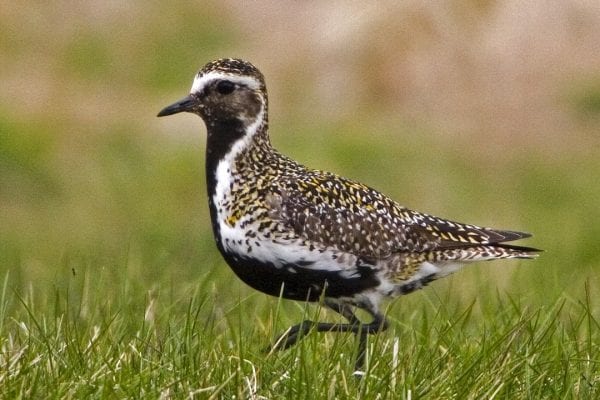 BirdWatch Ireland expresses disappointment at outcome of Open Seasons Order review
BirdWatch Ireland acknowledges publication of changes to the Open Seasons Order by Minister Noonan for the coming season. The removal of four duck species –
Scaup
,
Pochard
,
Goldeneye
and
Pintail
– due to severe declines in their populations shows some progress by the Minister to address the vulnerable status of these species. However, BirdWatch Ireland is disappointed that two additional species that we recommended for removal –
Shoveler
and
Golden Plover
– remain on the list though the science clearly shows declines in those populations also. No rationale has been provided as to why these species remain on the list. The information provided announcing the decision is inadequate and lacking detail. The most severe impacts to waterbirds and wading birds that are on the Open Seasons Order relate to habitat loss and degradation, pollution, disturbance and climate change. However, every pressure and threat must be addressed considering the dire conservation status of many of the species that are huntable in Ireland. We hope that hunting organisations will support this decision and we also hope that government will assist hunting organisations to be able to contribute to data collection in Ireland. Earlier this year, BirdWatch Ireland called for six of the 21 bird species currently permitted to be hunted under the Open Seasons Order to be removed from the list, a suggestion underpinned by the robust scientific evidence of their ongoing declines in Ireland. We also urged for more analysis to be undertaken by the National Parks and Wildlife Service (NPWS) to determine how best to proceed in relation to nine of the other species listed. These proposals were some of many made as part of
our submission
to the
public consultation on the review of the Open Seasons Order for Birds
.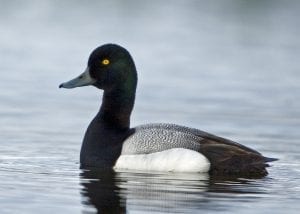 Launched on March 22 by Minister of State for Heritage and Electoral Reform, Malcolm Noonan, this consultation was aimed at gathering views to ensure that the hunting of the listed species was sustainable and in line with Ireland's obligations under EU legislation. It also offered an opportunity to put forward other suggestions in relation to improving data collection and protecting vulnerable bird species in Ireland. In the submission, BirdWatch Ireland stated that Shoveler, Scaup, Pochard, Goldeneye, Golden Plover and Pintail should be removed from the list of species permitted for hunting. Of these species, five are Red-listed species on the
Birds of Conservation Concern Ireland (BOCCI) list
, while one – the Pintail – is an Amber-listed species. Indeed, data from BirdWatch Ireland's
Irish Wetland Bird Survey (I-WeBS)
– one of Ireland's longest-running wildlife monitoring programmes – has shown steep short- and long-term declines in the populations of these species. According to the latest I-WeBS data, which is collected in a standardised manner and analysed using best practice methods developed by international scientists, the Republic of Ireland population of Pochard is estimated to number 4,729 individuals, with estimates for the other species even lower – Shoveler (1,865), Goldeneye (1256), Pintail (1,017) and Scaup (167). BirdWatch Ireland has also called for further analysis to be undertaken by the NPWS in relation to nine of the other species listed –
Tufted Duck
,
Snipe
,
Mallard
,
Woodcock
,
Teal
,
Gadwall
,
Red Grouse
,
Wigeon
and
Jack Snipe
. Of these species, three are currently Red-listed (Snipe, Woodcock, Red Grouse), with five Amber-listed (Tufted Duck, Mallard, Teal, Gadwall, Wigeon) and one Green-listed (Jack Snipe). Declining populations as underpinned by IWeBS data coupled with a number of data gaps give serious cause for concern for these species. BirdWatch Ireland called for the NPWS to carry out additional analysis of the data for these species across their wintering and breeding populations and range, in order to inform the best next steps to take for them. In addition to the suggested changes to the Open Seasons Order Species list, BirdWatch Ireland made a number of other suggestions in its submission. It is calling for the Open Seasons Order to be reviewed more regularly, particularly in light of the ongoing threat of
Highly Pathogenic Avian Influenza (HPAI)
and the rapid negative change that could occur in a population as a result of an outbreak. Supporting hunting organisations in the collection of data, extending the network of wildfowl sanctuaries, implementing a more regional- and county-based approach for certain species and addressing the issue of disturbance at important wetland sites are some of the other suggestions put forward by BirdWatch Ireland.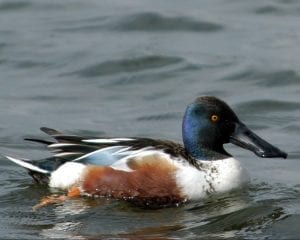 Throughout the submission, BirdWatch Ireland noted the Irish Government's ongoing failure comprehensively to address the conservation of wild bird species and its poor track record in upholding its environmental commitments under EU law. This is despite Dáil Éireann's declaration of a climate and biodiversity emergency in 2019, and the well-established fact that Ireland's wild birds are faring worse than ever. Indeed, BirdWatch Ireland's Birds of Conservation Concern in Ireland assessment in 2021 showed that 63 per cent of Ireland's regularly occurring species are Red or Amber listed birds of conservation concern. All birds, including Red and Amber-listed species, are facing numerous human-induced pressures and it is vital that the individual and cumulative impacts of these pressures are addressed. If the State wishes to have any chance of reversing populations declines, it urgently needs to enforce environmental legislation, as well as ensure sectoral policies such as agriculture, afforestation, renewable energy and peatlands have conservation of bird species integrated firmly in their plans and processes.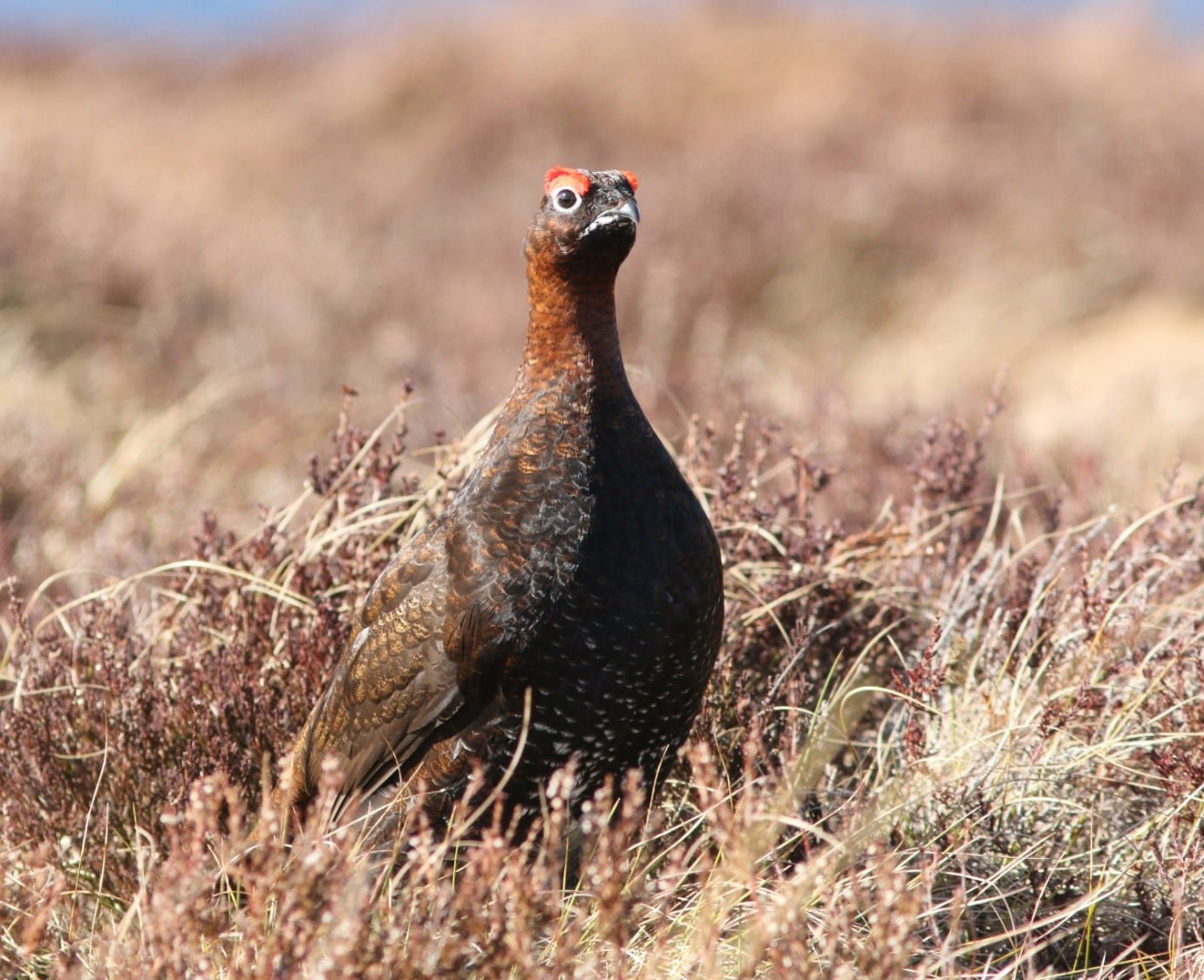 New video showcases conservation efforts bringing life back to a Galway Bog
Galway's Living Bog
The future of Carrownagappul Bog, like so many other raised bogs, was one of continuing deterioration. Through collective efforts to restore the bog, which have been embraced by local communities, the future of the site now looks very different. A new video by BirdWatch Ireland and Galway County Council, and funded through the Department of Housing, Local Government and Heritage, called 'Life on the bog' showcases the rich biodiversity of Carrownagappul, the wildlife that is slowly returning to the bog and the efforts to restore this special site.
[embed]https://youtu.be/CPXxIxnplq8[/embed] We often only appreciate something once we lose it. We have come dangerously close to this situation when it comes to our bogs, but thankfully this is changing. Our relationship with 'the bog' in Ireland has been mostly one of under-appreciation and over-exploitation.
For many people, the word 'bog' still brings with it negative connotations, and conjures images of an unproductive, dark place that is devoid of life – nothing could be further from the truth.
Collectively, it seems there is a slow awakening to the true beauty, rich biodiversity and unique nature of these special habitats, and an understanding of the vital role they play in all of our lives - it only took us a few thousand years!
Carrownagappul Bog SAC, near Mountbellew in east Galway is one of the largest remaining, relatively intact raised bogs in the country. The 325 hectare bog, is currently undergoing restoration - as well as a rebirth in the minds of the local community. Like so many bogs across the country, Carrownagappul Bog SAC was drained, dried out and degraded.  With turf-cutting at an end on the site, communities surrounding Mountbellew are starting to embrace a new future for the bog, one which realises its significant potential for biodiversity and carbon storage as well as an amenity for locals.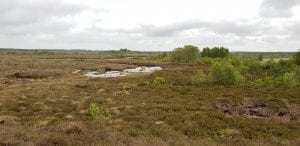 Carrownagappul Bog © John Lusby
A number of different groups, from very different backgrounds have come together for the same purpose, to restore and protect Carrownagappul Bog, and part of this has involved raising awareness of the importance of the bog and encouraging people to come and appreciate it for themselves. Marie Mannion, Heritage Officer with Galway County Council, commented
'it is amazing what can be achieved when we work together and highlighting the richness, heritage and beauty of our bogs.'
Paul Connaughton has been influential in helping to change local mindsets towards the bog, just has his own has changed, he commented 
'I have been visiting the bog and cutting turf on the bog all my life, I find it amazing that you can be so familiar with a place yet only know a certain side of it, I have to admit, despite visiting the bog all my life, it is only recently that my eyes have been opened to the wildlife that lives on the bog'. We are now working to ensure that the natural beauty of the flora and fauna will be restored and preserved to be enjoyed by many generations to come'.
The 'Living Bog Project' has worked to restore twelve raised bogs in the midlands, which includes Carrownagappul Bog SAC, where over 3,000 dams were installed across a vast network of open drains. The restoration works have focused on rewetting the bog to allow the growth of sphagnum mosses – the building block of the bog. Ronan Casey, Public Awareness Manager with The Living Bog Project, commented
'Restoring a bog is only part of the equation. We are restoring  Carrownagappul for biodiversity but also for local water quality and the planet. The carbon storage potential of sites like this is immense. But one of the biggest and best things about this bog has been the involvement of the local community. The is perhaps the most accessible bog in the country, thanks to its past uses, and its future as a community amenity is all down to the locals, who have designed some brilliant walking loops, trails and facilities at which generations to come can marvel at the wildlife which has been returning to this protected bog since restoration works began in 2017."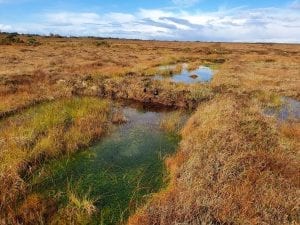 Peat dam at Carrownagappul Bog © John Lusby
BirdWatch Ireland have also come on board and worked with Galway County Council and Galway Telework to undertake a survey of the breeding birds on the bog, which recorded forty breeding bird species. John Lusby commented 'although I am from Galway, I wasn't very familiar with Carrownagappul before I first set foot on the bog, but I remember distinctly the first time I did, it was very early on a spring morning as the sun was coming up, and the first thing that struck me was the dawn chorus, which was simply spectacular. The bog was alive with the sound of Snipe drumming, Cuckoo calling, Red Grouse, and many other birds competing to be heard. It is a special place and we are very lucky that we didn't loose it, it will take time to see the benefits of the restoration works, but the future is exciting, and such a dramatic change from its recent past'.
BirdWatch Ireland, Galway County Council with help from Galway Telework, The Living Bog Project and MKO, also ran a nature camp at Carrownagappul Bog, which brought local children out onto the bog with scientists to get down and dirty and explore the wonders and the wildlife of the bog. Through hands on activities the children learned about how the bog was formed, the depth and age of the peat under their feet, the water retention qualities of sphagnum mosses, and the many specially adapted plants that live on the bog, including insectivorous plants! As well as some of the birds and mammals that depend on the bog, including up close encounters with some of these! Marie Mannion, commented
'not only was it an opportunity for the children to become aware and know about the amazing place their local bog is also was a revelation to their parents on this hidden heritage gem that is on their doorstep'.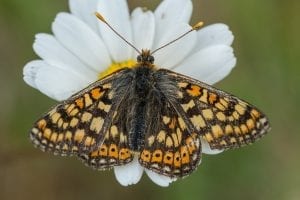 Marsh Fritillary © Cathal Forkan
Galway County Council and BirdWatch Ireland, teaming up with The Living Bog Project and Galway Telework have developed a range of education materials on Carrownagappul Bog. A video called
'Life on the Bog'
showcases the wildlife on the bog, and documents the recent history and restoration works on Carrownagappul Bog. John Lusby commented,
'It is very easy to take a place like this for granted, and that is exactly what we have done with so many bogs like it that are now lost. When you take the time to look properly and to appreciate just how complex these habitats are and the diversity of life they support then you will be rewarded. We only captured a small glimpse of the wildlife on Carrownagappul Bog in the video, but I hope it gives a sense for just what is here and also what is possible when people come together to protect what is important'.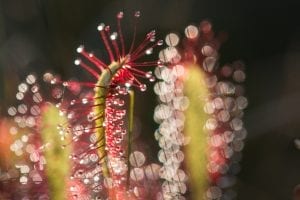 Sundew - an insectivorous plant adapted for life on the bog © Cathal Forkan
This project was an action of the Galway County Heritage and Biodiversity Plan 2017-2022, with funding provided through the National Biodiversity Action Plan, National Parks & Wildlife Service, from the Department of Housing, Local Government and Heritage and Galway County Council.
The video 'Life on the bog' was filmed and edited by Crow Crag and is being released in conjunction with 'Worlds Wetlands Day 2021' and is available here: Life on the bog and on the Galway Community Heritage website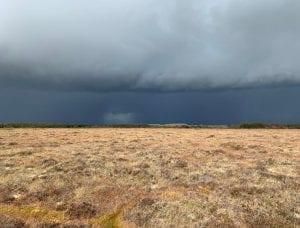 Rain is on the way at Carrownagappul © Ronan Casey